It's quite subjective when it comes to the question of who makes the best burgers. Like, who am I kidding, serve me a burger that yells less is more with a twist on the perennial favourites, and I assure you wholeheartedly, that it would make me come back.
Nobody likes a mountain of toppings piled high when the patty is dry, the cheese is whack and it's doused with various kind of sauces.
With Mean Mince, get ready to get your hands all greasy (what's a burger without greasy hands) because as soon as you take that first bite, there's a high possibility that you have tasted a hint of paradise.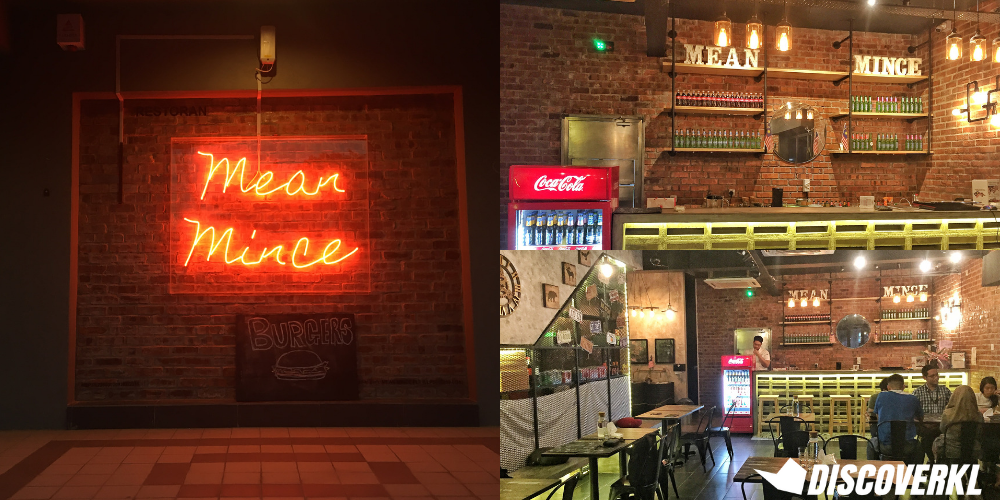 Secluded in a mysterious corner of Mutiara Homes in Mutiara Damansara, you'd find this burger joint by Chef Min. Like most kids, Chef Min had a dream; a passion. He always loved the culinary world and someday wanted to own a restaurant where he would be able to see the smile on people's faces as they savour the food he serves.
Since then, he has enrolled himself into culinary courses and studied both locally and abroad to gain knowledge and experience. After working 2 years in the UK, Min hopped from one burger joint to another to find his mark. As of 2018, Mean Mince was born.
When I hear stories of people achieving their childhood dream, I hold it close to heart. And at Min's place, you can certainly taste the passion and hunger to strive to be the best. Some might say it's an overwhelming experience but it's all worth it in the end when burgers are in the picture.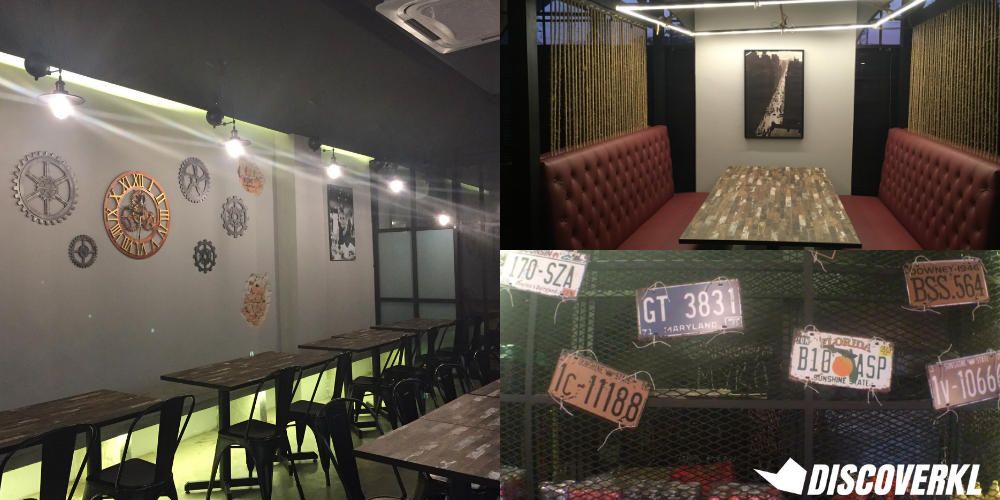 As you enter the eatery, get ready to step into a classic '40s movie realm where everything is retro chic. Licence plates on one wall, and monochrome snapshots of places on another.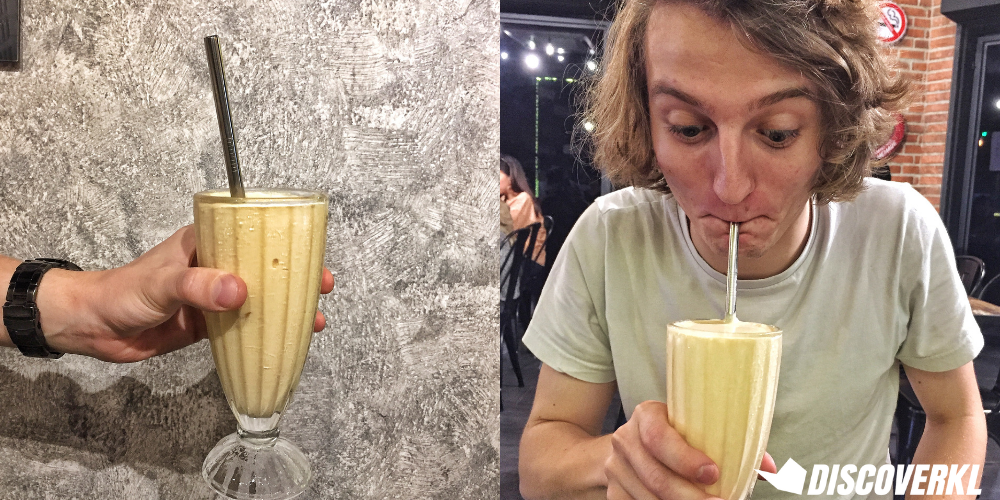 At a burger joint, it is essential to have a classic milkshake – and we went with their recommendation of trying their in-house Peanut Butter Shake (RM12). Being a huge fan of Netflix's Riverdale, I've always wanted to know what is it like to hang out at the resident Pop's Chock'Lit Shoppe and try his signature milkshake. At last, I can say I have now come close to that dream.
The smooth sailing texture of the cream and the richness of the milkshake is incredible. It is made with 3 basic milkshake essentials; peanut butter, vanilla ice cream and milk. With such indulgent ingredients, you'd find that this is a milkshake you would yearn for during rainy days. The best way to describe this milkshake is Reese Peanut Butter reimagined as a milkshake.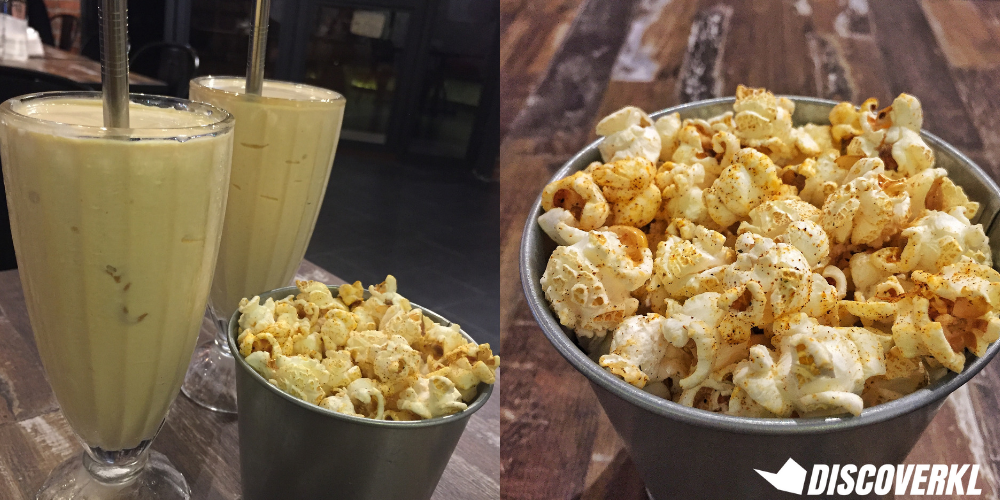 Major props to Mean Mince as they offer each table a complimentary mini bucket of spiced popcorn – making the waiting time less painful.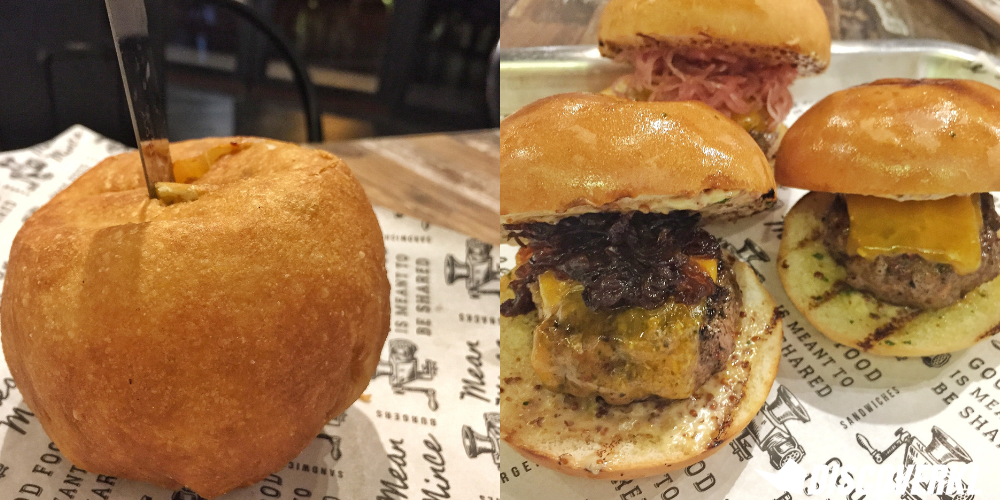 With plenty of mouthwatering burgers on the menu, we went with the one that stood out to us the most: MM Deep Fried Burger (RM18.90). I have heard of deep fried versions of numerous types of food. Heck, there are even deep fried ice creams out there! But what made me curious is the whole idea of deep frying a burger.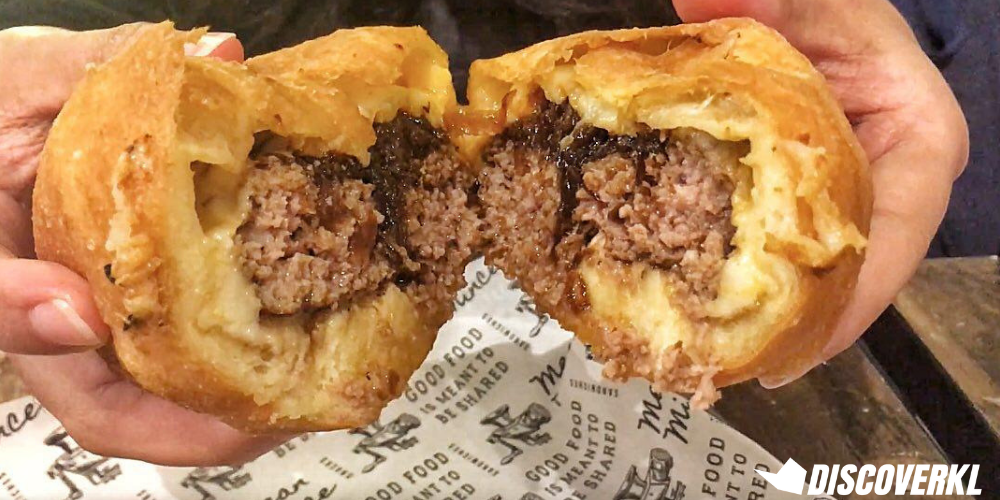 As we watched the wait staff coming out of the kitchen doors with the dish, it was confusing for us to interpret that it was actually a burger…at least not at first glance. However, once we got into slicing it in half, you could see the elements that make a burger.
Served at medium-rare, each topping is stacked beautifully – from the Lángos bread dough, the minced beef patty, to the melted cheddar and mozzarella cheese. It was pure unadulterated joy sinking our teeth into this one. We couldn't find any flaws with this bold and individualistic dish. So as a personal remark, if you want to get that ultimate indulgence, then this is what you should go for.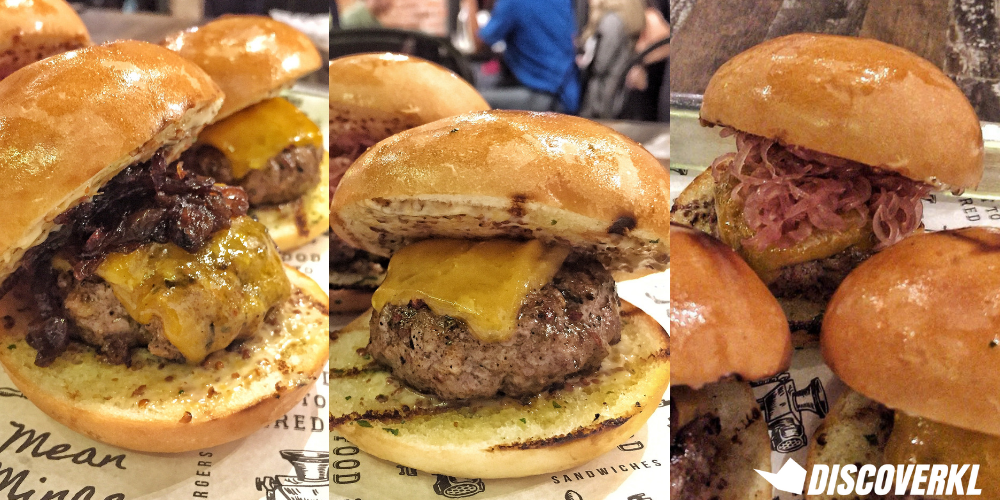 Next up, we had the MM Sliders (RM19.90). It was brilliantly engineered, as I'm able to hold it confidently using one hand without fearing that the whole burger would fall apart. What amazes me is how sliders are typically mini burgers, but in Mean Mince's case, I beg to differ. It's not really a regular burger size per se, but it is certainly bigger than what you'd expect for a slider. Generously portioned, if I must add. These 40g in-house beef patties are seasoned to perfection, as the flavours of it complemented every other topping on each slider (caramelised onions, melted cheese, and pickled red onions).
Also, frankly speaking, I am mildly obsessed with condiments on my burger and to actually enjoy a burger without them, surprised me a little. Typically, burgers rely on its condiments to counteract the greasiness of the dish, but you can toss those condiments aside, because at Mean Mince, a well-flavoured patty is sufficient.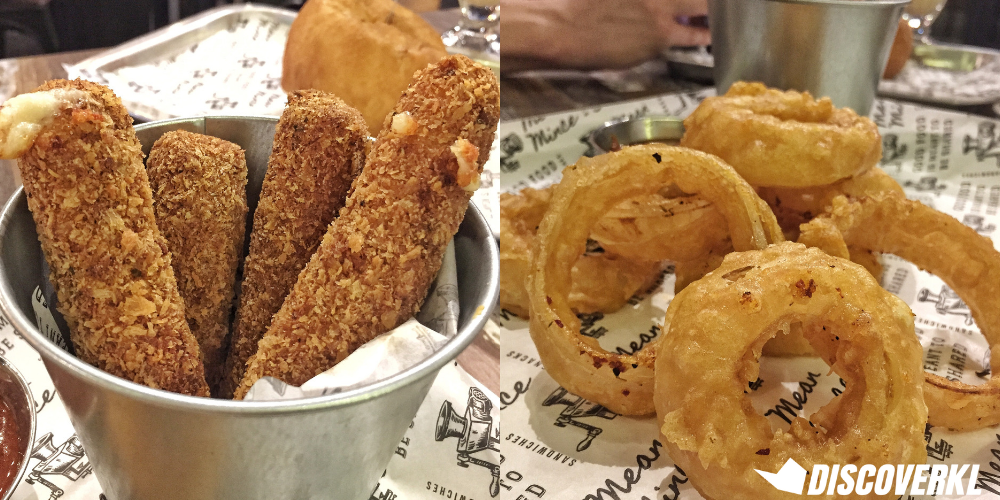 Moving on to the side dishes, we had the Mozzarella Sticks (RM13.90), Onion Rings (RM7.90) and Jálepeno Poppers (RM14.90). The sheer batter of both poppers and sticks gave it some element of crisp and the melted cheese within is just plain ooey gooey madness.
Though the onion rings tickled our tastebuds with its light, crispy, and tasty breading, I'd have to say that it was slightly under seasoned. Perhaps, this was intentional as the dish was after all served with a tangy tomato salsa to give it that extra punch of flavours in the mouth. Sans sauce though, we found the onion rings to be lacking.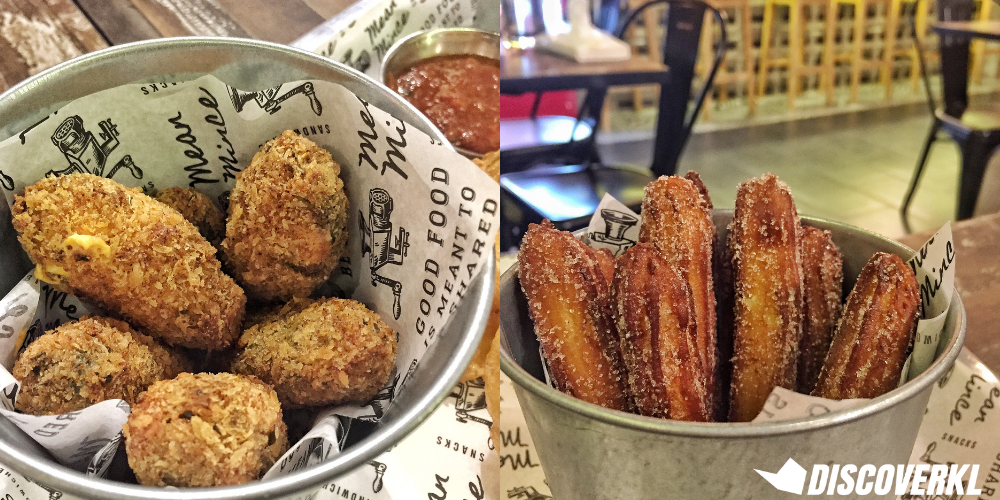 Speaking of sauces, their breaded Jalepeño Poppers are stuffed with a spicy cream cheese. One thing that irked me was how each popper is different in terms of its spice levels. Some were spicier than others and it was hard to tell which would wind up having a spicy kick. All I can say is that this bucket of poppers comes with an element of surprise.
What we did enjoy though is the gooey factor of the cream cheese that just oozes out when you take a bite out of it. Where such finger foods tend to become a soggy, greasy pile of mess once it has cooled down, we didn't encounter that with Mean Mince's version.
Mean Mince

Hours: Thursdays-Tuesdays: 12pm-10pm. (Closed on Mondays)
Address: 1-1, Jalan PJU 7/16A, Mutiara Damansara, Petaling Jaya, Selangor
Website: Mean Mince
Tel: 03-7733-2512