Foo Foo is surprisingly unpretentious for what they are offering on the menu: fine desserts.
Co-founder Jack shared with DiscoverKL how their aim is to offer affordable prices for fine desserts and they are an alternative to the hotel fine desserts experience. In fact, that's one of the reasons why Foo Foo is situated on the first floor— to do away with any unnecessary overhead costs.
Stepping within, we found that the ambiance of the café is down to earth and it's decorated with plenty of greenery (in fact, if you are seated at the back section of the space, there are a myriad of greens in vases and glass jars that make for great props for your dessert shots).
My colleague Grace mentioned how it feels just like your mom's kitchen.
And you'd see that in the way how a mini aquarium is placed on the bar counter, a rattan baby chair is placed in the corner, 24 Chinese calendars make up a feature wall and it is accompanied by rough sketches of a café.
Jack hails from an architectural background and he had some of his friends in the industry sketch up some of the drawings on the wall. Essentially café mock-ups, I love how raw it feels. It almost gives guests of Foo Foo an insight to how the team envisioned the space to be. Definitely a nice touch.
Foo Foo, which has been around for 3 years, remains relevant by constantly updating its menu to include or omit certain dishes every couple of months. In fact, this is the 19th version of their menu.
Co-founder Foo, who is the more soft spoken of the pair lets his food creations speak for themselves. Coming from a culinary background, he is the sole brain behind all of the desserts at Foo Foo.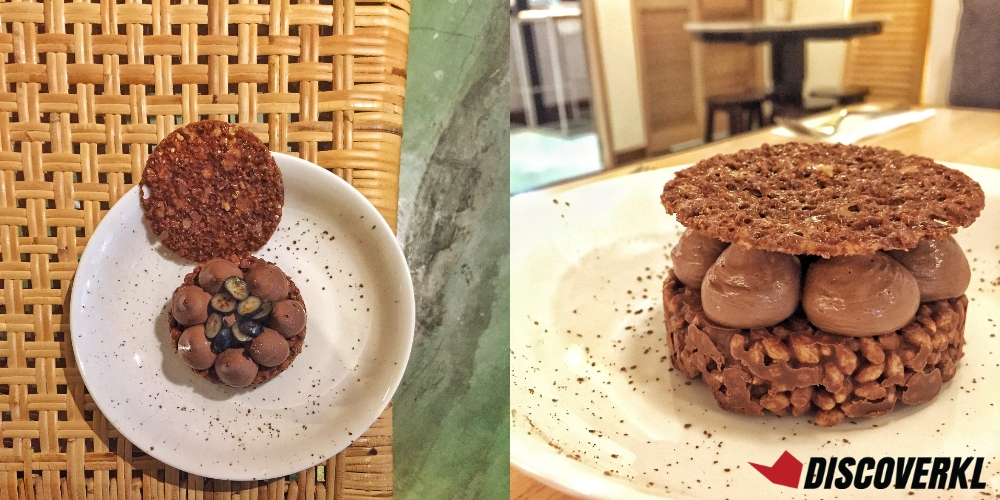 We tried some of their newer desserts. The Hazelnut Chocolate Crackle with Chocolate Cremeux & Cocoa Dentelle (RM27) was introduced back in July and features rice puffs with hazelnut, chocolate and cremeux— which is slightly thicker than mousse. It's topped with a dentelle which is a lace-like tuile biscuit.
The rice puffs base is slightly denser than what we had imagined and though it requires a bit of effort to cut through the layers, it's worth it once your teeth sinks in to the creamy layers of the cremeux.
"It tastes just like Ferrero Rocher," I told Jack and he nodded in agreement.
The tuile, on the other hand, will be that one element that brings about nostalgia and I'll be kind enough to let in on what it'll remind you of—that's because I spent 10 minutes Googling festive cookies that the tuile reminded us of.
You're welcome.
The tuile gives off a denser Raya Cornflake cookie vibe and you'll note this in the after taste. It takes a while for the flavours to kick in but after 15 seconds, you'll be met by warm flavours of honey.
The Hazelnut Chocolate Crackle is pretty much like a Saturday morning in front of the telly. It's 9-year-old you clad in pajamas whilst tucking in to a chocolate milk cereal with rice puffs.
Jack echoed my thought, noting that the dish was made with kids in mind. As Foo Foo has their fair share of families coming in, this is a foolproof desserts that kids would typically enjoy—and those who are kids at heart of course.
The best part is how every element on the dish is edible and serves a purpose where flavours are concerned.
"We make it a point to create desserts with elements that are all edible," Jack stressed and that's the way it is with traditional fine desserts.
Foo Foo is old school like that.
Where most fine dessert cafés are fighting to serve the modern version of plated desserts with all the added elements (some which are not even edible), Foo Foo remains timeless with their traditional desserts which are equally as unique and beautiful in their own right.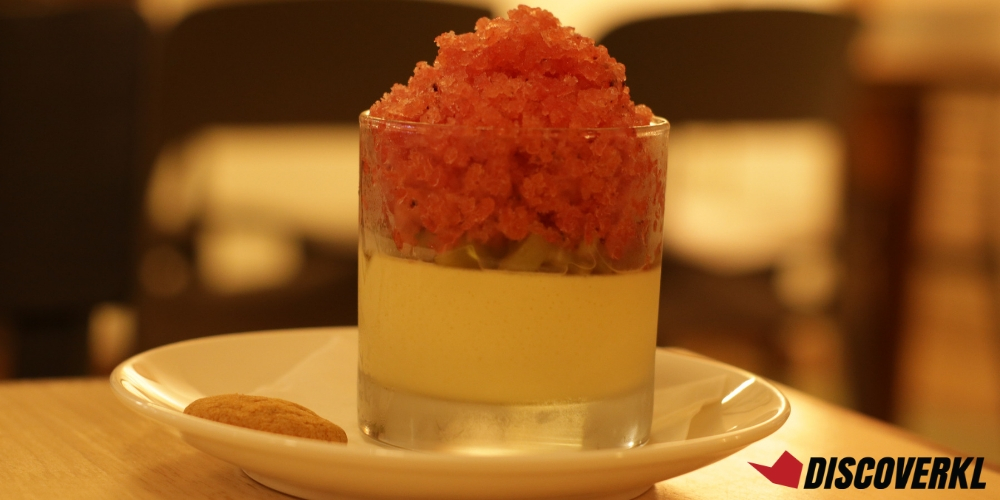 Next, we had the Ginger Custard Pudding with Watermelon Granita & Wafer Cookie (RM28). The dish was just introduced during the final weeks of September and we were perhaps the first few to be able to sample the treat.
Desserts don't necessarily need to be rich to be good and the watermelon proves this to be true with a watermelon shaved ice which has been spiked with Assam.
Foo mentioned that he included Assam in the dish as he enjoys Assam with his cut fruits and still has them to this day.
The layer beneath the ice is a cold custard. Made with egg, cream and milk, it has a strong ginger flavour which is pleasant and not off-putting. You'd also find bits of green grapes interspersed within the layers and this gives you something to munch on in a dessert which might lack texture.
Foo Foo whips up new desserts every couple of months and we can't wait to see what they'll come up with for their 20th menu update.

Foo Foo
Hours: Thursdays-Tuesdays: 3pm-11pm, (Closed on Wednesdays).
Address: 64A, First Floor, Jalan Burhanuddin Helmi, Taman Tun Dr. Ismail, Kuala Lumpur
Website: Foo Foo
Tel: 03-2389 3155