The Mid-Autumn festival is observed in Malaysia today and it is traditionally celebrated with lanterns and mooncakes.
This year, we came across plenty different types of mooncakes. However, one that certainly captured our attention is Rinzbakes's version of the Rainbow Mooncake.
Instead of the usual flat sphere-shaped mooncakes that we all are familiar with, this "Jupiter"-shaped mooncake can even be mistaken for a bath bomb from afar. With its eye-catching pastel rainbow colours, you'd best believe that we marveled at its beauty and even felt sayang to slice it right down the middle.
But of course we did and its inside wasn't too shabby either.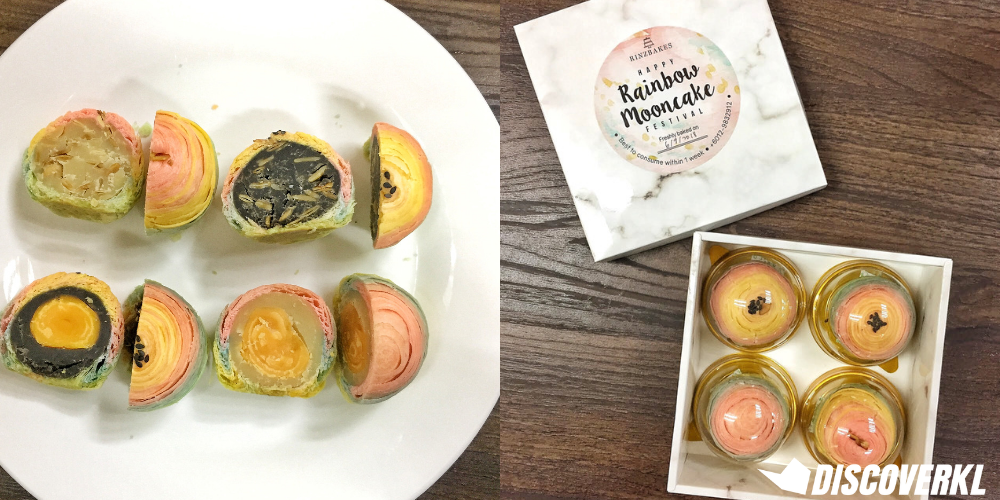 The spiral rainbow mooncakes come in a beautiful marble-like box with four different flavours: White Lotus with Roasted Melon Seeds, Black Sesame Lotus with Roasted Melon Seeds, Black Sesame Lotus with Egg Yolk and last but not least, the White Lotus with Egg Yolk. Rinzbakes' Cindee shared with DiscoverKL that these mooncakes are low in sugar and baked freshly upon order.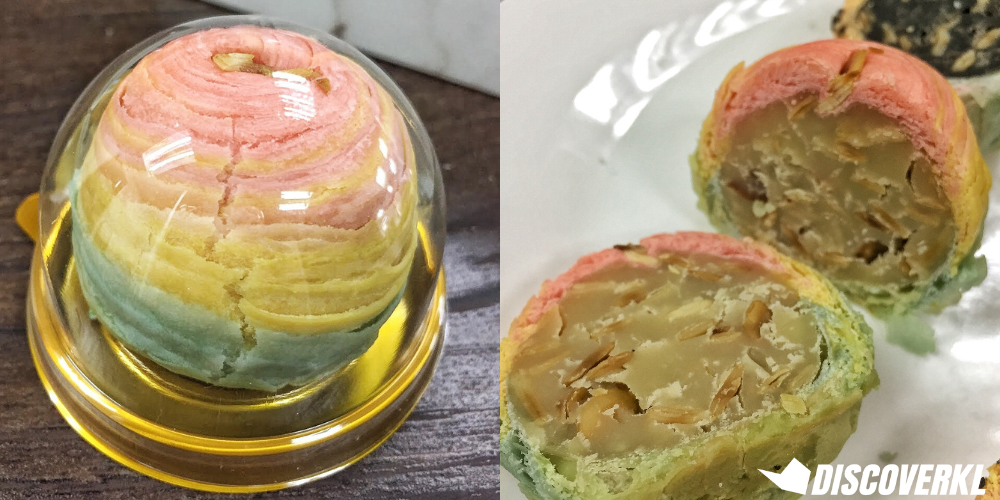 When we took our first bite out of the White Lotus with Roasted Melon Seeds (RM9), it was flavourful as we could taste the strong aromatic flavours from the white lotus. There was also a much-needed crunch element from the roasted melon seeds. The mooncake had a light and flaky crust you would be familiar with if you've had your fair share of kaya puffs.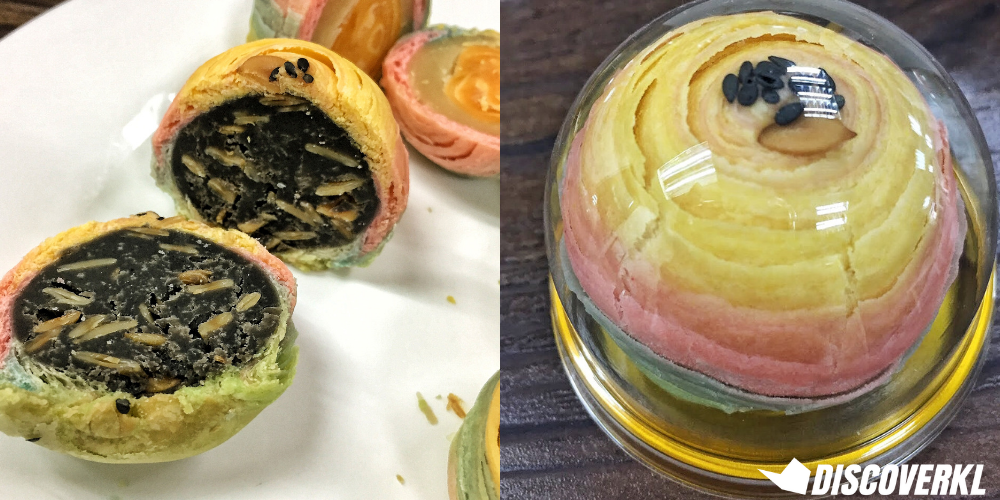 Moving forward, we had the Black Sesame Lotus with Roasted Melon Seeds (RM9). Personally, this was the winning mooncake choice for us. The black sesame lotus paste was rich and indulgent with every bite and I liked how there were roasted melon seeds in this one as well. The black sesame had a smokey flavour and is less sweet when in comparison with the other mooncakes by Rinzbakes.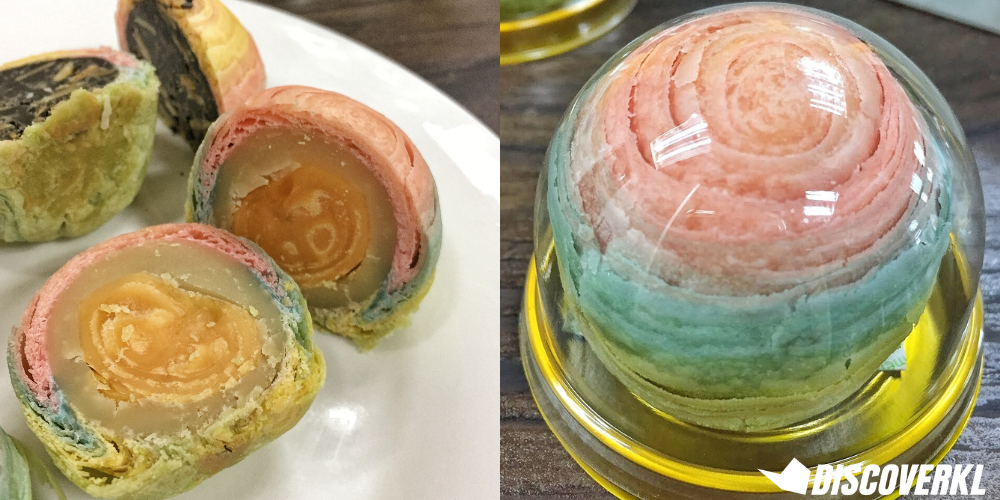 The White Lotus with Egg Yolk (RM12) was next.
The egg yolk flavours are not as pronounced, making it perfect for those who don't enjoy egg yolk with their mooncakes. However, as someone who enjoys egg yolk with her mooncake, I found this to be a bit of a letdown. Where the yolk is meant to add that savoury-sweet element to the mooncake, it failed in doing so.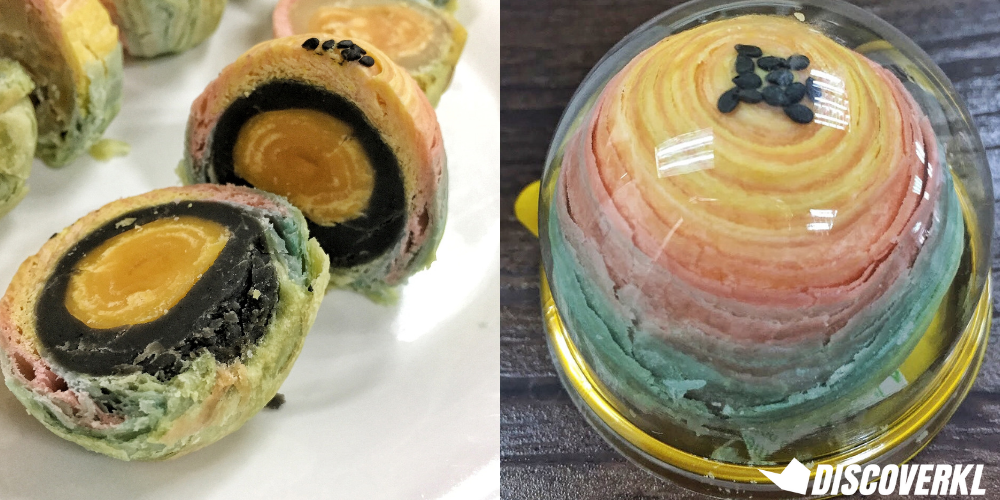 We encountered the same problem with the Black Sesame Lotus with Egg Yolk (RM12). Had the egg yolk flavour been stronger, we would imagine it being gloriously savoury, like a lau sar pau (egg custard pao) minus the ooey gooey texture. It's such a shame that the flavours are muted, especially when paired with the fragrant black sesame lotus paste which clearly overpowered all other flavours in the mooncake.
The mooncakes by Rinzbakes are definitely pretty enough as a gift and they are a cut above the rest when it comes to looks. However, flavour-wise, we'd suggest having them sans egg yolk.

Rinzbakes Rainbow Mooncakes
Address: Lake Fields, Kuala Lumpur
Website: Rinzbakes
Tel: 012-983 2912