Who would have thought that humble lil' marshmallows would be an interesting and creative gift to surprise someone with?
From being the nation's first bespoke marshmallow brand, ChubbeeCloud has now evolved into having their own gift experience store and mini café experience, which is located in Damansara Uptown.
Founders, Carmen and Edmund were able to create a niche for themselves in the gift market industry by selling edible marshmallows with your face printed on it.
During ChubbeeCloud's early days, the DiscoverKL team had the opportunity to be hosted by them, allowing us the chance to get to know the brand better. And once again, the creative minds behind ChubbeeCloud invited us over during the launch week of their experiential-based store.
The store was officially launched on 20 August and is located along the bustling shop lot area of Damansara Utama. Certainly, the perfect place to hit the peak of consumers.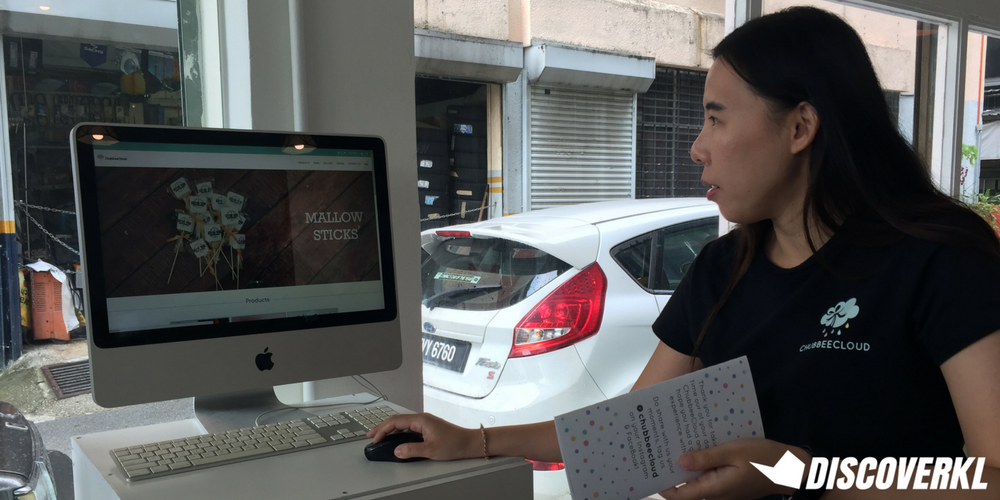 Besides being able to collect your package on the spot, you can also personally customise fluffy, printed marshmallows at the store itself. The ordering process is simple enough and the friendly bunch at ChubbeeCloud are able to guide first-timers from start to finish.
All you have to do is select how many pieces of marshmallow you want, then pick a flavour between vanilla and strawberry.
Sign in to your Instagram account if you want to upload your own pictures. You could even plug in your phone and transfer the pictures through it (the cable caters to iPhone users for now but a cable for Android users is in the works).
Next, assemble your marshmallows digitally and fill up your details on site (all details are private and confidential). Your orders will then be printed and the process will take up to 30 minutes, more or less.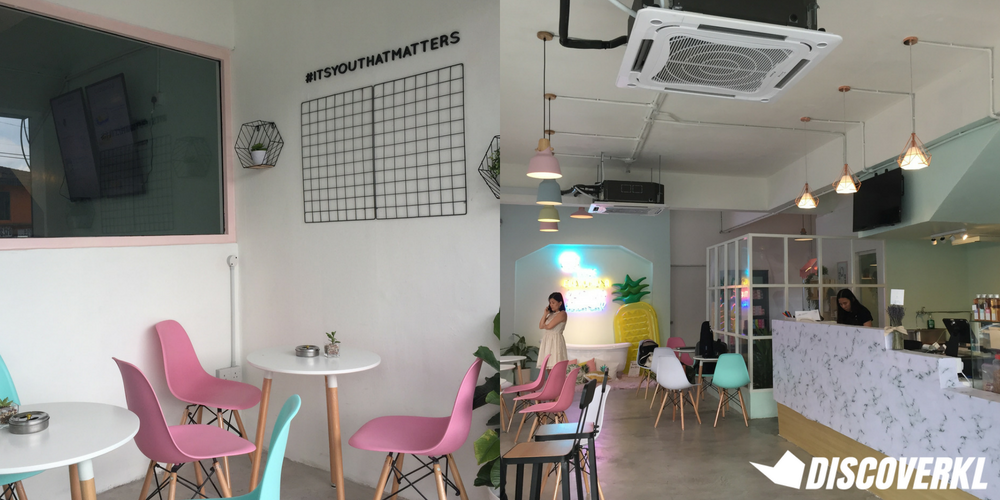 That's more than enough time for you to explore the place and try their cloudmoji dishes and marshmallow beverages.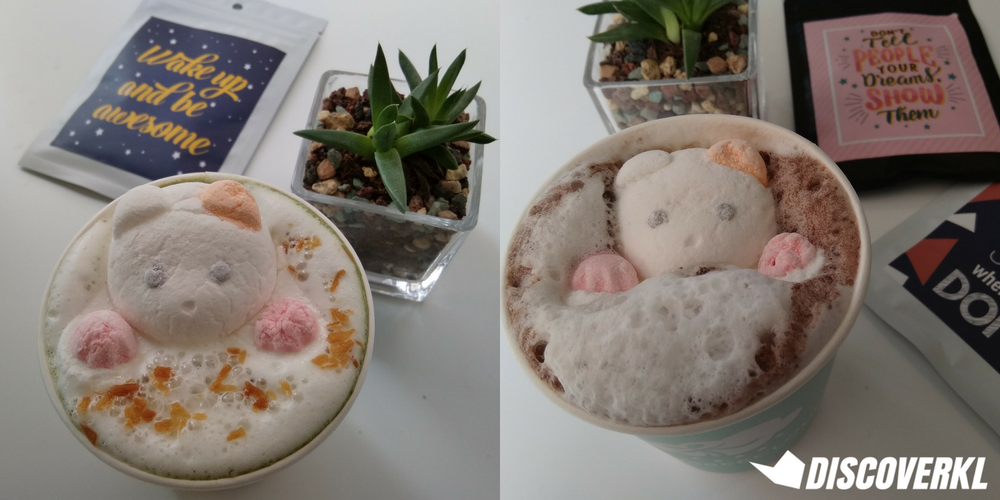 If you can't resist adorable animal videos, here's a kitty taking a hot chocolate bubble bath. We tried the Signature Hot Mallow Bath of Charcoal Chocolate (RM15) and as a sucker for chocolates, it was probably the best hot chocolate beverage we have ever had. We're not merely singing praises either as the hot chocolate is made with real chocolate and none of the cocoa powder nonsense. Plus, who could say no to the adorable cat marshmallow floating on the top. Combining activated charcoal with the purest chocolate, the team brings out a bold and rich spin on hot chocolates!
Next up was the Coconut Matcha (RM15) (on the left), an exquisite rich Japanese Matcha that brings the taste of Nippon right to us. Topped with coconut shavings that add their own signature aroma, this is one not to miss. Coconut and green tea? Who knew?
And don't get me started on their adorable, one-of-a-kind dishes!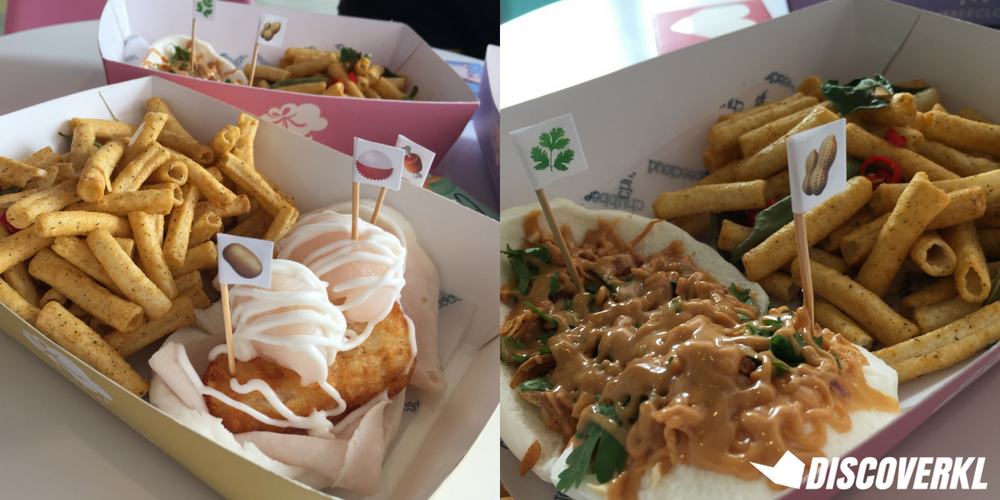 The first one was their Golden Hashbrown Lychee Cloudmoji (RM9.90). This particular combo would legit blow your mind because who would have thought that hash browns, chicken ham and lychee goes well together? A sandwich twist filled with a golden fried hash brown, slice of chicken ham and a couple of lychees to add a refreshing taste to your palate.
The Saigon Cloudmoji (RM9.90) is an indulgent combination of melty peanut butter, finely chopped coriander, oven roasted crushed peanuts, and crispy shallots sandwiched in a soft cloudmoji (that is actually a mantou bun). Tasted so good that I might actually come back to get more of it. As a peanut butter lover, I would never thought in a million years, that I would try it alongside some coriander and fried shallots.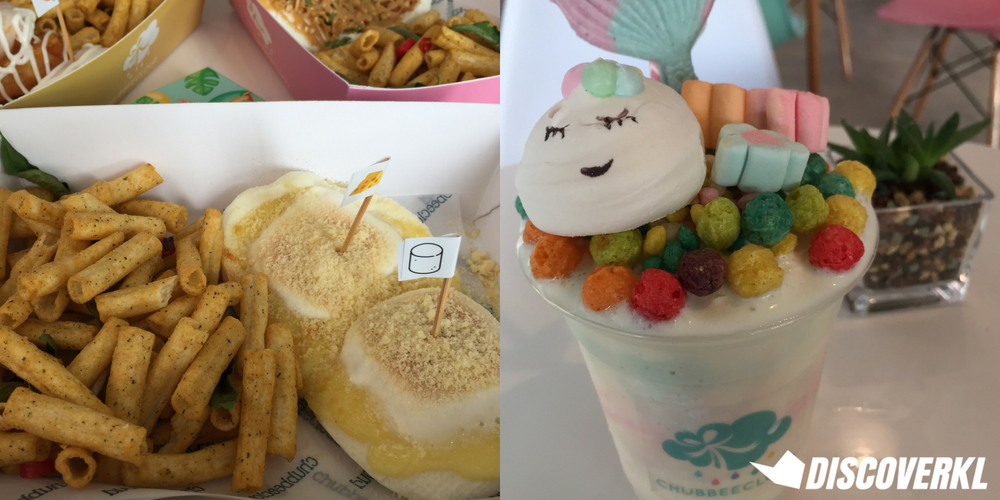 The Signature Triple Cheese Cloudmoji (RM9.90) would no doubt satisfy every cheese lover out there with an Italian classic. A soft, fluffy mantou bun loaded with three types of cheese—Mozzarella, Parmesan and Cheddar topped with torched marshmallows. A real cry to the cheese god, Cheesus!
These creative sensation that brings your taste buds to food heaven, are all served with a side of their special Salted Egg Cracker Fries, that are to die for! Yes, I am exaggerating again, because we couldn't stop eating them!
Trust us when we say this, they need to sell this at cinemas instead of popcorn, because this are way more addictive and delicious. The Salted Egg Cracker Fries (RM7.90) are also sold separately, topped with curry leaves and chilli flakes. This ain't your regular cracker fries, ya'll!  Simple irresistible, and we're sure you won't be able to stop munching from the first bite ?
Unicorn and rainbow vibes are quite overrated, but not the Magical Mericorn Milkshake (RM16)! This milkshake brings back good memories from when we were children—a bowl of fruit loops with some creamy milk. A vanilla flavoured milkshake that is topped with a carefully handcrafted Unicorn marshmallow, chocolate mermaid tail, and sprinkles of rainbow pebbles which is that good!
If you want to know a little secret though, the ChubbeeCloud team doesn't use regular ingredients to make this drink a show-stopper. Instead, they import some good Australian ice cream to give you that punch of creamy, and thick texture that makes it melt in your mouth with every sip! I might just come back for round 2!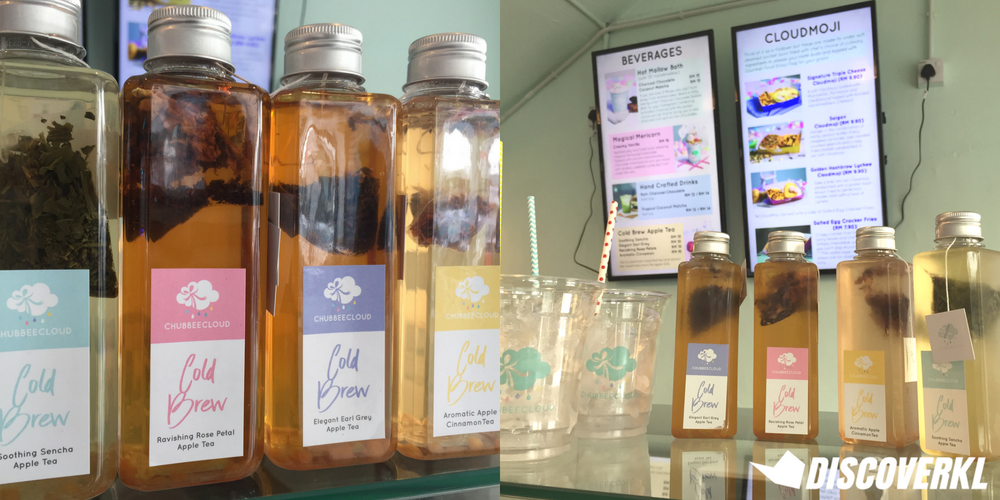 We also had the pleasure to try the their new Cold Brewed Apple Tea that is available in 4 flavours—Soothing Sencha, Elegant Earl Grey, Spiced Cinnamon Apple and Fragrant Rose Petals.
This premium imported tea is individually cold brewed for 12 hours giving you that strong, enriched aroma and taste of tea in every sip, that also gives you to savour the perfectly sweet apple bits on the bottom, giving you a surprise.
A personal favourite would be the Rose Petal, however the founders told us that they have plenty of customers coming back for the Spiced Cinnamon Apple. If you like spices, then this would be a great option. A both mix of sweet and spicy, perfect to spice up everyone's day.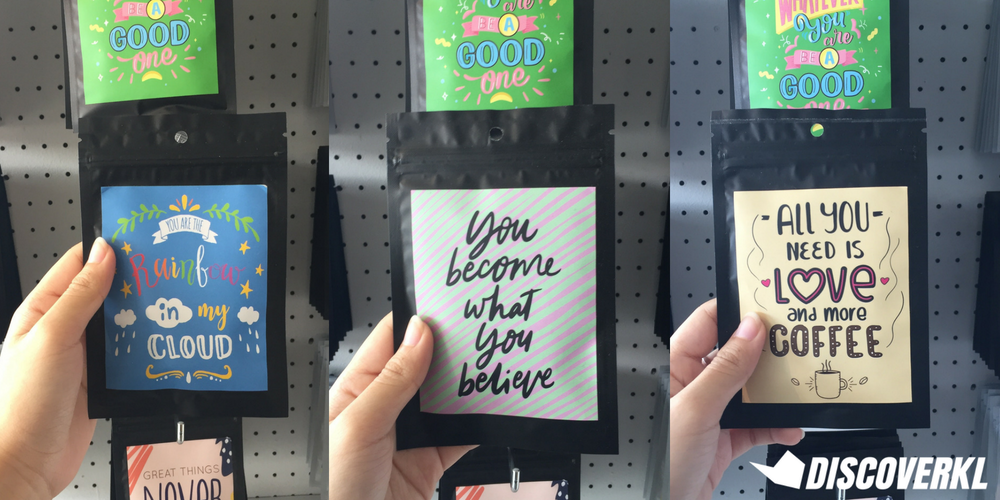 ChubbeeCloud has also launched a new product which is the A Letter For You.
Everyone could use a little coffee fix anytime of the day, and what's better by starting it off on a happy note? From 10 different types of coffee beans, A Letter For You will definitely keep those positive vibes flowing throughout the day with these sleek motivational packaging with finely crafted drip coffee sourced from an artisanal coffee roaster in Malaysia.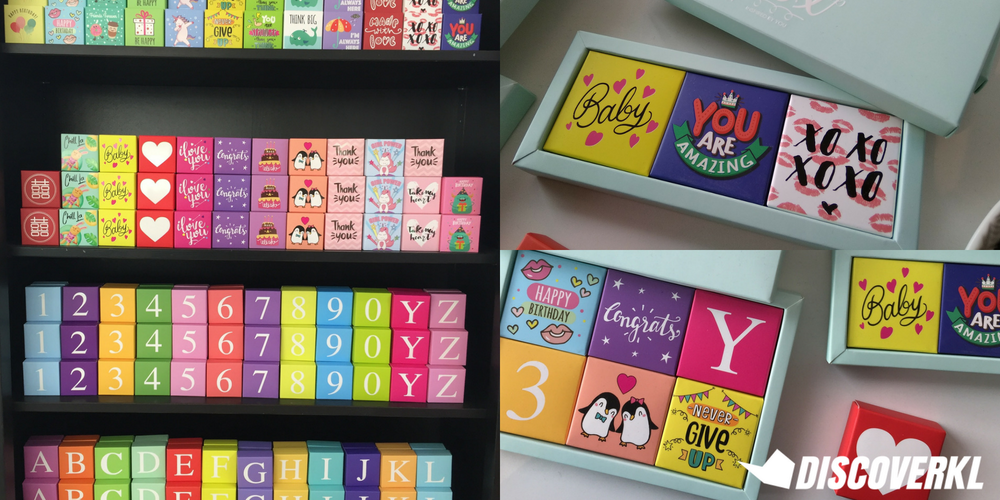 If you're not into marshmallows, or you have already tried them out and want something else, then THE BOX would tickle your fancy!
Available in 60 designs,  you can be creative by assembling words or mixing and matching the default designs for your loved ones. You can either choose between the milk chocolate or the dark chocolate, or you can just simply mix them together with the 6-piece or the 3-piece box.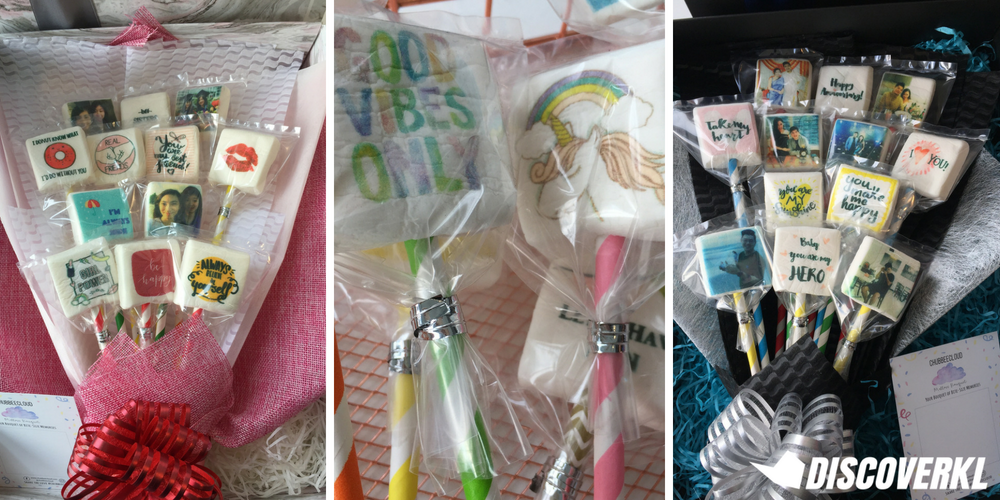 Another idea you can draw up is a special customisable Mallow Bouquet (RM138) with 12 bespoke ChubbeeCloud Marshmallows.
If you're after something small and simple, you can go for the Mallow Sticks (RM80) that are 10 sticks of the bespoke marshmallows.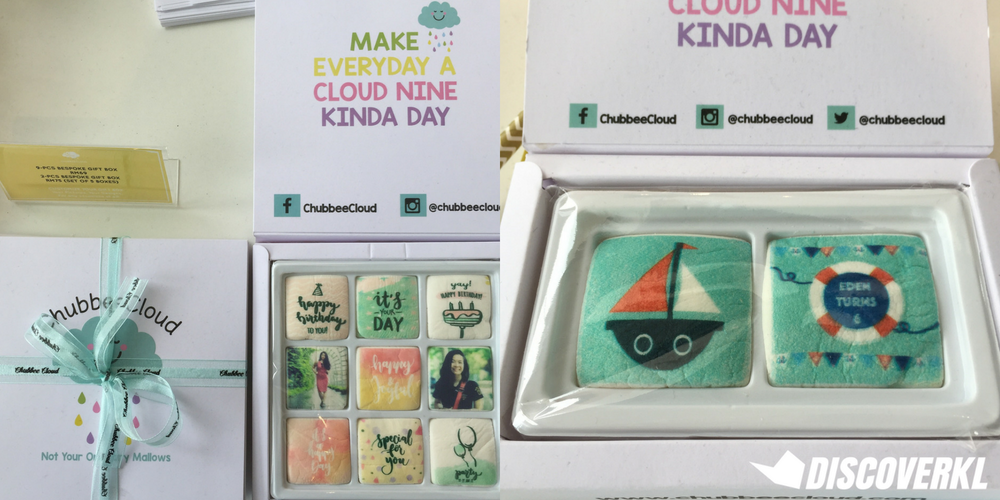 Let's not forget, the classic that got all of this started: the bespoke ChubbeeCloud gift box, that you can get in either a 9-piece (RM69) or a 2-piece that comes in a set of 5 boxes (RM75).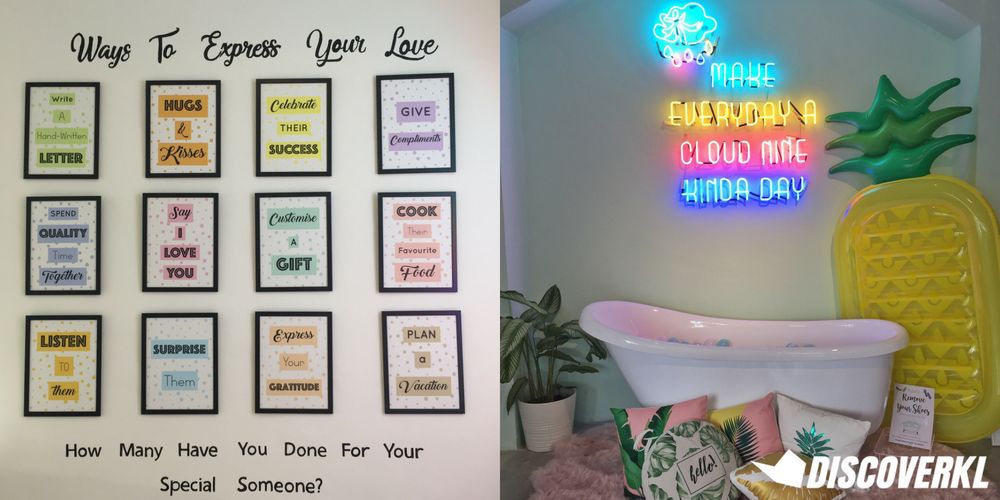 Also, this place is an ideal Instagram hangout spot! Don't forget to take tonnes of photos at their photo corner with neon lights, a cotton candy bathtub ball pit, coupled with some soft pillows and a pastel pink rug to set the vibe.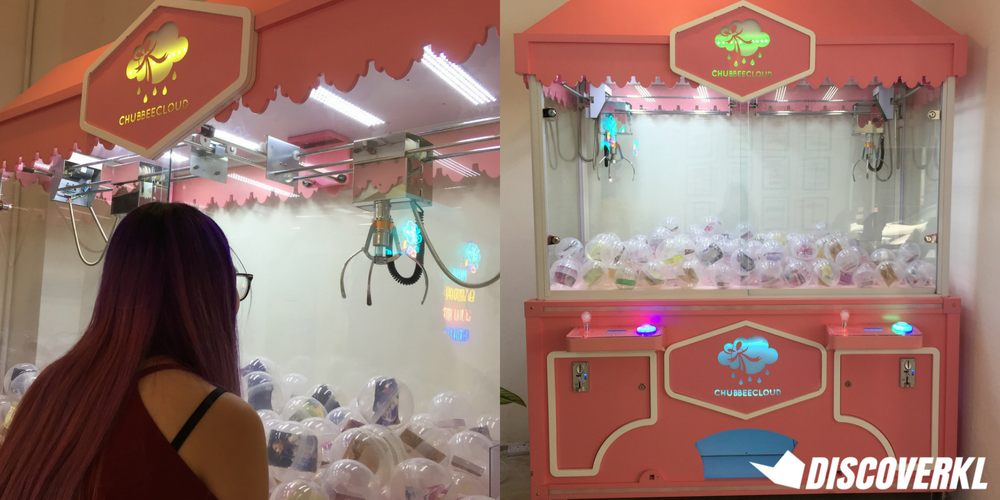 Ending our visit, we had the chance to battle it out with the claw machine. Trust me, this machine would get you jumping on your feet, and the struggle was real (literally!).
To get a token to play, all you got to do is purchase one of their drinks or food, and you'll be given one token. So if you're down for a battle, get 10 or more friends to swing by, so you won't just end the battle with just one chance only.
Overall, it was good way of ending the day, we can see this becoming a super cool hangout spot for many in the months to come.

ChubbeeCloud Gift Experience Store & Café
Hours: Tuesdays-Sundays: 12pm-11pm, closed on Mondays
Address: 85-G, Jalan SS 21/1A, Damansara Utama, 47400 Petaling Jaya, Selangor
Website: ChubbeeCloud