The one thing that is rather unique to Malaysia is our pasar malam, otherwise known as night market. In Kuala Lumpur itself, there is already an abundance of pasar malams, like Pasar Malam OUG, Alor Street Food Night Market, Pasar Malam Connaught, and Sri Petaling Pasar Malam etc.
Of course, there is more than food that you can get at a pasar malam, like rip-off shoes, rip-off electronic products, and more rip-offs. Still, let's be honest, the main purpose of anyone going to a pasar malam is to binge on the oiliest and fattest food that can only be found in a pasar malam, and then cry about it the next morning while also planning – and failing – to head to the gym later in the day.
So, if you're planning to binge and then cry and then plan but then fail, here are the ten snacks you must try in case you find yourself at the Sri Petaling Pasar Malam.
1. Tofu Bakar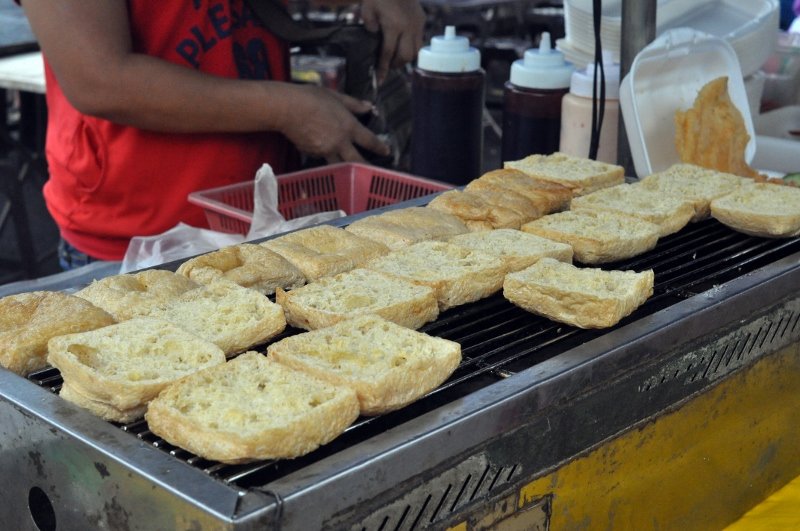 Tofu? Ew. Bakar? Yas. Okay, not really, the public consensus about tofu is kind of split – understandable, because if it is a vegetable then why does it not look like one? If you enjoy tofu in general, you might find this fried version life changing. If you are the kind of person who run away at the sight of tofu, belum try, belum tau, sekali try, hari-hari mau, right?
This dish is served in a rojak style, tossed together with Penang special spicy sauce, cucumbers, peanuts, chicken floss, and crisps. What is most surprising is that it still somehow manages to remain crispy even when drenched with sauce. Magic.
2. Deep Fried Mushrooms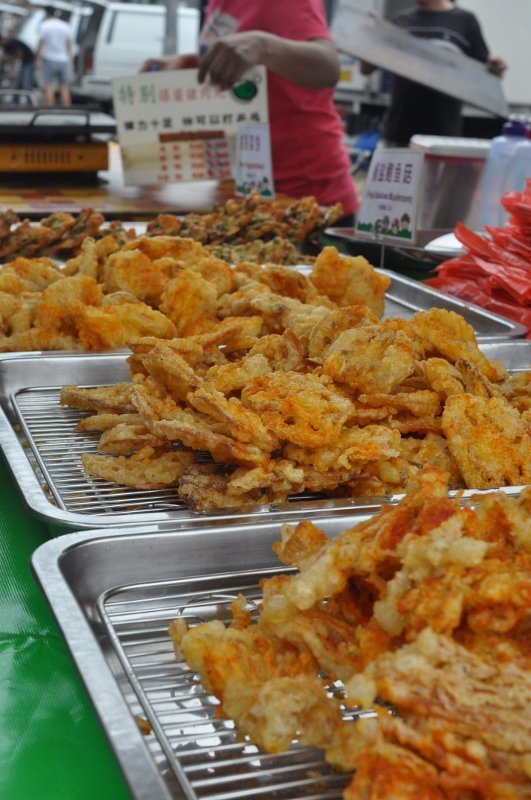 Make room in your hearts for these mushrooms, Yes, yes, you are at a pasar malam for deep fried meat, so why would you go for deep fried vegetables instead? Well, pal, because – as much as it hurts to say this – vegetables might actually taste better than meat, and this deep friend mushroom is.
It is sprinkled with tasteful chili powder and served in big chunks of batter – spicy and healthy! (Kinda). When the batter comes off, delight in the idea of getting to eat more when you're done with the mushrooms. When the mushrooms refuse to separate, rejoice in the juicy and fullness of the food in your mouth. Allow it to explode and blow your mind.
3. Deep Fried Glutinous Rice Cakes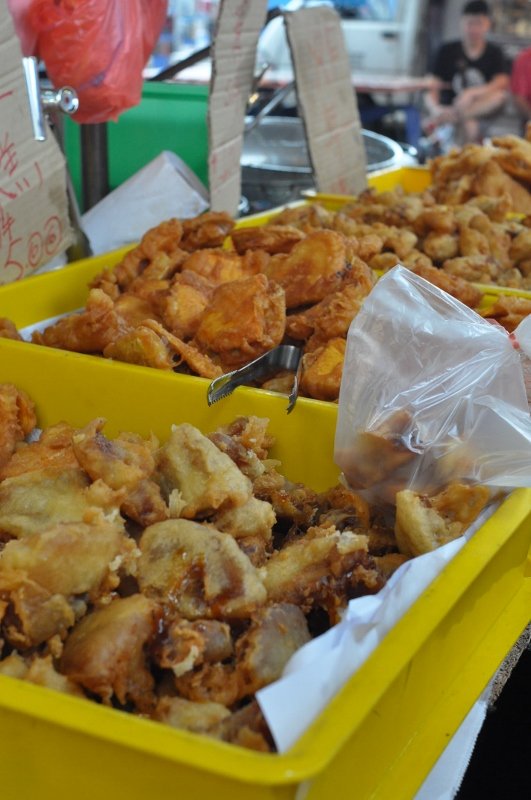 Now, you're probably like: What on earth is a glutinous rice cake? Chinese people, you may know it as nian gao (年糕). It is a lump of sticky sweet rice that when after you've swallowed it, the sweetness of it sticks in your mouth so well that you may be able to sweet talk your way out of anything.
At this stall in this particular pasar malam, the treat comes in the form of miniature pieces that can be eaten in a couple of bites. Plus, the crunchy batter coating the treat is a perfect complement to the gooey sweetness of the cake itself. If you don't want to eat the cake alone, you can always have it fried together with yam and and sweet potato.
4. Pork and Leek Pies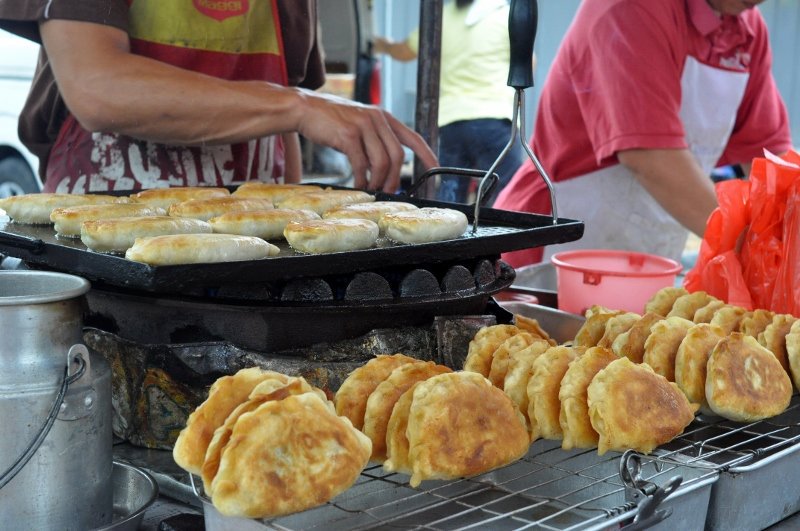 For the perfect comfort food that offers you meaty goodness with the crunchiness of vegetables, look no further than the pork and leek pies available. These pies are filled to the brim with pork mince and leek fillings, and grilled to a perfect golden brown right in front of the customers.
5. Salted Egg Fried Chicken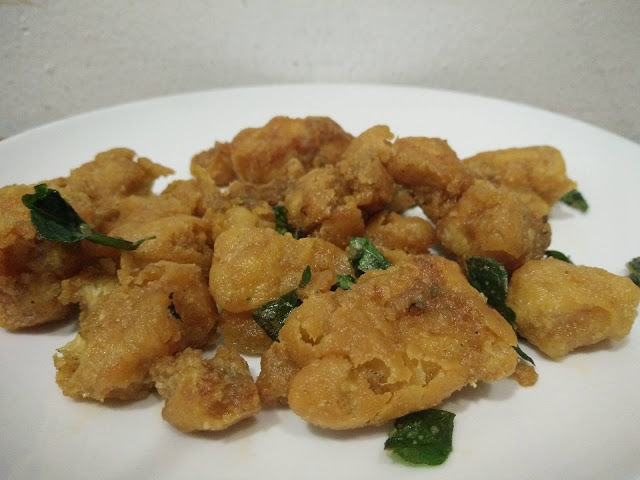 Entirely unhealthy, completely viable for a heart attack and kidney problem, but so delicious. Any salted egg obsessed individual will definitely appreciate the greatness of salted egg fried chicken. Fried chicken is savoury enough as it, but when coated with salted egg batter, you will definitely experience a foodgasm.
6. Black Stinky Tofu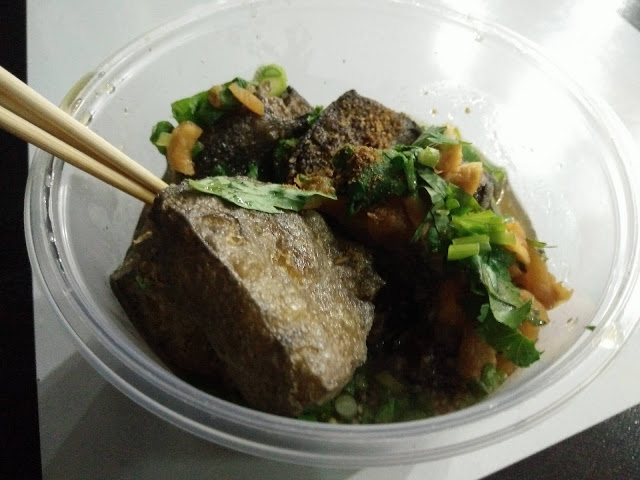 Another tofu? Yes, because while the first one probably smells nice, this one absolutely stinks like a skunk. For any normal person, when it stinks, the first reaction is to walk away because what if it's a dead body? Well then, do not walk away if you smell an odour in this particular pasar malam; it is not a dead body, but another absolutely tasty treat that you will definitely regret if you miss out on it. The spicier the tofu, the tastier it is.
7. Dimsum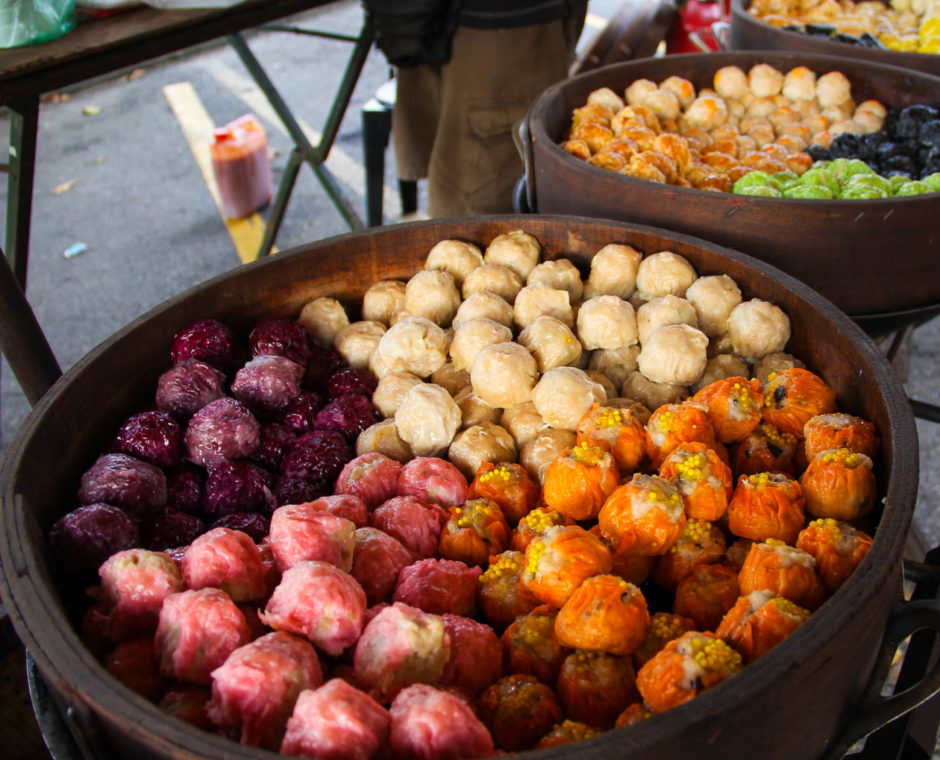 If you are looking for cheap but still delicious dimsum, the Sri Petaling Pasar Malam has it for you. They have an assortment of Chinese treats that definitely taste as delightful as they look. Their most popular dimsum, though, is their siu mai, which is always the first one among all to be sold out.
8. Char Kuey Teow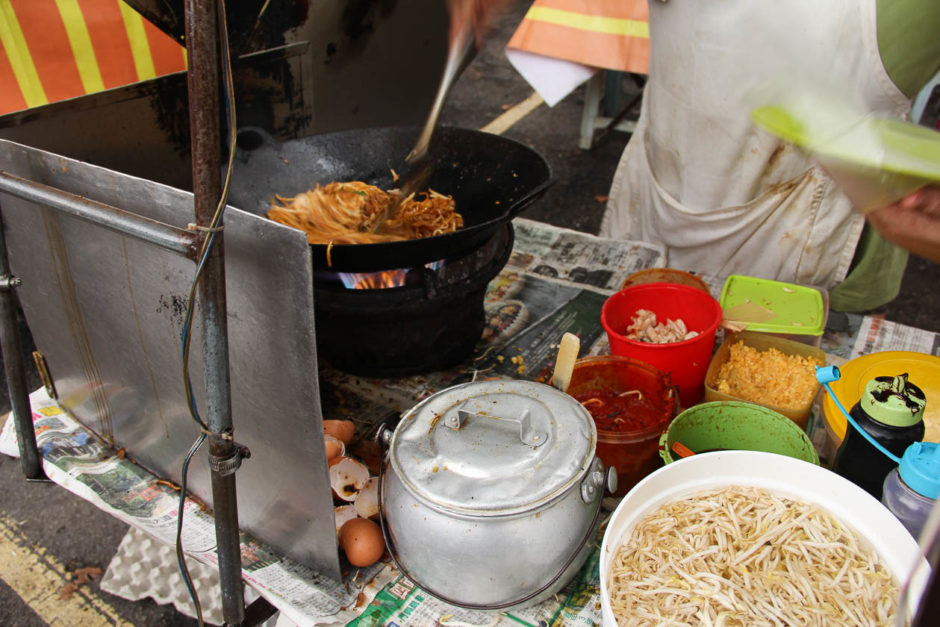 You do not go to a pasar malam and not eat at least a plate of char kuey teow. It's just not realistic. Luckily for you, down the zigs and the zags of the Sri Petaling Pasar Malam, you will find at least three char kuey teow stalls, all of them unique and tasty in their own ways. Keep your stomachs empty, and prepare to try all five stalls and decide which one is your favorite.
9. Dragon Beard Candy
Do not miss out on the soft and pillowy sweetness of the Dragon Beard candy that is available at this pasar malam. Given that it used to be a delicacy for the Chinese Emperors back in the day, you get to understand why this sweet was reserved for the royalty in the olden days – perhaps you might even feel like an emperor yourself while you are eating this sweet.
One look at it and you probably think it's just strings of sugar, but no, because when you take one bite, you will be attacked with the taste of toasted peanuts and sesame seeds. The strands themselves are made from sugar and maltose syrup combined. Eating it fresh is best because it does not bode well in the humidity and may melt off easily.
10. Coconut Ice Cream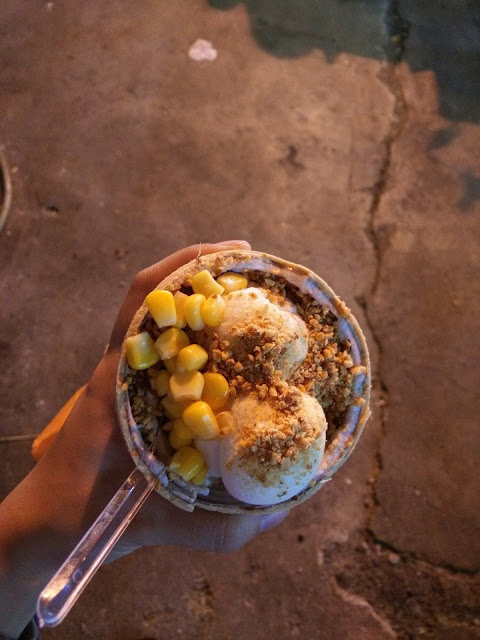 And finally, after all the fried and the grilled, perhaps it is time to take it down a notch. The best way to do so is by trying out their coconut ice cream. Or you can also get your dessert in the form of coconut shakes, blended with Oreo, Nestum, or chocolate, or even all four together!
Sri Petaling Pasar Malam
Hours: Tuesday: 6pm-12am
Address: Jalan Radin Tengah, Sri Petaling, 57000 Kuala Lumpur, Malaysia