The Mid-Autumn Festival is only a week away and if you're looking for some last minute mooncakes that are slightly out of the ordinary, here are several to keep an eye out for. Chicken mooncake anyone? 😛
1. Chicken Mooncake @ Westin Kuala Lumpur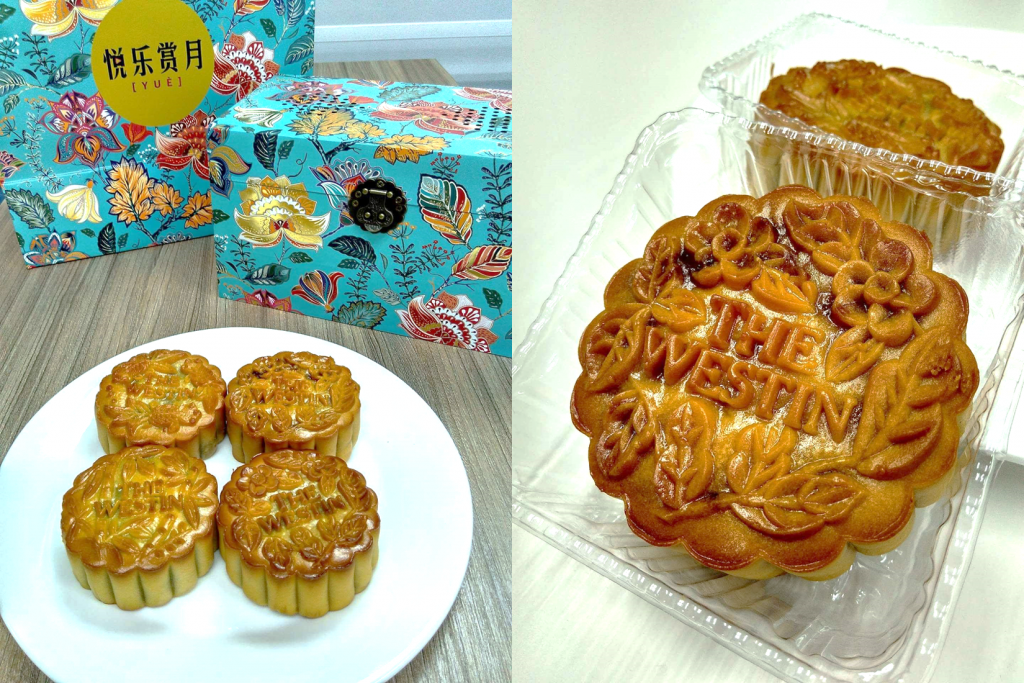 Westin KL's mooncakes come in a set of 4 and they are packaged in a bluetooth speaker-incorporated treasure box. Yup, you heard right. So if you're feeling a little jiwang and you wanna listen to some music whilst indulging in these mooncakes, you can. 😛 The treasure box is a Tiffany Blue shade and blooms decorate the box beautifully, making it not only a useful bluetooth speaker but also a lovely storage container.
As for the mooncakes itself, they come in flavours like Supreme Mix Nuts, Low Sugar White Lotus, Pandan Lotus and Red Bean. If you're the adventurous sort, opt for the Supreme Mixed Nuts which comes with grilled chicken meat, chicken floss and scallops filling. It has a chewy texture to it and surprisingly, the savoury chicken complements the sweet mooncake paste well.
The Low Sugar White Lotus and Pandan flavours are traditional and slightly too sweet for our liking but would go perfectly well with a cup of coffee or tea. Last but not least, the Red Bean flavour stood out for being not too sweet but is flavourful at the same time.
2. Tea-Infused Mooncakes @ Purple Cane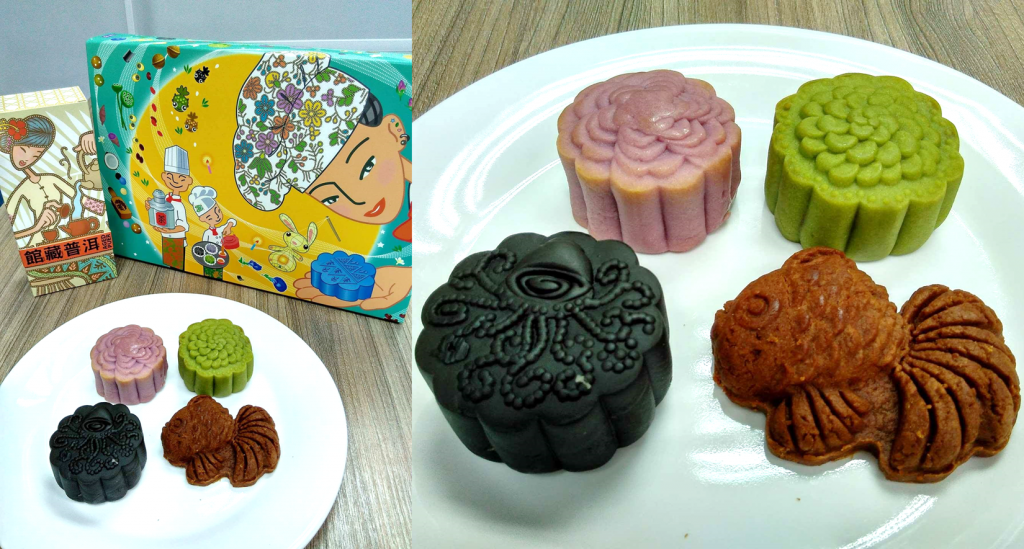 Purple Cane's mooncake set comes with a box of Aged Pu Er Tea and 2 sachets of Tie Guan Yin tea. Traditionally, mooncakes are sampled with a warm cup of tea, so it's nice that Purple Cane included some of their store favourites in this mooncake box.
The 3 mooncakes included in the set are the Bamboo Charcoal Rose Tea, Red Bean Green Tea and White Tea. The rose tea mooncake has a fragrant floral flavour to it, which is unique for mooncakes. This was snapped up quickly and received lots of 'oohs' and 'aah's for its perfumey flavour. The Red Bean Green Tea, on the other hand, had a subtle green tea flavour to it with just a hint of red bean.
Upon biting into the Purple Potato Lotus Paste mooncake, you can taste the strong purple potato flavour. It's clear that Purple Cane did not skimp on the ingredients for this one. It also had a slightly chewy texture to it as compared to the first two mooncakes. If you'd like to try an empty mooncake without any filling, Purple Cane has that option as well with their Goldfish-Themed Mooncake.
3. Ferrero Rocher Mooncake @ Grand Millenium Hotels KL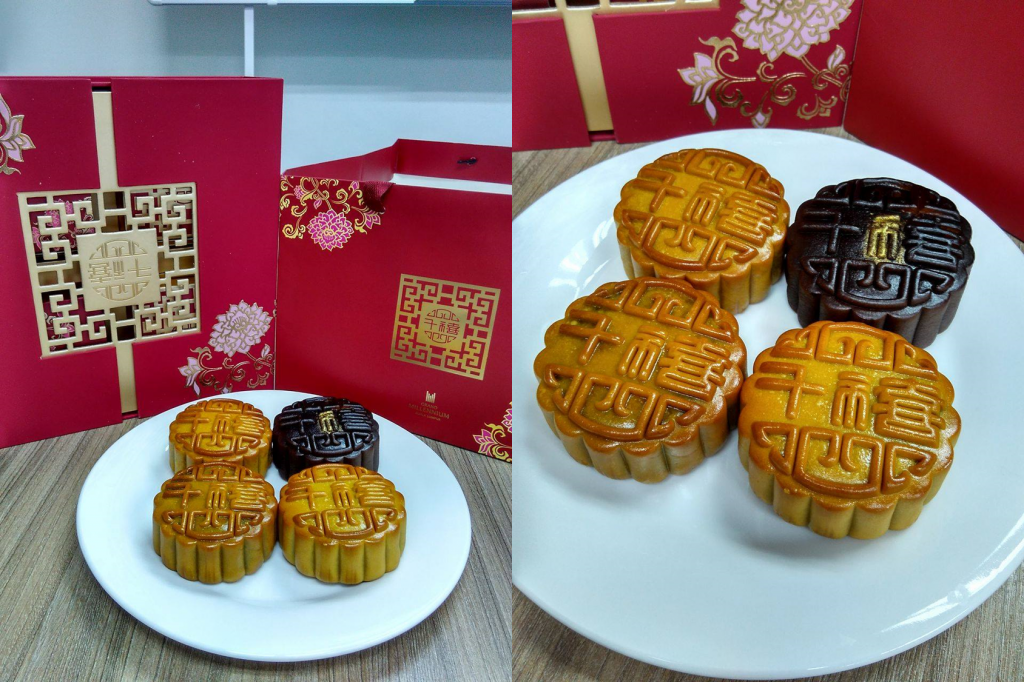 Grand Millenium Hotels are celebrating the upcoming Mid-Autumn Festival with a set of mooncakes encased within a red and gold box that exudes elegance. Upon unboxing, you'd find 4 mooncakes which have a slightly denser texture compared to other store-bought mooncakes. They are the White Pure Lotus Paste Single Yolk, Green Tea Pure Lotus Paste, Red Bean Paste and Chocolate Pure White Lotus Paste.
Immediately, one mooncake stood out and it had to be the Chocolate Pure White Lotus Paste. The exterior of this mooncake has a smooth chocolatey texture which couples well with the White Lotus Paste which isn't as sweet as the traditional Green Lotus Paste. Once you reach the middle, there's a Ferrero Rocher surprise too and it added a nice nutty texture which surprisingly goes well with the mooncake skin.
The Green Tea Lotus Paste has a unique fragrant flavour to it and it was delicious down to the very last bite. For those who enjoy mooncakes with a yolk filling though, try the White Pure Lotus Paste Single Yolk. The touch of savoury actually cuts through the sweetness of the White Lotus Paste nicely. The Red Bean Paste did not stand out as much, perhaps due to the fact that it had strong competitors. However, the red bean taste was fair and we'd imagine it pairing well with the Green Tea Pure Lotus Paste mooncake.
4. Ice Cream Mooncakes @ Inside Scoop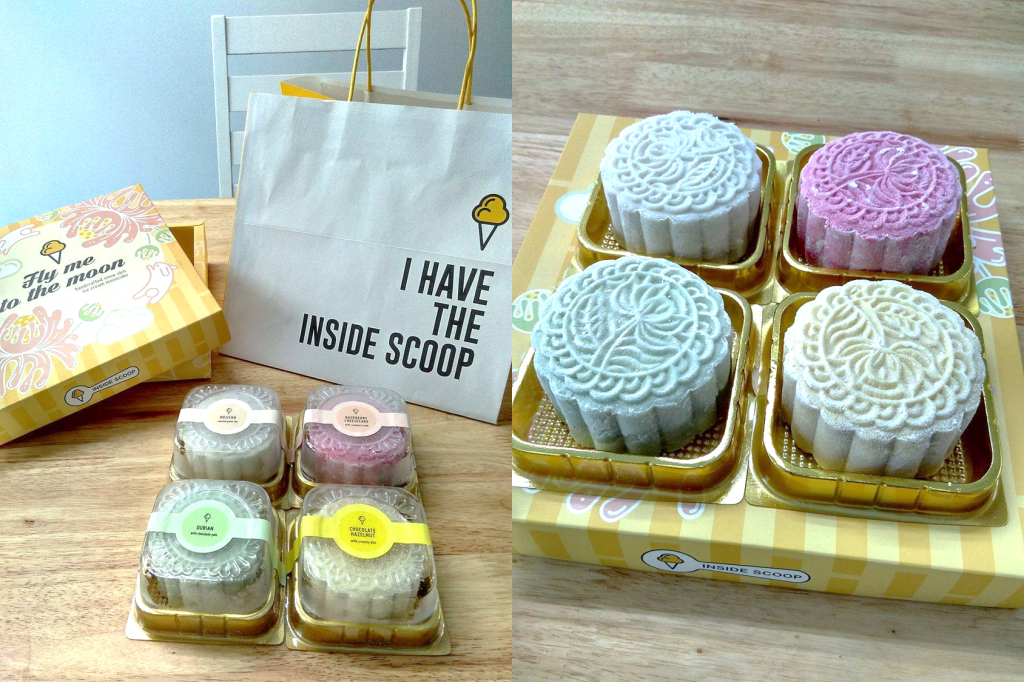 Inside Scoop has outdone themselves with their ice cream mooncakes. Take these handcrafted snow skin ice cream mooncakes home from any Inside Scoop outlet but remember to pop them into the freezer within 45 minutes. When you're ready to enjoy them, remove from the freezer and let it thaw for 10-15 minutes or until the skin is soft.
Inside Scoop's mooncakes come in 4 different flavours: Hojicha (Roasted Green Tea), Durian with a Chocolate Yolk, Raspberry Cheesecake with a Raspberry Yolk and Chocolate Hazelnut with Crunchy Bits.
The Hojicha has a distinct, earthy flavour to it and has a slight bitter aftertaste. The Durian, on the other hand, was not a flavour we would've expected at all. The durian ice cream matched the chocolate flavours and it went well together too.
The Chocolate Hazelnut, like its name promises, has crunchy bits to it and adds much needed texture to a mooncake which tends to be a bit chewier. The Raspberry Cheesecake was hands down the most unique of flavours and the yolk's the best part. It has a tangy flavour coupled with the creamy cheesecake. Basically, it was delight with every bite.
Bonus
5. Popcorns In A Mooncake Tin @ Garrett Popcorn Shops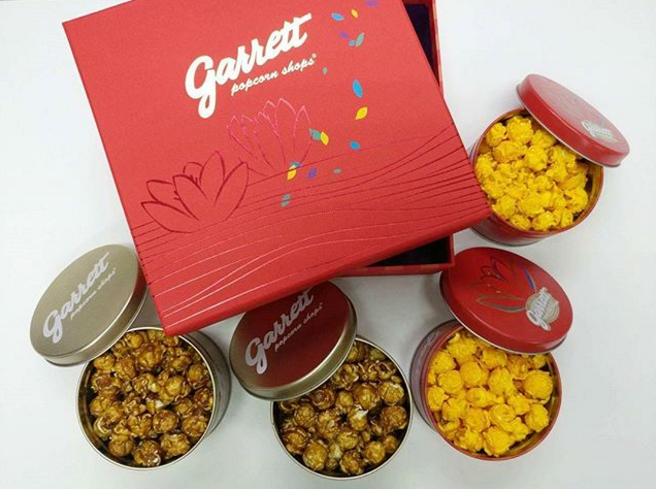 Know someone who's not the traditional sort? Arguably, not everyone's into mooncakes. But, if you know someone who'd still love to celebrate the Mid-Autumn Festival with something equally as symbolic, Garrett Popcorn Shops might be your best bet.
Why not surprise them with a box of 4 Garrett Popcorn tins instead? Each set comes with 2 tins of sweet and savoury flavours: CheeseCorn and CaramelCrisp. They're the perfect combo and you can enjoy having a handful of both at the same time.
The Cheesecorn flavour is popcorn mixed in with freshly-melted, sharp cheddar cheese. It's like Cheetos, only better and better for you. As for the CaramelCrisp, it has deep butter notes to it, and is coated generously with a sweet brown sugar and crème brûlée syrup. Best part is, after you're done enjoying your popcorns, you can wash and keep your tins aside to store little trinkets.