When we first stepped into MadHatter Desserts, we were greeted by its owner—runner-up of Masterchef Asia, Marcus Low. The bespectacled guy was wearing what must be his favourite hat. He's worn this very hat during the filming of the show, at press interviews and now even whilst he's busying himself around his new café.
Perhaps he wears it for luck, after all that hat's rested on his head through all of the recent major milestones in his life, even now with the opening of MadHatter Desserts in Damansara Uptown. One thing's for sure though, he doesn't need any luck when it comes to his food because that comes from pure passion and dedication, nothing else.
We would know, for we had the chance to see the chef in action as he expertly whipped up our plated desserts during a recent review at MadHatter Desserts.
Claypot Rice (RM25)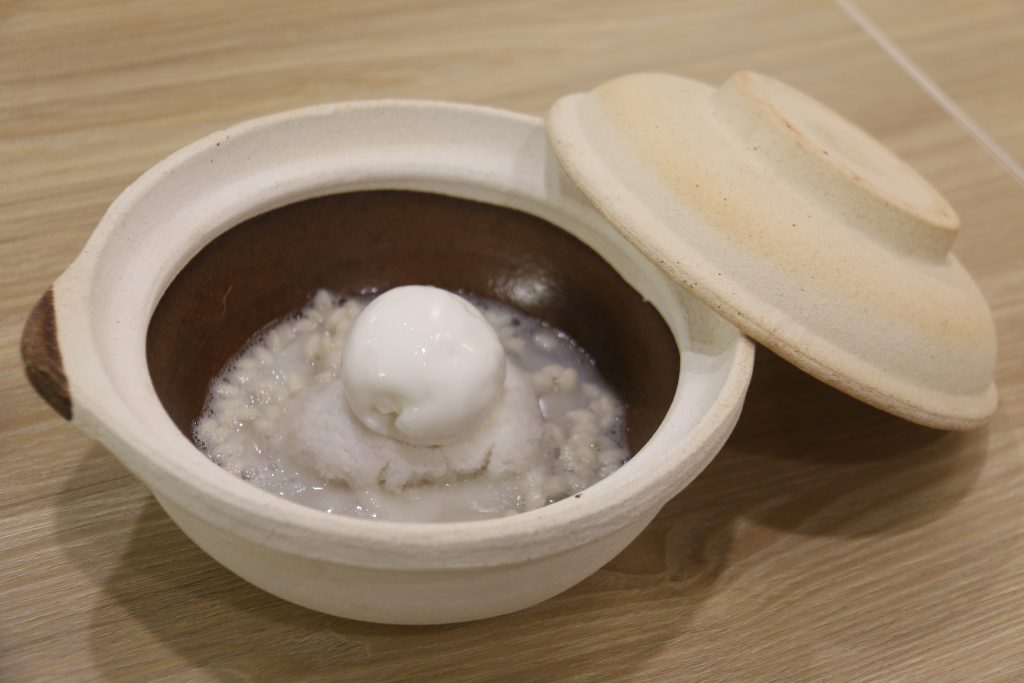 This plated dessert is comprised of glutinous rice & barley warm pudding, rice milk jelly, rice crunch, bamboo leaf foam and rice milk snow ice. When asked how often does this dish gets ordered, Marcus jokingly quipped, "A little bit too often." He told us how this dish is a difficult task, so much so that when an order for the Claypot Rice comes in, everybody in the kitchen chips in to help.
It has a nice smokey taste to it which is not very common in sweet desserts. "I use Apple Wood chips to smoke it and it gives a really light, sweet smoke," Marcus explained. The inspiration for the dish actually came about when Marcus was at a plate shop and discovered many pretty claypots. "I saw a claypot and got the inspiration to use it to contain a dessert. The idea is to have a monochromatic dish, one ingredient and one colour," he said.
Bubur Cha Cha (RM23)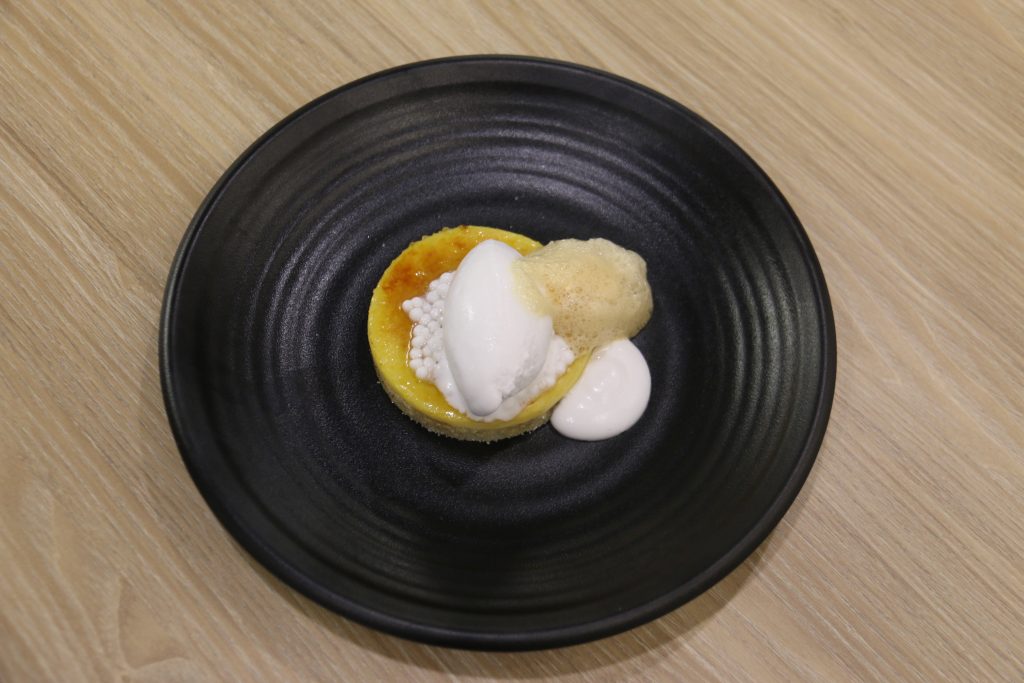 The next plated dessert was one Marcus found more confidence in replicating each time, as compared to the former. It is made up of sweet potato cake, pumpkin brûlée, coconut pearls and bubur cha cha ice cream. It's pretty much the cake version of bubur cha cha, accompanied by a light and creamy ice cream.
Marcus told us how the coconut caviar is coconut purée set with agar agar and that gives it the appearance of tiny round coconut pearls. "As for the pumpkin brûlée, it is pumpkin mixed in with milk, blended and set with an agent. It has a pudding-like texture to it." The final touch is the gula melaka foam with coconut gel on the side. This dish, like the Bubur Cha Cha, is meant to be eaten as it is served because of the elements which melts fairly quick.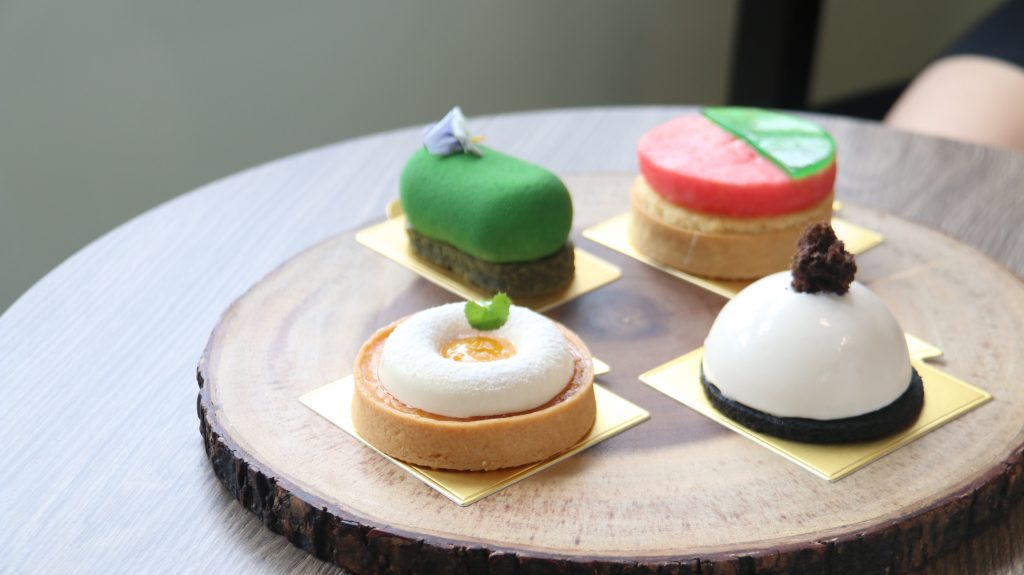 Chocolate Heaven (RM17)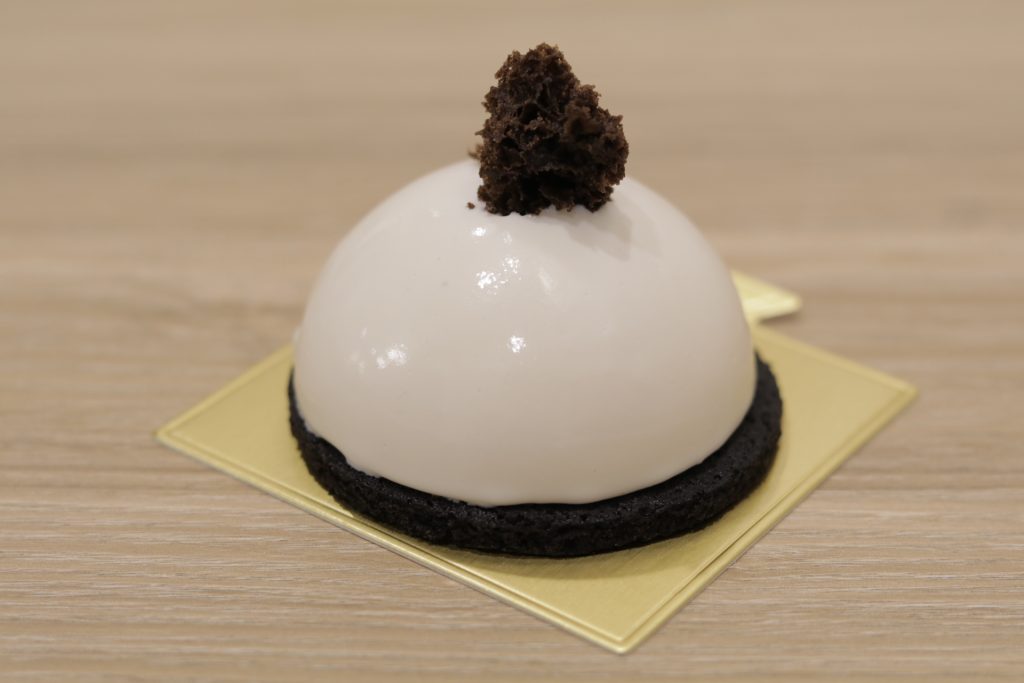 Next, we tried out the counter desserts. Personally, I'm not much of a chocolate fan but the rest of the team were and they found that the caramelised white chocolate is not overtly rich as caramel has a tendency of being, whereas the cake is soft and creamy.
Marcus explained how the dessert comprises of 4 types of chocolates—caramelised white chocolate, white chocolate, milk chocolate and dark. It was a nice blend of chocolate and no flavour was trying too hard to compete against the other. "It's my idea of trying to pull together all the types of chocolates into one dessert," Marcus said, of the Chocolate Heaven.
Pistachio, Passionfruit & Green Tea (RM17)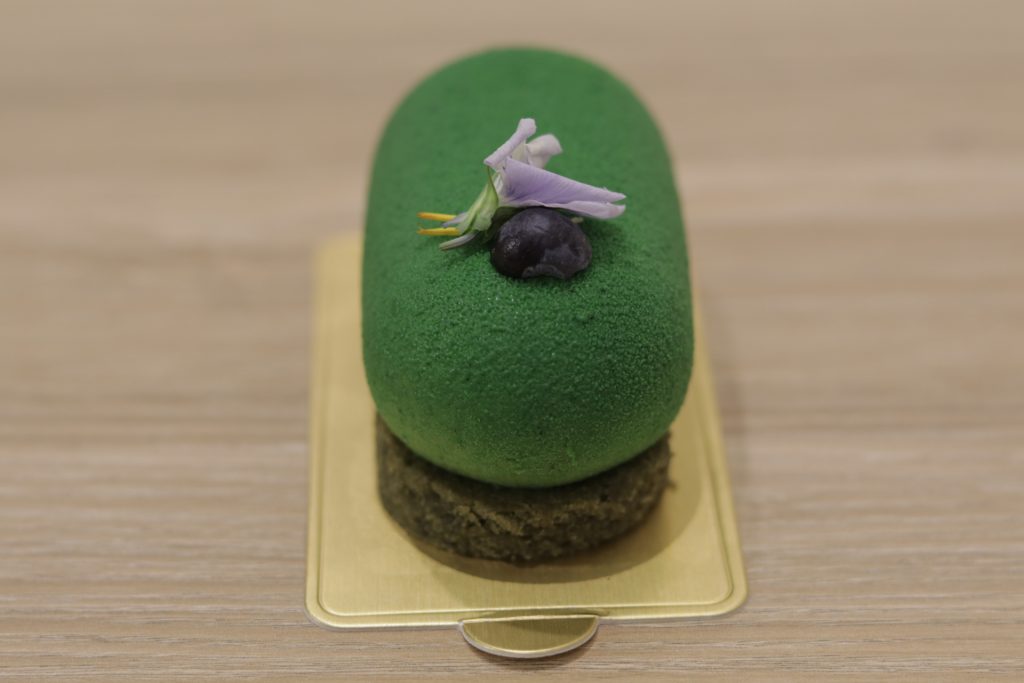 When we were presented with the Pistachio, Passionfruit & Green Tea, I told Marcus how green tea desserts in Malaysia tend to be too sweet and the resulting taste is somewhat artificial. Marcus then explained that he's not much of a fan of green tea himself and that's why this dessert has a rich nutty flavour to it. It's actually from a secret ingredient: a touch of quality pistachio paste.
The resulting dish is a green tea cake with pistachio mousse and a passion fruit curd in the centre. It's definitely an acquired taste and has a hint of an herby flavour to it. It's good for those who do not have much of a sweet tooth and interestingly, the tiniest element of the dish—the fresh flower—also adds a nice layer of crunch.
Watermelon & Assam Tart (RM15)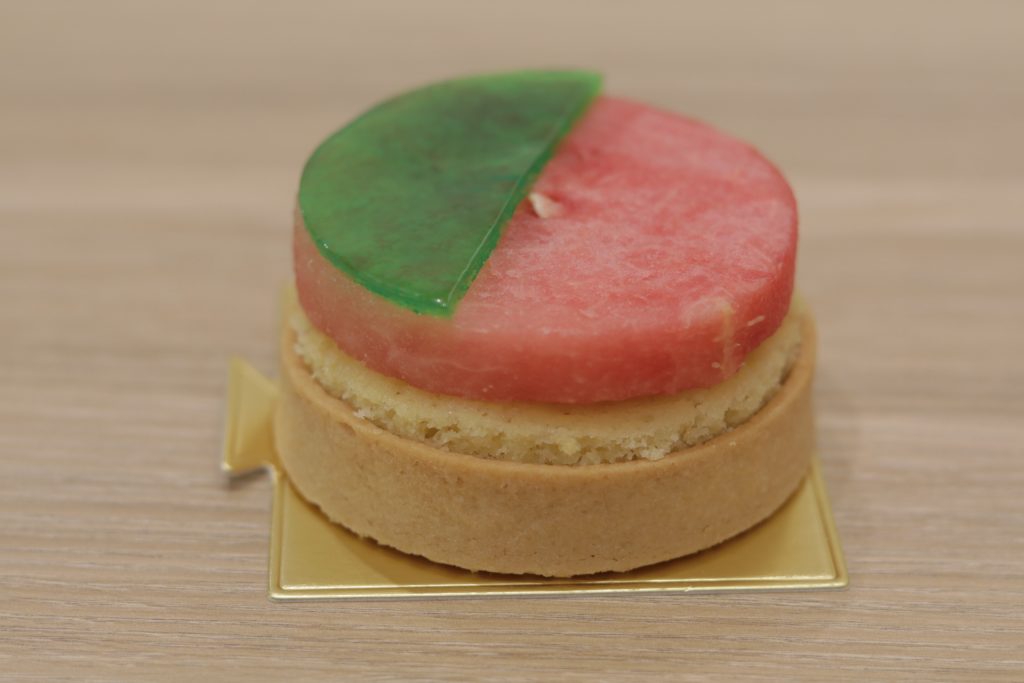 This tart is a piece of watermelon with a mint gelée on top, followed by a vanilla sponge which has been soaked in assam juice. It is followed by an assam curd and a vanilla tart. "The idea is basically to replicate watermelon in a plastic bag with assam, something you would normally get at fruit stalls," Marcus said.
It's not something you would find at any ol' cafe, perhaps simply because not many dessert chefs would incorporate assam into a sweet dish. For me, the flavour combo works. For the rest of the team, not so much. They found the assam vanilla sponge's flavours a bit too strong and they were not accustomed to assam in a dessert. For those who like the taste of assam (even on its own), you would be able to enjoy this dessert better.
Passionfruit & Miso Tart (RM15)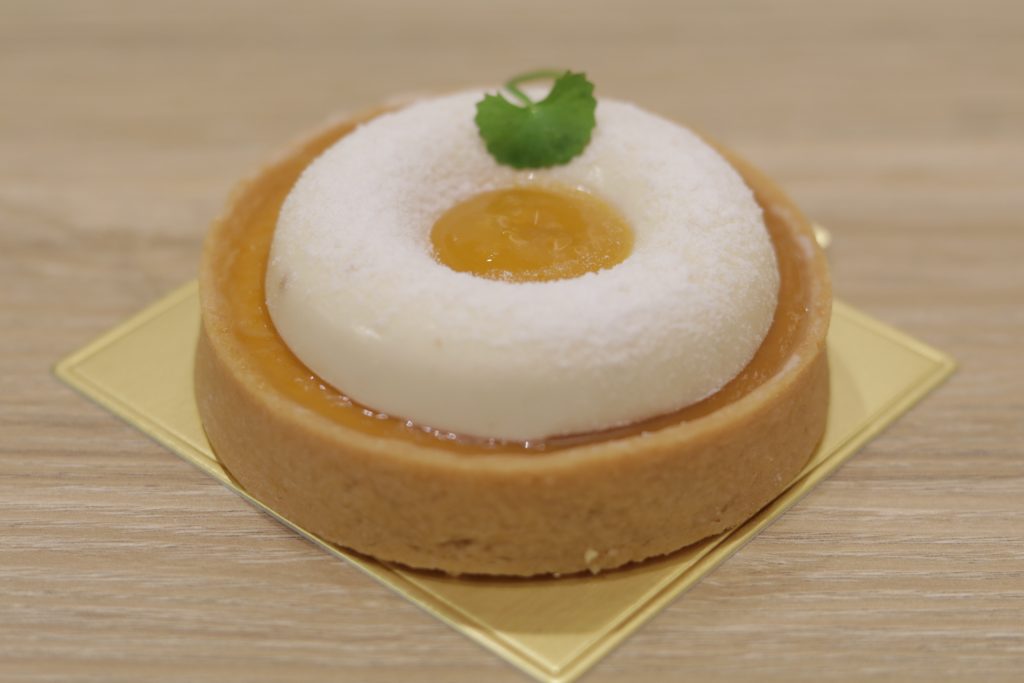 The final dish had an interesting element mixed in: tauchu. Now, this, I can say with confidence, that I've never tried. The dessert features a passion fruit gel which is nice and tart. It is followed by a miso panna cotta. "The only reason why we call it miso is because it's more relatable. What we actually use is tauchu. So it is miso, but I'm using the local ones to hone the idea that we use local products," Marcus said.
The dish is followed by a passion fruit gelée and a passion fruit and miso ganache. The resulting dessert is nice and citrusy. It is salty from the white miso and sour from the passion fruit. Warning: the first bite from this dessert might be a little bit of a shock. Savoury-sour desserts are after all not for everyone considering how desserts are typically sweet. Don't knock it before you try it though. You might just find the taste growing on you by the second bite.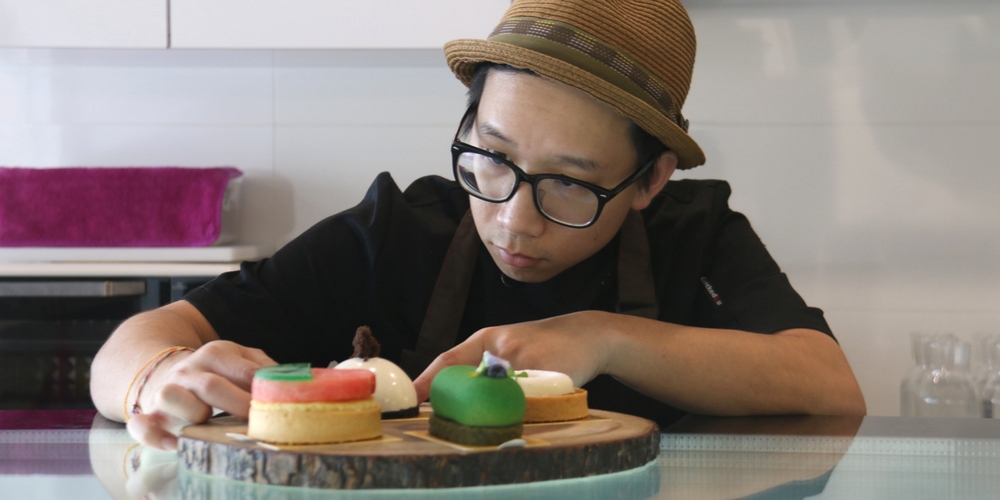 In the first few minutes of meeting Marcus, he comes across as soft-spoken and a man of not many words. His food, though, speaks volumes. No, they may not be portioned big but you don't expect to leave this place feeling full to the brim. What you can expect though are desserts that're far from just throwing some simple ingredients together.
You can head to any ol' bakery and get yourself a vanilla cake or chocolate tiramisu, that's fine. But if you want to try something out-of-the-box and dishes that'll spark conversations, then MadHatter Desserts is one place worth your time.
MadHatter Desserts
Hours: Saturday-Sunday: 12pm-11pm, Wednesday-Monday: 12pm-10pm. (Closed on Tuesdays).
Address: Jalan SS21/60, Damansara Utama
Website: MadHatter Desserts