With many Ramadhan meals and promotions mushrooming around Klang Valley, Sunway Putra Mall challenged us to try out 6 Ramadhan meals at one go—allowing us to savour both local meals and international ones such as western cuisine and Korean cuisine.
So we decided to take them up on it. Be warned, this isn't for the faint-hearted (especially not the faint-stomached)!
We were there from 11am to 5pm. Here are the 6 meals that we managed to dine on in those 6 hours. All the restaurants that we visited serve halal food, perfect for even non-Muslims to enjoy with their Muslim friends.
1. Onde-Onde, Level 1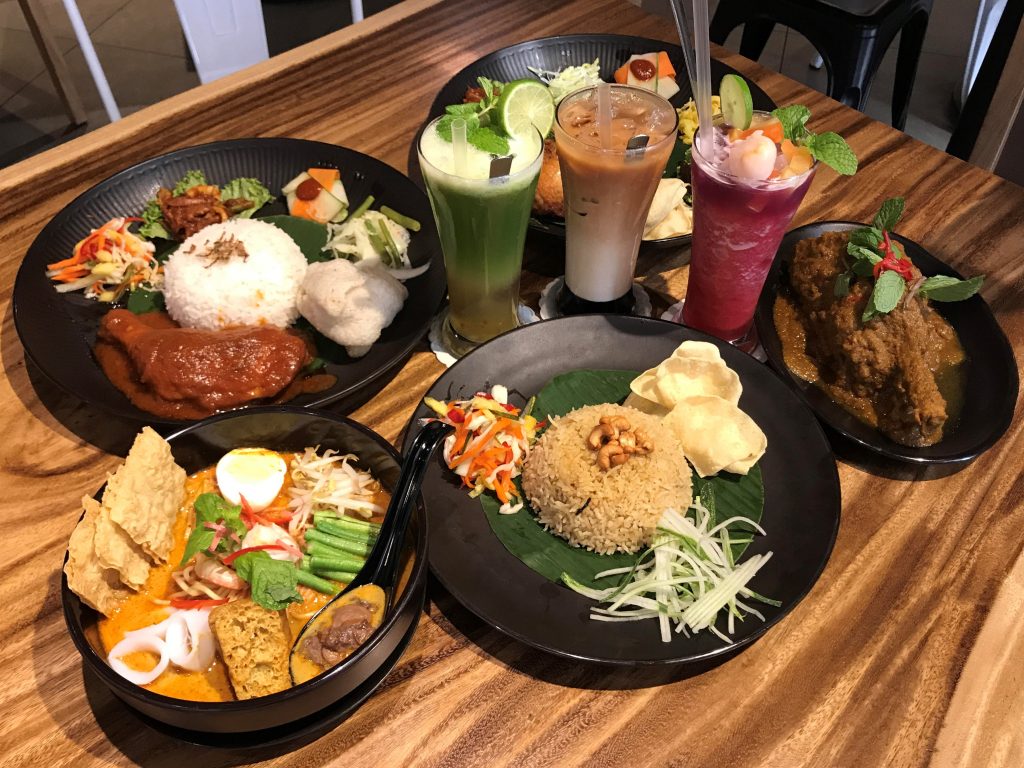 Onde Onde's Ramadhan set includes Salted Egg Kerabu as the appertiser and various main meals like Nasi Ayam Masak Merah, Beef Rendang Briyani and even Western dishes like Grilled Chicken Butter Cream Pasta.
We got ourselves Ramadhan Set 1 which is for 2 pax for only RM69.90+ and this set includes Sirap Pandan Cooler, Ice Lemon Tea, Bubur Pulut Hitam and Banana Fritters with Gula Melaka.
What we loved:
Meat dishes are the highlights here and the Ayam Masak Merah emerged as the clear crowd favourite!
Stomach Level:
40% (Hardly Full)
2. Narenj, Level 4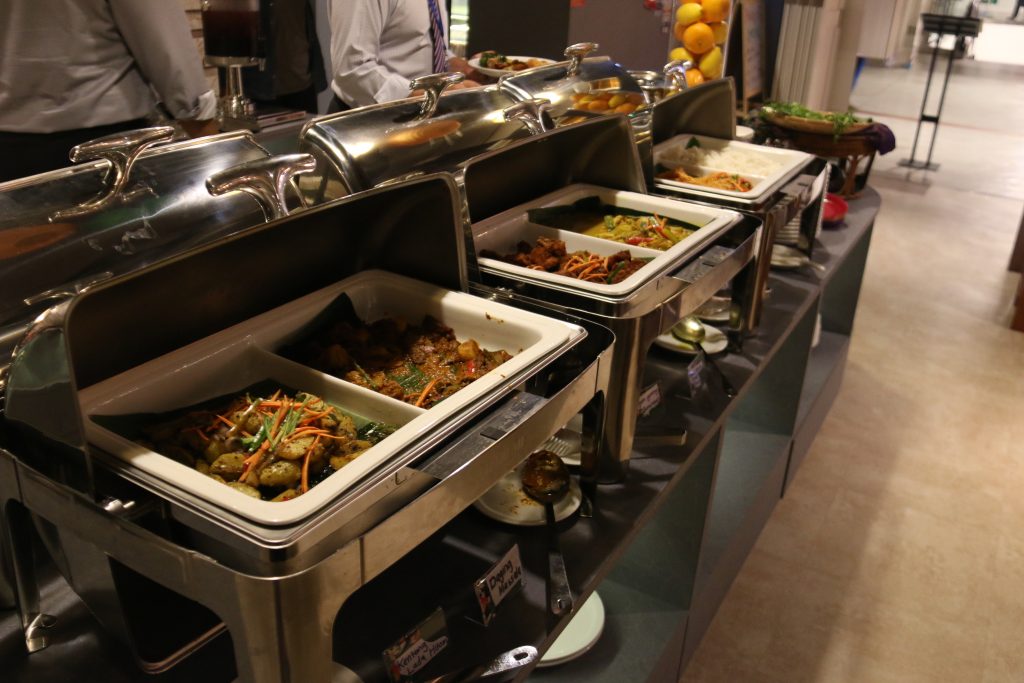 Narenj usually offers a variety of 10 dishes every day, during the fasting month, they will be adding 4 more dishes such as Nasi Briyani, Nasi Tomato, Gravy Singapore noodle and even ABC desserts.
The buffet price is RM44+ per person but for early bird bookings, you get 10% off. We savoured some of their specialties such as Asam Pedas Pari, Sotong Masak Kunyit, Ayam Masak Merah Timun, and many more.
What we loved:
All the dishes were authentically cooked with flavours that pack a punch! We're well aware that there's still a lot of food left to consume, so we wisely controlled our portions and tried just a little bit of everything. And yet, all these small bites were very flavourful due to the amount of herbs and spices being used.
Stomach Level:
70% (Still Going Strong)
3. Las Vacas, Level 1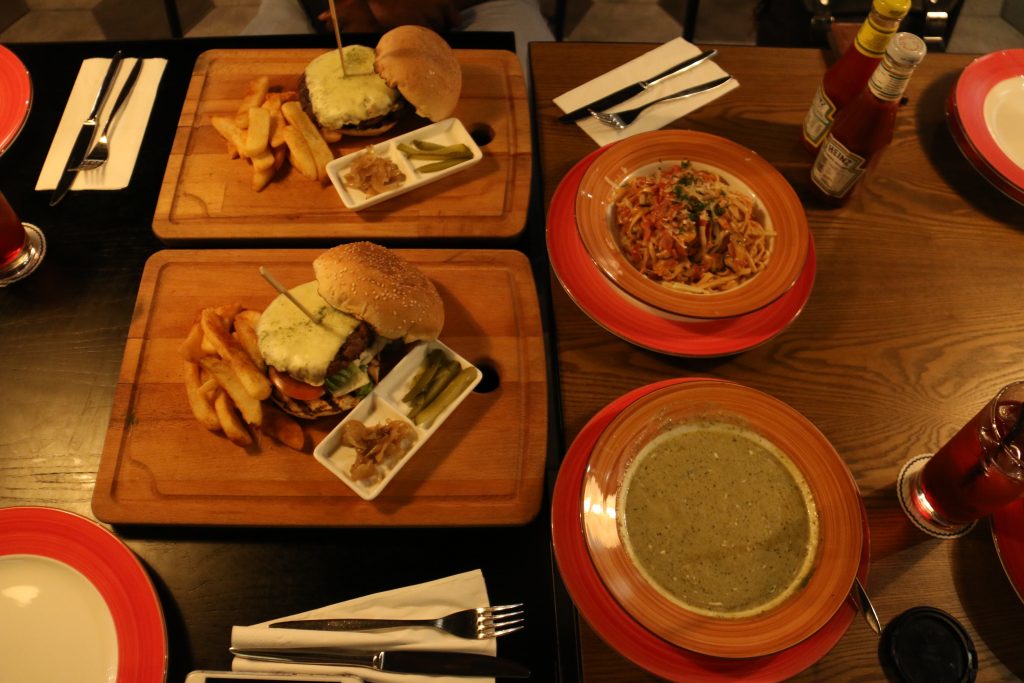 The Las Vacas dinner buffet is going to be available starting from next week (RM75+). So instead of the buffet, we went for the highlighted lunch set meals which are the Classic Beef Burger, Lamb Burger or Turkey Ham & Mushroom Creamy Tomato Linguine Pasta which come with the soup of the day and drinks for only RM25 nett.
What we loved:
The burger buns are soft and not dry, the patties are juicy and HUGE. When you squeeze it,  you can literally see the juice from the meat oozing out. Now that's one good patty!
The pasta was definitely a winner! The sourness from the tomatoes blended really well in the sauce so the resulting flavour and texture was perfectly creamy and savoury.
Personally, out of all the meals I've had thus far, I was able to finish this one with most ease despite how full I was.
Stomach Level:
90% (Almost There)
4. Bakar Station, Level 4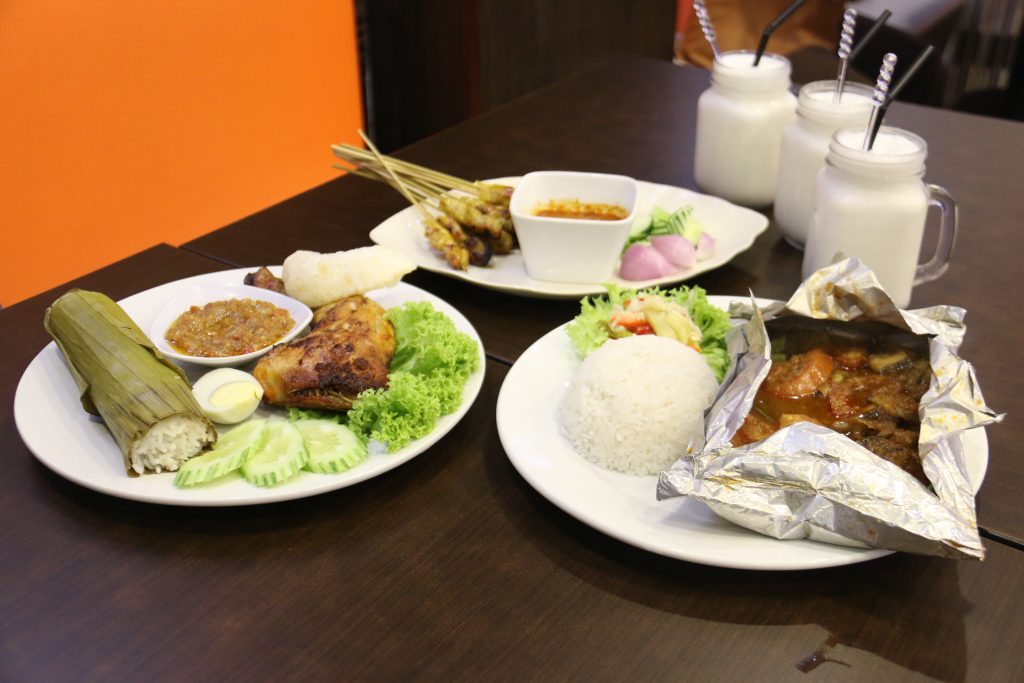 Bakar Station is known to make local cuisine well, especially the famous 'panggang ayam' or also known as grilled chicken. We were also able to try some of their Ramadhan offerings like the bamboo rice, baby stingray fish with nyonya asam sauce and chicken satay.
What we loved:
The rice that's been wrapped in banana leaf and cooked in a bamboo shoot was something new to our palates. It was fragrant and cooked perfectly. Not only that, it paired very well with their house-made shrimp paste and one of us actually ate the whole bowl of belacan!
The owner mentioned that this is not just your regular belacan that is found in stores. They mix and match ingredients to find the right spices and taste that wouldn't overpower the rice and chicken.
Stomach Level:
110% (Getting Real Tough)
5. Myeongdong Topokki, Level 4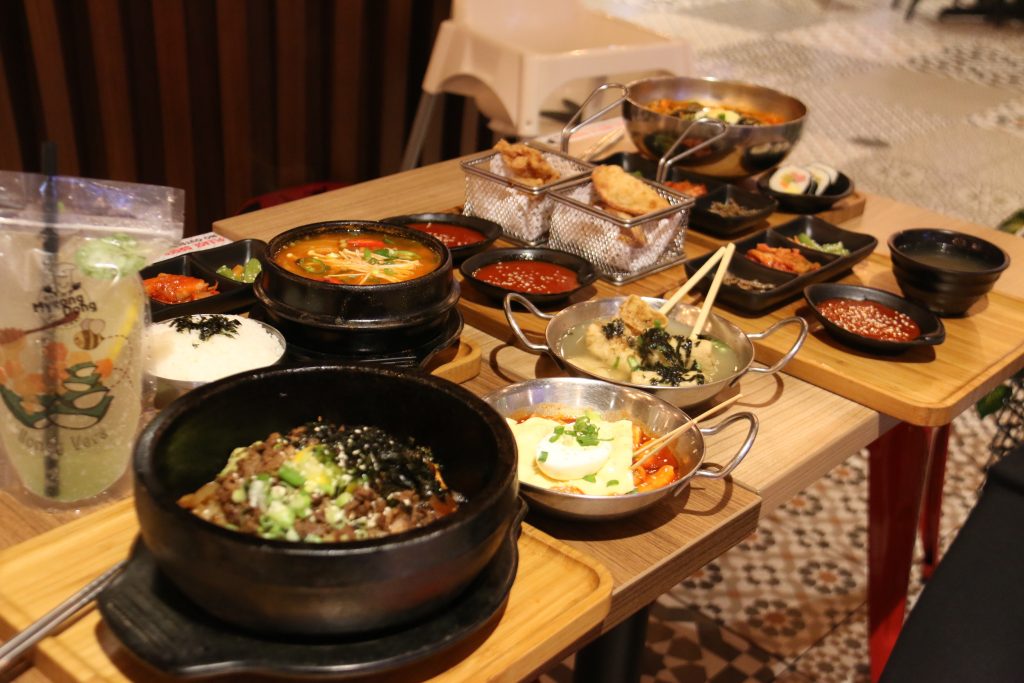 Myeongdong Topokki is located at Selera Street, Level 4. Specially for this month, there will be a special dish, Soy Garlic Chic Topokki. It comes in both ala-carte & set meals.
Both Jjang (only RM49.90 for 2-3pax) & Daebak (only RM89.90 for 4-5 pax) set meals.
For Daebak set meal, includes:
One noodle dish: Cheese Ramyun or Hangul Chicken Ramyun

One soup with a side of rice: Soondubu Jjigae or Kimchi Jjigae

One stir fry dish with rice: Bulgogi Chicken Deopbap or Bulgogi Beef Deopbap

One stone rice: Dolsot Bibimbap Chicken or Beef or Squid or Seafood

Soy Garlic Chic Topokki

Kimbap

Banchan (side dishes)

Drinks and free kurma during buka puasa time
What we loved:
We were initially worried about the Korean food here being too spicy for Muslims who are fasting, but fortunately it wasn't. Everything was just the right blend of spicy and sweet!
Stomach Level:
140% (Ugh Bloated)
6. Second Cup, Ground Floor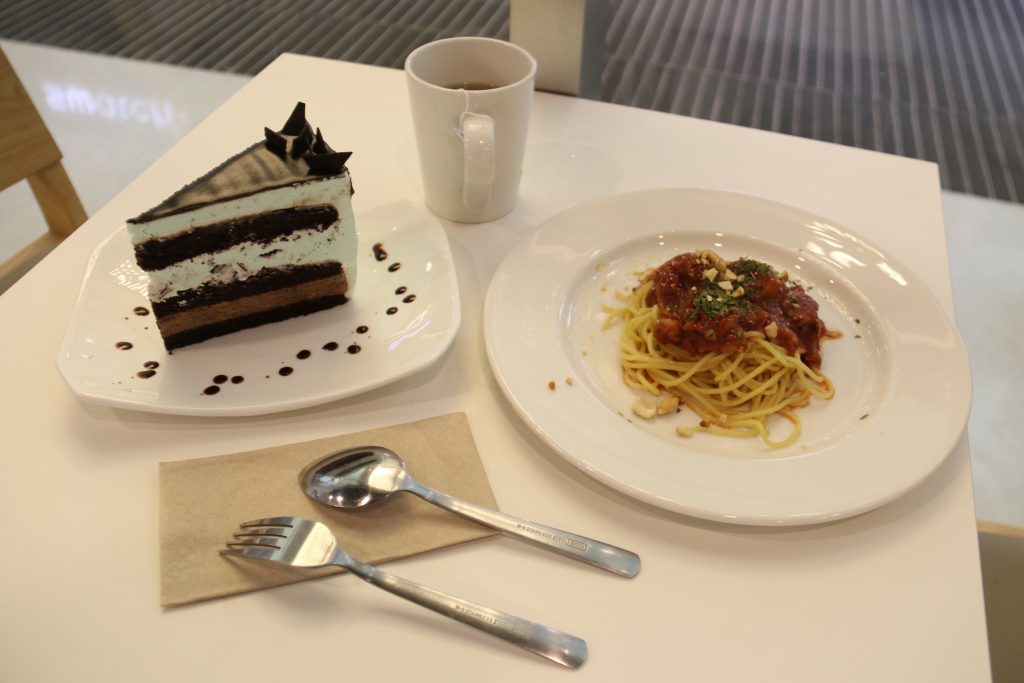 This is the only outlet in Malaysia and final pitstop of this challenge. We braced through one more Ramadhan set meal before calling it a day. Luckily, it wasn't anything too heavy and who would complain about ending this challenge with desserts?
Their Ramadhan set consists of one savoury dish, a cake, and coffee or tea.
We went for their classic Bolognese spaghetti and chose a more light and refreshing cake, which was the Jasmine green tea and chocolate chip mint cake.
What we loved:
The cake was an excellent choice as it wasn't too jelak to eat and not too minty too. We were genuinely pleased that this was the ending dish of the feast. There are plenty of other cakes we wanted to try such as Lemon Blueberry, Banoffee Tart and Blueberry Razzle Cheesecake, unfortunately we've surpassed our tummy limit.
Stomach Level:
150% (Overkill)
Overall, it was a fun challenge and we enjoyed tasting a variety of meals at Sunway Putra Mall. However, a small piece of advice to our readers, don't be insane like us! You don't have to stuff yourself silly for sahur or buka puasa. If there is one thing that we learnt from this, it's that we should prioritise quality and variety of food over quantity 😉
Sunway Malls Raya Launch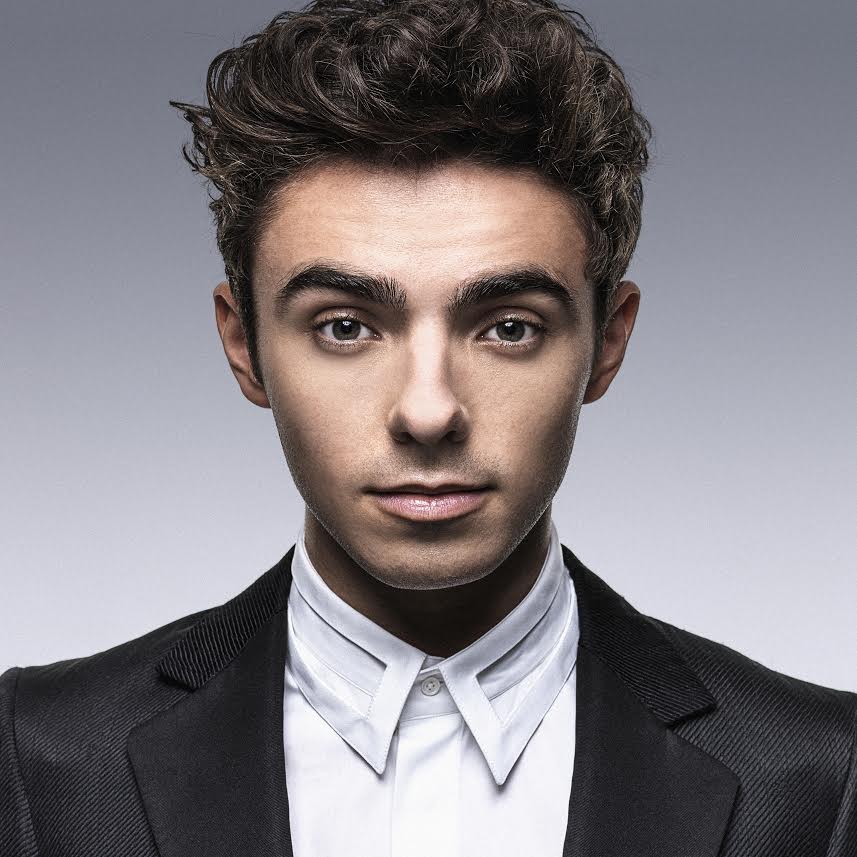 Oh! Did we mention that Nathan Sykes from The Wanted is coming to town?
Be the first 50 to register during the Sunway Malls Raya Launch at Sunway Putra Mall on 1st June and take part in the lucky draw to stand a chance to see Nathan Sykes perform live along with Ning Baizura.
Even if you don't get the tickets, you might have a chance to win a Huawei P10 Lite smartphone. While you're there, enjoy free buka puasa at the event too.
The registration is pretty simple. You just have to be at Sunway Putra Mall's concourse by 5.30pm (Psst! come earlier to queue!) to get your number which will be for the lucky draw that will begin before getting your free food to buka puasa (also known as iftar) at 7.30pm.
There will be traditional dance performances, a designer bazaar, crafts workshops and a flower market too.
The first 200 registered people also get a goodie bag. (Yay free stuff!)
You can get RM5 off X 4 GrabCar rides to and from Sunway Putra Mall starting 26 May–2 July. Just enter PUTRAYARA17 to redeem 😉               
For more information and updates, head over to Sunway Putra Mall's Facebook page.