Signature by the Hill is one of the few eateries nestled high above the Bandar Utama skyline in the penthouse area of First Avenue known as The Roof.
As the extreme examples of foodies on our team, Sarah and I were invited to sample some of the brand new dishes on their menu. We were told that they would "tantalise taste buds at a glance!" and so we went expectant.
The glossy pages of the new menu with the meticulously styled food seemed to be promises of what was to come.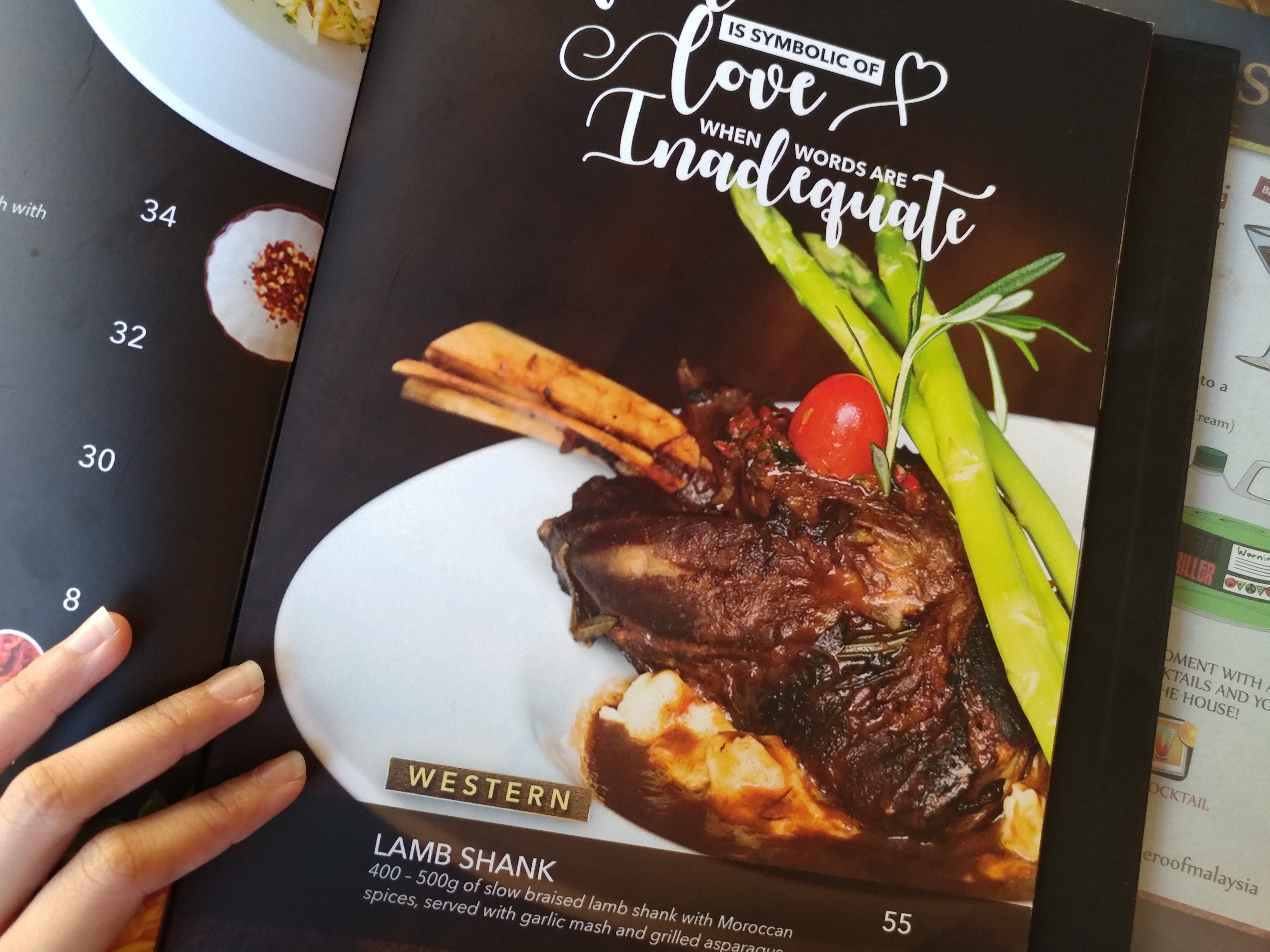 Our first entrée was the Medley Of Seafood (RM22). With a name like that, we expected nothing less than a crock full of marine offerings and we were not disappointed.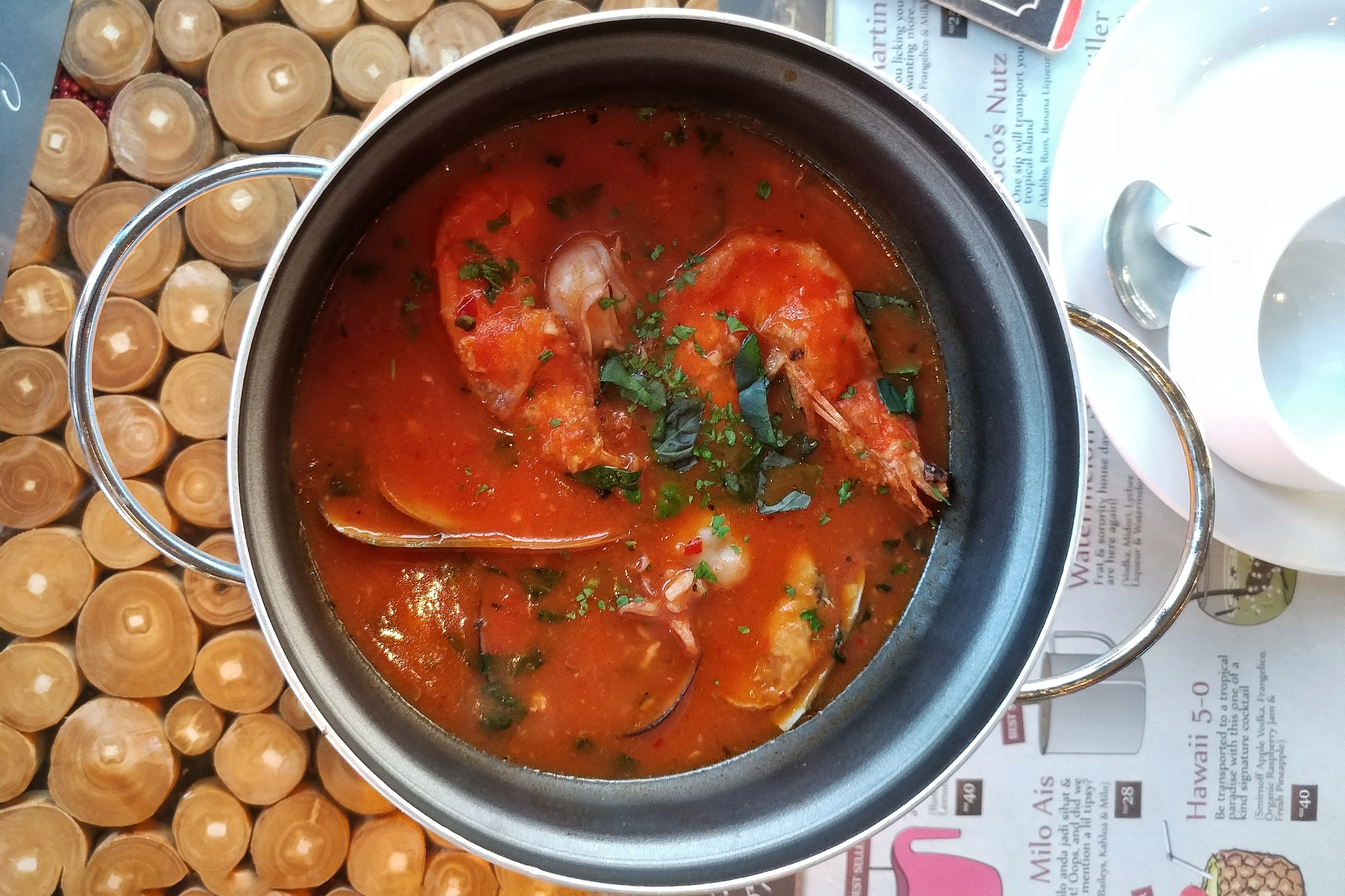 The scent was rich, even meaty, and what we particularly enjoyed was that the seafood was both fresh and expertly cooked. It was a very generous serving, with mussels, prawns, squid and clams, all still sweet without having lost their flavour to the broth.
Personally, I found the tomato base rather overpowering, but it had the exact right spicy kick-in-your-face bite to it. Sarah on the other hand had a coughing fit thanks to the chilli.
The second soup we were served brought on very mixed reactions.
I love oxtail soup, both the Asian and Western varieties. Signature's version (Oxtail Soup, RM20) seemed to be trying for a marriage of two cultures, with sauteed oxtail on the side and a thin beef broth filled with vegetable chunks.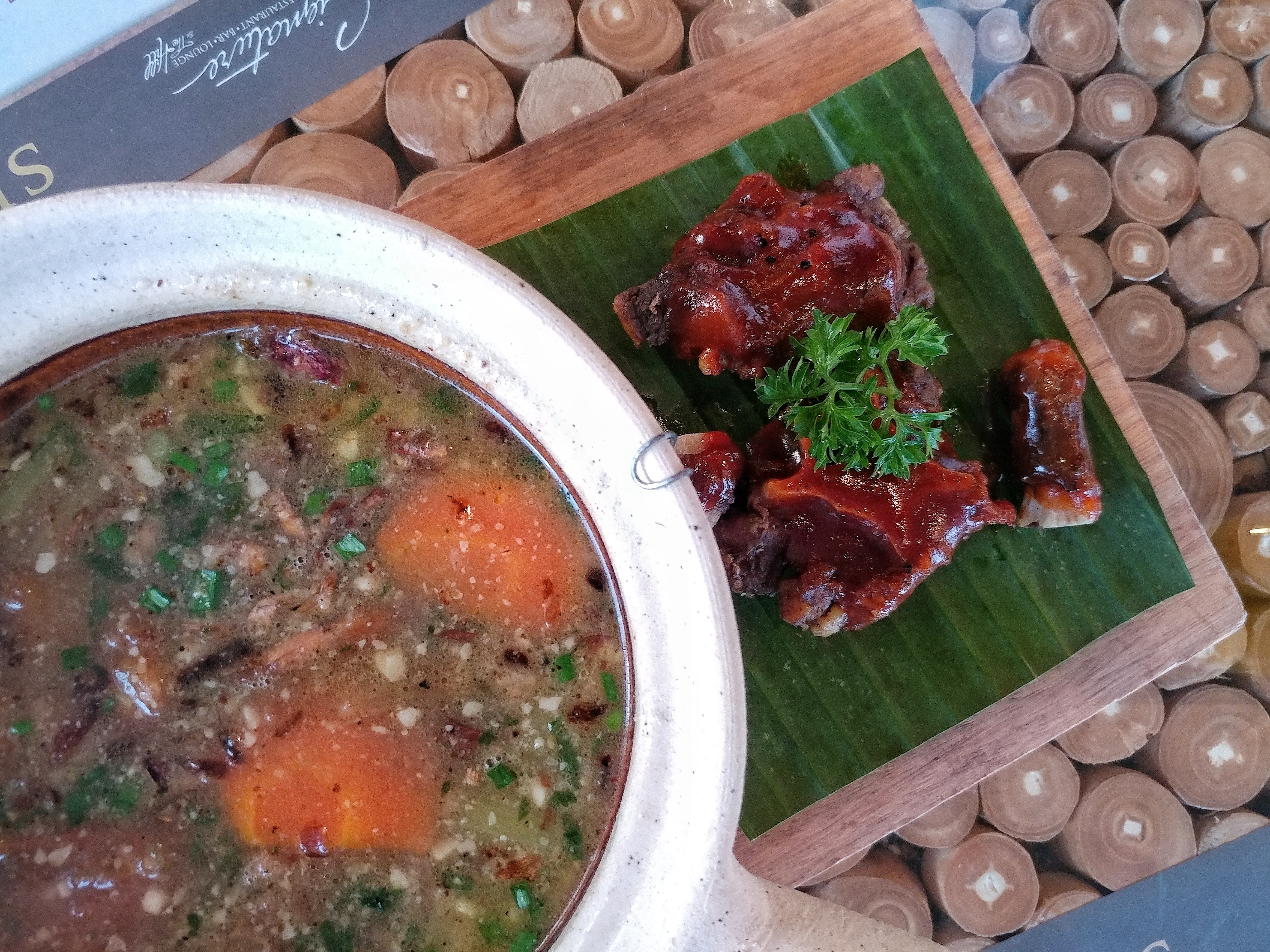 I was disappointed. It lacked the rich thickness of the Western style or the spicy kick of the Asian oxtail you get at mamaks.
Sarah loved it. She waxed lyrical about the quantity of vegetables with the celery, potatoes, carrots, and fried shallots.
I could only chew through what I considered undercooked carrots (which some people may enjoy), and gnaw at the very savoury but tough oxtail pieces.
What we did agree on was that having what felt like an excessive amount of peanuts in the soup added a lot of texture, but no flavour. "I had to chew my soup, very weird," in Sarah's words.
The next dish was poison to me due to my garlic aversions, so Sarah had it all to herself.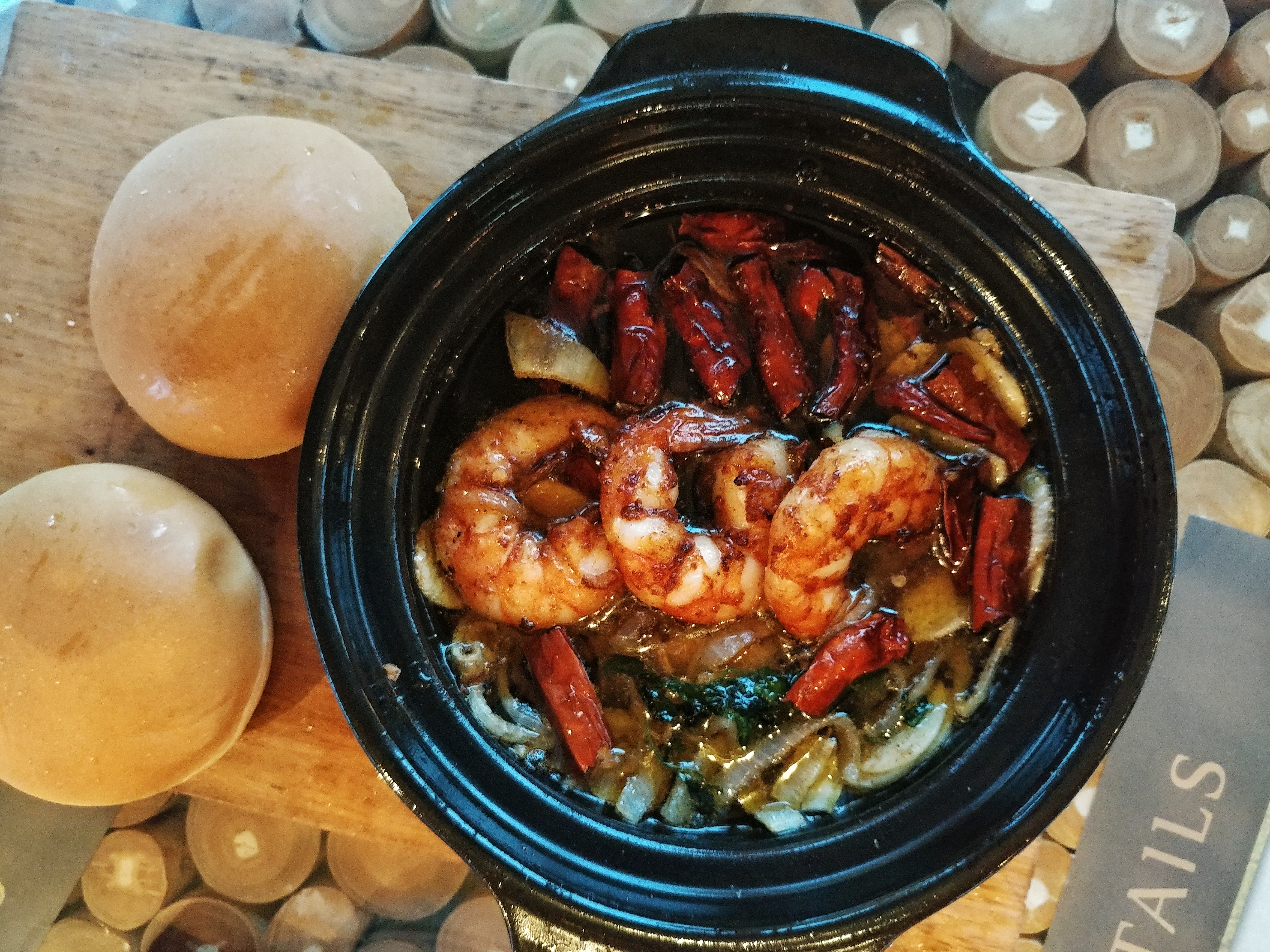 I believed Sarah's lies that you can't taste the garlic and hazarded a dip of my bread into the oil. The aftertaste was disgusting (as someone who hates garlic, not that the flavour was actually disgusting).
The prawns themselves were rather tough and rubbery, probably from being overcooked in the sizzling oil, a far cry from the just-right prawns from the seafood soup earlier.
All in all though, we found it hard to justify the RM30 pricepoint for the Garlic Prawns, particularly since they came with just two buns, and everything else in the oil was not really edible (garlic, onions, dried chillies, curry leaves).
It was now time for a refreshing salad, or so we hoped.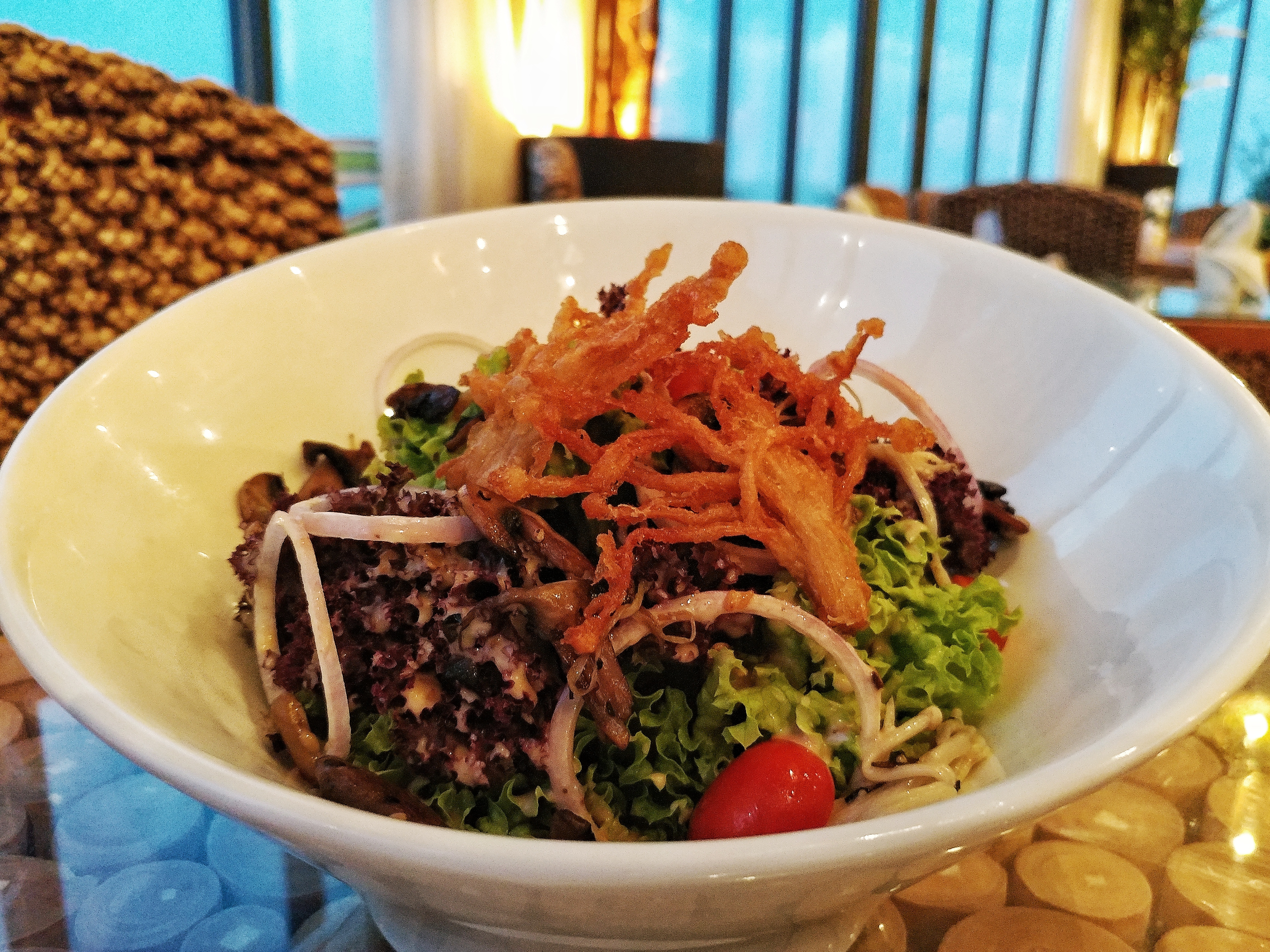 Yes, the Forest Mushroom Salad (RM23) did have very delicious mushrooms—delicately deep-fried enoki, sauteed portobello, button and more enoki mushrooms, BUT they were disappointingly scarce.
The dressing also tasted like every Japanese restaurant's sesame dressing, so it was unimpressive all round.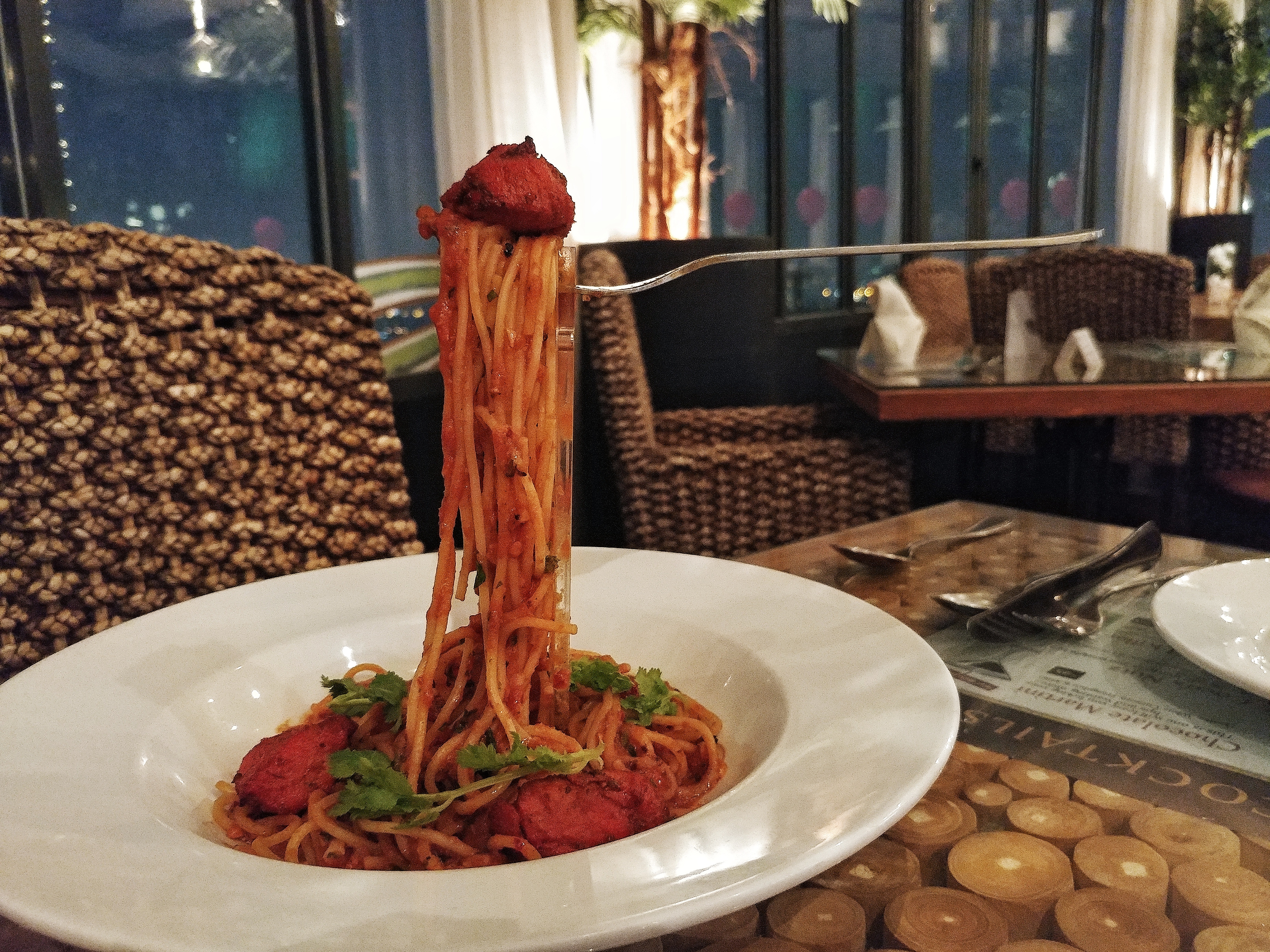 To be honest, we were slightly disappointed with the use of this gimmick for the Tandoori Chicken Flying Pasta (RM36). After all, the pasta's only going to get cold hovering up above in the air like that.
We tend to distrust fancy tricks like this.
Sometimes, eateries resort to such tactics to make up for the disappointing taste of their fare. The appearance of the chicken didn't help, it looked dry. 
By this course, Sarah (who doesn't enjoy spicy food) was already suffering from the assault on her tastebuds, but she gamely took a forkful first. "It's good!" she said.
I took my first bite, and then whipped out my phone to write a tribute to the chef's perfect al dente. I cannot emphasise enough how difficult it is sometimes to find someone who gets it right. The chicken too, did not live up to its appearance, and was relatively juicy, considering that they were pieces of breast meat.
As for the taste of the pasta, it's almost like eating naan bread with your tandoori chicken, except confusingly it's in the form of pasta tendrils instead of roti.
In terms of Asian-Western fusion, this was a distinct winner.
We were sated by now, but were gamely ready for the next dish, a Mediterranean Lamb Rack (RM68).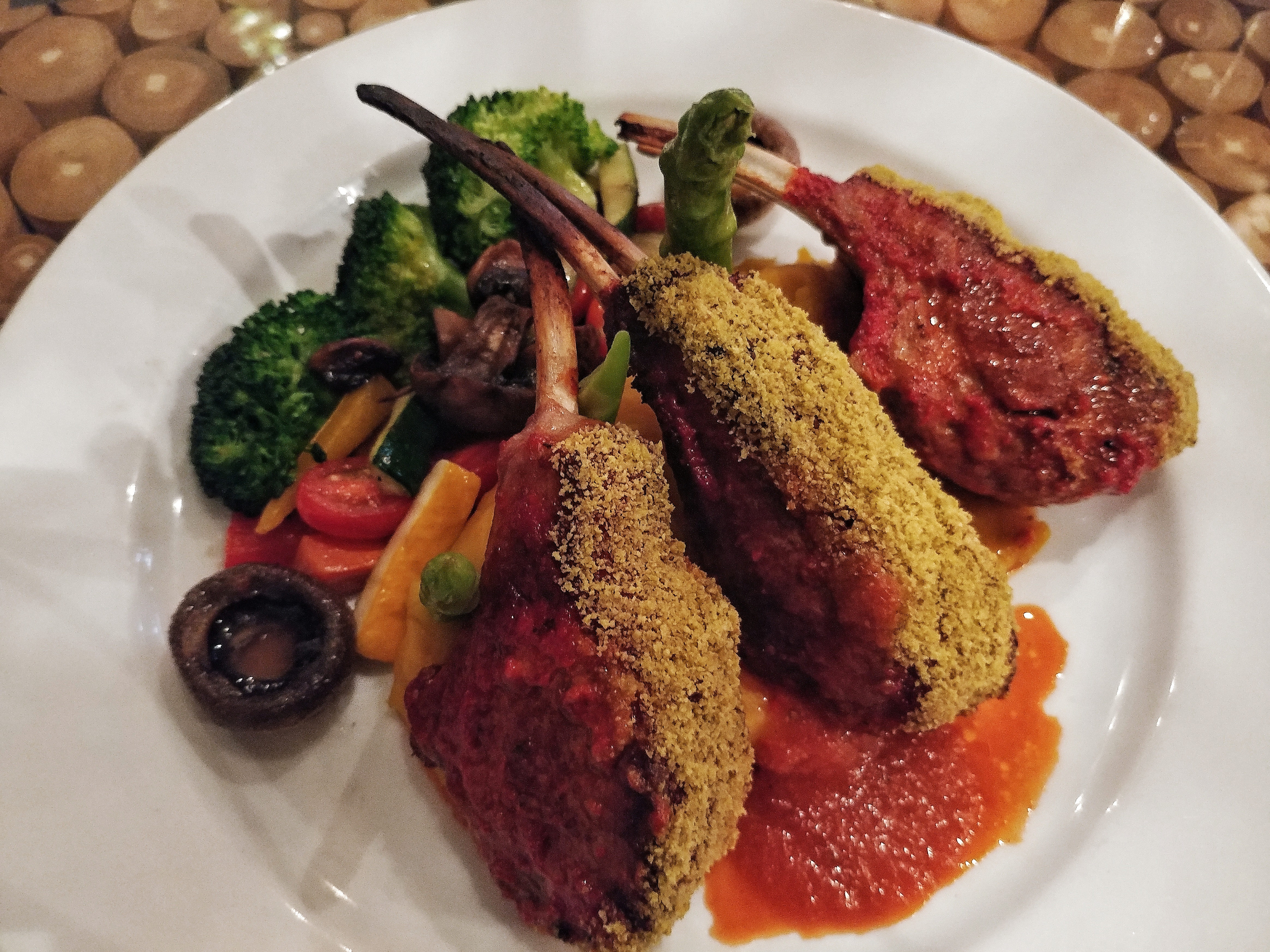 "Smells suspiciously spicy," said Sarah, battle-worn from her exertions.
I was feeling the food starting to settle, so I attacked the vegetables first. The zucchini was cooked to perfection and the sautéed mushrooms juicy.
For us, the star of the dish was actually the pumpkin potato mash. Both sweet and flavourful, we think we'll probably add this to our own home menus from now on.
Don't be frightened by the wasabi dust on the lamb, it barely registers.
The lamb itself was a little fatty, but tender and easy to carve off the bone. It's an overused trope, but it really was melt in your mouth. I enjoyed how the lamb was not overly gamey, but my dinner companion actually saw that as a disadvantage.
We only had two major complaints with this dish. The roasted whole mushrooms on the side? Completely oversalted. Sarah couldn't even bring herself to eat it and spat it out after popping it into her mouth.
And the broccoli and asparagus? Under-seasoned. We did provide feedback to the outlet manager after the meal, so hopefully this will be amended.
We'd been looking forward to dessert (who doesn't?) and were excited when a slice of red velvet cake was placed before us.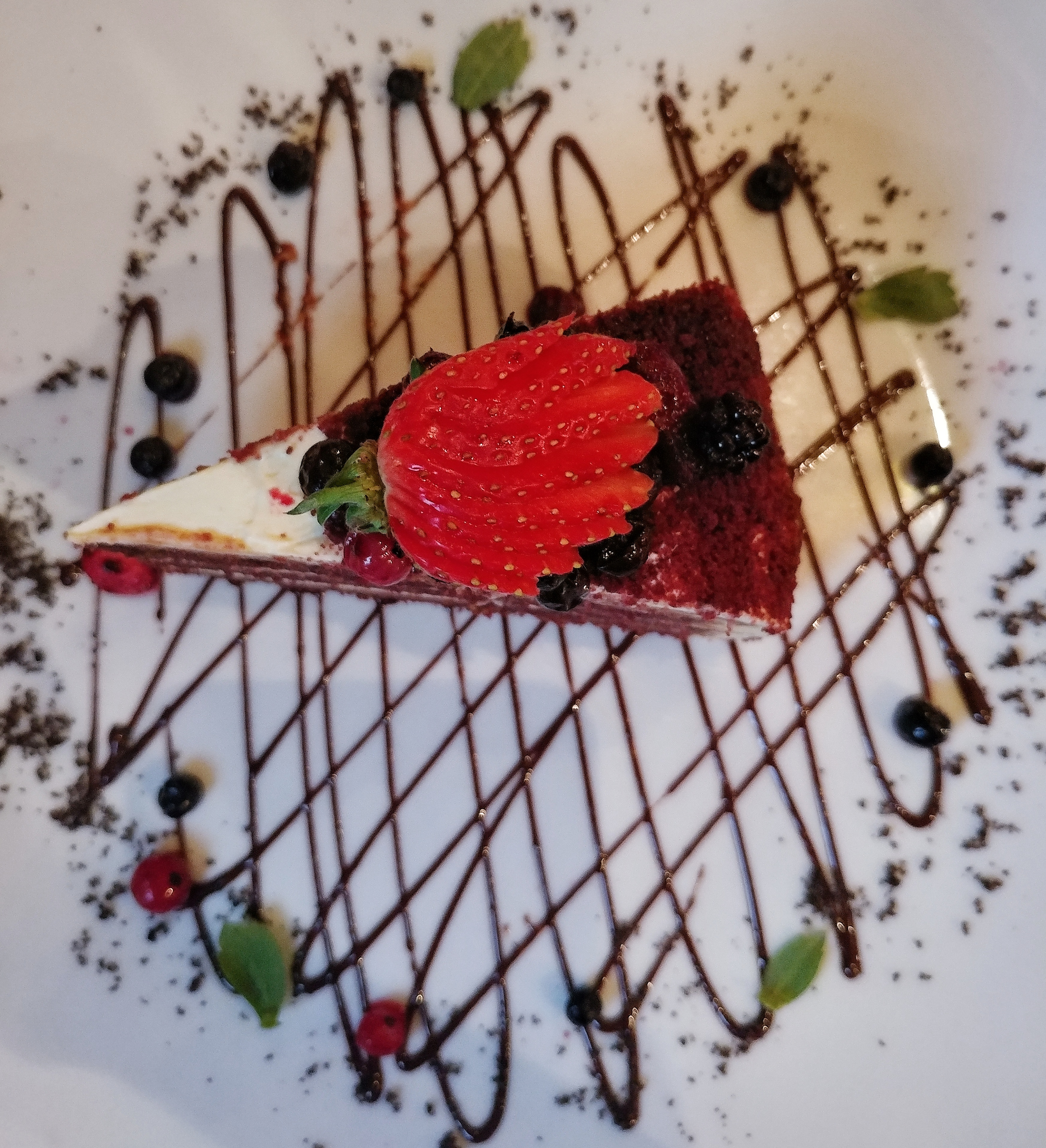 We did approach the cake with a fairly blasé attitude. After all, it's a red velvet, been there done that all before. Many eateries think adding generous amounts of cream cheese to a dry wallpapery sponge is the way to go, but they are wrong.
Imagine my surprise to find a moist and soft sponge that is brought all together with layers of hazelnut paste. That's right, this is a Red Velvet Nutella Cake (RM22), and we think this is one of the most brilliant additions to the standard red velvet recipes we've tried in a while.
We had just enough space for one last dish, the Lychee Cheese Tart (RM20).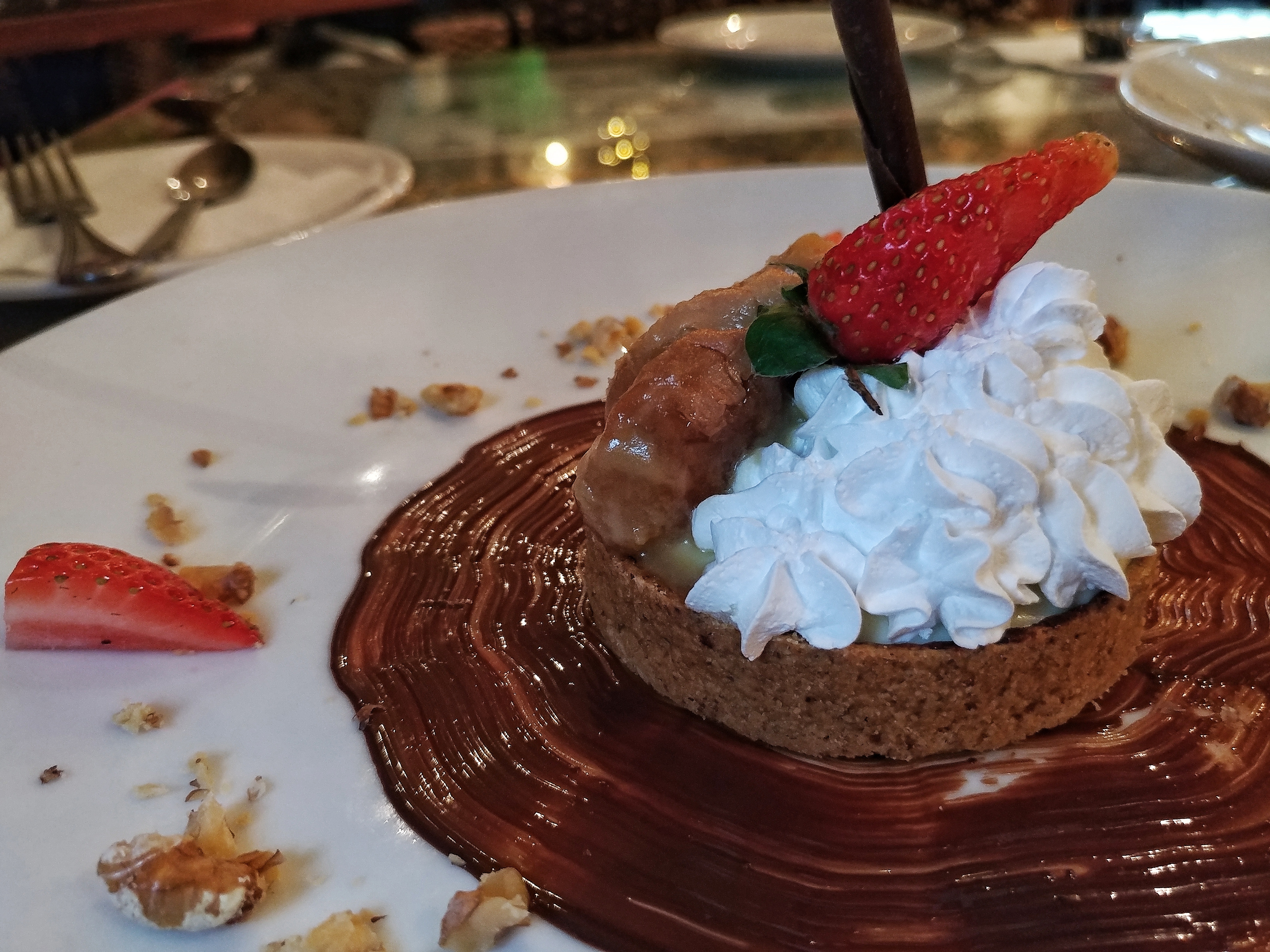 It's light and sweet and crust is good (crispy but not overly fragile) but there's nothing else to it. The lychee registered only as a faint aftertaste, and the lashings of cream were overwhelming.
Sarah and I agreed that the new dishes were a bit of a hit-and-miss for us, but we'd definitely return for the cake. We were actually hoping for a more mind-blowing experience, but the quality and overall taste was above average. Perhaps our expectations had set too high a bar.
Myself? Typing this has already given me cravings for the pasta, so it's probably down to the nearest mamak for a tandoori chicken naan to satiate those longings for now.
Signature by the Hill, The Roof
Hours: Monday-Friday: 11:30am–2:30pm, 5pm–2am, Saturday-Sunday: 5pm–2am
Address: The Roof, 1 First Avenue, Bandar Utama, 47800 Petaling Jaya, Selangor, Malaysia
Website: Signature by the Hill
Tel: 03-8605 3388