Gifting a bouquet of flowers and a box of chocolate is the traditional norm on Valentine's Day. In fact, it's a lovely gesture that your girlfriend would surely appreciate and there are plenty of florists offering bouquets at every price point.
However, if you're looking to step outside the four walls of normal ol' gifts, we've got you covered too. Here are 7 places to get your girl a bouquet of edible food, from chocolates to even fried chicken!
1. Koffeeling.Fefeeling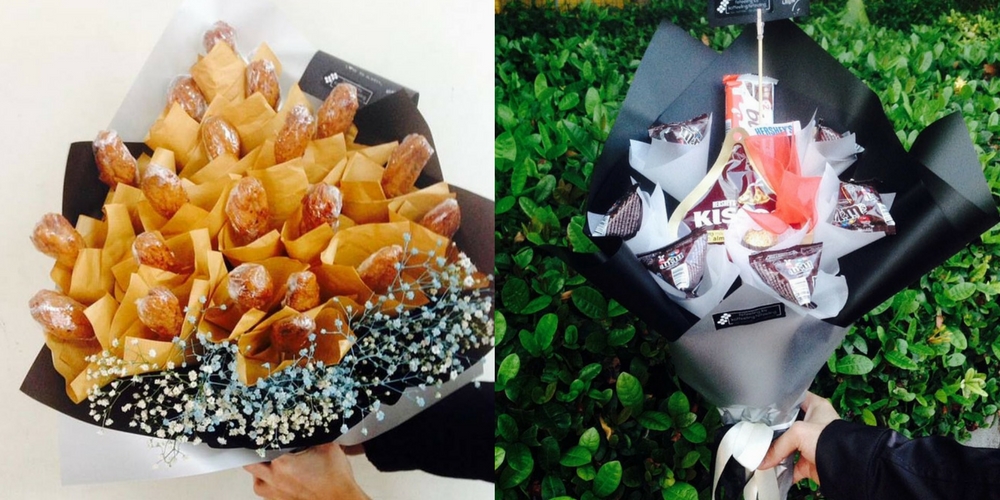 A bouquet of flowers is great and all but imagine fried chickens in a bouquet instead? Sure, the idea of grease dripping down your hands might not sound appetising but Koffeeling.Fefeeling has smartly covered each fried chicken with a plastic wrap and a grease-proof paper. Not only that, chilli sauce and tissue will be provided separately as well for easier consumption.
Alternatively, if your girl has a sweet tooth, you can opt for a bouquet of assorted chocolate instead! The price of a bouquet of fried chickens (10 pieces) is RM100, and a 30-piece bouquet would be RM300. The starting price of a chocolate bouquet on the other hand is RM55.
Website: Koffeeling.Fefeeling
Tel: 014-339 7090/ 012-296 5948
2. Blushing Bloom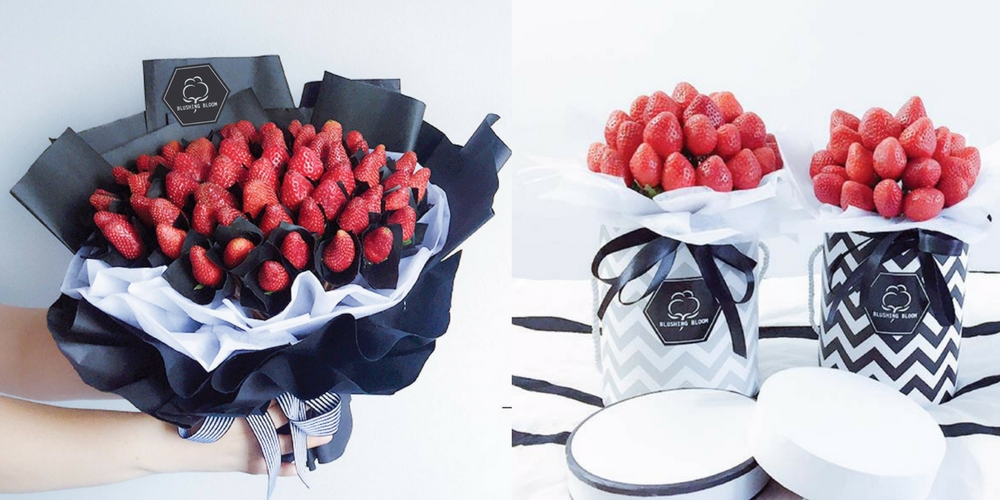 Blushing Bloom is located in Pandan Indah and besides their gorgeous bouquet of baby breaths, you can also opt for their edible bouquet of fresh, juicy strawberries that actually looks like a bouquet of roses at first glance!
The strawberry bouquet would cost around RM168 for a small sized version while a large bouquet would cost RM268. The Merry Berry version comes in a convenient box and it is priced at RM168.
Website: Blushing Bloom
3. Bloom.com.my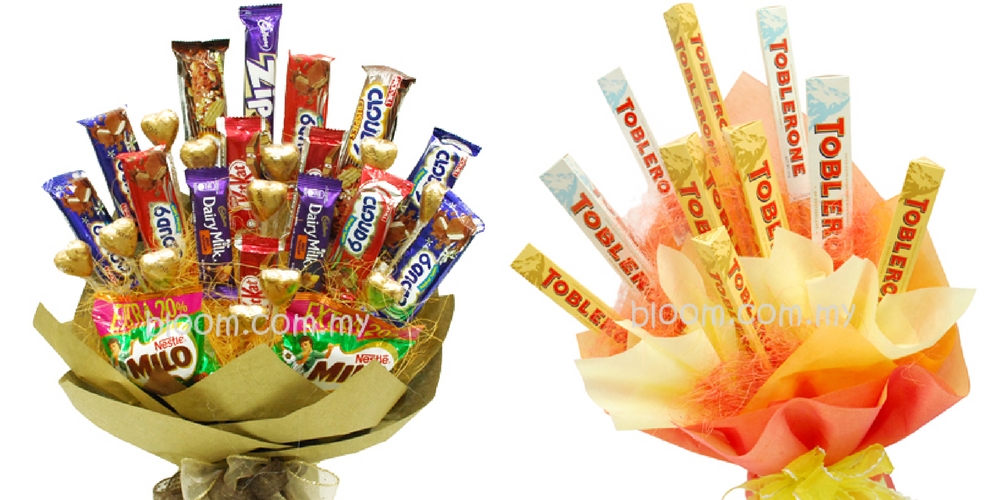 Bloom.com.my is a florist in KL known for their bouquets of flowers, boxes of flowers and more. This Valentine's you can opt for their edible bouquet package instead. They have bouquets with chocolates like Toblerone milk chocolates, Cadbury chocolates, Dove chocolates, Kinder Bueno and even Milo bars.
Considering how boyfriends are often in a dilemma of whether to get flowers or chocolate, they can get a chocolate bouquet instead to solve the headache. Prices start from RM188.
Website: Bloom.com.my
Tel: 03-4161 3899
4. Love.com.my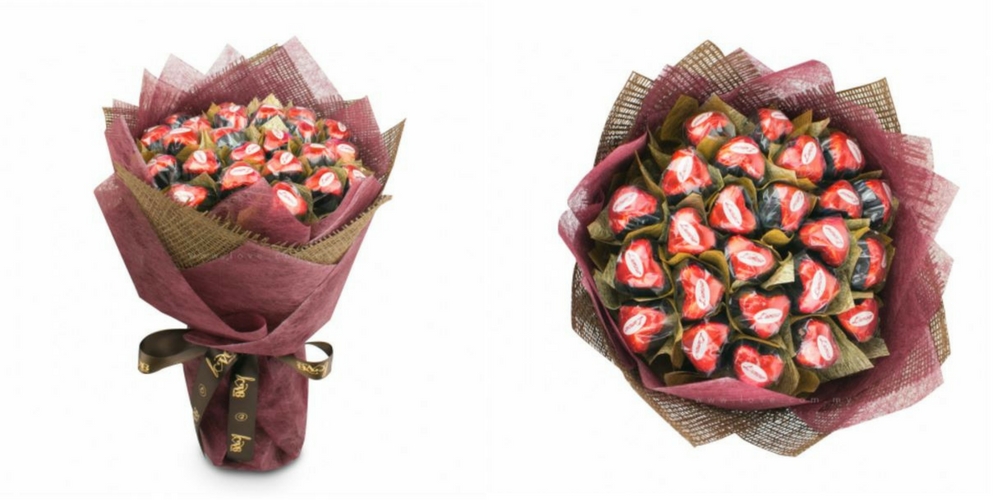 Love.com.my offers a Valentine L'amour Belgian Chocolate bouquet. It is made up of a large quantity of Belgian chocolate in separate packagings. This makes it practical because the recipient of the bouquet does not have to finish off the chocolates in one go and can keep them for consumption at a later time. The bouquet of 12 pieces of chocolate is RM126 while a 50-piece bouquet would be RM338.
Website: Love.com.my
Tel: 03-2272 2222
5. Ideal Gift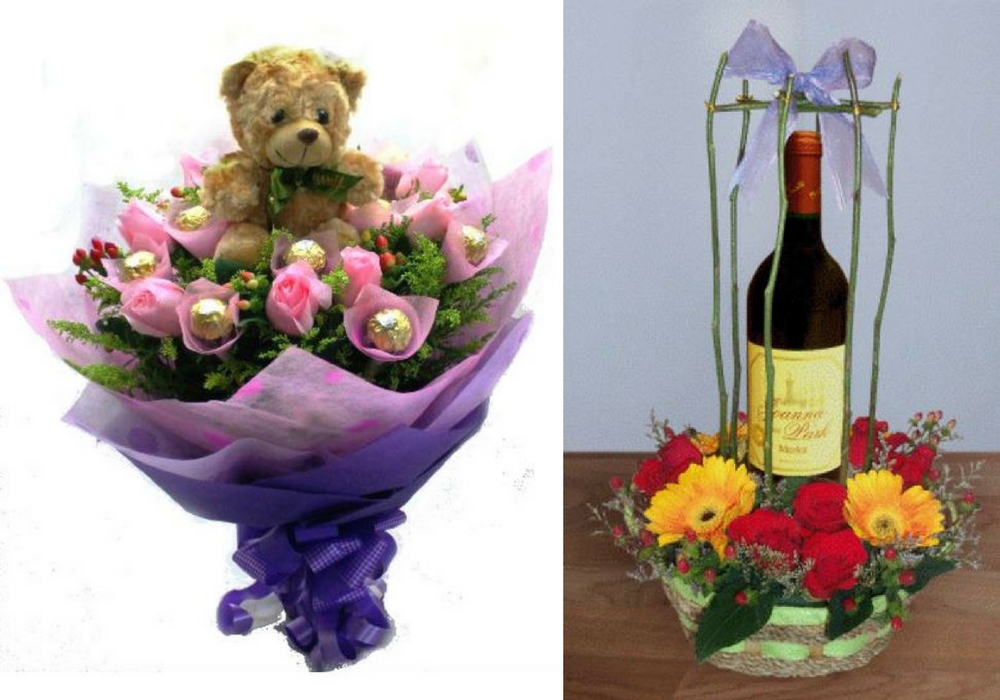 Ideal Gift's bouquet of chocolates comes with a teddy bear that your girlfriend can keep, long after she has polished off the chocolates. Besides that, you could also opt to set the mood with a floral arrangement consisting of flowers and a bottle of French Merlot Red Wine (750ml). The price range would be anywhere between RM100-RM300.
Website: Ideal Gift
Tel: 03-9131 6202
6. Nomms x Petals Note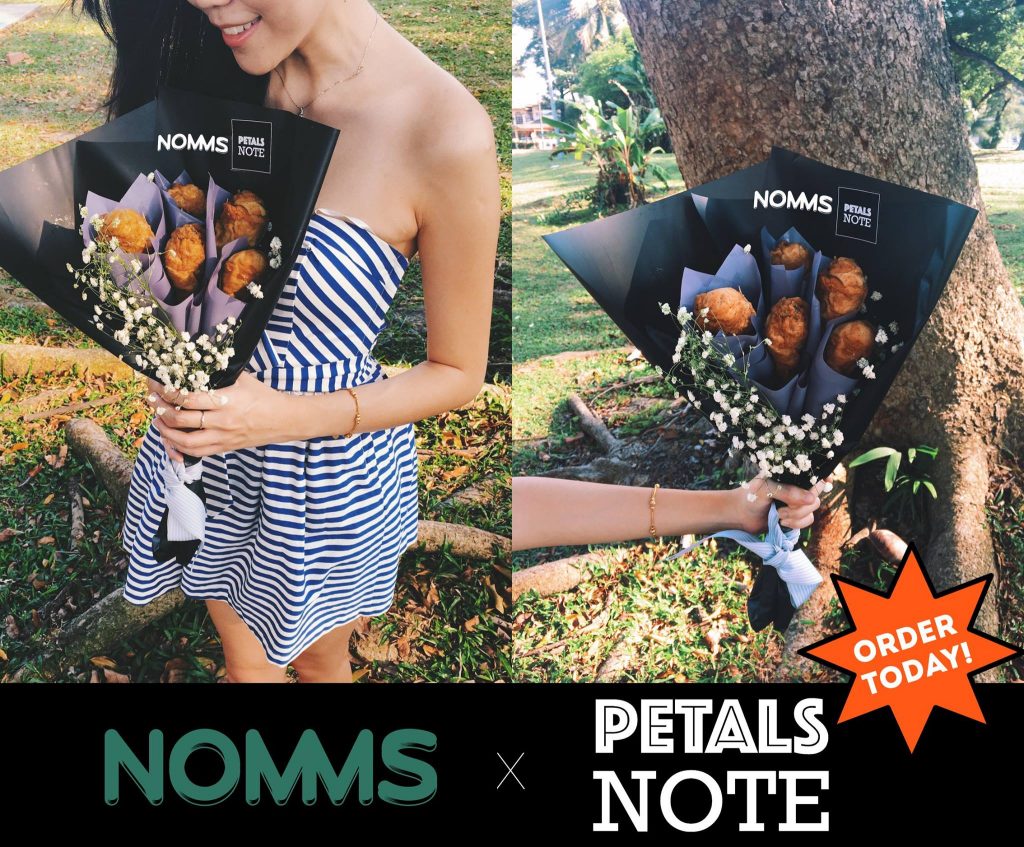 Nomms is a restaurant known for its fried chicken and other fast food offerings. For this Valentine's day, Nomms has decided to collaborate with Petals Note, a local florist, to create a fried chicken bouquet. Recently, a meme of a girl happily carrying a bouquet of chicken nuggets flooded the internet. Well, this is similar, but better as you get fried chicken instead. The cost of this bouquet which consists of 5 pieces of fried chicken is RM150 including delivery.
Website: Nomms x Petals Note
Tel: 03-5611 0796 (Nomms)
Bonus
7. Yummy Flowerz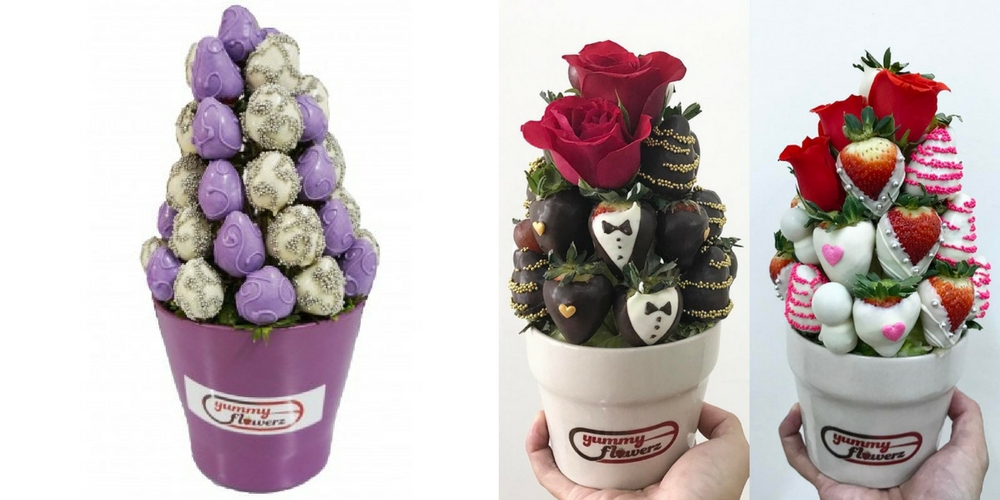 If your girlfriend has a big sweet tooth and loves indulging in candied, chocolate dipped fruits, Yummy Flowerz is the one for you. Even though it does not come in a typical bouquet form, it is still a good option to consider. That is because you can keep the small glass pot it comes in, after polishing off all the sweet treats.
Yummy Flowerz is known for their beautifully crafted strawberry towers which is basically strawberries dipped in chocolate. The price range of these treats is between RM80-RM200++.
Website: Yummy FLowerz
Tel:  012-698 3915 / 03-8082 1422
Feature Image Credit: Nomms x Petals Note & Blushing Bloom