Ever since the hype of salted egg yolk dishes hit Malaysia, eateries have jumped on the trend and intelligently incorporated the glorious ingredient with just about everything. From burgers and fries splashed with a dash of salted egg yolk, to croissants dipped in the bright yellow sauce, here are 10 places in Klang Valley to have yourself a scrumptious salted egg yolk meal. Not only that, these dishes can be eaten during breakfast, lunch, tea time and dinner too, so why not dedicate a full day to hunt them all down?!
1. Wondermama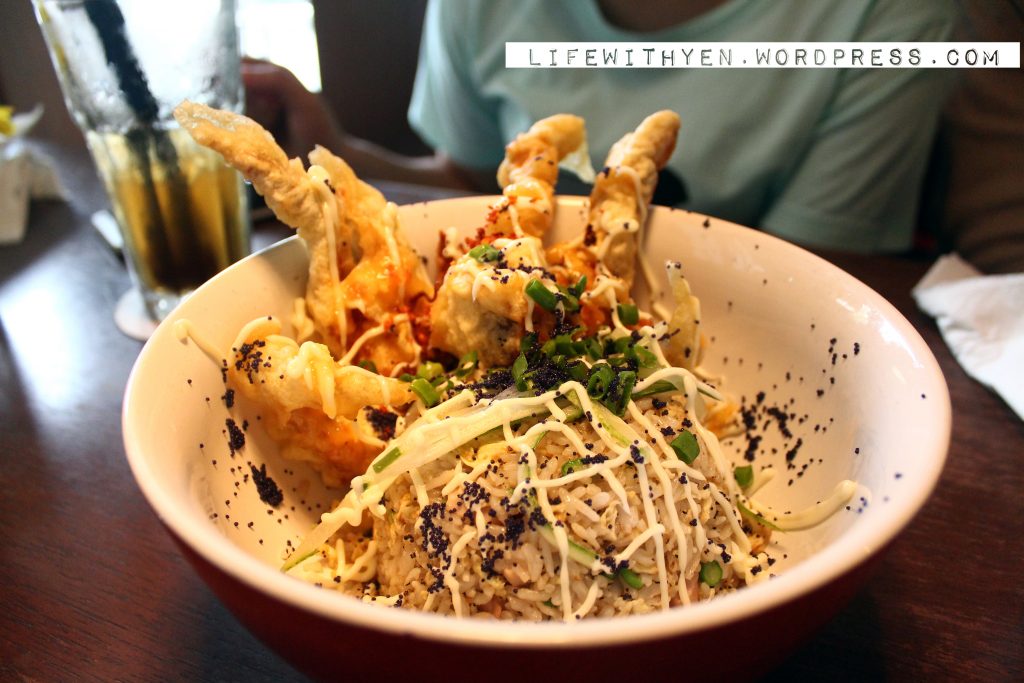 Don't be fooled by the looks of this bowl of rice. It may seem simple but it is in fact considered one of the best dishes from this restaurant and customers can't get enough of it! This salted egg yolk fried rice has an excellent blend of savouriness from the sauce and crispiness from the fried prawns that this dish comes with. It has just the right amount of flavour and you might just find yourself ordering more than one bowl to satisfy your craving.
Hours: Monday-Thursday: 9am-11pm, Friday-Saturday: 9am-11.30pm, Sunday: 9am-10.30am
Address: G6, Ground Floor, Bangsar Village 1, Jalan Telawi 1, Kuala Lumpur
Website: Wondermama
Tel: 03-2284 9821
2. Simply D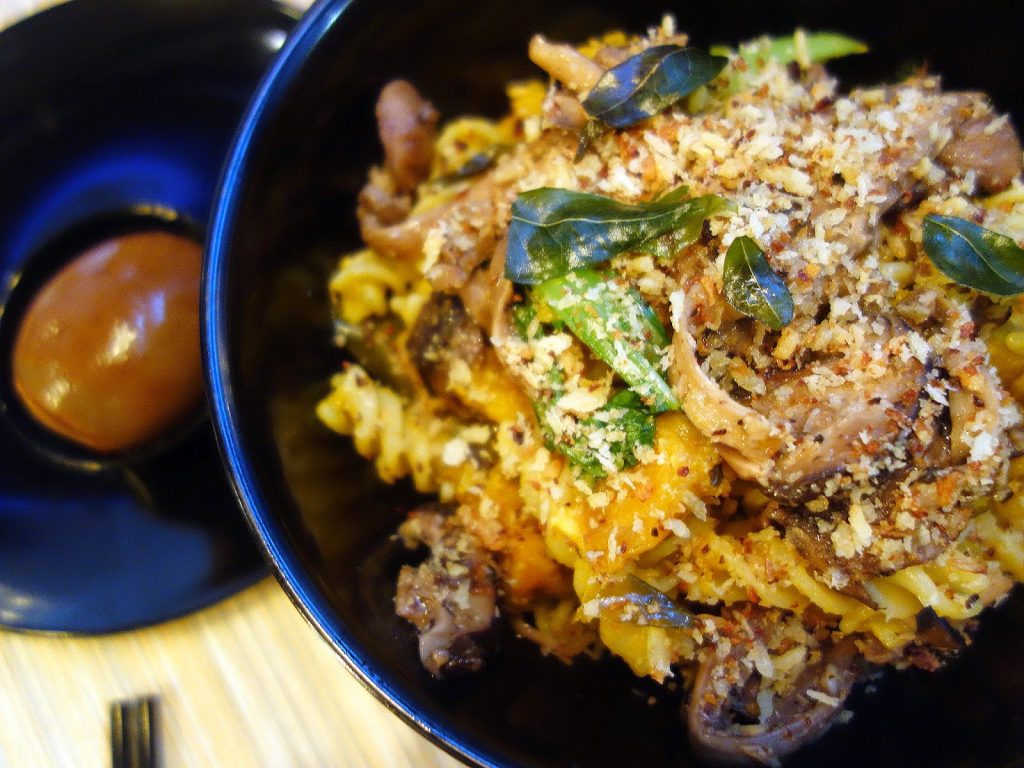 Simply D is known for their mix and match noodles and ingredients. How this works is you get to choose your own pasta or noodles and pair it with whatever ingredients or style of cooking that your heart desires. Be different and try their pasta incorporated with salted egg yolk. It is definitely the first of its kind and a unique fusion between 2 different cuisines.
Hours: Monday-Friday: 7am-10pm, Saturday-Sunday: 10am-10pm.
Address: Ground Floor – LOT G9, Jalan Stesen Sentral 5, Brickfields, 50470, Kuala Lumpur
Website: Simply D
Tel: 03 2276 6607
3. myBurgerLab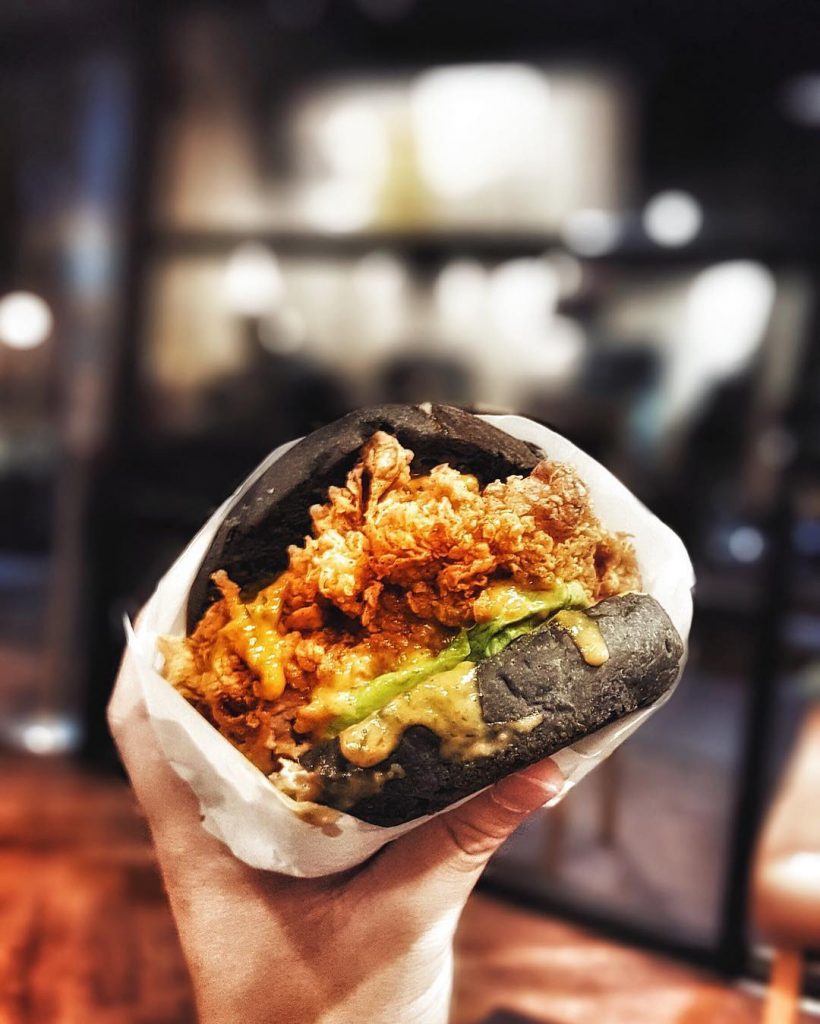 myBurgerLab is known for their juicy burgers and delicious fries coupled with to-die-for sauces which I bet everyone wants a second serving of. After much awaiting, they have finally released their Ultraman burger which is crunchy juicy chicken meat topped off with delicious salted egg yolk sauce and nestled between 2 charcoal buns. If that doesn't sound like heaven on a plate, I don't know what is!
Hours: Monday – Sunday: 11am-10.15pm
Address: 3, Jalan PJS 11/9, Bandar Sunway, 46150 Petaling Jaya
Website: myBurgerLab
Tel: 010-369 5275
4. Bake Plan Bakery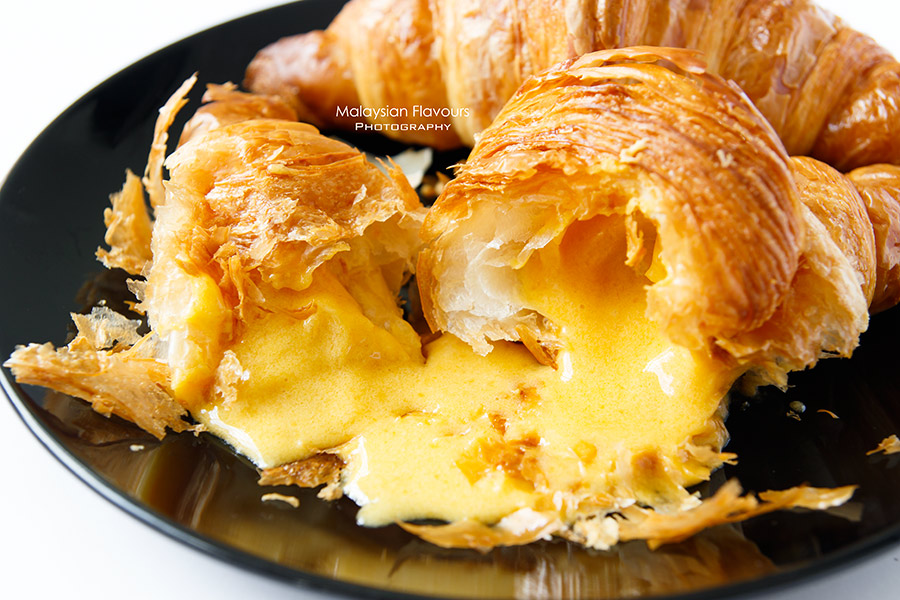 Do you love savoury pastries that have a tinge of sweetness in them? Bake Plan Bakery offers you freshly made warm croissants which will see glorious egg yolk spilling out once you break it open. Expect lots of crunch as you sink your teeth into this delicious dessert and allow the filling to tantalise your tastebuds. A word of advice though: one is never enough. Hence, order a few and have them for supper and for breakfast too!
Hours: Tuesday-Sunday: 9am-10pm, Closed on Mondays.
Address: No 36, Jalan SS 2/61, SS 2, 47300 Petaling Jaya
Website: Bake Plan Bakery
5. Dotty's Pastries & Coffee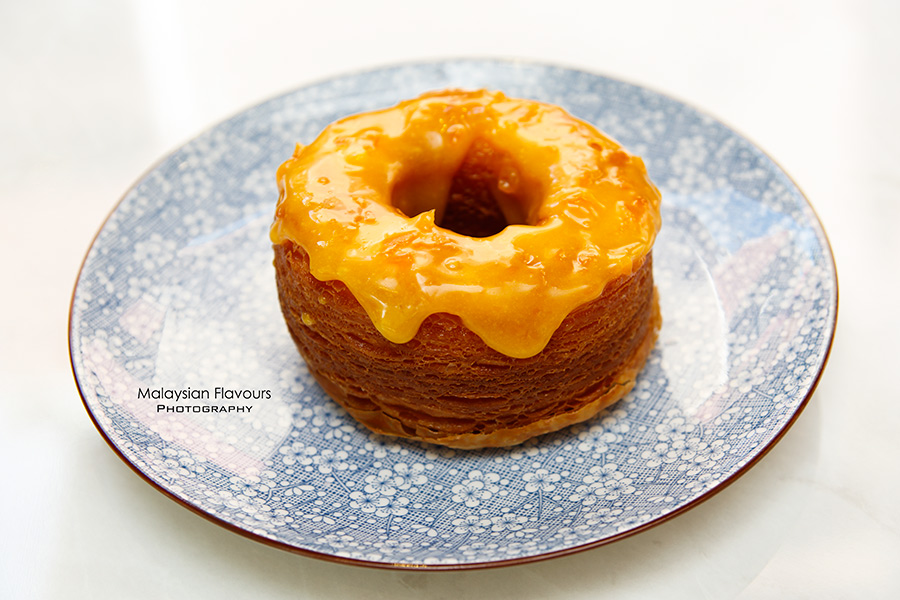 People head over to Dotty's for a variety of dishes but one they would be tempted to try is the signature flaky donuts which are baked to crisp perfection. Don't forget, it is topped off with a thick layer of tasty salted egg yolk sauce. The dripping sauce will add a layer of excitement to the crispy pastry and it also allows the dish to be not too dry either. Simply speaking, this French pastry should be on your to-try list when you dine here.
Hours: Wednesday-Monday: 8am-8pm, Closed on Tuesdays
Address: 20, Jalan Tun Mohd Fuad 2, Taman Tun Dr Ismail.
Website: Dotty's Pastries & Coffee
Tel: 03-7733 4233
6. GoGetter Café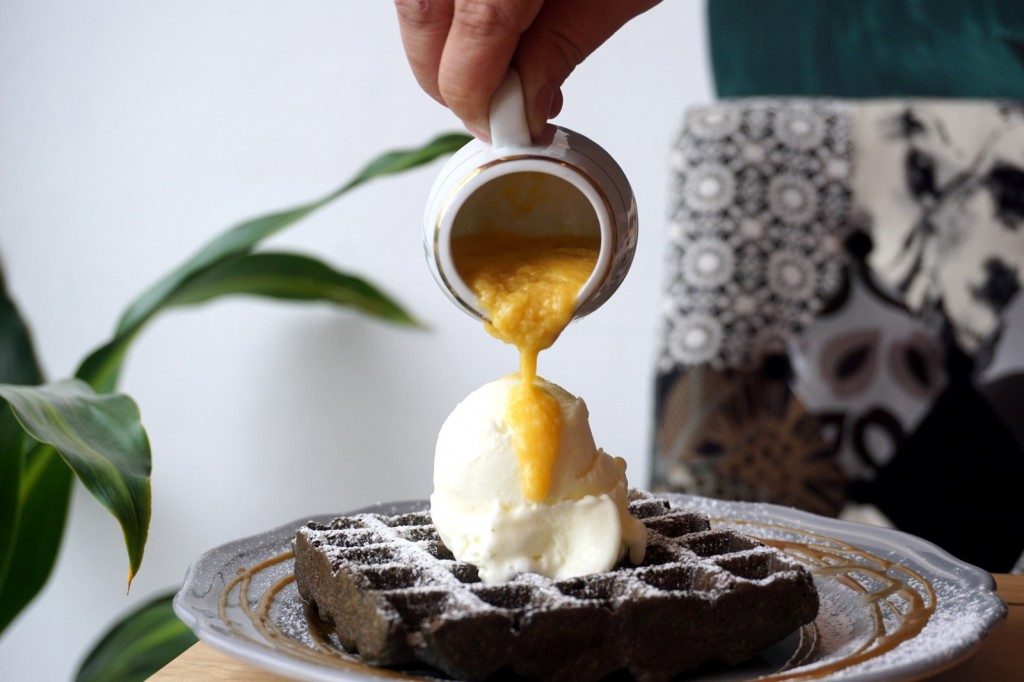 Have you ever had salted egg yolk on a waffle? If not, head on over to GoGetter Café and get your cravings satisfied with some warm salted egg yolk sauce poured over some cold vanilla ice cream and charcoal waffle. Waffle lovers, don't miss this chance for a savoury and sweet dish which is also both hot and cold at the same time.
Hours: Monday-Tuesday, Thursday: 12-7pm, Friday: 12-10pm, Saturday: 11am-10pm, Sunday: 11am-7pm
Address: 1, 1st Floor, Block 5, 12, Jalan Jalil Jaya 6, Bukit Jalil, 57000 Kuala Lumpur
Website: GoGetter Café
Tel: 019-260 2288
7. Crazy Crab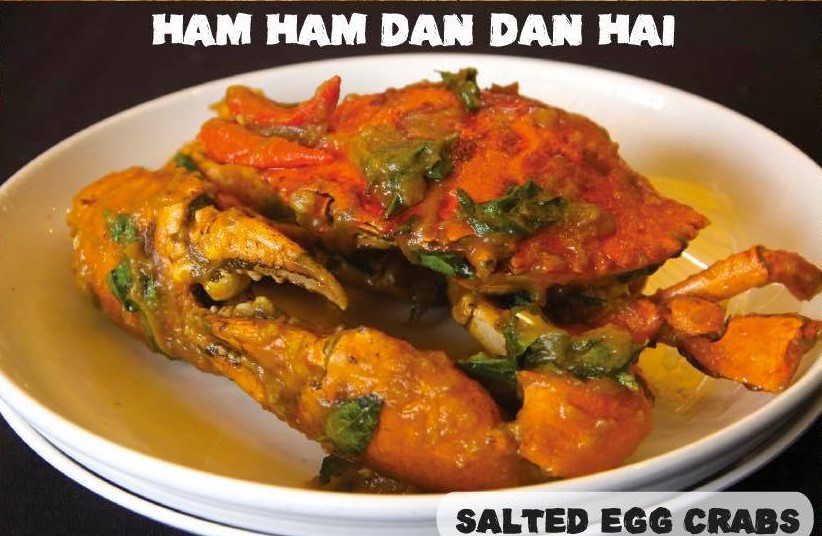 The name of the restaurant itself showcases how crabs are their specialty. Crabs can be eaten with any dressing but you shouldn't miss out on their juicy crabs which are stir-fried with salted egg yolk sauce. The juicy meat is further complemented with the sauce and it is definitely creamy goodness with every bite.
Hours: 11am-3pm, 6pm-10.30pm, daily.
Address: Oasis Square, Oasis Ara Damansara,, 2, Jalan PJU 1a/22, SS7, 47301 Petaling Jaya
Website: Crazy Crab MY
Tel: 03-7859 8802
8. Swich Café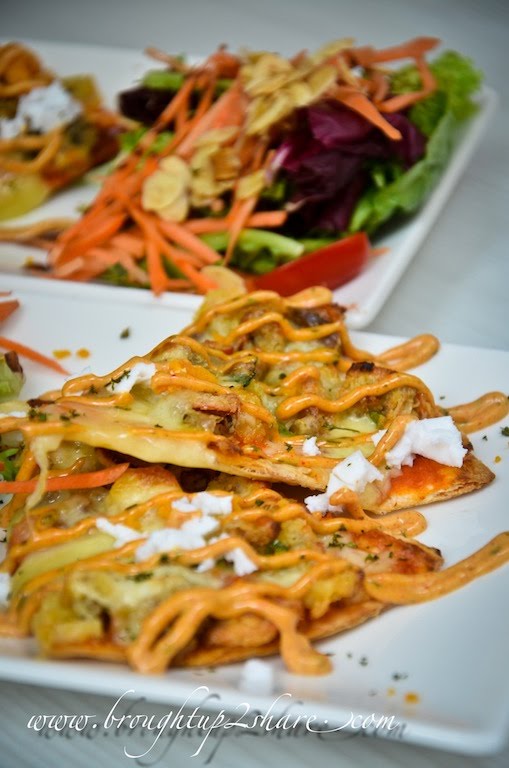 Salted egg yolk will always be included in dishes that you wouldn't even expect, but as long as it tastes good, there's certainly no harm in trying it. Strangely enough, this eatery serves soft shell crabs with salted egg yolk pizza. Sounds odd? Well, it is certainly one you should add to your list of food to try because pizza with salted egg yolk sauce is no doubt unique both in taste and concept!
Hours: 10am-9pm, daily
Address: Publika
Website: Swich Café
Tel: 012-7773247
9. AMPM Café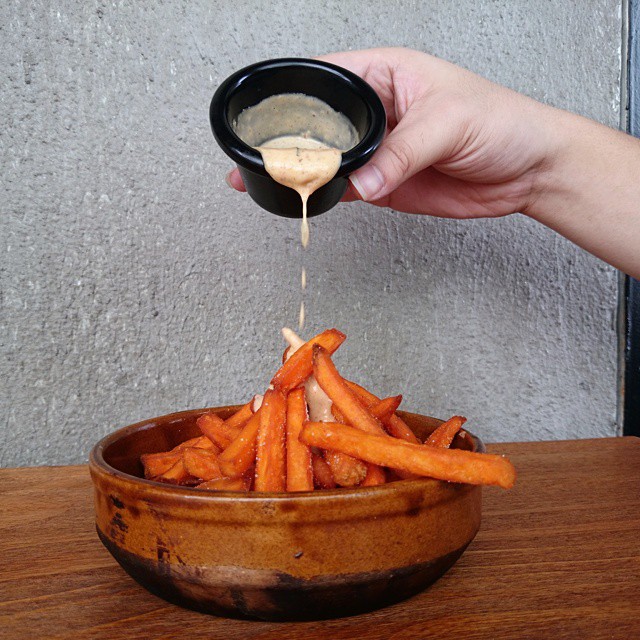 Whenever we order our french fries, we will often be given chili sauce, ketchup, mustard or perhaps mayonnaise. To add a level of excitement to french fries, AMPM serves their sweet potato fries with some salted egg yolk dipping sauce. Both pairings are unique as sweet potato fries aren't very common and you won't find it at every café, so that alone makes this dish one you should order when you dine here.
Hours: Monday – Friday: 11am-12am, Saturday-Sunday: 10am-12am
Address: 11, Jalan USJ 21/5, Usj 21, 47630 Subang Jaya
Website: AMPM Café
Tel: 03-8081 9121
10. 21 Sizzling & Grill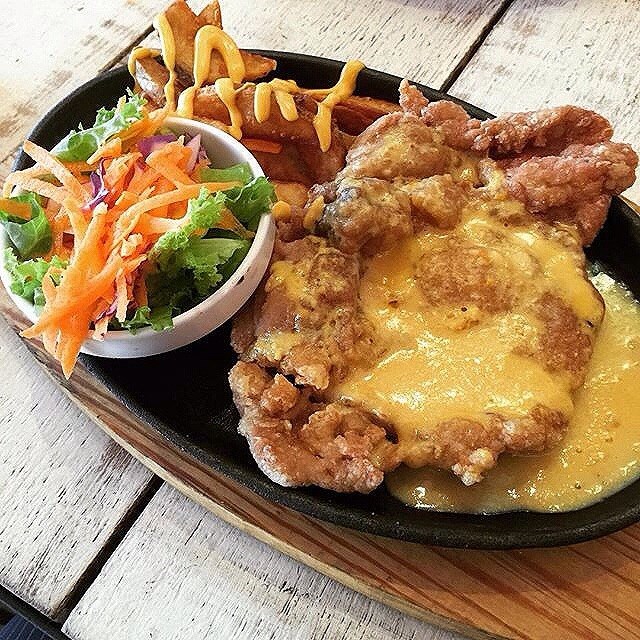 Sometimes, all we need in life is a good slice of chicken chop. What's better than chicken chops done right? If it's drizzled with some salted egg yolk sauce, you've just got served perfection on a plate. The crunchy texture of the chicken will definitely soak up all the salted egg yolk sauce without any problem at all! It would no doubt elevate the dish and give it the extra kick that it deserves.
Hours: Daily, 12-10.30pm
Address: 21, Jalan Kuchai Maju 7, Kuchai Entrepreneurs Park
Website: 21 Sizzling & Grill
Tel: 03-7971 1105
Feature Image Credit: OpenSnap, Buro 24/7, Crazy Crab, Malaysian Flavours.