Even though cendol will forever be a Malaysian favourite, sometimes we should switch it up a little and try it in new, unique ways (much like all the unusual nasi lemak dishes we've seen). If you like stepping out of your comfort zone when it comes to food, no harm trying these unique cendol-infused dishes, right? Check them out below!
Durian cendol cheesecake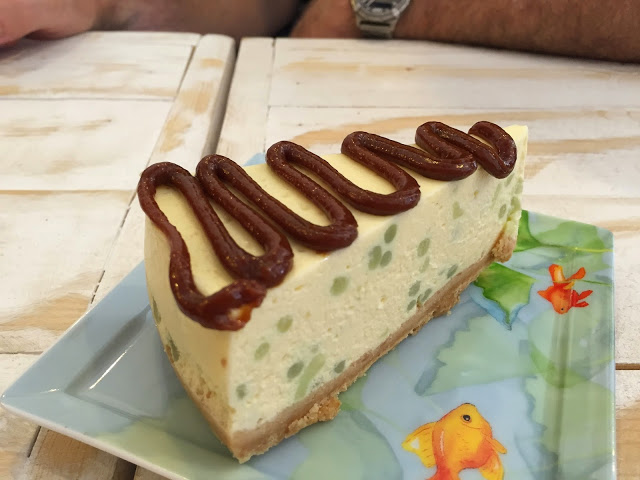 Swich Café in Publika has been serving up this decadent dessert for a while now, and it's been making waves for how good it is. Rich, creamy cheesecake infused with durian and cendol bits, and drizzled with gula Melaka caramel makes for one awesome teatime treat. If durian isn't for you, they also have a version sans the king of fruits, or even one with cempedak instead!
Address: Publika Shopping Gallery, 1 Jalan Dutamas 1, Solaris Dutamas, 50480 Kuala Lumpur
Hours: 10am-9pm daily
Tel: 012-777 3247 / 03-6201 8221 / 017-577 7631
Website: http://www.swichcafe.com
Cendol cake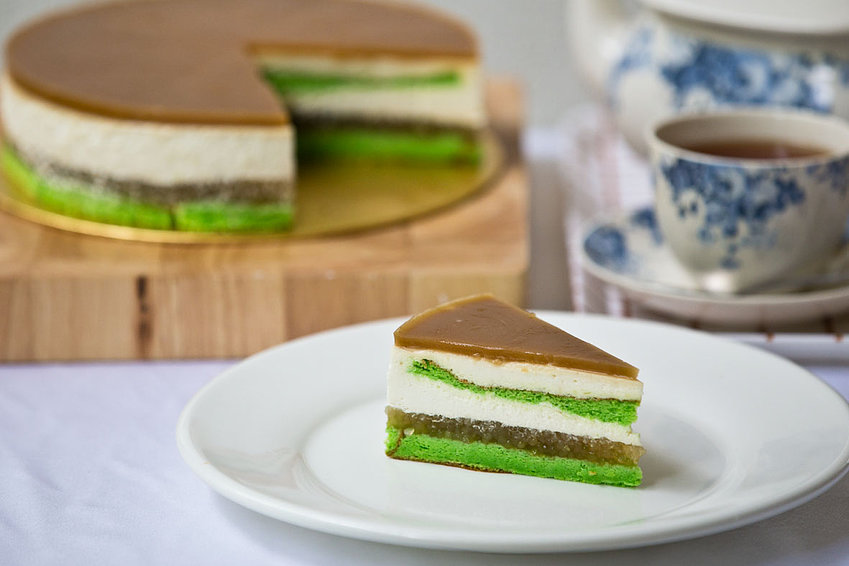 If you aren't a fan of cheesecake, then this creation by Petiteserie Desserts is definitely for you. Their bestselling cendol cake is any Malaysian's layer cake dream, with moist pandan sponge as the base, then layered with chewy sago gula Melaka and light coconut mousse. Super refreshing and delicious! Try it at one of the cafes they supply it to, including Battery Acid Club (Damansara), Flingstones Café (SS15), Ground Eatery (Puchong), or Code:Black Espresso (Selayang)!
Coconut ice cream cendol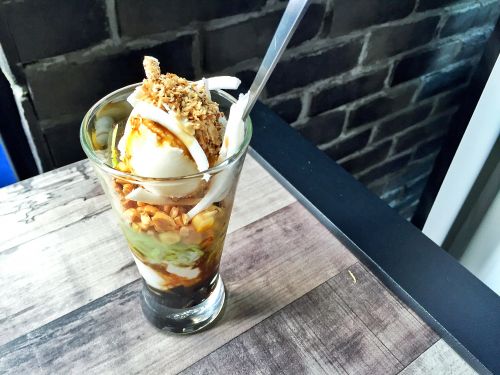 Sangkaya is famous for their coconut ice cream, so what better way to make it even more Malaysian buy adding it to cendol? The coconut milk that's traditionally used in cendol is replaced with their signature ice cream, but all the usual suspects are there too, green cendol bits, roasted peanuts, creamed corn, red bean, shredded coconut, strips of coconut flesh, all sitting on a bed of syrupy gula Melaka. A different interpretation of our classic dessert!
Available at several outlets nationwide.
Website: http://sangkaya.co/
Cendol ice cream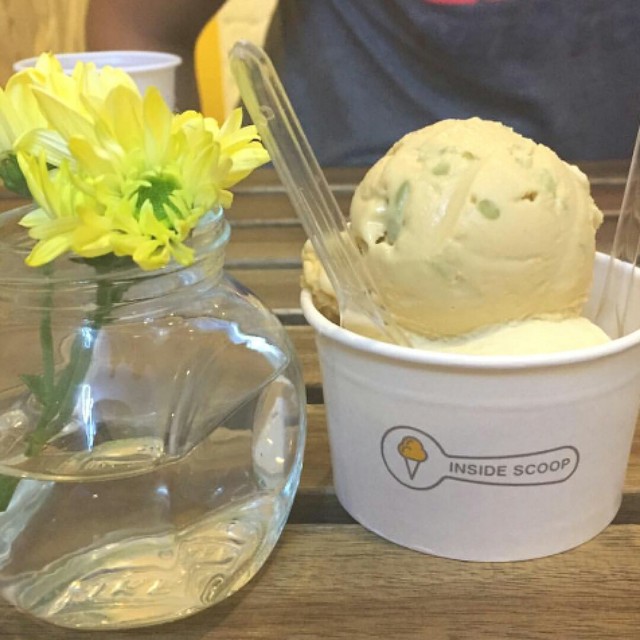 If you missed McDonald's incredibly popular cendol ice cream during Raya season, fret not. Inside Scoop is known for their unconventional ice cream flavours, a lot of them focusing on local favourites for a cool new twist on your typical vanillas or chocolates. It's no surprise that they make a mean cendol ice cream, and what could be better to combat those hot, sweaty days we're all too familiar with? It'll taste even better when paired with a scoop of their durian ice cream as well, cause we all know that durian and cendol go together like macaroni and cheese do!
Available at several outlets citywide.
Website: https://www.facebook.com/MYinsidescoop/
Cendol mooncake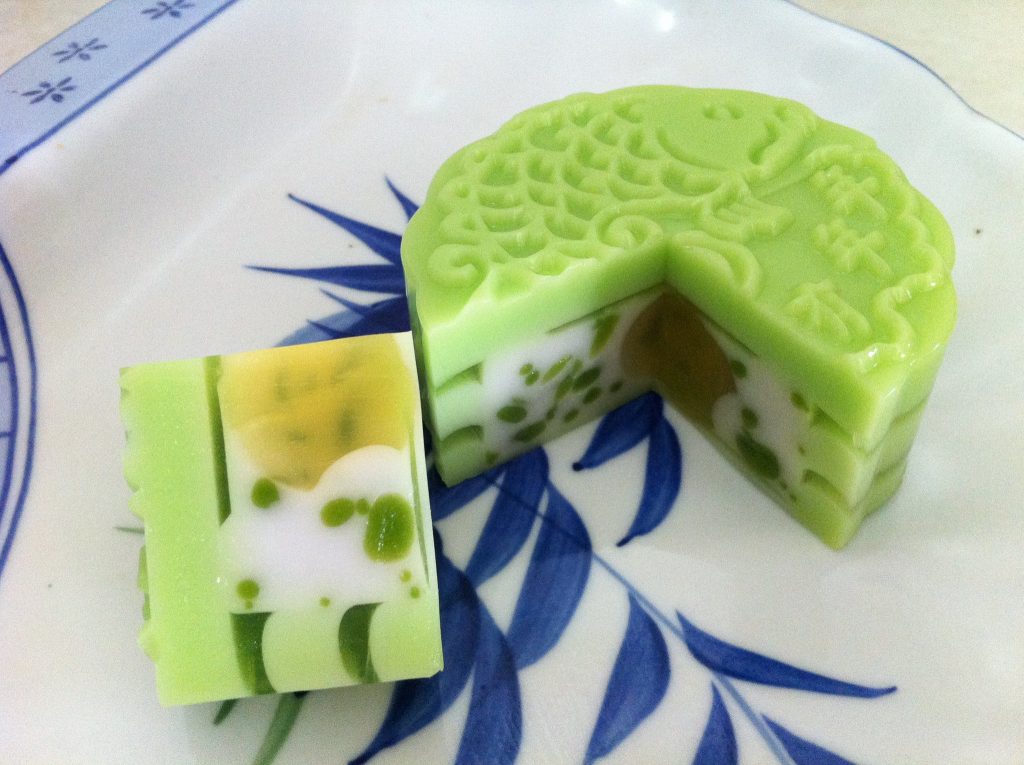 It seems like cendol works when put into pretty much anything! These made-to-order mooncakes from Home-made Jelly Mooncakes are no exception, and are infused with real cendol to boot. Their recipe has stayed the same for the past 22 years, so you know that this stuff is the real deal. A perfect gift for friends or family for Mid-Autumn Festival!
Website: https://www.facebook.com/Home-made-Jelly-Mooncakes-141014319323177/
Coconut cendol cheesecake
For a different kind of cheesecake than previously mentioned, try out Kompassion's Thai-inspired coconut cendol cheesecake! A light, creamy coconut cheesecake base is dotted with green specks of cendol, with more cendol, coconut slivers, and attap palm seed carefully placed over top. The whole thing is then drizzled with gula Melaka syrup to complete your dessert!
Available at Damansara Kim and TTDI outlets.
Website: https://www.facebook.com/Kompassion.DamansaraKim/
Ice-blended cendol
We all know that you can just pour cendol into a cup, stick a straw in it, and call it a day. But where's the fun in that? Cool Blog, the popular drinks franchise that's in every corner of the city, makes their very own ice-blended cendol beverage, usually served with apple jelly and black pearls. How's that for something new? And seeing as there's a Cool Blog pretty much everywhere, it's super easy to find too!
Available at several outlets nationwide.
Website: http://www.coolblog.com.my/
Even though all these different iterations of cendol are fun to try, it'll never replace our one and only, traditional cendol bowls. Check out our list of the best places to have cendol in KL!