Nasi lemak, the pride and joy of our country, the perfect breakfast to start our day, and a source of comfort and homeliness to most Malaysians. You'll be hard pressed to find someone that doesn't like to indulge in the aromatic, coconut milk-infused rice, crisp anchovies, crunchy cucumber, spicy but sweet sambal, and bouncy hard-boiled egg, laid on a fragrant banana leaf, that we've all come to love and cherish.
So it's hardly surprising that nasi lemak has become a point of inspiration for countless chefs in coming up with their own recipes influenced by our national dish. The following restaurants and companies have all come up with their own unique twist on the nasi lemak, some of which look delicious, while others will take some guts to try. Read on to find out some weird and wonderful nasi lemak-inspired dishes you should definitely try out:
Nasi lemak cheesecake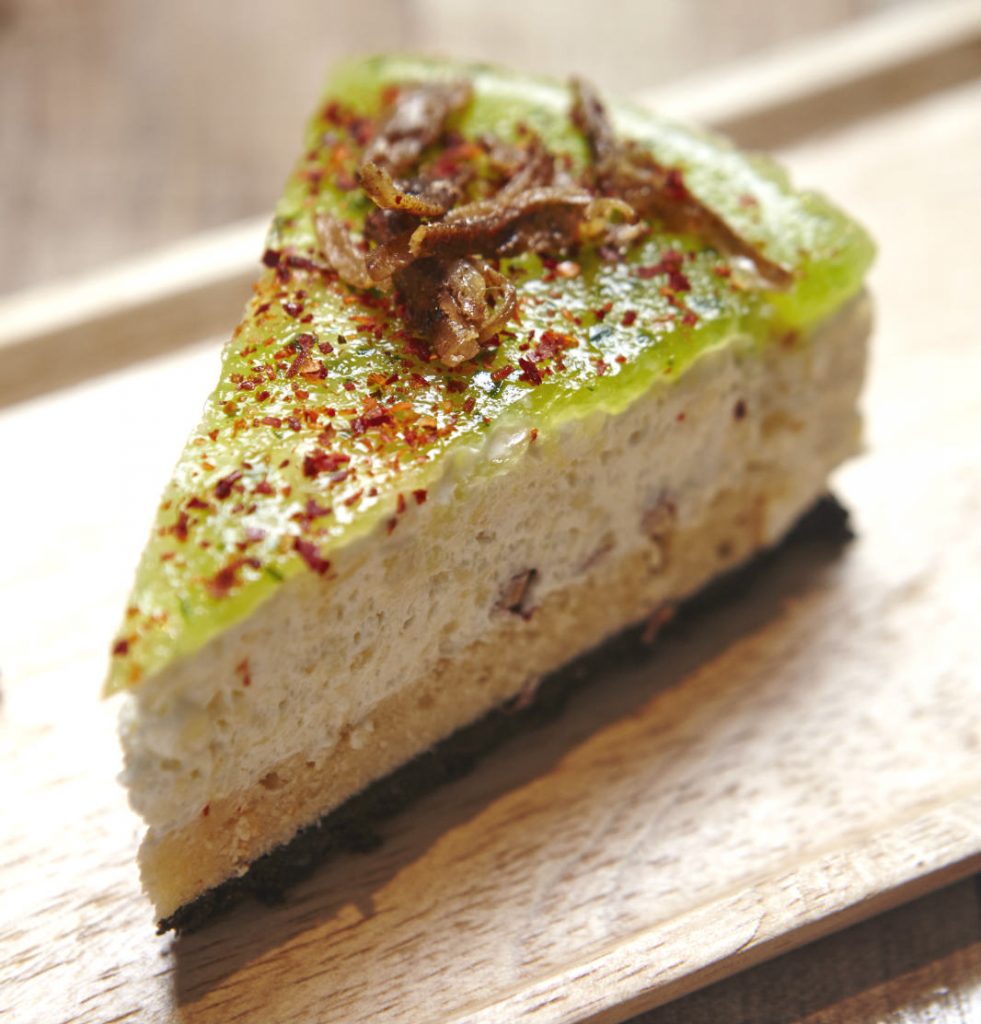 This quirky offering by Lepaq Lepaq at Ceylon Road has starkly divided opinions about its taste. You either love it or hate it, and the popular dessert has been making a name for itself on social media for it's outright weirdness. A chocolate base on the bottom, followed by a layer of cream cheese, glutinous rice chunks and roasted peanuts, and topped with bright green cucumber gel with sprinkles of fried anchovies and chilli flakes is enough to intrigue any nasi lemak fan into giving it a try. Who knows, you might even like it!
RM15/slice
Pork-free
Address: Lepaq Lepaq, Lot 687, Jalan Ceylon Sekyen 57, 50200 Kuala Lumpur
Hours: 10am-11pm on weekdays, 9am-11pm on weekends
Tel: +603-2022 2293
Website: www.facebook.com/LepaqLepaq
Nasi lemak gelato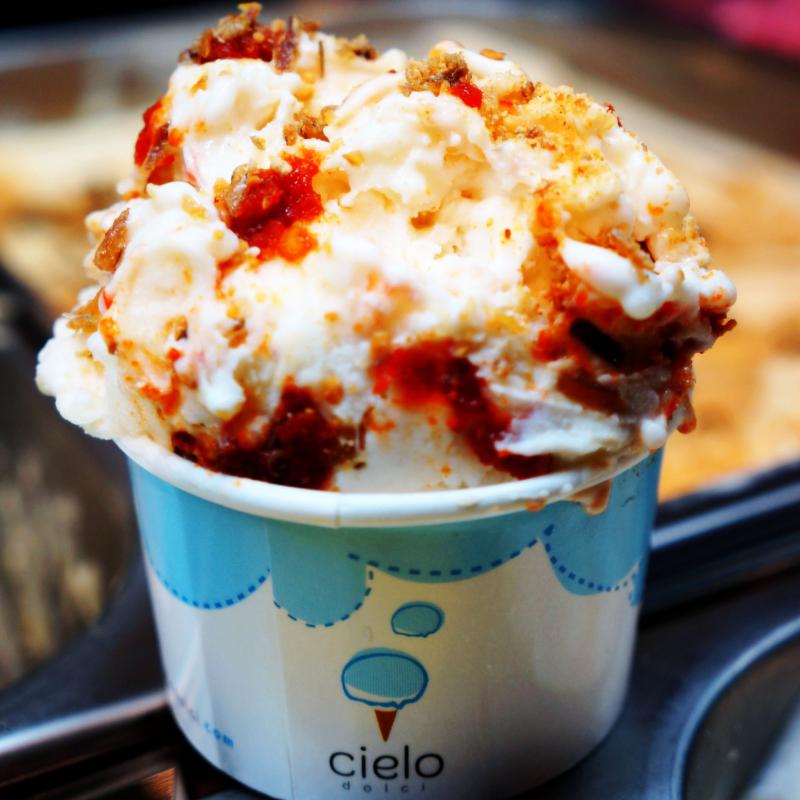 This unconventional cold treat has proven surprisingly popular at Cielo Dolci, a well-known gelato joint in KL, with many saying it tastes exactly like nasi lemak itself (albeit colder and creamier). Coconut rice is swirled into a gelato base, along with anchovies, peanuts, and chilli flakes to make this daring dessert. Cielo Dolci is known for coming up with local-centric flavours for their gelatos, and this one is no exception. Do note that this flavour comes and goes, so make sure to check out Cielo Dolci's Facebook page to see if this is available. If you ever feel like having nasi lemak on an especially hot day, this one's for you!
RM8.80 for a cup with 2 flavours, add RM1 for a waffle cone.
Pork-free
Address: Cielo Dolci, F-K10, first floor, IOI City Mall, IOI Resort City, 62502 Putrajaya, Sepang, Selangor.
Hours: 10am-10pm daily
Tel: +603-8949 9268
Website: www.cielodolci.com
Nasi lemak tea
Yes, you read that right. Who would have ever thought of fusing together nasi lemak with tea leaves? Apparently Singaporean tea experts Ette Tea has, and their custom rice blend of houjicha, genmaicha, coconut flakes, dried pandan and dried chilli is supposed to be a sophisticated, beverage version of our beloved rice dish. Maybe drinking your nasi lemak for breakfast instead of eating it appeals to some of you? Then you're welcome to try it out and let us know what that tastes like!
SGD $18 for 50g.
Ships worldwide.
Website: www.ettetea.com
Nasi lemak sandwich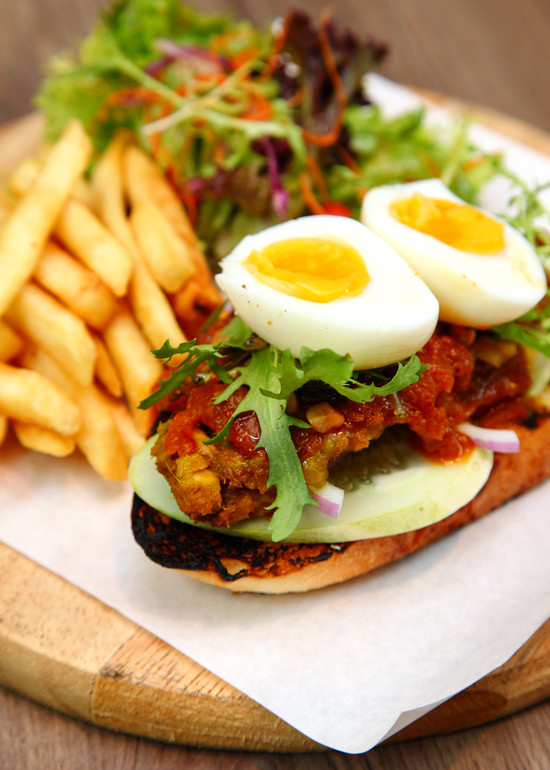 This option actually looks pretty good, and is available at [email protected], Fraser Place. An open-faced sandwich, filled with a grilled chicken thigh, tangy sambal sauce, anchovies, a soft-boiled egg, cucumber slices and peanuts, form the perfect meal for us nasi lemak enthusiasts. People have been saying that it tastes great too, and is an excellent Westernization of our local favourite. If this sounds like it's right up your alley, make sure to give it a go!
RM28
Non-halal
Address: [email protected], Fraser Place, Jalan Perak, 50450 Kuala Lumpur
Hours: 11.30am-11pm daily
Tel: +603-2181 2426
Website: www.facebook.com/skilletat163
Nasi lemak sushi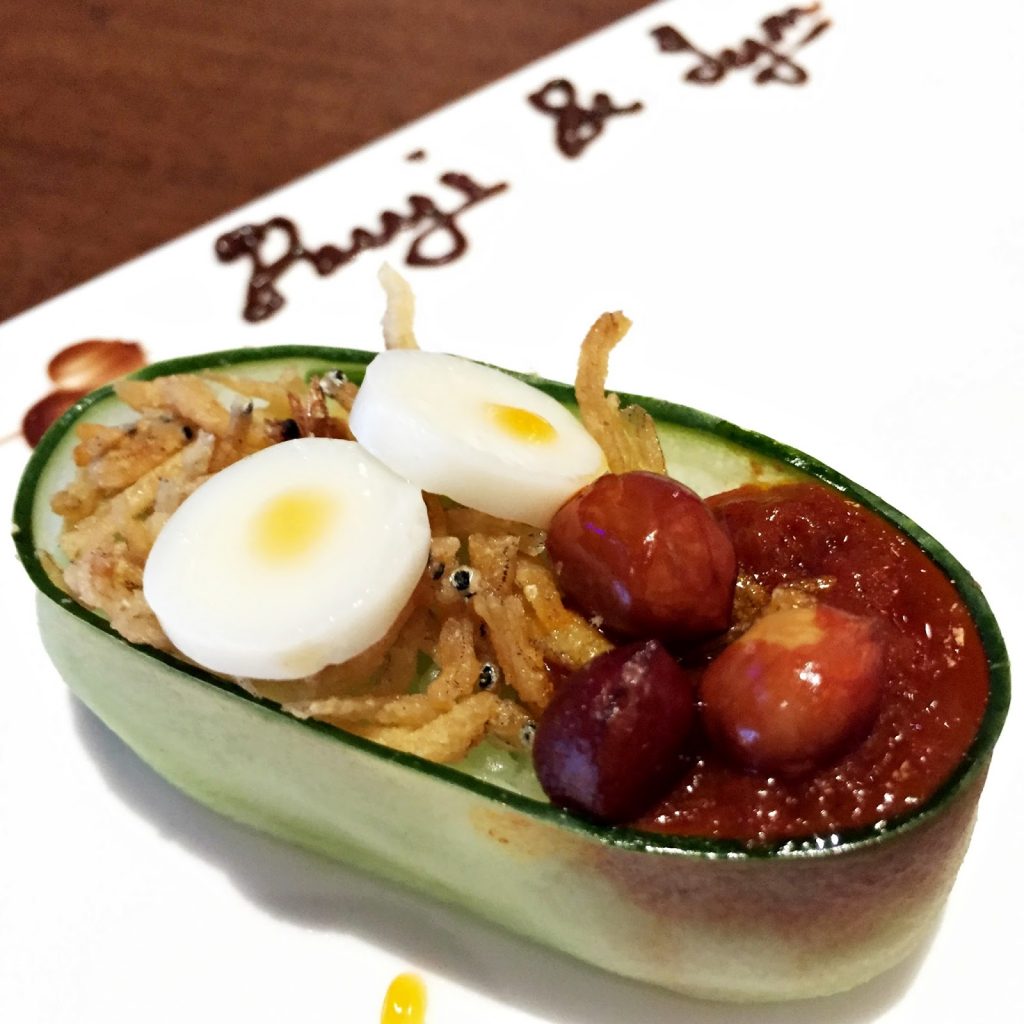 When the world of Malaysian and Japanese cuisines collide, we're left with nasi lemak sushi. Coconut rice topped with a sprinkle of ikan bilis and peanuts, tiny quail eggs served sunny side up, a drop of sambal, and a paper-thin slice of cucumber to wrap it all up is what you'll be expecting from this petite dish by Ruyi & Lyn in Bangsar. Served alongside other Asian-inspired sushi like chicken rice sushi and mango sticky rice sushi, this is a must-try for all Japanese food lovers.
RM43 for a plate of six.
Pork-free
Address: Ruyi & Lyn, Bangsar Shopping Complex, 285, Jalan Maarof, Bukit Bandaraya, 59000 Kuala Lumpur
Hours: 12pm-12am daily
Tel: +603-2083 0288
Website: www.ruyiandlyn.com
Nasi lemak spaghetti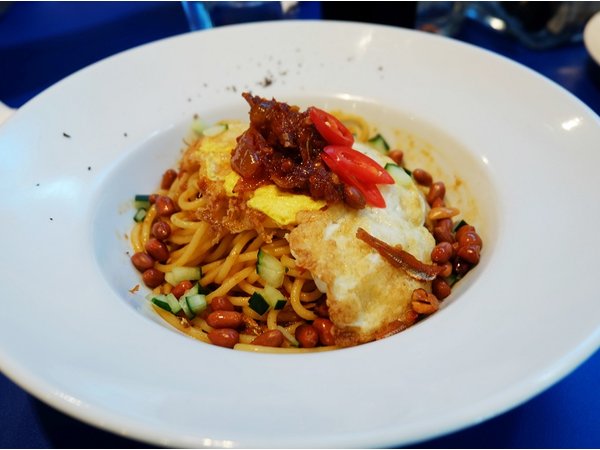 Japanese food is done, what about Italian next? Lucky Bo in Bangsar serves up their own unique fusion food, which is their nasi lemak spaghetti. And it looks awesome, with spaghetti coated in sambal, served with a garnish of the usual suspects; anchovies, peanuts, cucumber, and a fried egg to top it all off. Not only does it look pretty darn good, it has the yumminess to go with it as well, as lauded by their impressed customers. This is only available for lunch though, so make sure to time your visit right if you want to try this out. Don't look the other way with this pasta dish, and give it a try yourself!
RM22
Pork-free
Address: Lucky Bo, 65, Jalan Bangkung, Bangsar, 59100 Kuala Lumpur
Hours: 10am-10pm on Mon-Sat
Tel: +603-2092 1222
Website: www.facebook.com/LuckyBoKL
Nasi lemak pizza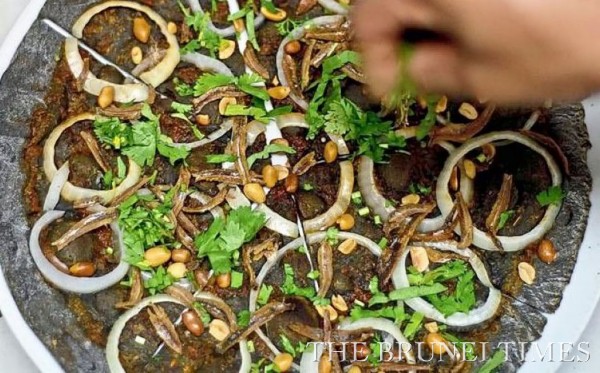 Sticking with the Italian influences, Tujo Bar-sserie and Grill came up with a nasi lemak-inspired pizza, complete with a sambal base, fried anchovies, onions, crushed peanuts, all on either a squid-ink or spinach crust. Dubbed the 'Malaysiana pizza', this dish has attracted quite a few curious eaters, and judging by their reactions, it's definitely a hit. If you're a pizza addict (like myself) and are curious to see how nasi lemak would fare on pizza, this one is a must-try for sure.
RM19++
Pork-free
Address: Tujo Bar-sserie & Grill, Ascott Kuala Lumpur, No.9, Jalan Pinang, 50450 Kuala Lumpur.
Hours: 7am till closing, daily
Tel: +603-2161 7789 / +6012-210 3055
Website: www.tujo.my
Nasi lemak waffles
Olfactory Bulb in Kota Damansara specializes in their Wafflemesses, which are essentially bowls of waffle bits topped with all kinds of flavour combinations, some of which are quite daring like the nasi lemak Wafflemess! A layer of waffles topped with Anzac coconut cookie ice cream, spicy sambal sauce, crushed satay fish, cheddar cheese, peanuts and zucchini, this dessert is not for the faint of heart. Its bold combination of sweet and savoury has won over many, so if you feel brave enough, give it a whirl!
RM25
Non-halal
Address: Olfactory Bulb 15-2, Jalan PJU 5/13, Dataran Sunway, Kota Damansara, 47810 Petaling Jaya, Selangor
Hours: 5pm-midnight on Tues-Fri, 3pm-midnight on weekends
Tel: 03-6151 1108
Website: www.facebook.com/olfactorybulb/
So there you have it, eight dishes inspired by our beloved nasi lemak. Are you brave enough to try any of these? If you already have, let us know your experiences (I'm dying to know!). Any recommendations?