When we first drove past BlackBixon Cafe on our way to another event, it stood out as a rather classy cafe that's complete with a glass house entrance to their outdoor seating area, as well as an upper floor with a balcony.
Looking into it, it seemed that quite a number of their food items, particularly their pastries, are mostly black, hinting that they've infused activated charcoal during the cooking process, giving them a deep black colour.
When the day came for us to actually pay a visit, we struggled to find parking because Jalan Imbi is notorious for being one of Kuala Lumpur's densely populated areas.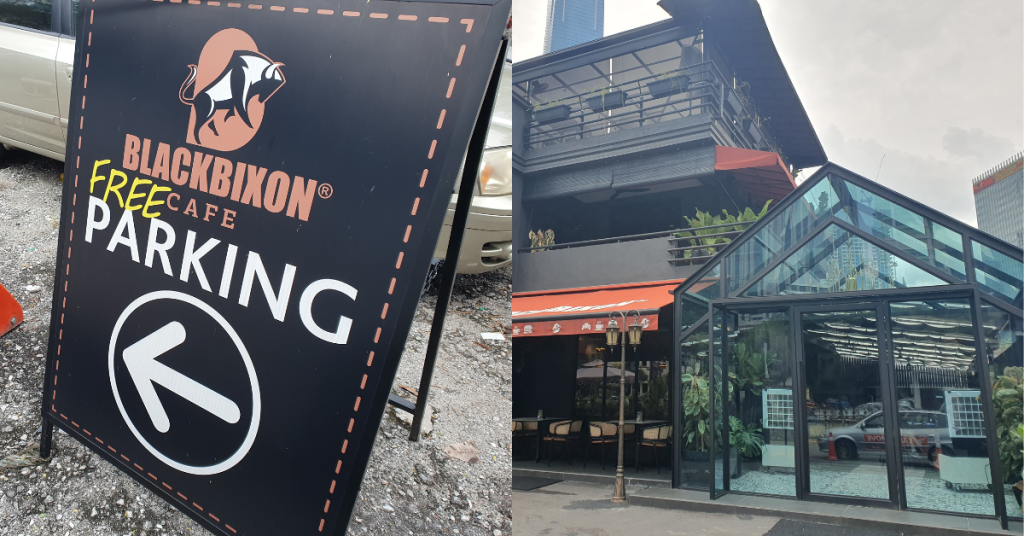 After making a few rounds, we realised that there were private parking spots directly across the street from the cafe, which are allocated specifically for BlackBixon Cafe customers only.
Once we got our parking situation sorted, we then made our way on foot towards the cafe.
As we walked in, we immediately noticed how classy the cafe was on the inside as well, from the black-walled interior and classy-looking furniture, to the intricately detailed tiles on the floor.
Another thing we noted was how popular BlackBixon Cafe was. When we reached the place at around 10AM, it was still quite empty.
However, after we ordered our food and snapped pictures of the cafe, which took around 25 minutes, the place was already packed with a number of customers, especially at their outdoor seating area.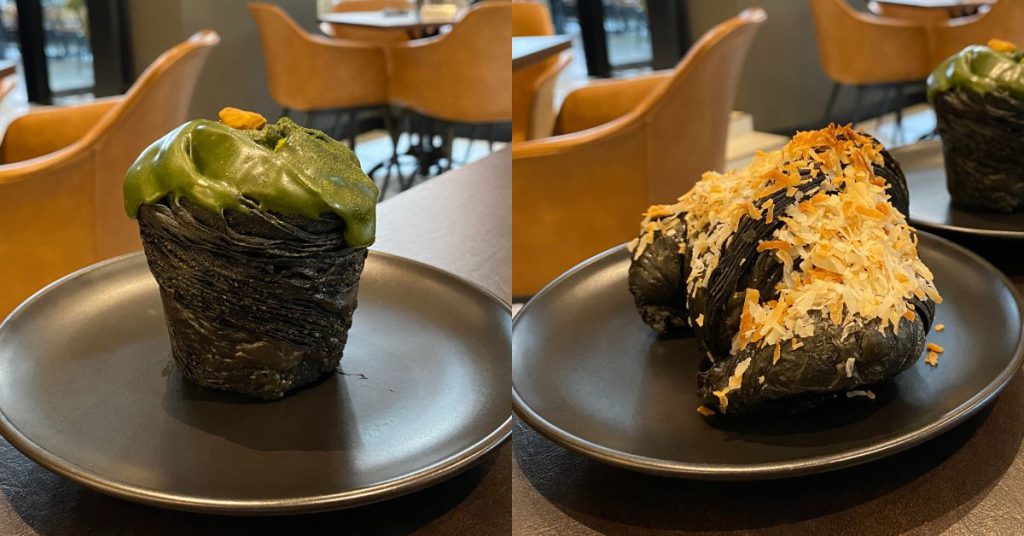 Speaking of orders, we got ourselves some pastries, such as BlackBison's signature Matcha Cruffin (RM13) and a Salted Egg Croissant (RM13).
We also ordered their Big Breakfast (RM28), which had eggs, artisanal chicken, sausage, crusted hash brown, sautéed mushrooms, baked beans, grilled tomato, and a slice of charcoal sourdough bread.
For our drinks, we got a cup of Monochrome Latte, as well as a cold cup of Charcoal Latte.
Starting off with the Matcha Cruffin, tearing into it with our utensils revealed the thick matcha cream inside, which might be a bit bitter for some. The pastry crumbled as we picked it up with our forks, and it had a slightly smoky and earthy taste because of the activated charcoal.
Moving onto the Salted Egg Croissant, the pastry was quite similar in taste and texture to the matcha cruffin. When we cut into it, the molten salted egg filling began oozing out, and you can smell the salted egg scent emanating from it.
Do keep in mind that because there are traces of chilli powder sprinkled on the exterior and in the salted egg yolk filling, it has a slightly spicy taste, which might not be appetising to some.
As for the Big Breakfast dish, we found that even though everything was cooked well, it was a bit bland to our tastes, as if it was lacking some sort of seasoning.
To comment on the drinks, the Monochrome Latte (RM18) had a sweet caramel aftertaste while the Charcoal Latte tasted roughly the same, except it was not as sweet, nor were there any hints of caramel. Both coffees tasted more on the milky side, but the caffeine still hit.
Before we ended our visit, we explored the outlet a little further to take some pictures and videos for our content, one of the BlackBixon staff told us that there's actually a rooftop bar that's only open during the evening, which might be something worth checking out in the future.
BlackBixon Cafe
Location: 17 Jalan Inai, Off, Jalan Imbi, 55100 Kuala Lumpur, Wilayah Persekutuan Kuala Lumpur
Contact: 017-395 0321
Operating hours: 8AM to 10PM daily
Website: https://www.blackbixoncafe.com/