The Michelin Guide has finally made its first appearance in Malaysia, and they've announced four local Michelin Star winners.
It was first published in 1900 by the same company that produces car tyres, founded by the Michelin Brothers, Andre and Edouard Michelin.
Before we dive into who won, here's the significance of winning a Michelin Star.
The Michelin Guide, which contained many tips, including how to change tyres and maintain your car, was initially handed out free of charge to motorists.
Come 1920, the Michelin brothers decided to improve the quality of the guide, remove advertisements, and start charging money for it.
In 1926, one Michelin Star would be awarded to restaurants that met their assessment criteria, which include the quality of the product, mastery of flavour and cooking techniques, value for money, consistency, and the chef's personality in his cuisine.
From 1931 onwards, they started handing out two and three Michelin Star awards, with three stars being the most coveted.
According to the official Michelin Guide's publication:
Restaurants with one Michelin Star: "A very good restaurant in its own category";
Restaurants with two Michelin Stars: "Excellent cooking, worth a detour";
Restaurants with three Michelin Stars: "Exceptional cuisine, worth a special trip".
Having said all that, here are the Malaysian restaurants in Kuala Lumpur and Penang that were awarded one Michelin Star.
1. DC. by Darren Chin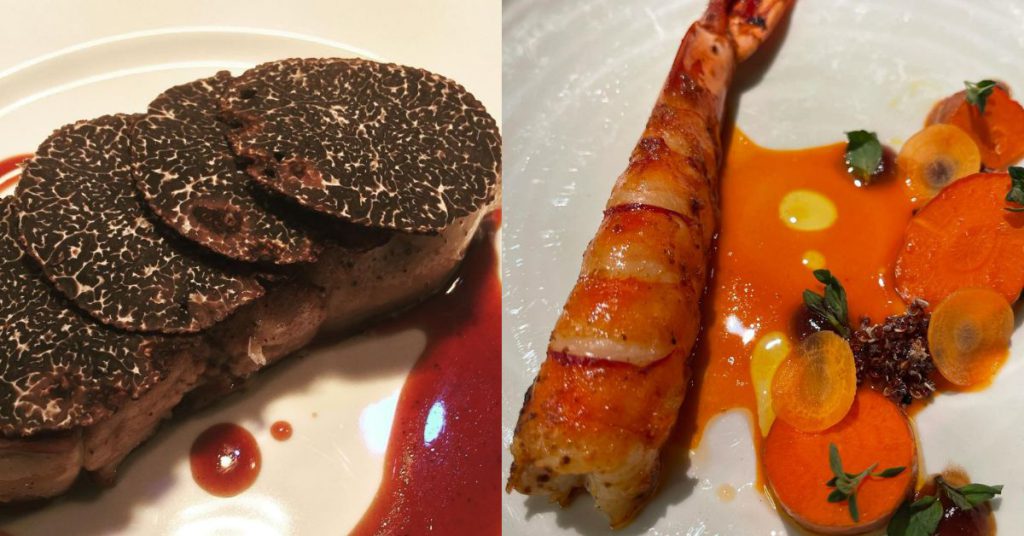 Situated in Taman Tun Doctor Ismail, DC. by Darren Chin's three-storey restaurant is split into three different sections including a dining room, a bar, as well as their signature Louis XIII-themed private rooms.
They have multiple menus ranging from 4-course meals to a vegetarian menu that's only available for pre-order.
They also have the 9-course Le Menu Empereur, which, as the name suggests, includes luxury dishes fit for an Emperor ranging from Cured Amaebi, Hokkaido Snow Crab, and even the A5 Miyazaki Tenderloin, depending on the season, of course.
The price starts anywhere from RM388/pax to RM1,278/pax depending on the course you pick. They also have an add-on a la carte menu where you can get dishes like carbonara, truffle pasta, caviar, and more, starting from RM48.
Location: 44, Persiaran Zaaba, Taman Tun Dr Ismail, 60000 Kuala Lumpur, Wilayah Persekutuan Kuala Lumpur
Contact Number: 03-7731 0502 / 012-223 2991
Website: https://restaurant-dc.com/
2. Dewakan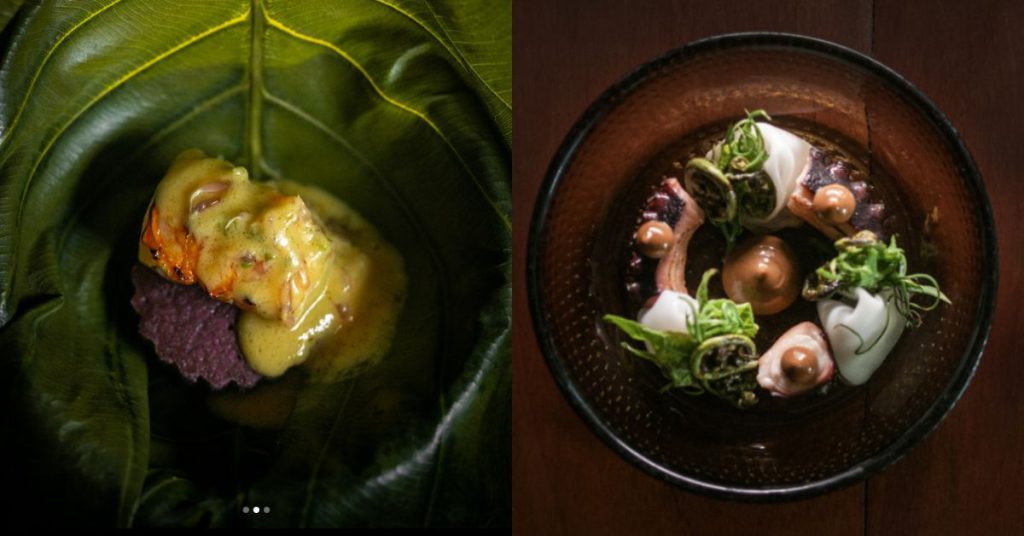 The restaurant's name Dewakan is a combination of two Malay words, which directly translates to "god" and "food". Located only five minutes from Suria KLCC, Dewakan specialises in providing a luxurious dining experience for Malaysian food.
According to their website, they have a Dewakan tasting menu (RM788.80/pax), non-alcoholic one (RM222/pax), and alcoholic pairings (RM300/pax). The tasting menu changes quite often, depending on the season.
Based on the Michelin Guide's recommendation, one of Dewakan's signatures is the shrimp head chocolate petit fours, which is unusual but potentially exciting for gourmands.
Keep in mind that the entire dining experience is expected to span around three hours, and they do not have a kid's menu available. This means that children will be charged full price and served the same food items as the adults.
Location: Platinum Park, Level 48, Skyviews, Naza Tower @, Persiaran KLCC, Kuala Lumpur City Centre, 50088 Kuala Lumpur, Federal Territory of
Contact Number: 012-789 6720
Website: https://www.dewakan.my/
3. au Jardin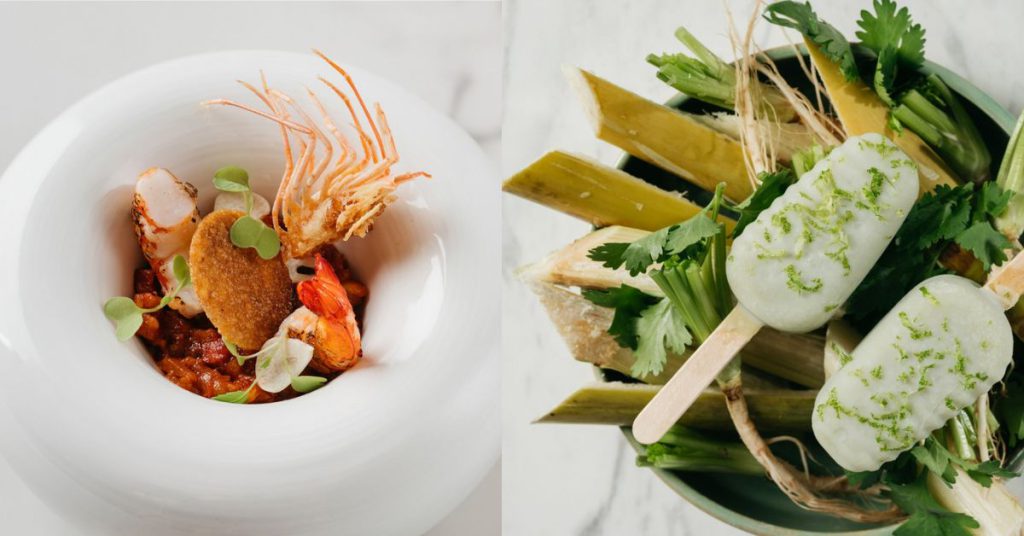 au Jardin, a gourmet restaurant that's built inside of an old bus depot in Penang, only seats up to 18 pax, and it focuses on using natural and seasonal ingredients sourced locally.
Its artisanal menu, developed by Chef Kim Hock, combines European dishes from his time travelling across Europe, with a Malaysian twist.
A heavy emphasis is put on using natural and seasonal local ingredients that are ethically sourced.
Their menus start from RM220/pax for the 4-course Festives Champagne Brunch, to RM388/pax for the Menu Degustation that changes seasonally.
They have a strict smart dress code policy, and children dine from regular menus at full price.
Location: 125, Jalan Timah, 10150 George Town, Pulau Pinang
Contact Number: 012-428 9594
Website: https://www.restaurant-aujardin.com/
4. Auntie Gaik Lean's Old School Eatery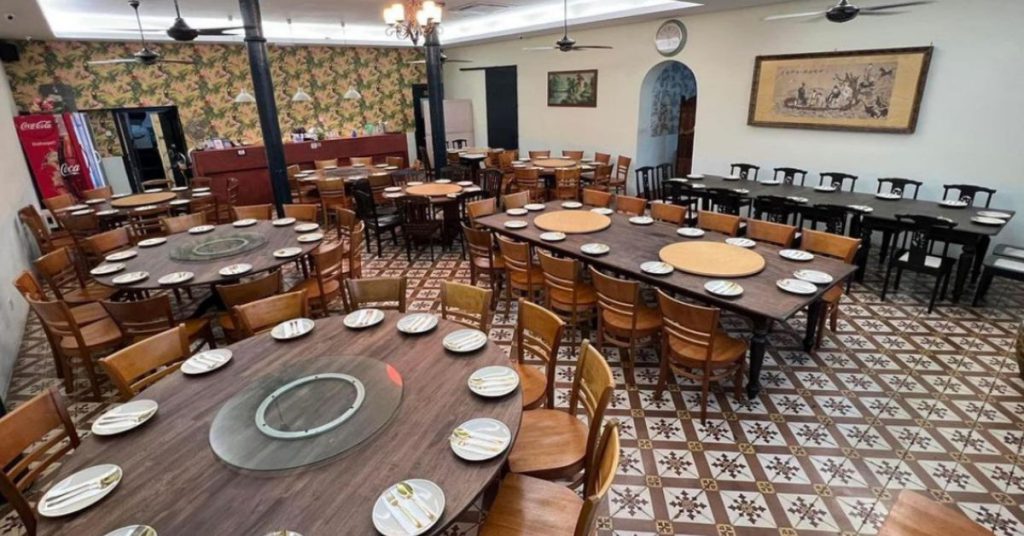 Last but not least, we have Auntie Gaik Lean's Old School Eatery that's also in Penang. Unlike the previous entries that provide a luxurious gourmet experience, this restaurant aims to deliver authentic Nyonya cuisine, a recipe was developed and kept secret by Auntie Gaik Lean for several decades.
Instead of a set meal course, you're more than welcome to mix and match your orders from over 55 dishes and drinks available.
Each of their dishes ranges between RM20 to RM30, which is relatively affordable. While they don't have a kid's menu, specifically, we think that most of their dishes are non-alcoholic and shareable with the rest of the family.
Location: 1, Bishop St, Georgetown, 10200 George Town, Penang
Contact Number: 017-434 4398
Website: auntiegaikleans.malaybites.my
Michelin Guide also compiled a list of 15 restaurants that received the Bib Gourmand award, which are establishments that serve reasonably priced food if you're looking out for other restaurants in Penang or Kuala Lumpur that are worth visiting.