You've seen the huge Mona Lisa portrait adapted from Fernando Botero's signature piece on your hip friend's Insta-feed from Nippori Bistro. It's iconic but is it worth travelling for?
Sample Of Public Reviews:

"Nippori Bistro is unmissable!"
"Masterpiece in Food."
"Best spot for photo and food !!️"
"Love these delicious foods, cakes and coffee so much !"
"Nippori always never disappoint us!!"

Salmon Mentai (RM38) 
Sample Of Public Reviews:
"9/10!"
"Noticeably amazing."
"Very good."
"Good but I think is overpriced."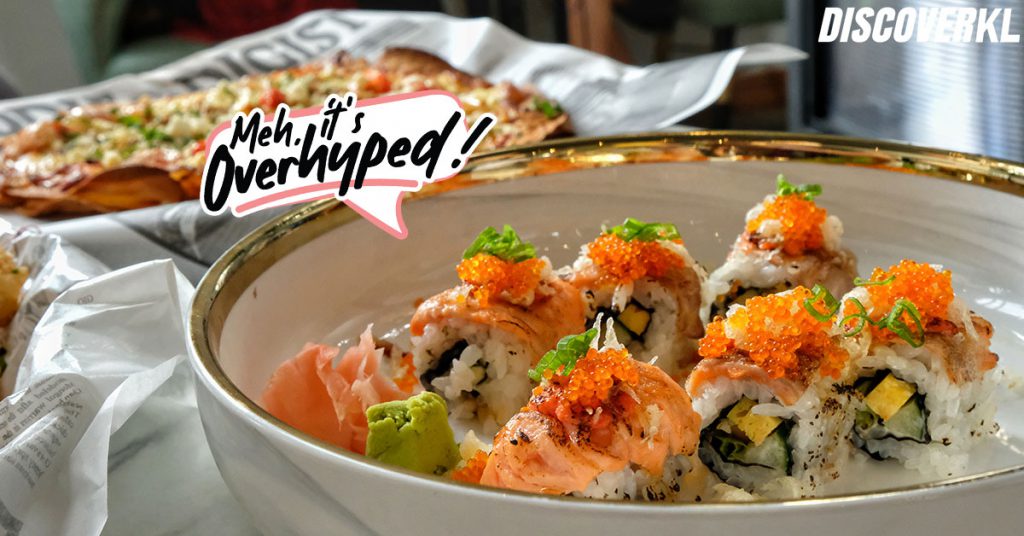 Verdict: Probably one of the most photographed dishes from Nippori Bistro, this tasted ok. For the price and size, we'd recommend going to Shin Zushi (in USJ 10/Bukit Jalil/Puchong) for a larger portion at a better price and arguably better taste. You just lose out on not having gold chopsticks to eat it with.
Foie Gras Heaven (RM58)
Feedback from public reviews:
"Flavours are so delicious."
'A must try!"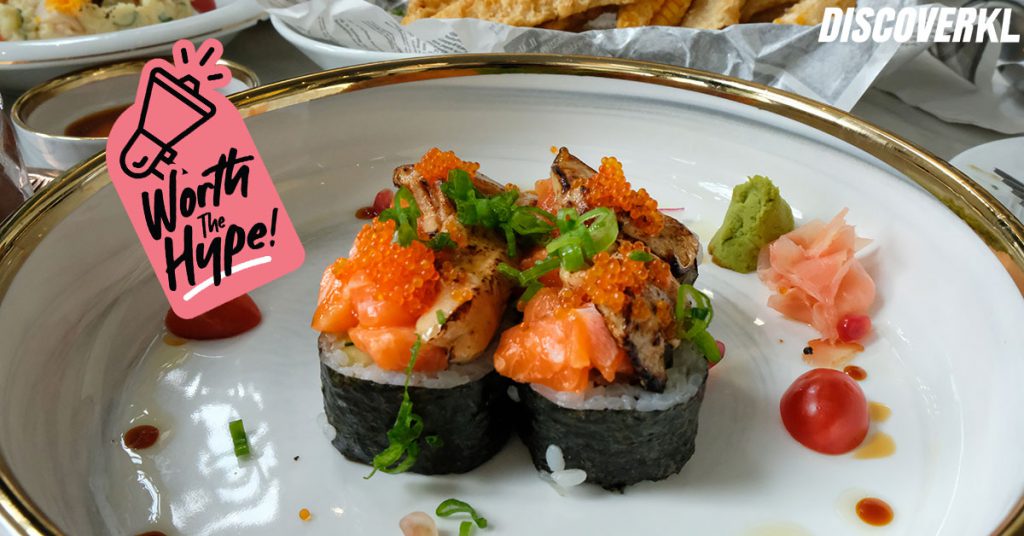 Verdict: Upgrade your sushi by slapping on foie gras. It DID taste a lot better than the RM38 salmon mentai. You can opt to splurge on this if you're already there and you wanna live a little. Also matches the golden chopsticks better, makes you feel like a rich taitai teehee. Worth at least a try once.

Smoked Duck Pizza (RM38) 
Feedback from public reviews:
"Pizza is really recommended here!"
"Delightfully flakey and crisp."
"Even if I rate 120 (over 100) it's not too much.."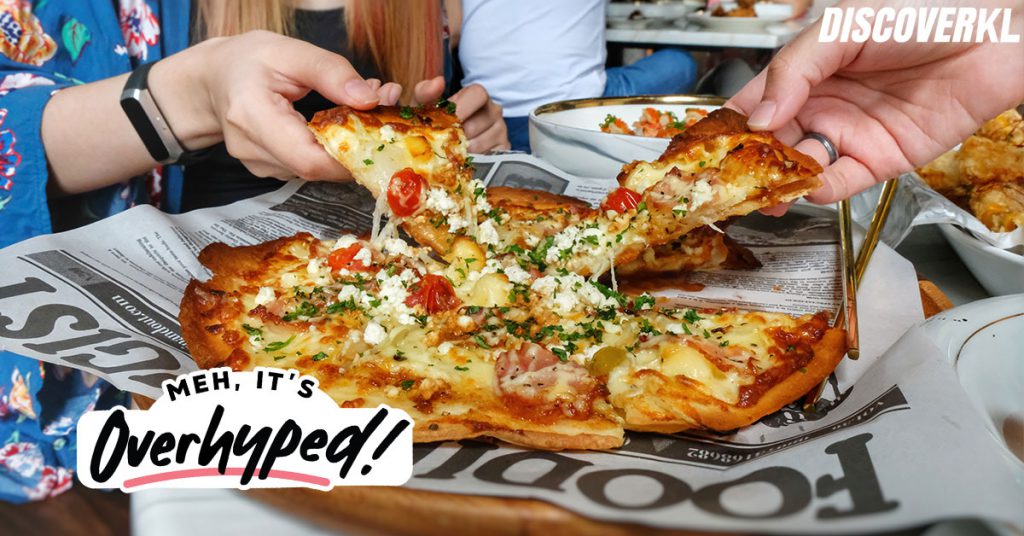 Verdict: Couldn't bring ourselves to fork out money for the RM65 Expensive One pizza, so we took another highly rated one instead. Pizza snobs, close your eyes, this base was more like a crepe or puff pastry than the traditional neapolitan. The dough was salty and crispy, but for something with 3 types of cheese and smoked duck, the taste was very one-dimensional. 
Sweet Corn Ribs (RM22) 
Feedback from public reviews:
"Highly addictive."
"Won't regret if you order!"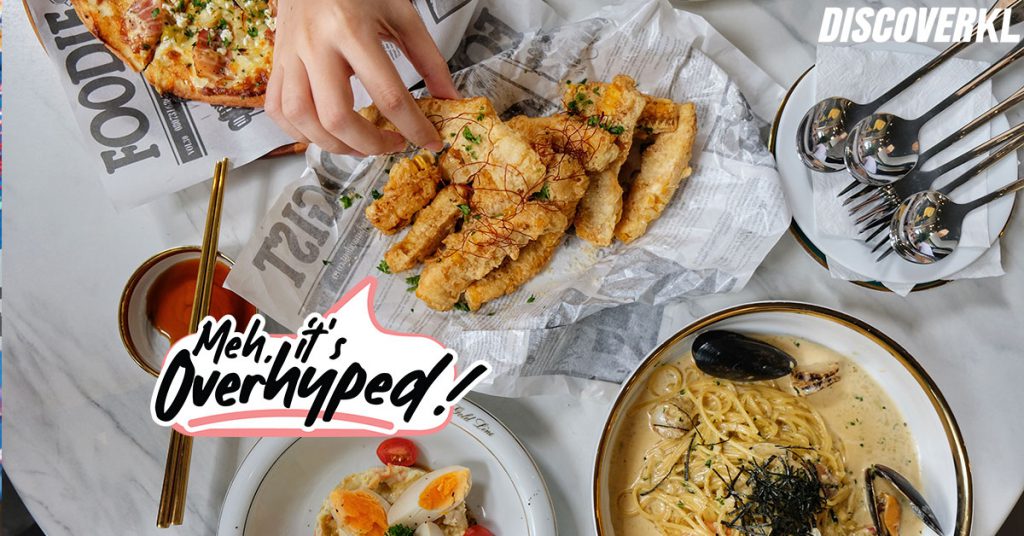 Verdict: Sarah felt very conned by this to realise that it's literally corn cobs in tempura batter. It's a good snack, but only for your corny buddies. It's on our order-again list, but not very worth the price.
Deep Sea Konbu Pasta (RM39) 
Feedback from public reviews:
"So delicious!!"
"Must order!"
"So creamy and tasty.. definitely will order this again."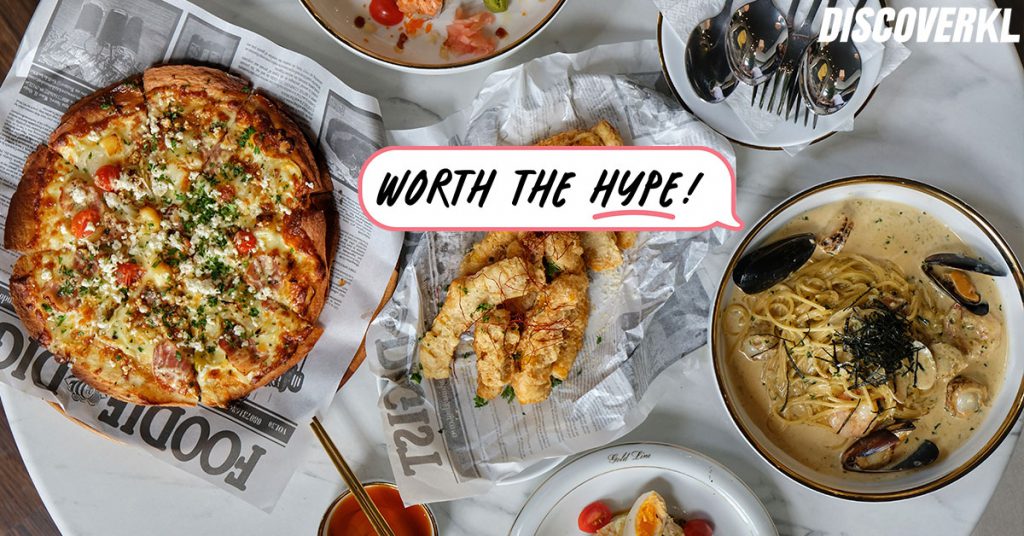 Verdict: Coincidentally the first dish to arrive at our table, and the best one. The heavy cream sauce was umami-rich and tasty, pasta well-cooked, the seafood toppings are reasonable, fresh and good to eat. This one we WILL actually order again.

Potato Tower (RM22)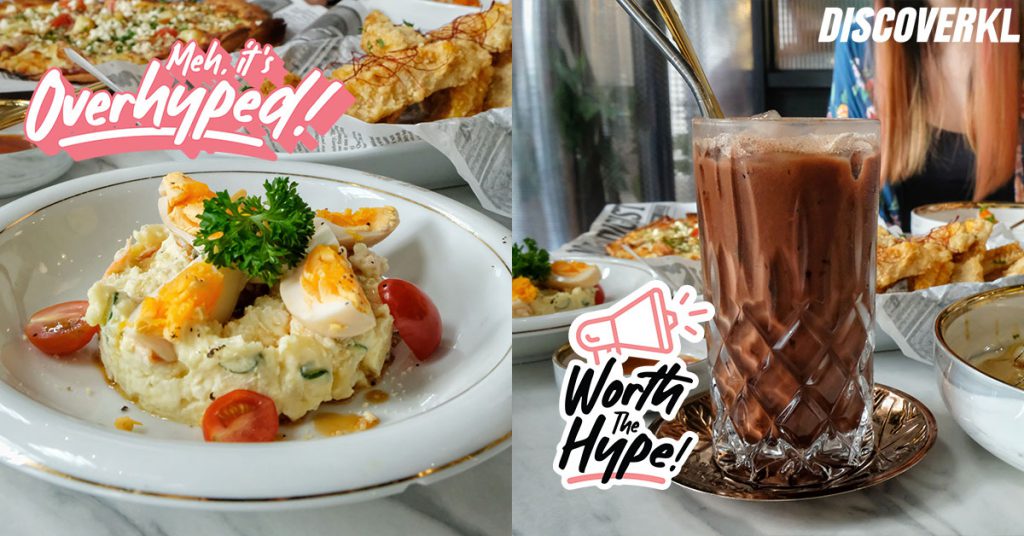 Feedback from public reviews:
"A solid 10!"
"Their ramen eggs were cooked to perfection."
"Looks really normal but it's one of my fav here."
Verdict: Although it had a nice wasabi kick, it's a very ordinary potato salad with some rather dry and tasteless eggs for RM22. The portion isn't as large as we'd thought it would be. We've had potato salad at Sunbather Coffee (at Bangsar South) for a slightly smaller serving, but it tastes great and it was only RM10.
Premium Chocolate (Iced/RM13)
Actually, not much feedback on this online, we got it because they weren't serving matcha that day. Waiter's recommendation.
Verdict: We underestimated this drink, expecting it to probably be diluted and not rich enough. However, this pleasantly surprised us! It's thick and had enough chocolate taste, even after getting diluted as the ice melted. The waiter said it's a regular order, and we'd get it again. 
Victoria Sandwich (RM12)
Feedback from public reviews:
"Heaven sent!"
"THE best in the world."
"The texture is too dry and couldn't really taste the buttery taste."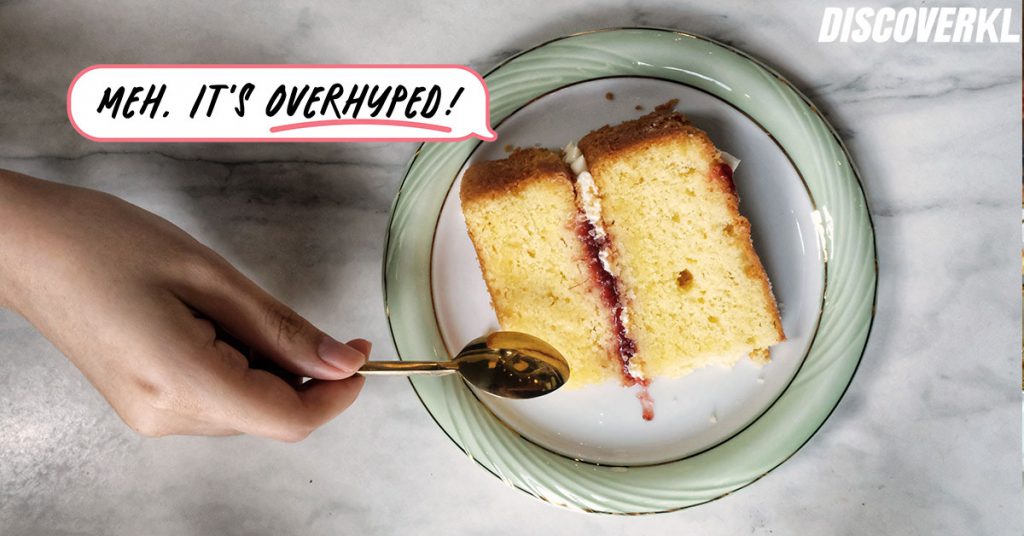 Verdict: Heaven sent? We'd like to contend that heaven sent it back. Dry, dense and really needed a LOT more cream and jam. There is such a thing as too much cake (as you can tell from the picture), when it's not supported by enough filling. It was really hard for us to finish eating it.

CONCLUSION: OVERHYPED?
Yes. The place looks new and the high ceilings are a plus, however we don't think the decor is really that iconic. It has a few statement pieces, but that's about it. We certainly don't think it's worth lining up for in the heat or rain. If you want to try it for yourself, do yourself a favour and make a booking in advance like we did to skip the waiting line outside. 
Nippori Bistro
Address: B Land, Lot 2&3, B Land, lot 2, JALAN Seksyen, Jalan 51a/225, Seksyen 51a, 46100 Petaling Jaya, Selangor
Facebook: https://www.facebook.com/nipporibistro/
Phone Number: 011-59920379