I've never seen a group of grown men excitedly pose with a platter of A5 wagyu beef before. That was, until last week's Wagyu More launch at The Gardens.
"Quick, take a picture of me," Keith said excitedly as the meats were displayed in front of us.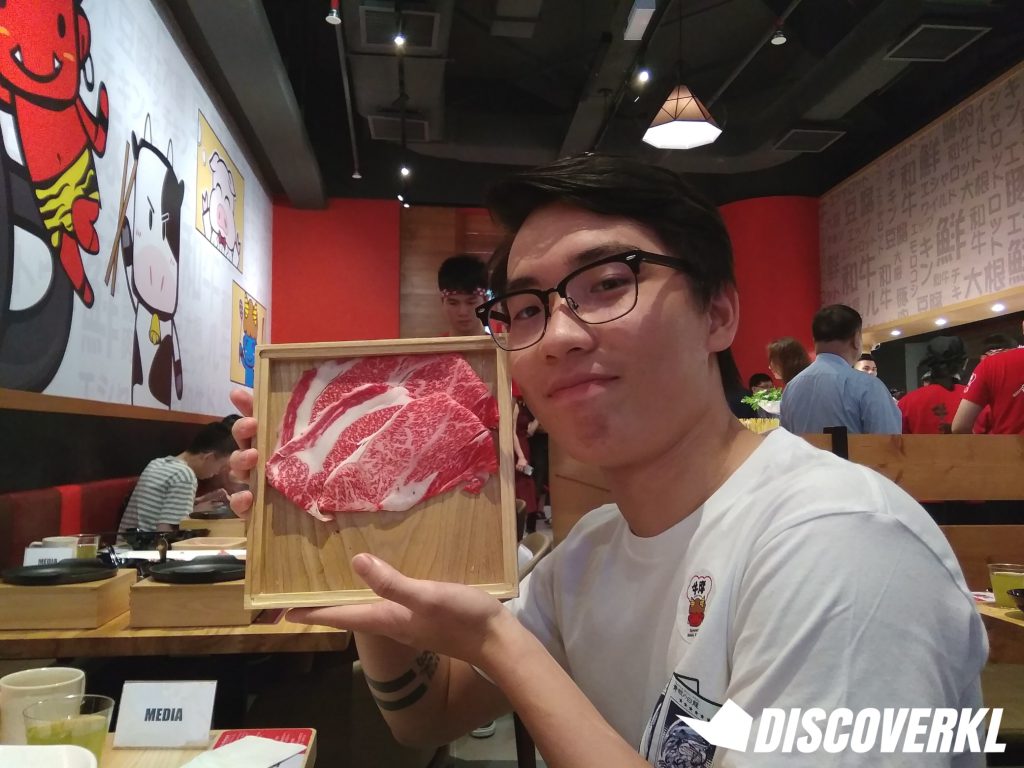 Admittedly, we've never seen cuts of marbled meat quite like the paper-thin ones at Wagyu More—they were as big as our faces!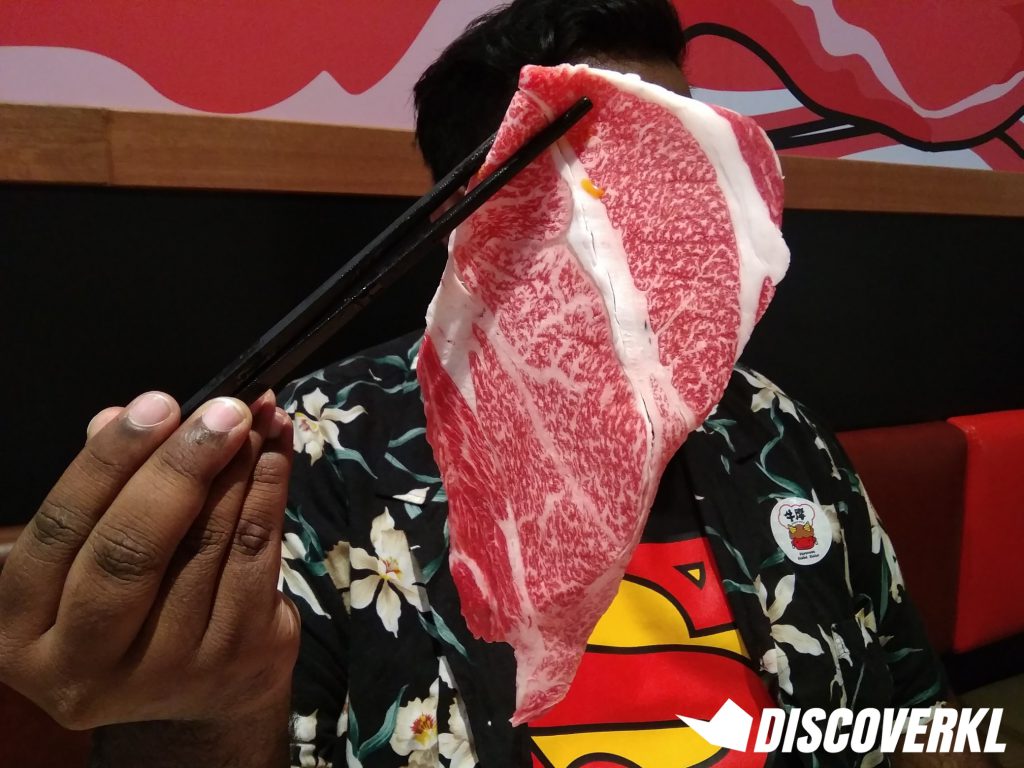 The restaurant, which recently launched its flagship outlet at The Gardens mall, hails all the way from Hong Kong. The all-you-can-eat Japanese shabu shabu restaurant offers an unlimited supply of beef, pork, chicken, a variety of vegetables, hot food, sushi, meatballs, drinks and desserts.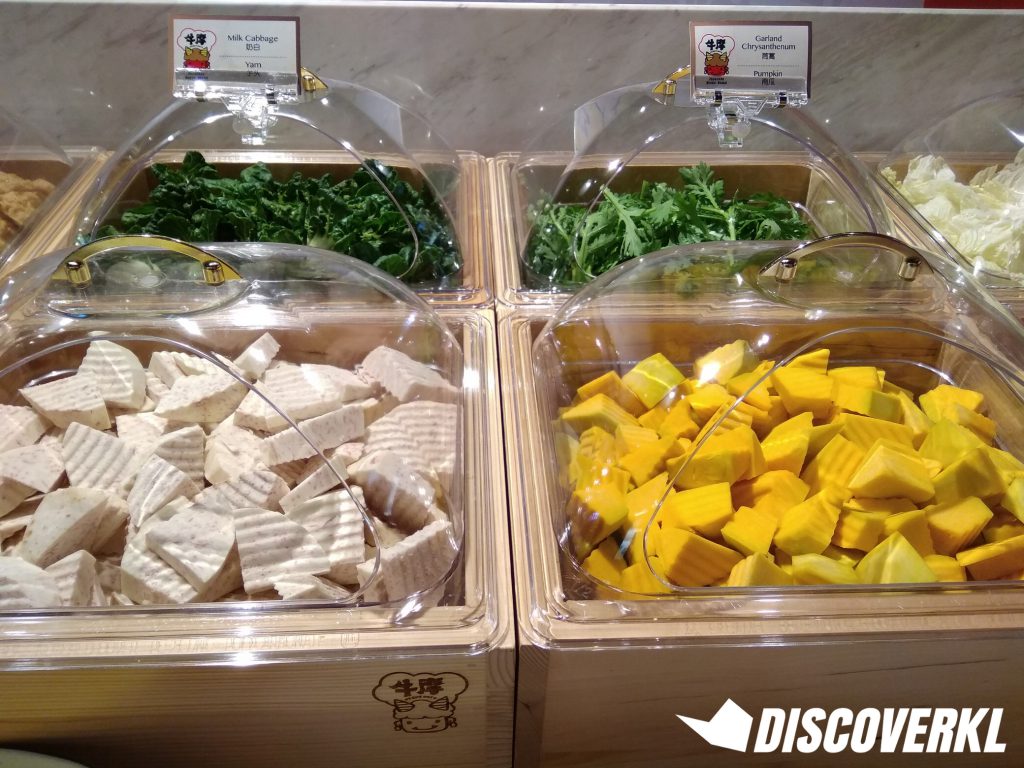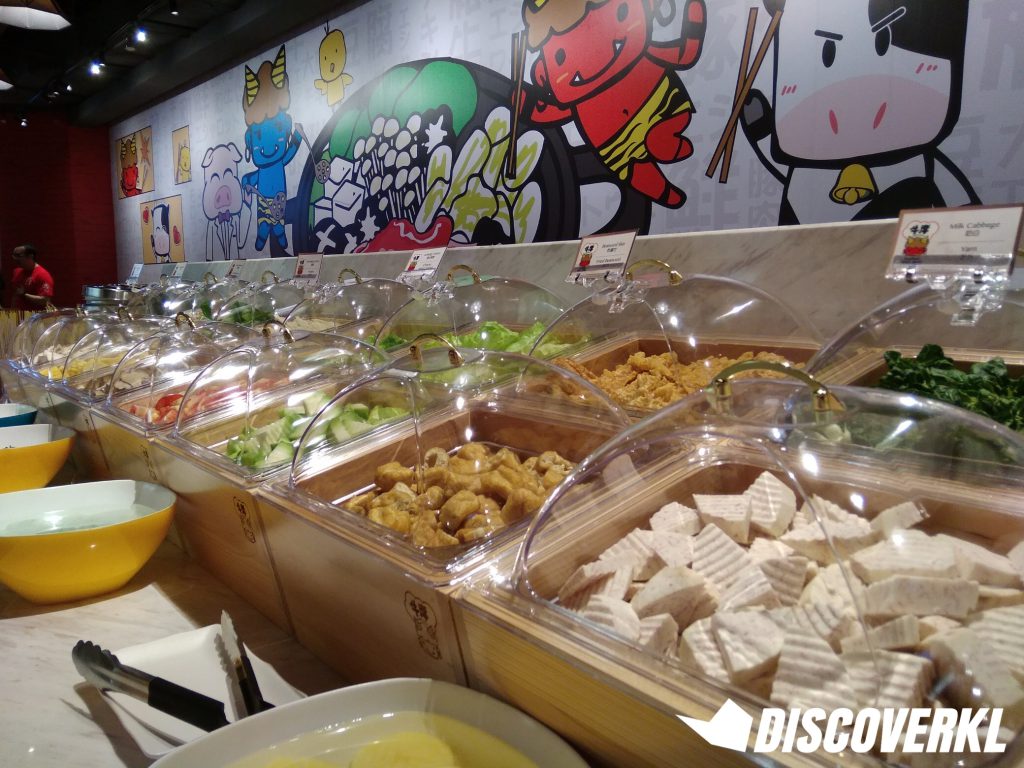 In fact, there are over 50 different side dishes to sample, so definitely come hungry—like we did.
To start you off on your culinary adventure, first select your desired set:
Lunch Special Buffet RM36.80++ (available from 11am-5pm/weekdays)
Dinner Special Buffet RM44.80++ (available from 5pm-10pm/weekdays)
Weekend Lunch Buffet RM39.90++ (available from 11am-5pm/weekends)
Weekend Dinner Buffet RM47.80++ (available from 5pm-10pm/weekends)
Spanish Iberico Pork Buffet RM98.80++
Australian Wagyu Buffet RM148.80++
Japanese A5 Wagyu Buffet RM388.80++
Now, you're ready to enjoy 2 different soup bases with your side dishes. There're Kombu, Sukiyaki, Miso, Tomato, Pork Bone, Spicy Pork Bone, Kimchi and Japanese Curry bases to select from.
We tried the Sukiyaki and the Pork Bone Broth and both were pretty flavourful. If you're a fan of broths with a spicy kick, the Sukiyaki is one worth having.
The Pork Bone Broth on the other hand is flavourful and has a fragrant and sweet aroma to it.
The staff members were actually pretty attentive and they constantly approached our table to assist in adjusting the hot pot temperature as well as add broth to the hot pot.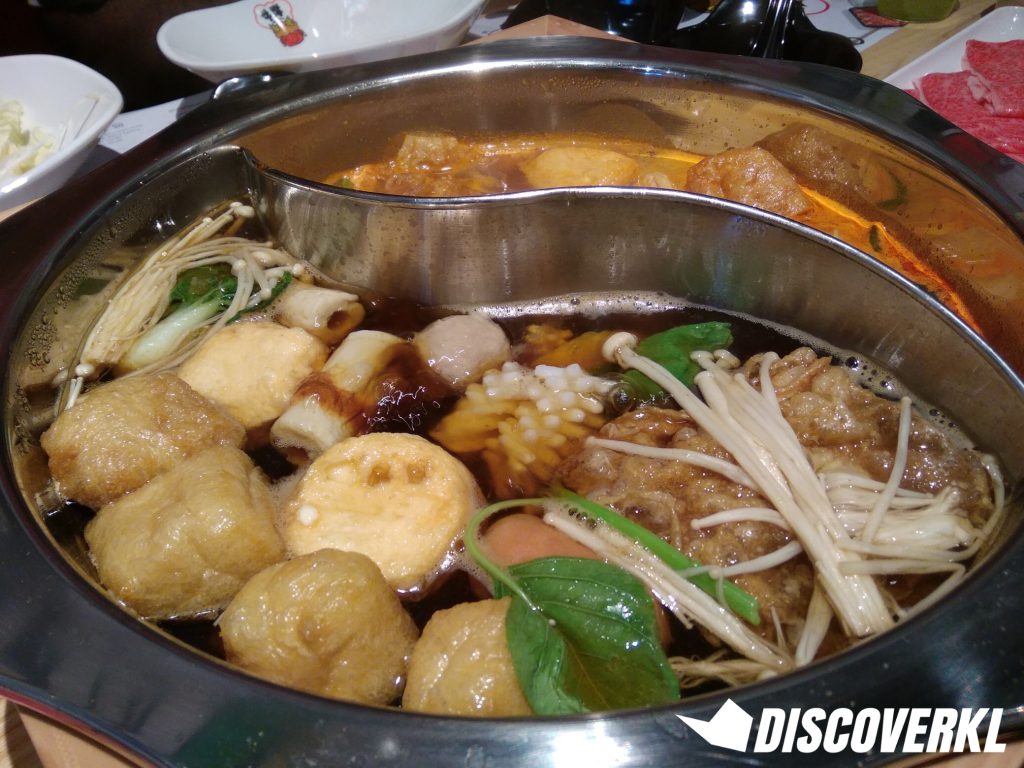 What we liked about the meats was how they were sliced paper-thin and this allowed for minimal cooking time. The beef required only 30 seconds in the boiling broth whilst the pork only needed 1 minute of cook time.
The wagyu beef is fatty and melts in the mouth. We would suggest a cook time of 20-30 seconds for that tender, chewy texture that is effortless.
"We handpick top quality ingredients as we strive to provide top notch dining experience for our customers", Valerie Choo, Managing Director of Simply Awesome shared with us.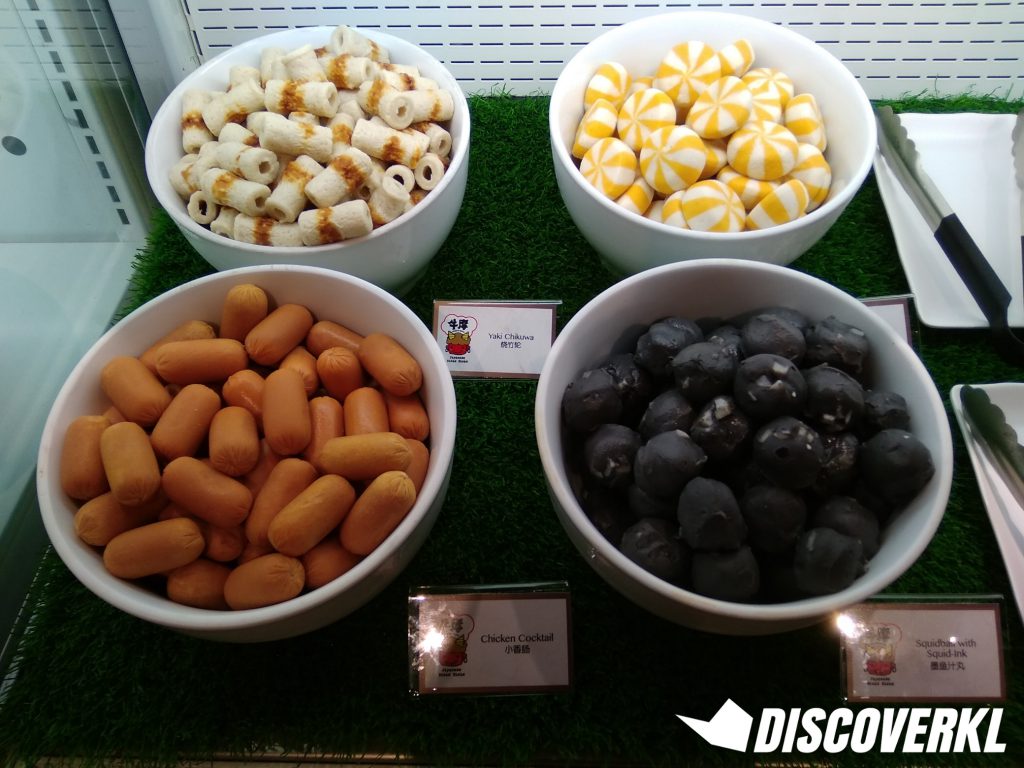 While it's definitely well worth your money to savour as much cuts of meat as possible, it's worth trying the meatballs too. There's quite a wide variety and they are all well-iced to ensure its freshness.
Amongst the selections, our pick is the Cheese Fish Tofu.
It has a cheesy centre that just disintegrates in your mouth with a sweet-savoury fountain of gooeyness. It's satisfaction with every bite and we took turns retrieving bowls of Cheese Fish Tofu from the buffet line.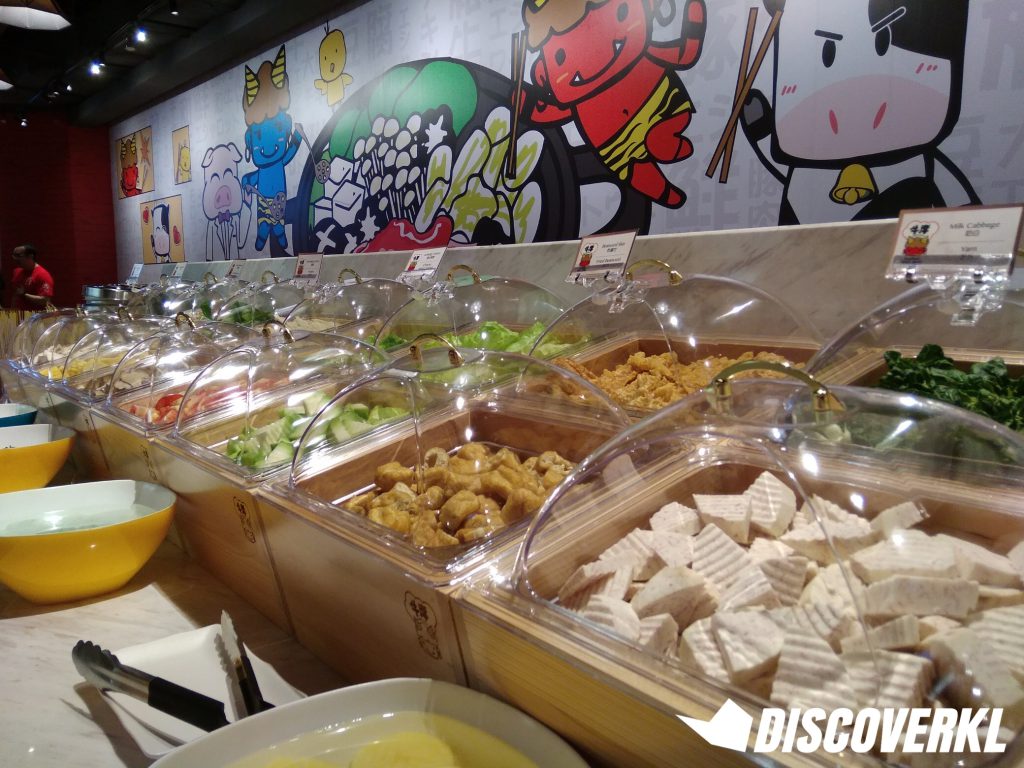 The vegetable section consisted of numerous types of greens and there were even several different types of mushrooms to choose from.
We would suggest going for the vegetables like the pumpkin and mushroom as they go really well with the broth and you can avoid the dark greens which might turn soggy once cooked in the broth.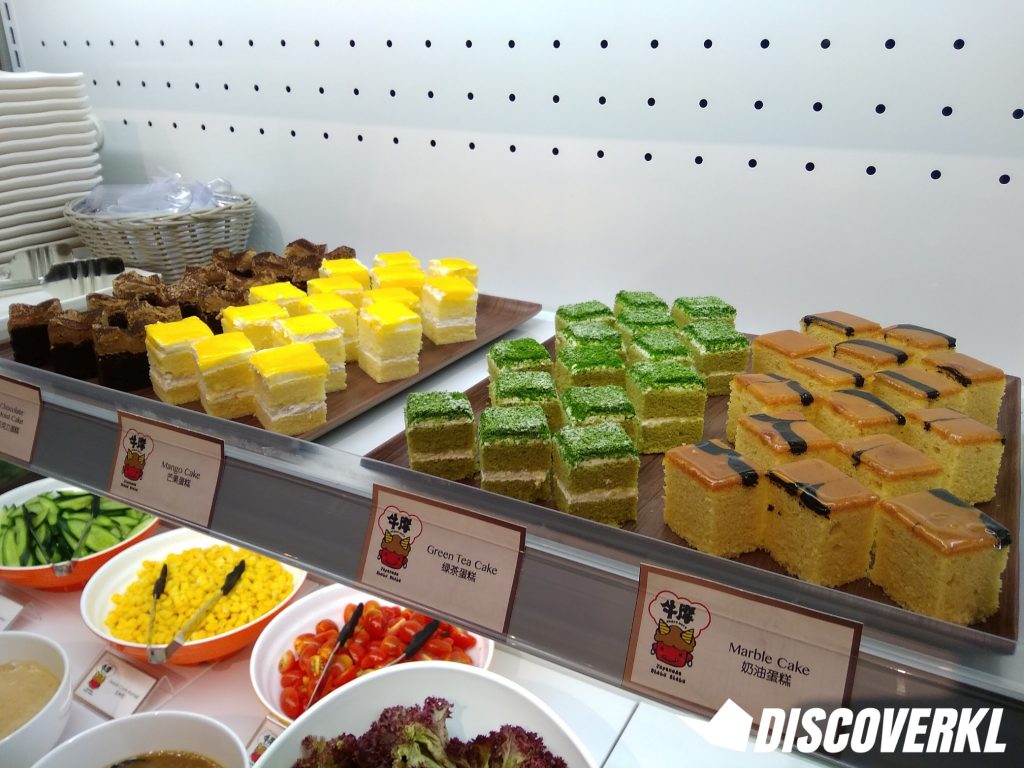 Though we were full to the brim, as the saying goes, there's always room for dessert (even more room for good dessert at that). Cakes, ice creams, mochis and puddings are just some of the sweet treats available.
Cakes are served in bite-sized portions and there are 2 ice cream flavours to choose from: coffee and coconut.
Our team suggests combining both ice cream flavours together. It might sound like an odd combination but it works surprisingly well together.
Other options that we didn't have the capacity to try out (but likely would give a go the next time around) are the jello shots-like mango and honeydew puddings as well as red bean, black sesame and pandan mochis.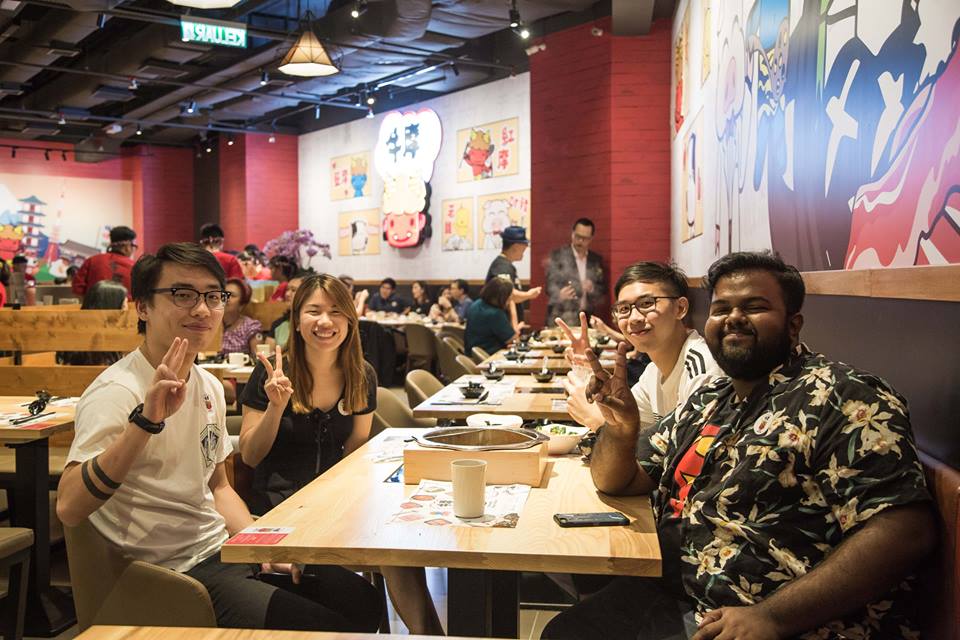 All in all, Wagyu More offers a more premium shabu shabu experience which is well worth its price point for the quality of food you'll wind up enjoying.
Aside from buffets, the shabu shabu restaurant also serves weekday set lunches for single plate meats with choices of chicken, pork and beef, and free-flow of meatballs, vegetables, drinks, ice creams and desserts, with the price of RM28.80++, from 11am-5pm.
So, regardless of your capacity, you'll find something to enjoy here.

Wagyu More
Hours: 11am-10pm, daily (last order at 9.30pm)
Address: T-216-B, 3rd Floor, The Gardens Mall, Mid Valley City
Website: Wagyu More
Tel: 03-2202 1811