Let's admit it, Ramly burger is the resident local burger that no one can get enough of – McDonald's, KFC, Burger King who? If a Ramly burger stall is spotted on a random street, you can bet that surrounding the stall will be a handful of die-hard burger fans placing orders and waiting for their burgers.
But with this supersized burger joint in town, Ramly burger would more likely have to step down from their top position.

Yazid Burger is a burger joint in Shah Alam that sells burgers as large as an actual tire. The patties and buns are all homemade, and they come in the following sizes:
50g
500 g
1kg
1.5kg
2kg
3kg.
Their price range is between RM10 and RM120, but that is to be expected when the burger is enough to sustain you for an entire day.
In one burger, you can find a whole host of juicy and nicely grilled patties, fresh vegetables, a generous amount of condiments, and fluffy buns sandwiching it. If you don't like the common burger condiments, you can also exchange them for black pepper, mushroom, cheese, or jalapeno.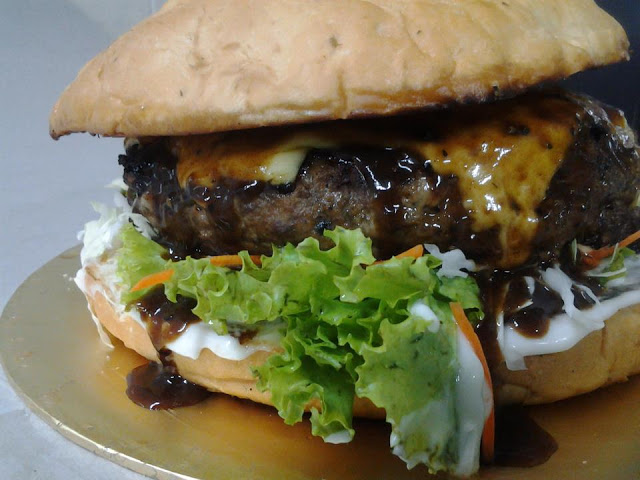 In case there is a birthday coming up and you think birthday cakes are too generic, this place cooks up tiered burgers for you to substitute as a birthday cake as well!
Shah Alam is not the only place you can find Yazid's supersized burgers. They can also be found in Sabah and Penang!
If you are in or near any of these places, do not miss out on these jumbo-sized burgers!
Yazid Burger 
Hours: Monday-Sunday: 12pm-11pm
Address: Lot 2, G-S4, Medan Selera Anjung 7, Jalan Tungsten 7/23, Seksyen 7, 40000 Shah Alam
Website: Yazid Burger
Tel: 019-688 8709
Featured Image Credit: Yazid Burger Instagram