The vegan diet is one where an individual chooses not to consume any meat or animal byproducts. For some, being vegan also extends to their lifestyle, with the choice to use products which are vegan and cruelty-free. Some might say that it's hard to pursue this lifestyle, considering how Malaysia is a makan haven and a country rich with food from various different cultures.
Despite this, there's a blossoming vegan community in Malaysia and the vegan food choices, especially in Klang Valley, are growing. Curious as to what living the vegan diet is actually like, we spoke to 11 Malaysians on why they chose to adopt this lifestyle change as well as the challenges they faced along the way.
1. Davina Goh, 34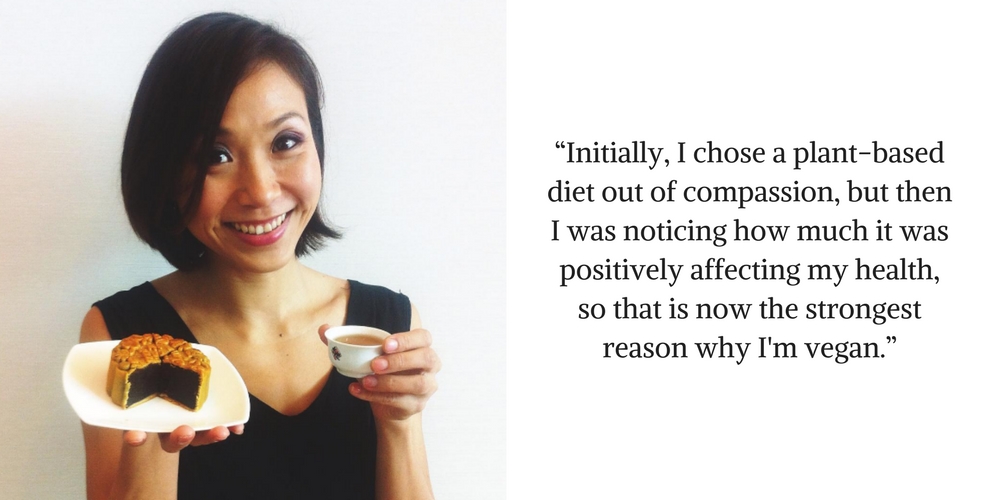 Davina Goh was vegetarian for over 5 years before making the switch. She has now been vegan for a year and a half. "Initially I chose a plant-based diet out of compassion, but then I was noticing how much it was positively affecting my health, so that is now the strongest reason," Davina shared. Personally, she does not find it hard at all to be vegan in Malaysia. However, she notes that it's still difficult to make the diet relatable. "I hope that slowly, through the work that I do, attitudes towards veganism will become more favourable and in turn, create a healthier, happier rakyat!" Davina said.
Fave Vegan Makan Spots: "Sala KL, for their Mexican-inspired food."
2. Ratnasingam Yookarajah, 31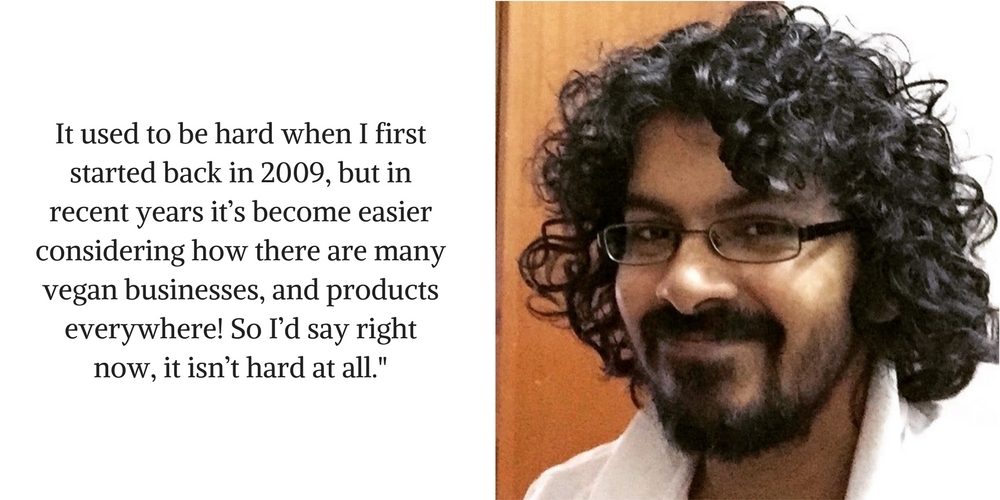 Ratnasingam is the founder of Malaysian Vegan, a website catering to Malaysian vegans, and he has been vegan since 2009. "It used to be hard when I first started back in 2009, but in recent years it's become easier considering how there are many vegan businesses and products everywhere! So I'd say right now, it isn't hard at all," Ratnasingam shared. He now runs his website and Facebook group of the same name so other vegans can share and discuss anything related to veganism in Malaysia.
Fave Vegan Makan Spots: "Loving Café Sri Petaling and Sala KL."
3. Elina Nasution, 22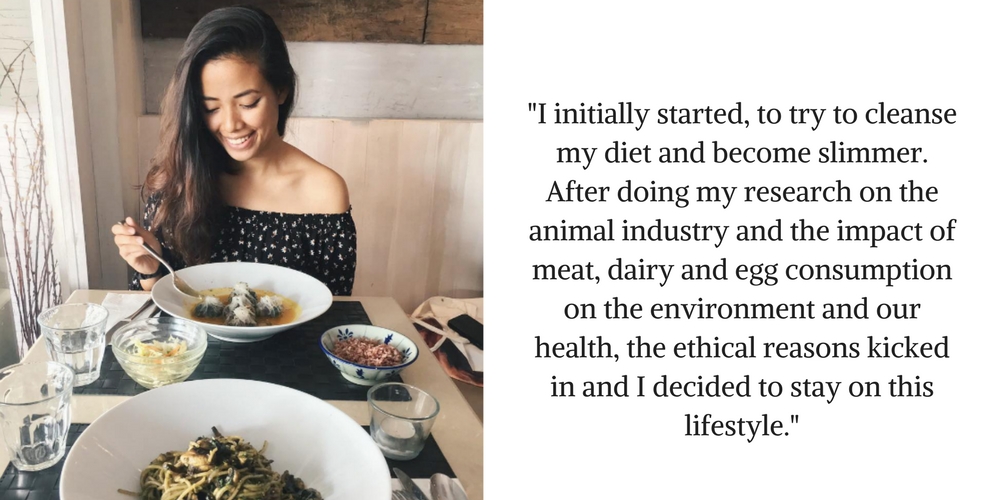 Elina has been vegan since September 2015 and she initially started her journey in attempts to cleanse her diet and become slimmer. "After doing my research on the animal industry and the impact of meat, dairy and egg consumption on the environment and our health, the ethical reasons kicked in and I decided to stay on this lifestyle. I can't ignore the facts when I know I can do something about it," Elina told us. She faces criticism, even from loved ones but believes that the more she stays committed and educates them with patience and an open mind, the attitude among people will change in time.
Fave Vegan Makan Spots: "Sala KL, for their affordable Mexican dishes."
4. Iylia Badaruddin, 27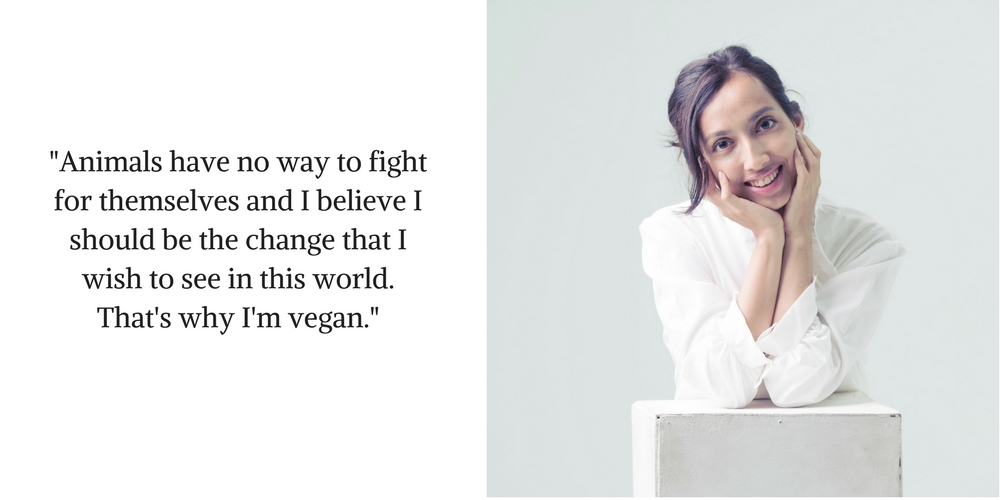 Iylia decided to go vegan after becoming aware of what animal agriculture does to Planet Earth and how meat, as well as animal products, affects the human body and mind. She notes how it's tough being vegan in Malaysia and has experienced "being labelled as a little cuckoo, extreme  and nutrient deficient (it's quite the opposite!)" However, she still chooses this lifestyle because she wants to honour all sentient beings for their right to live and be free. "Animals have no way to fight for themselves and I believe I should be the change that I wish to see in this world. That's why I'm vegan," she said.
Fave Vegan Makan Spots: "BMS Organics, LN Fortunate, RGB & The Bean Hive (BMS Organics and RGB & The Bean Hive are not fully vegan but have yummy vegan options!)"
5. Akeen Afrina, 20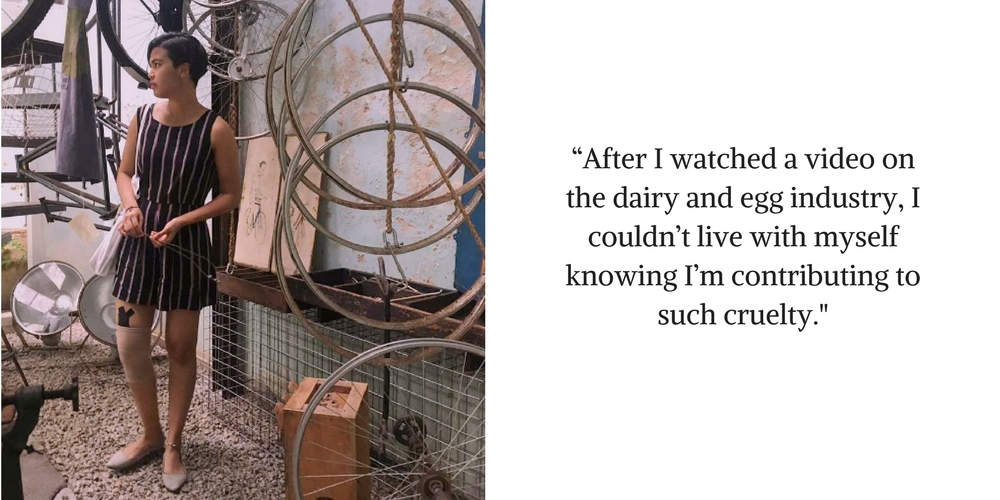 Akeen's process towards being vegan had been a gradual one and she started off by being a vegetarian at the age of 15. She has now been vegan for almost 3 years strong. "After I watched a video on the dairy and egg industry, I couldn't live with myself knowing i'm contributing to such cruelty," she said of her switch towards this lifestyle. She notes how it's easy to find vegan food in our country but eating out at hawker stalls is challenging as they tend to use fish sauce and eggs in a lot of dishes.
Fave Vegan Makan Spots: "Sala KL, Raisin' The Roof, Kon Rak Pak, LN Fortunate Café, any Indian restaurants."
6. Mohammed Fauzi Hussein, 45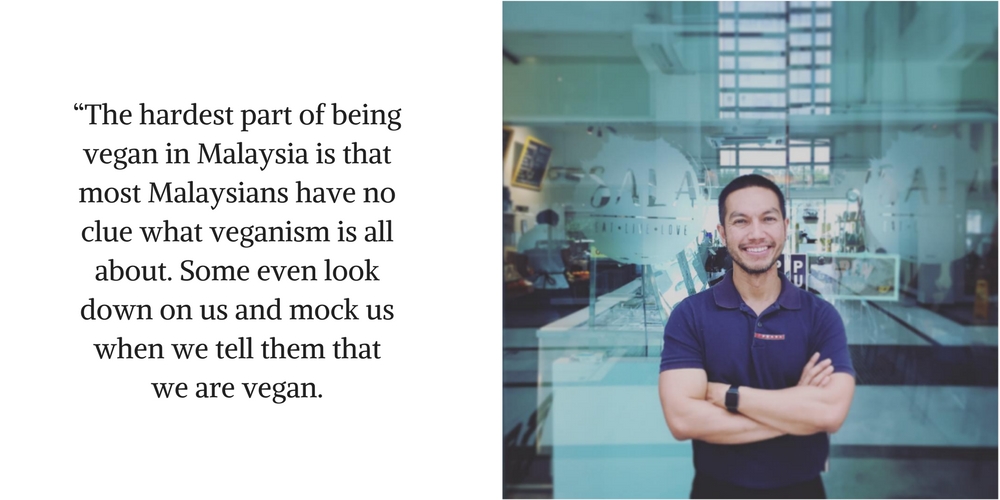 Fauzi has been vegan for a little over 4 years now and it was sparked from a health concern. "My dad passed away with a heart disease and my cholesterol was rising", Fauzi said. Nowadays, he chooses to vegan because of his love for animals. "The hardest part of being vegan in Malaysia is that most Malaysians have no clue what veganism is all about. Some even look down on us and mock us when we tell them that we are vegan. Others will be like: "Oh, ikan bilis ok kan. Makan lah". He concludes that being vegan is not a diet but a way of life whereby one chooses not to contribute to the suffering of animals.
Fave Vegan Makan Spots: "Dharma Realm Guan Yin Sagely Monastery in Jalan Ampang, BMS Organics, Sakae Sushi and Nando's for their vegan options, Kind Kones for ice cream and Gelato Fruity for vegan fruit sorbets."
7. Charlotte Yap, 20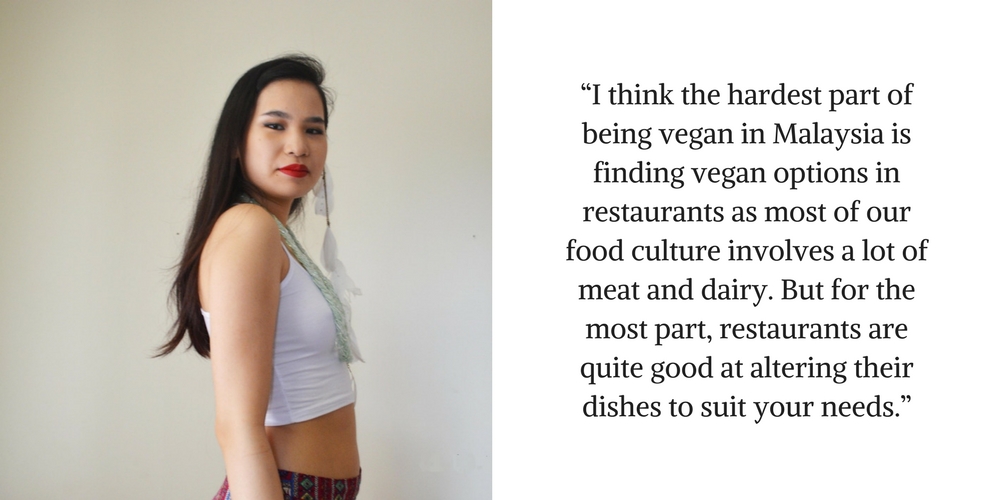 After watching some documentaries like Cowspiracy and doing her own research on the impact of animal products on our health, Charlotte became vegan. She has adopted this lifestyle for close to 3 years now and she believes that it is for the betterment of her health and our environment. Charlotte shared, "I think the hardest part of being vegan in Malaysia is finding vegan options in restaurants as most of our food culture involves a lot of meat and dairy. But for the most part, restaurants are quite good at altering their dishes to suit your needs."
Fave Vegan Makan Spots: "WTF Bangsar for their vegan Indian food, Simple Life Restaurant."
8. Siva Rangini, 24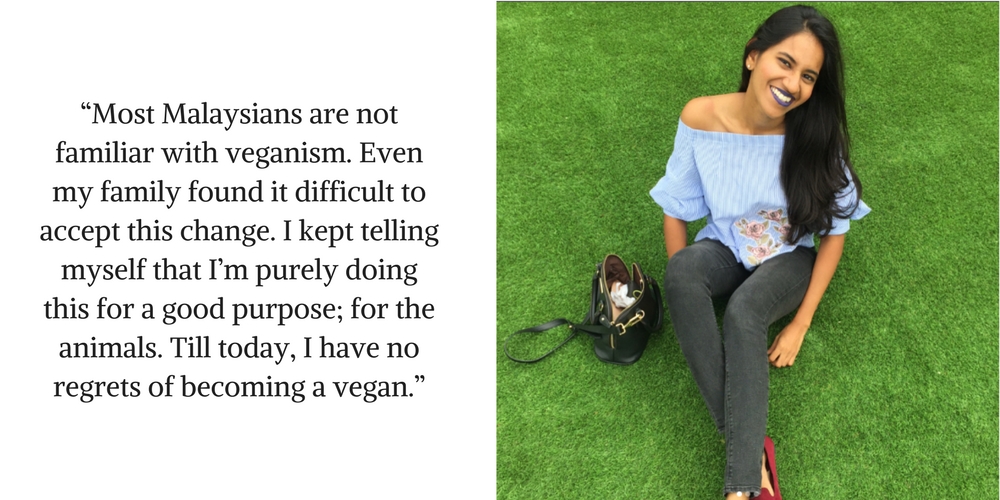 Rangini has been vegan for close to a year now and it started with her coming across Gary Yourofsky's video, The Best Speech You Will Ever Hear. "Most Malaysians are not familiar with veganism. Even my family found it difficult to accept this change. I kept telling myself that I'm purely doing this for a good purpose; for the animals. Till today, I have no regrets of becoming a vegan," she told us.
Fave Vegan Makan Spots: "LN Fortunate Coffee, for the amazing waffles, pasta and cakes!"
9.Woo Pei Kee, 32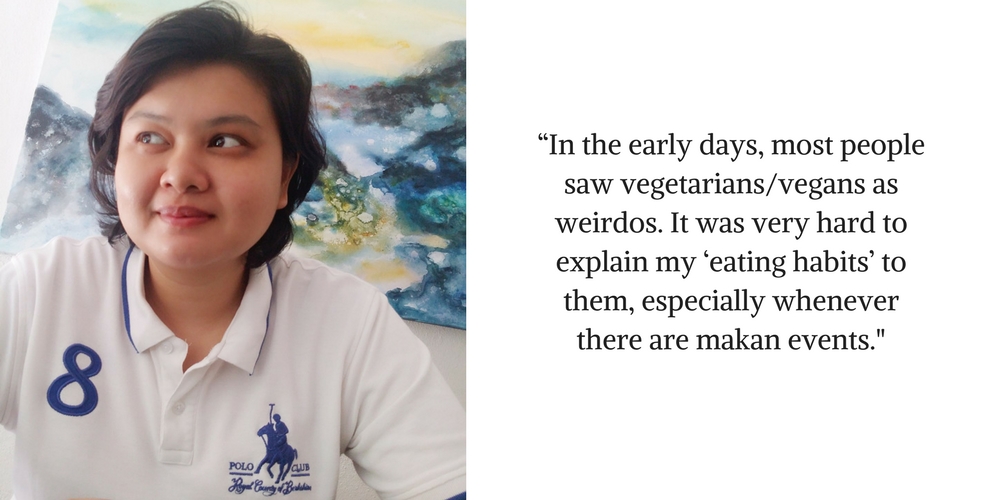 Pei Kee has been lacto-vegetarian since 1998 and became vegan in 2014. She hails from Perak and found it hard to find vegetarian or vegan options in her hometown. "In the early days, most people saw vegetarians/vegans as weirdos. It was very hard to explain my 'eating habits' to them especially whenever there are makan events. My family members and I even brought our own food to a relatives' wedding dinner because it's not common to serve vegetarian/vegan food at wedding dinners many years ago," she said, of her experience. Still, she chose this lifestyle because she found it cruel to kill and eat animals or to watch them suffer.
Fave Vegan Makan Spots: "Café de Sky Garden (tip: ask for the vegan options) and Giant Bowl Vegetarian Restaurant."
10. Dewi Kencana Putri, 27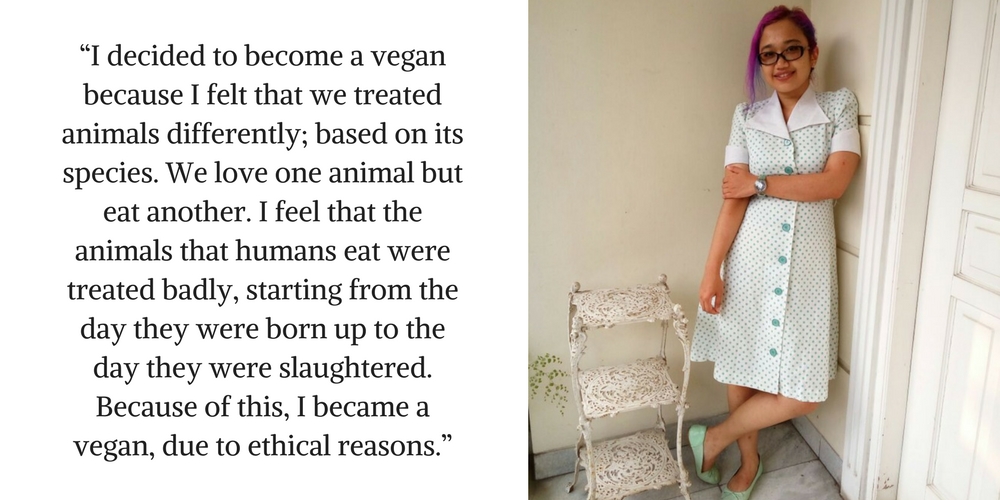 Dewi has made the switch to a vegan lifestyle for almost 3 years now. "I decided to become a vegan because I felt that we treated animals differently; based on its species. We love one animal but eat another. I feel that the animals that humans eat are treated badly, starting from the day they were born up to the day they were slaughtered. Because of this, I became a vegan, due to ethical reasons," she said.
Fave Vegan Makan Spots: "Loving Hut and Kon Rak Pak."