Food is a huge part of Chinese New Year and every year, we would be able to sample a wide array of classic snacks like the kuih bahulu, kuih bangkit and kuih kapit. This year, why not try CNY snacks that are unique and different? Some of these desserts are also shaped like a rooster which makes sense as 2017 is the Rooster Year. You can opt to surprise your family with these 9 festive desserts that are one-of-a-kind.
1. Golden Koi by Xiao By Crustz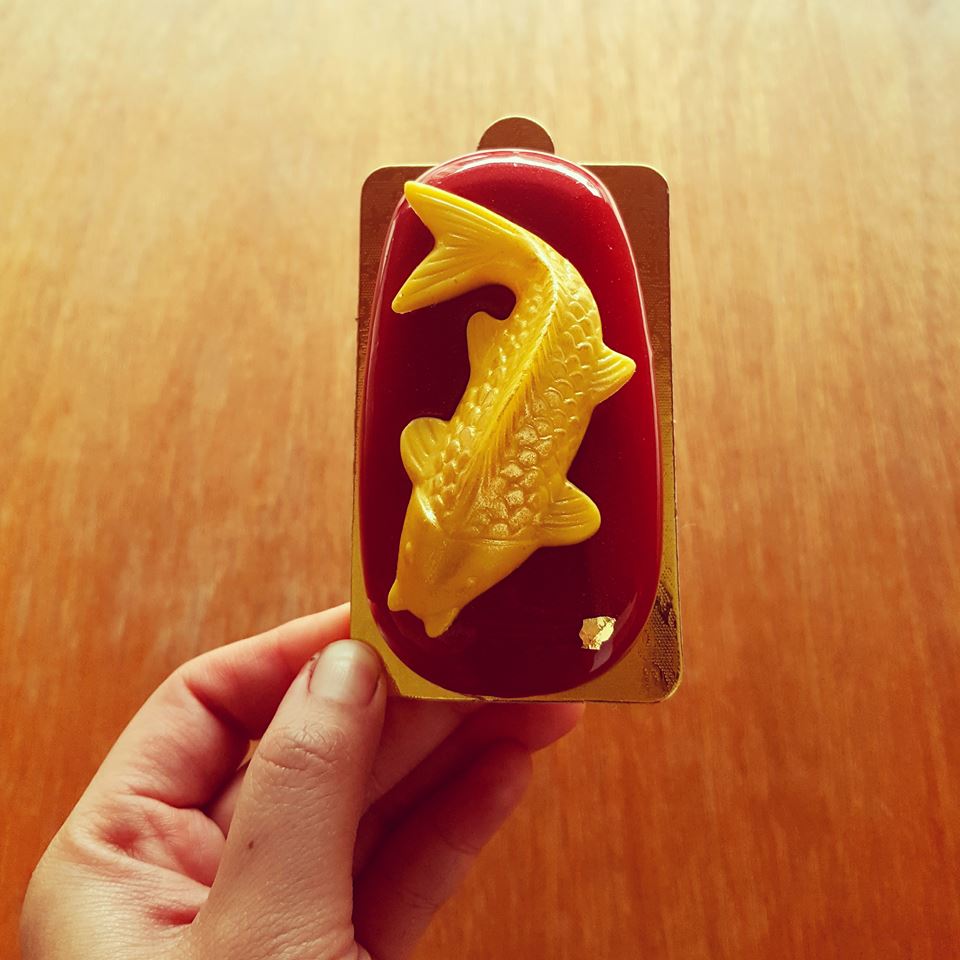 Xiao by Crustz took the concept of the koi fish and incorporated the idea into a Golden Koi pastry. This dessert is made from milk chocolate mousse, mango passion cream and hazelnut dacquoise. From the hint of hazelnut in the pastry, it sounds like a Ferrero Rocher dessert. But don't take our word for it because you should try it out for yourself!
Hours: Wednesday-Friday, 1pm-10pm, Saturday-Sunday, 12pm-6pm
Address: B-G-6, Section 17, Happy Mansion, Petaling Jaya, 46400 Petaling Jaya
Website: Xiao By Crustz
2. CNY Jellies & Rooster Cookies by Ringo Dessert House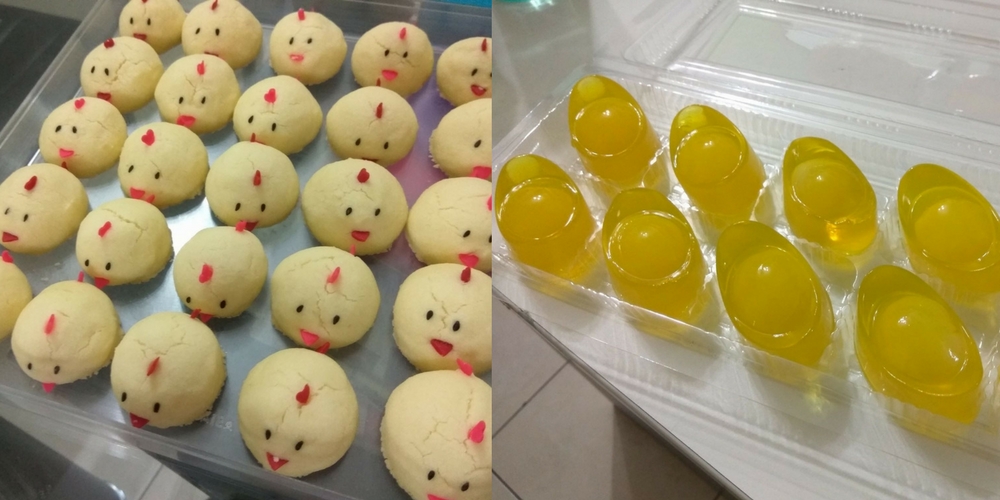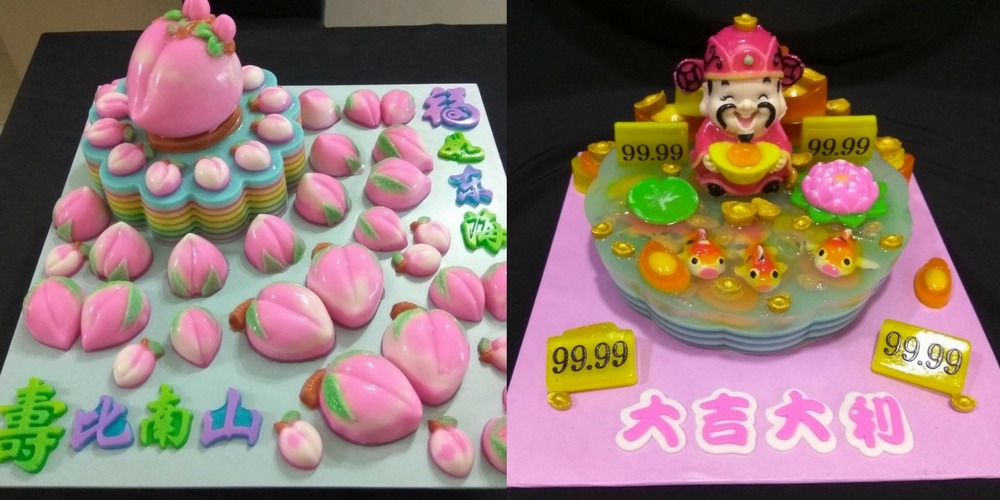 Ringo Dessert House is known for creating jelly cakes and other pastries. For CNY, the dessert chef has made jelly cakes in the shape of a Prosperity God and also gold. There are also cute little rooster cookies if you prefer that instead. Still, jellies make for an alternative snack for CNY as compared to classic kuih bahulus and kuih kapits. Ringo Dessert House's cookies are priced at RM20 per box while the jelly cake's prices start at RM138.
Website: Ringo Dessert House 
3. Orange & Pineapple Ice Creams by Sangkaya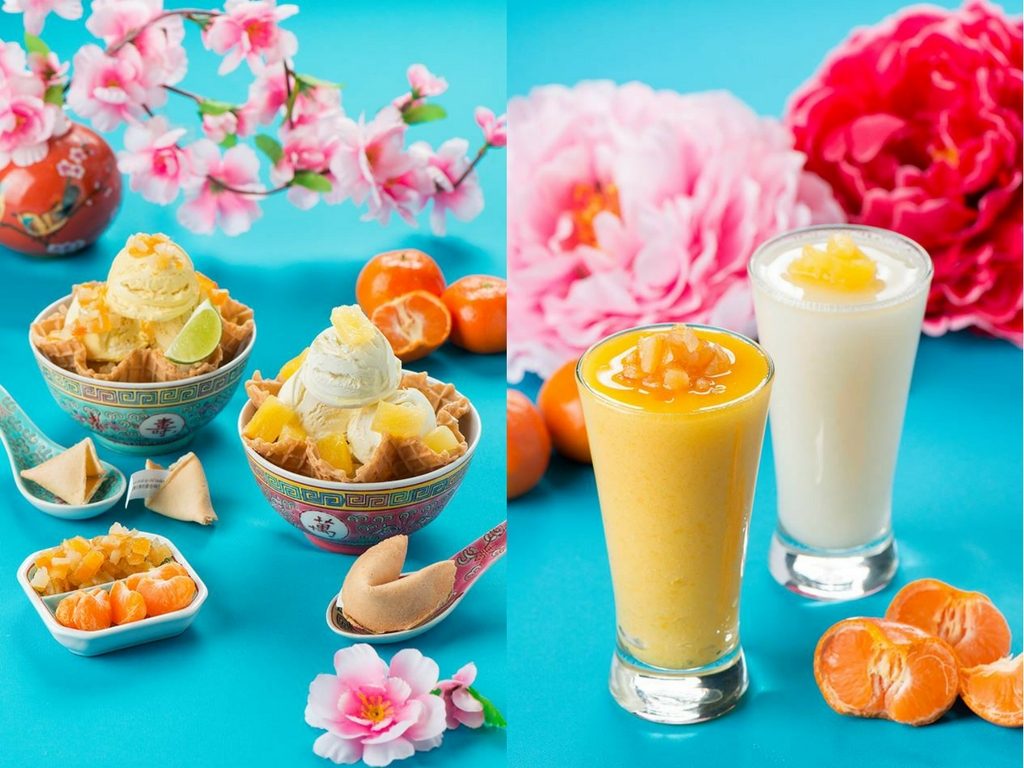 Mandarin oranges are known to be the "fortune fruit" in the Chinese culture as they are called kam and that means luck. Sangkaya is known for their signature coconut ice cream and this time around, they up their game by infusing it with the zesty flavours of orange and pineapple. It is called the Pineapple Zest Opulence Bowl. The second dessert that Sangkaya has released for the Lunar New Year is the Pineapple Breeze Fortune Shake and it's a good option for those who want to treat themselves to something cold and sinful.
Website: Sangkaya Malaysia
4. Spring Happiness Cake by The Coffee Bean & Tea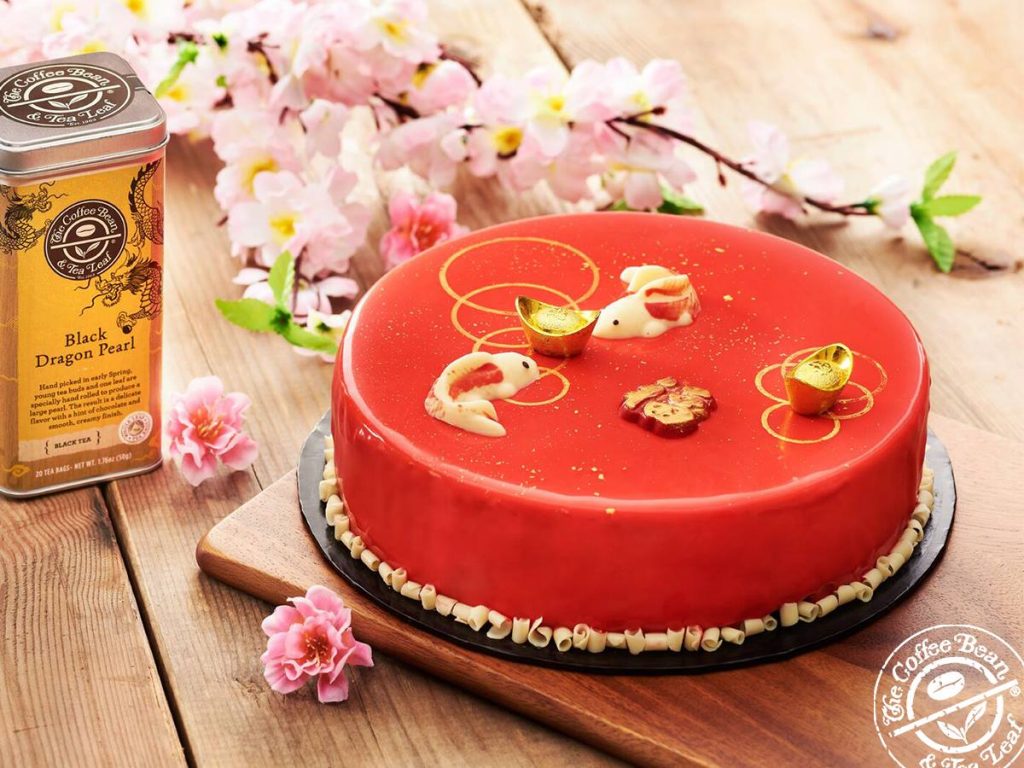 Who would've thought that The Coffee Bean & Tea Malaysia would release a CNY dessert? Well, the brand which is known for their coffee has released a Spring Happiness Cake. This dessert is topped with a pretty realistic koi fish and gold. The principal ingredients include lychee, blueberry and raspberry. While cakes are not often seen during CNY and they are often overshadowed by their cookies and pastries counterparts, Coffee Bean & Tea Malaysia gives us a reason to buy it because of how uncommon and unique of a concept it is.
Website: The Coffee Bean & Tea Malaysia
5. Chinese New Year Cupcakes By Miki's CakeVille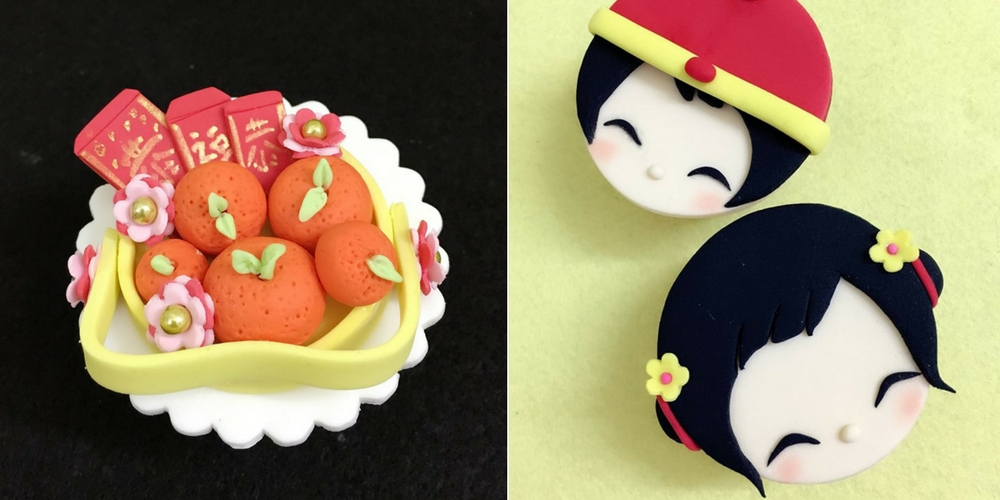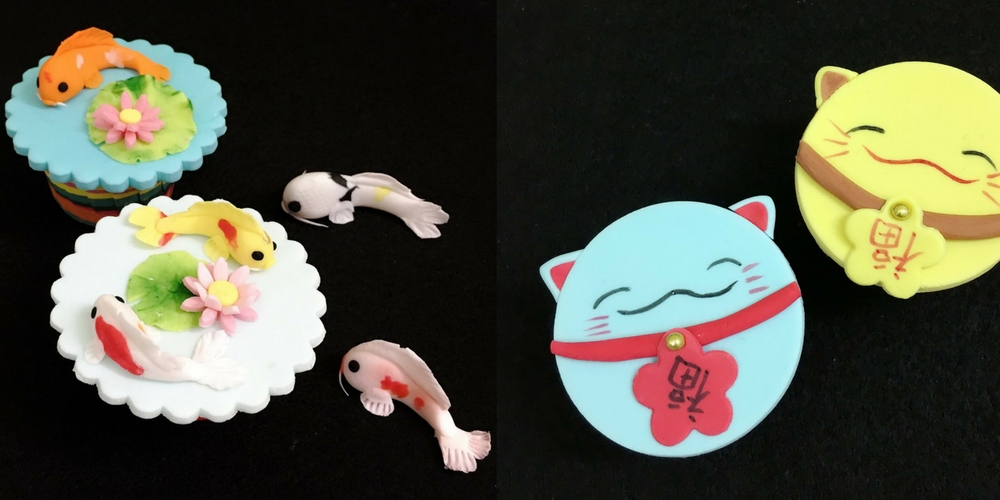 It's a tradition to bring along some gifts, typically in the form of food, when visiting someone for CNY. Hence, the next time you're visiting, you could bring along a couple of cupcakes from Miki's CakeVille. Miki's CakeVille's fondant cupcakes are so detailed. For instance, take a look at one of the mandarin orange cupcakes and you can see how the dessert chef has placed emphasis on making it look as realistic as possible with the pretty accurate depiction of an orange peel's uneven texture.
Website: Miki's CakeVille
6. Salted Egg Rooster Cakes by Susanne Ng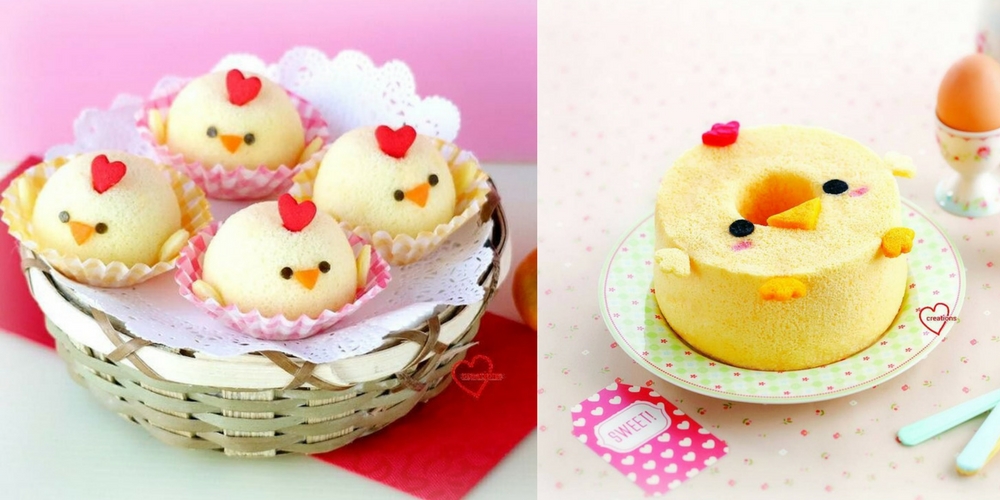 Light chiffon cakes might appear simple in appearance but they require skills and precision in order to get right. Noting this, dessert chef Susanne Ng still chooses to create chiffon cakes for CNY and she adds in a dash of cuteness to her recipe too. Each cake is decorated to resemble a chicken and it doesn't end there. They are also infused with some heavenly salted egg yolk. It's rare to find salted egg yolk chiffon cakes, what more those that are decorated to resemble a chicken!
Website: Susanne Ng 
7. Festive Cakes & Cupcakes by In The Clouds Cakes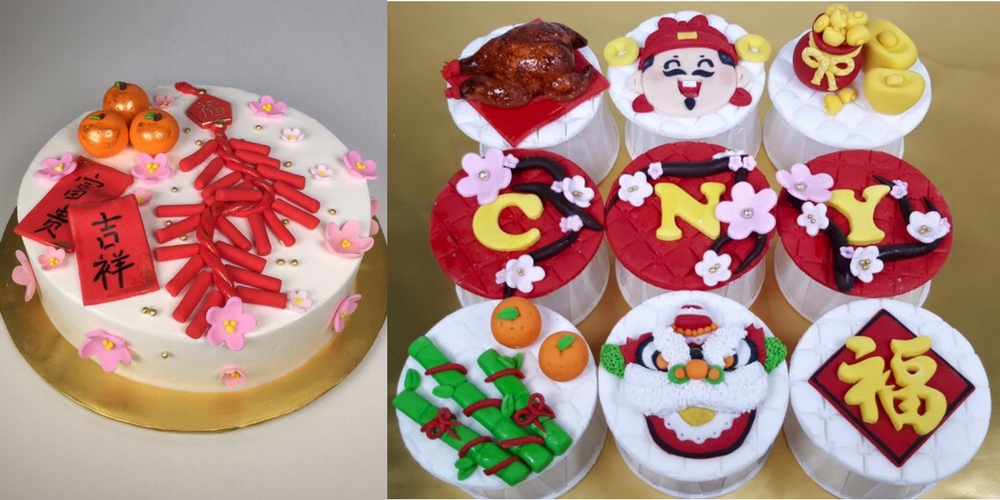 Pastry cafés has begun releasing their CNY-themed baked goods and desserts and In The Clouds Cakes is not one to miss out on the action. This eatery has also been producing their own CNY cakes and cupcakes. One of the unique cupcakes is the "roasted chicken" one which looks very much like a real chicken. Don't worry though, In The Clouds Cakes creates mere replicas of the chicken as their decoration, and the dessert is still a sweet one.
Website: In The Clouds Cakes
8. Mandarin Orange Cake by Tiny Temptress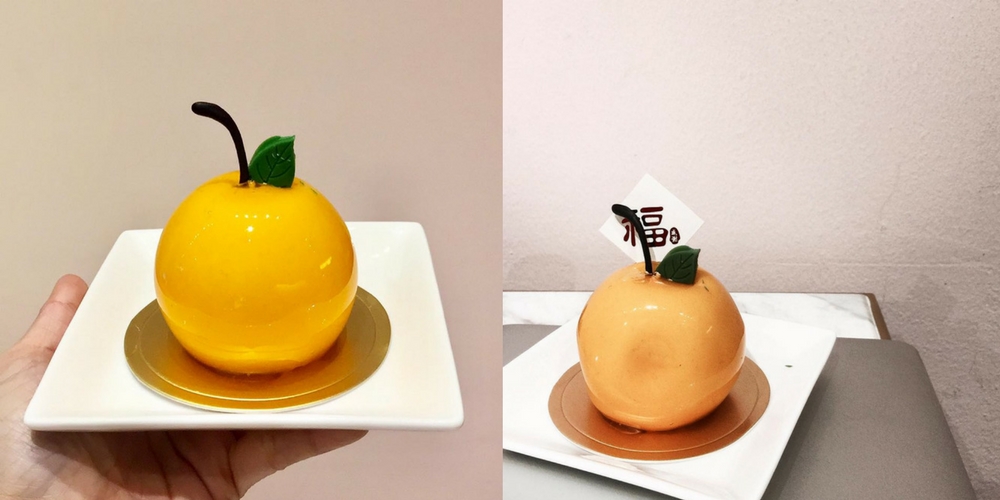 Tiny Temptress changes up their pastries by including new desserts on their menu every few months. In line with CNY, they will be releasing a "Mandarin Orange" gateau which looks pretty simple yet impressive. There isn't much info about this dessert yet but noting how it is a gateau, it would likely be rich and contain several layers, including a fruit layer. Fruits are not a foreign concept for this patisserie though. After all, one of their past creations includes the Red Apple.
Hours: Tuesday-Sunday, 1pm-11pm, (Closed on Mondays).
Address: No 6, Jalan Telawi 2, Bangsar
Website: Tiny Temptress Artisan Patisserie
9. Jennifer Lu's CNY Macarons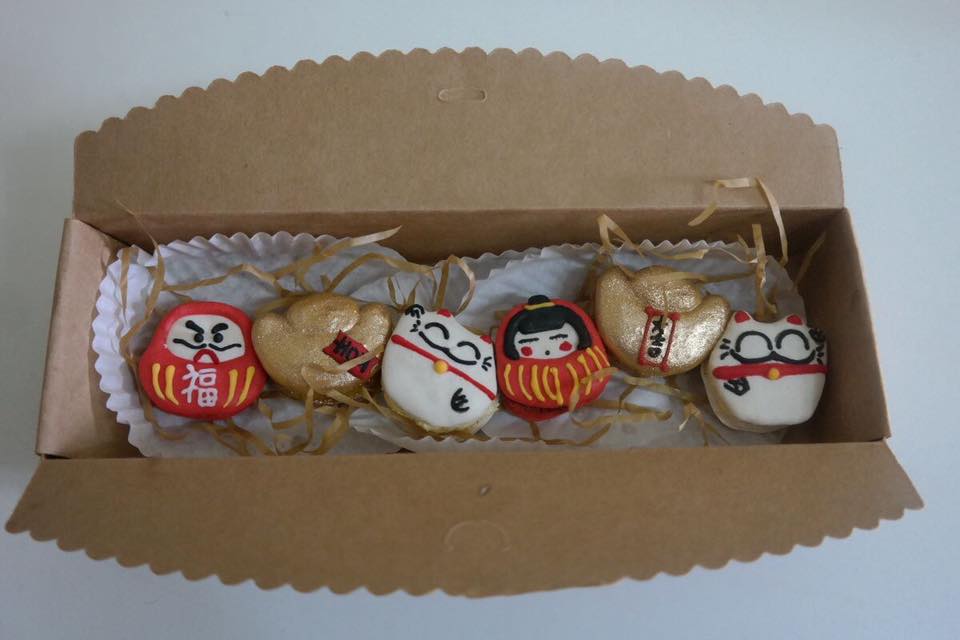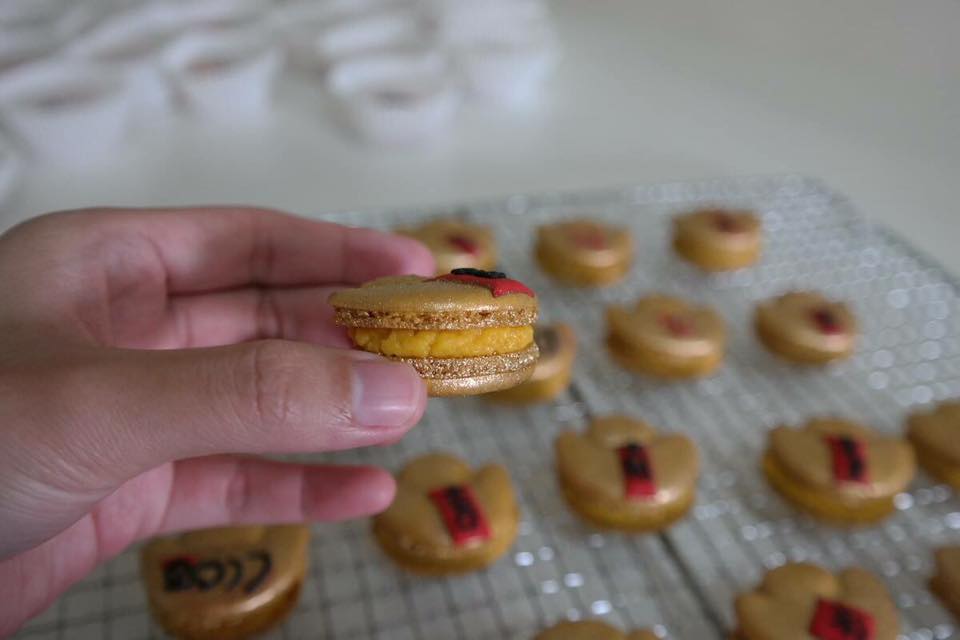 Jennifer Lu is a stay-at-home mom who got into baking because it's her way of showing love to others. For CNY, she will be producing a series of macarons for RM78. Some of the macarons she has created are the Chinese Gold Ingot macaron with salted egg yolk filling, and the Maniki-neko Macaon which is filled with pineapple jam cream filling. Alternatively, there's also the rich Daruma Macaron with a filling of 72% Valrhona chocolate and rum. Those who are interested can PM Jennifer to order.
Tel: 012-3205 628
Feature Image Credit: Xiao By Crutz, Ringo Dessert House, Jennifer Lu, Susanne Ng, Miki's CakeVille