Imagine spending your last day of 2016 paying RM900 due to a failed debit transaction at a pharmacy. That was exactly what a Malaysian couple experienced on New Year's Eve.
A social media user by the name of Izzat Mustaffa shared the story of the couple's misfortune at a pharmacy where he is working. The couple was doing their shopping in the pharmacy and when they decided to use their debit card to pay, there was an error and the transaction had failed.
The couple mentioned how they had earlier used the debit card at Econsave and did not encounter any problems. Hence, they asked the pharmacy staff to try once more. They ended up trying for a total of 5 times. The customer then checked their account and realised that RM900+ had been deducted.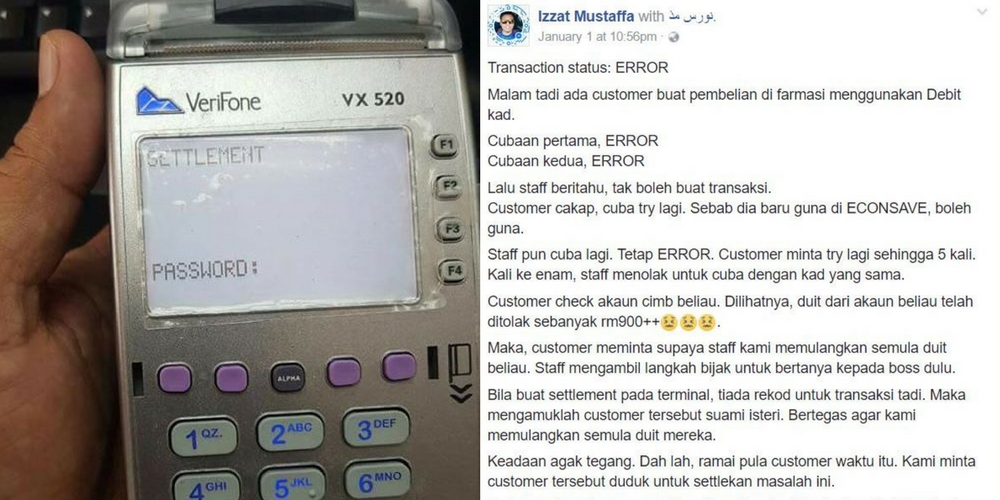 The couple then requested for the staff to return their money. Unfortunately, the pharmacy did not receive any record for the transaction. As a matter of fact, they checked their settlement and there was no record of the previous transactions.
The situation became tense and the customer proceeded to made a call to their bank. It is clarified that indeed the money was transacted from the customers' account. However, the pharmacy did not receive it in their account. The bank then mentioned that they would refund the customer their money in 15 days' time.
Izzat ended his Facebook post with a gentle reminder. He mentioned: "The moral of the story is if you're using a debit card and you experience an error in transaction, please check your account balance. If you've noticed any deduction, please stop swiping your card."
Feature Image Credit: Izzat Mustaffa