It is no secret that Malaysian dishes tend to be calorific, but that doesn't mean that one should avoid these local delicacies completely.
Even if you intend to lead a fit lifestyle and wish to consume dishes with are better for you, it is not reason enough to stay far away from our tempting Malaysian favourites. Hence, here are 8 unexpected versions of Malaysian dishes which are healthier for you!
1. Nasi Lemak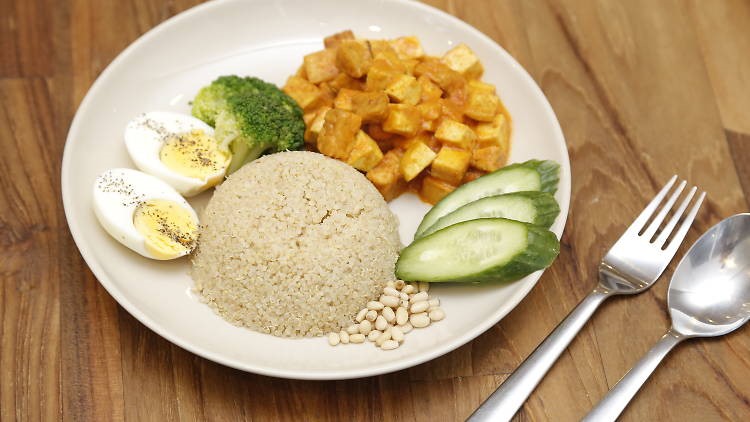 The traditional ol' nasi lemak would rack up an average of 600 calories, but you can expect a significantly lesser calorie count for Organica Lifestyle's Quinoa Lemak. Instead of using coconut milk in its dish, the restaurant serves their bed of fluffy quinoa with tofu in vegetarian sambal sauce. This is served with equally healthy sides of an egg, cucumber and pine kernels.
Organica Lifestyle
Hours: Tuesday-Sunday, 10am-5pm.
Address: 66 Lorong Maarof, Bangsar, 59100 Kuala Lumpur.
Website: Organica Lifestyle
Tel: 012-3408 565
2. Char Kuey Teow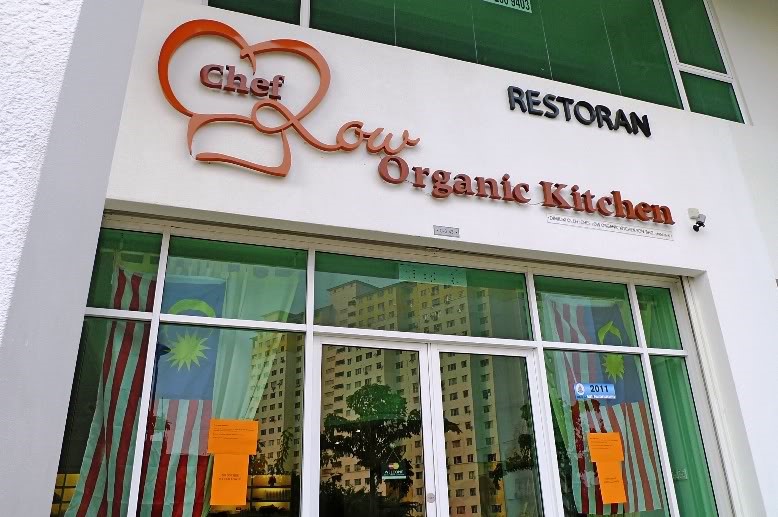 Char kuey teow is a dish often associated as a sumptuously sinful Malaysian delicacy, but it need not be so. At Chef Low Organic Kitchen, they serve a black bean kuey teow instead. Black bean is full of fibre, and essential nutrients such as thiamin, magnesium, phosphorus and manganese, and to incorporate it into a starchy base like kuey teow is wise, because it not only cuts the calories, but also makes it a healthier choice for Malaysians.
Chef Low Organic Kitchen
Hours: Tuesday-Sunday, 10:30am-9:30pm.
Address: C- G-43, Block Camilia, Lebuhraya Sprint, PJU 6A, 10 Boulevard, 47400 Petaling Jaya.
Website: Chef Low Organic Kitchen
Tel: 03-7725 7154
3. Nasi Goreng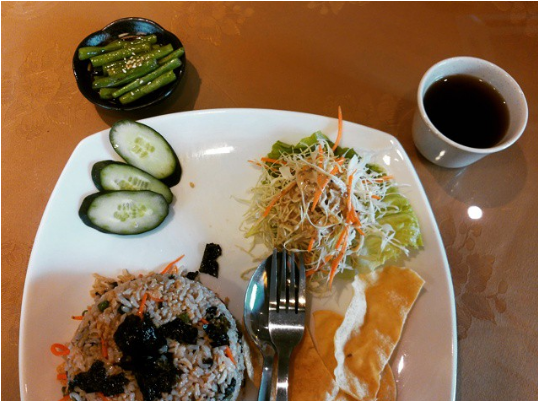 Nasi goreng doesn't have to be a hearty dish which induces heartburn. It could in fact be light and delicious like the basil fried rice served at BMS Organics. On top of being delicious, it is also eggless, hence perfect for those who might have an egg allergy or prefer a vegetarian meal.
BMS Organics
Hours: Monday-Friday, 8.30am-6pm
Address: 18, Jalan BP 5/11, Bandar Bukit Puchong, 47100 Puchong.
Website: BMS Organics
4. Chicken Rice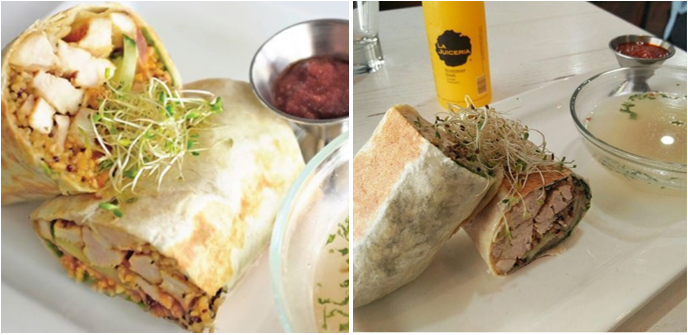 Quinoa is commonly used as a rice replacement and at Goodness Greens Café, they incorporated the grain into their chicken rice wrap. They use a tortilla wrap to house all the goodness of a traditional chicken rice such as chicken breast strips, tomatoes, cucumber, nuts as well as lettuce. What makes the dish top notch is the fried shallots and ginger soy chilli dressing which adds just the right touch of savoury.
Goodness Greens Café
Hours: Monday-Wednesday: 8am-10pm, Thursday: 9am-10pm, Friday-Sunday: 8am-10pm.
Address: 32, Jalan Datuk Sulaiman TTDI, 60000 Taman Tun Dr Ismail, Kuala Lumpur.
Website: Goodness Green Café
Tel: 03-7732 0235
5. Asam Laksa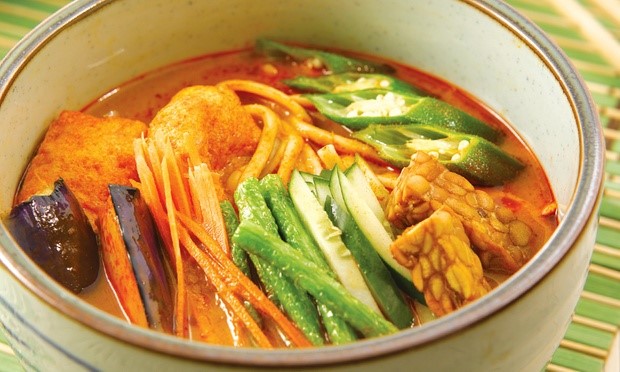 If you can't live without the flavour of fragrant spices in your life but you're not quite ready give up asam laksa just yet, then Simple Life Restaurant might just be a safe bet. They use brown rice ramen as their starch and the dish is also topped with fresh local vegetables such as brinjal and ladyfinger on top of healthy proteins like tempeh.
Simple Life Restaurant
Available at several locations nationwide.
Website: Simple Life Restaurant
6. Daging Masak Hitam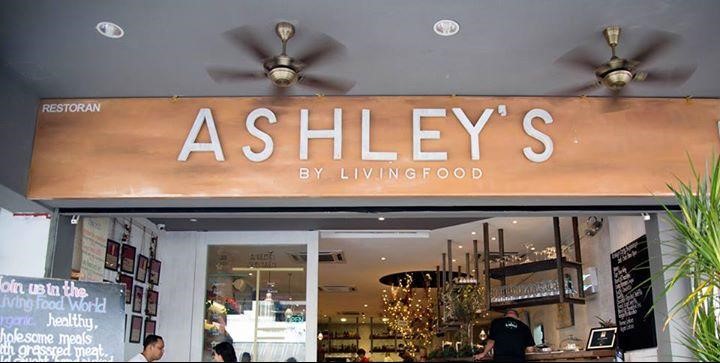 Even if you're not a Sarawakian, chances are you have tasted this hearty dish once or twice and fallen in love with its peppery flavours. Though it may be a dish which leans towards being highly calorific, many can't pass it up, especially during special occasions. One way to have a heart-healthy alternative is to sample Ashley's By Living Food's version which is served with raisins, acar, as well as a choice of barlo rice or quinoa.
Ashley's By Living Food
Address: 11, Jalan Telawi 3, Bangsar Baru, 59100 Kuala Lumpur, Wilayah Persekutuan Kuala Lumpur.
Website: Ashley's By Living Food
Tel: 017-325 3663
7. Pao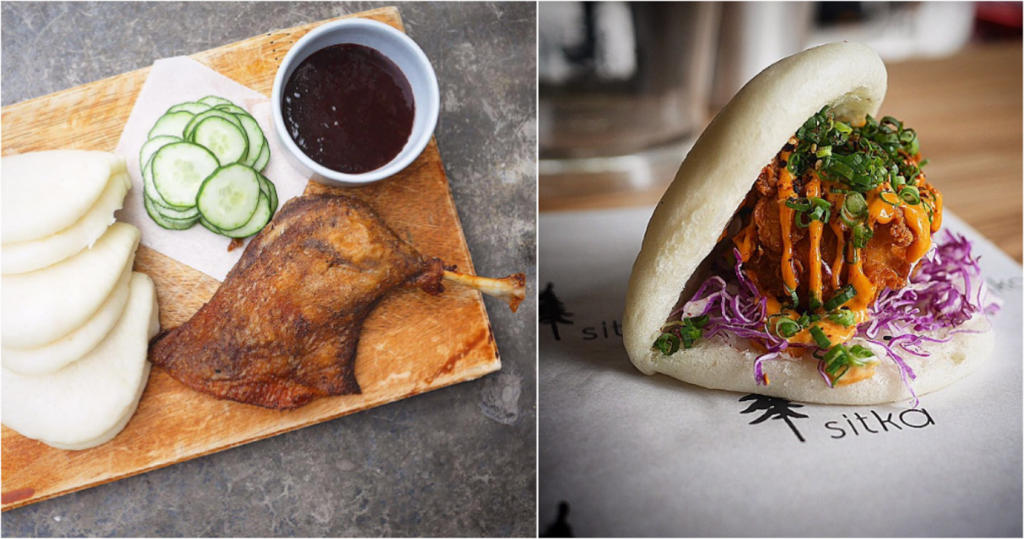 Pao is a typical tea-time dish for many Malaysians and it is hard to resist the deliciously warm dish, regardless of its fillings. The pao's offered by Sitka are soft and melts in the mouth. They have several different savoury flavours to choose from inclusive of pulled chicken peanut miso bao, as well as twice cooked duck bao. Even with hearty fillings, the dish isn't oily and the bao texture is soft and not too floury either.
Sitka Restaurant
Hours: Monday-Sunday: 9am-10pm.
Address: 8-5 Jalan Batai, Damansara Heights, 50490 Kuala Lumpur.
Website: Sitka Restaurant
Tel: 03-2011 1117
8. Ais Krim Potong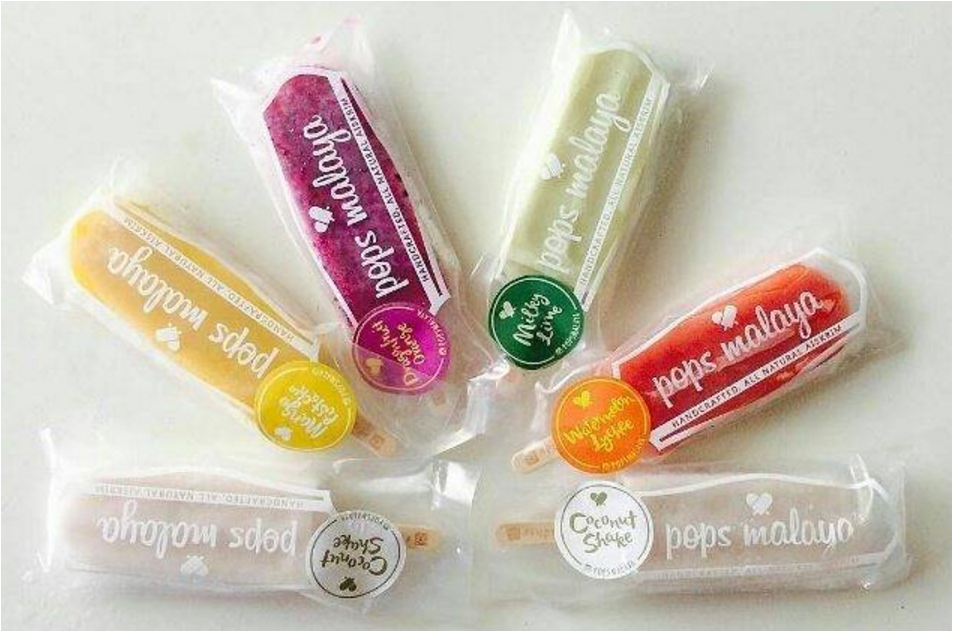 Ais krim potong is a dessert that many Malaysians would have grown up consuming. It's a practical and cooling dish to have, especially with the hot local weather. Ais krim potong flavours tend to lean to traditional delicacies such as red bean and durian. Pops Malaya goes one step ahead in creating a healthier alternative by offering flavours like honeydew vanilla, hence making it a less sinful treat!
Pops Malaya
Address: Modvier Boutique, 6, Jalan Riong, Bangsar, Kuala Lumpur (Also available at several locations nationwide.)
Website: Pops Malaya
Being Healthy In Malaysia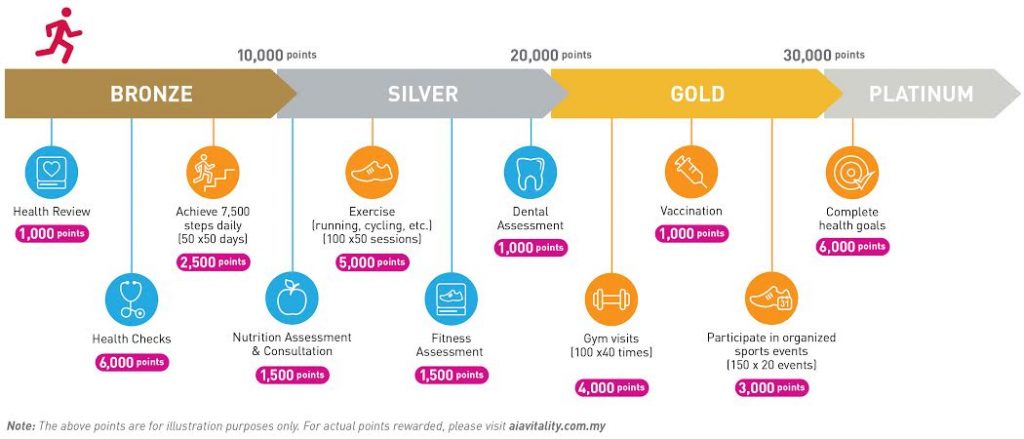 Being healthy does not mean having to sacrifice your favourite meals, it is about making the switch to what is better for you in the long run. In the same vein, AIA Vitality is a plan which is better for you in the long run. Just like how a healthy nasi lemak dish can reward you with healthy nutrients derived from the quinoa grain, the AIA Vitality plan aims to reward its users with the system of Vitality Points.
You can earn points through simple activities like achieving 7,500 steps a day (2500 points) or participating in organised sporting events (3,500 points). The more points you rack up with the AIA Vitality plan, the higher your AIA Vitality Status and before you know it, you can check out with gifts and rewards from the plan such as 50% off your Fitness First membership!
Sometimes, being healthy just requires a single step and if a rewarding life is something which you wish to gain, then it really is as simple as filling up a form with your contact details, in order to get you started on a renewed and fulfilling lifestyle minus the gimmicks.
Many often believe that being healthy in Malaysia is tough or even impossible, but with the AIA Vitality plan, it's one load off your shoulder in becoming the fitter version of yourself that you deserve to be. Think of it this way: it's as easy as making the choice of quinoa rice instead of nasi lemak—it is up to you which life you decide to lead after all.
Feature Image Credit: Time Out Malaysia, GroupOn