At least one of us has experienced horrendous service, dirty environment and bad food whilst dining out. Some of us would just ignore this restaurant forever but then there are those which would give the restaurant a feedback either verbally or virtually. A certain Mr.Wong recently dined at a restaurant and ranted about his unsatisfactory experience there through Facebook. He shared his feedback on the restaurant page and what he totally did not expect was the reply he received.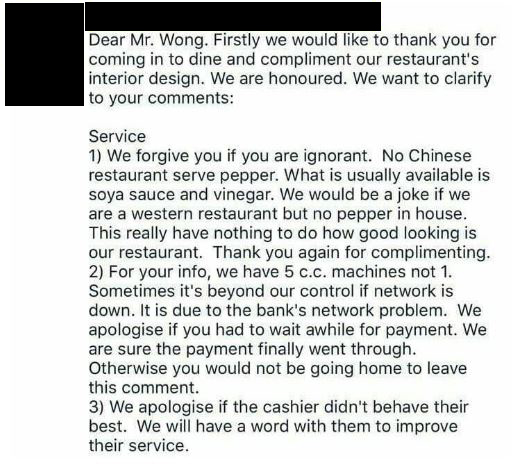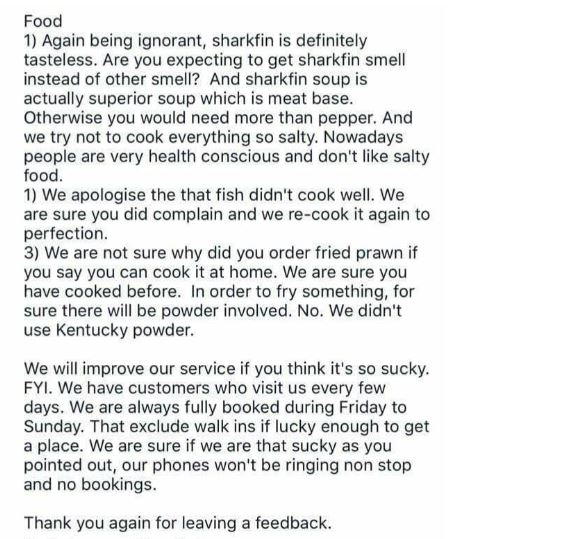 The restaurant gave Mr Wong their own feedback and this truly rubbed Mr Wong and his friend, Jean the wrong way. Jean who was with him during the time of the meal also posted up her own two cents' worth.
"First time I've ever come across this kind of reply on reviews. Maybe their business is too good to even be polite to customers. Their management is really one of a kind!!!! Me being service line for 10 years have never seen anything so bizarre!! They are so rude!!!" she commented.
There are plenty of mixed comments on the comeback. Some mentioned that the pair should boycott this restaurant due to their sucky service and horrible food, while some even sarcastically stated that they already have enough customers. On the other hand, some netizens sided with the eatery and agreed with the reply, stating that customers are plain hard to please nowadays.
Well, there are definitely 2 sides to the story and social media has become a platform where we can express ourselves freely. There is no right or wrong in the matter and hence, it totally depends on your point of view. What are your thoughts on the matter?
Feature Image Credit: paulinelevequephoto.com