The weekends are made for exploring and roadtrips are the perfect way to enjoy everything that Malaysia has to offer. You don't need to travel far and long to experience a wonderful trip. Here is a weekend getaway that you can take away from the busy city. It starts from KL, with a stop in Bukit Ibam, and finally, you can explore the wonders of Gambang as well.
First, start off your trip with a hungry tummy because you can make a well-deserved pitstop at Good Taste Restaurant.
Good Taste Restaurant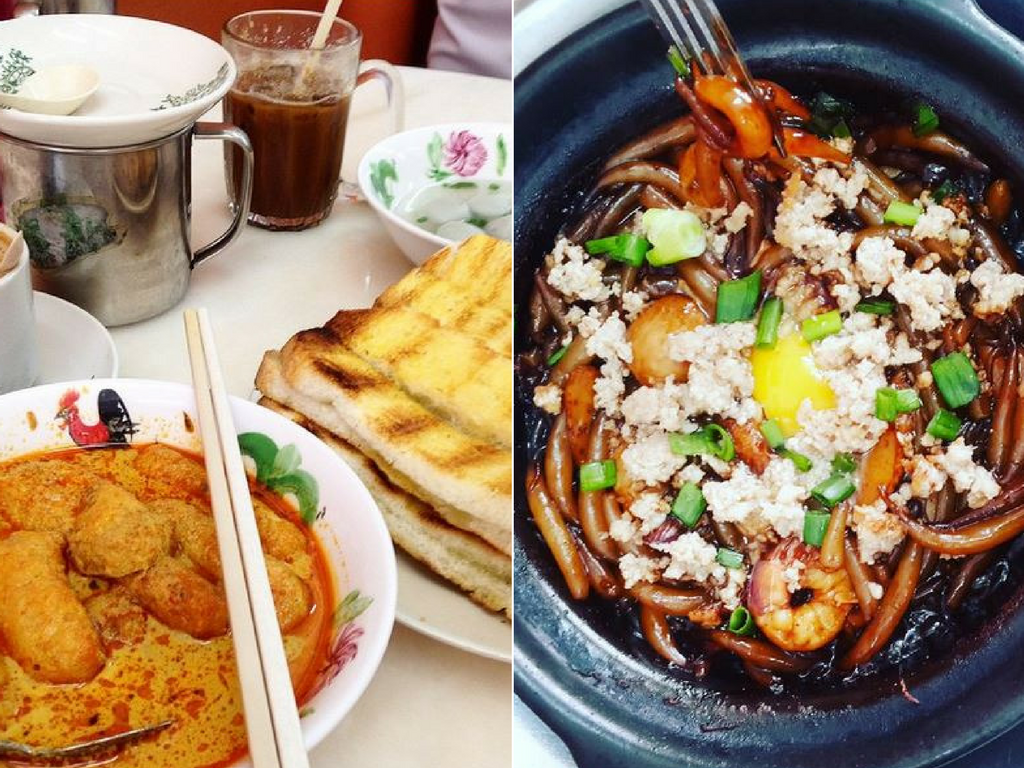 Bread and soft-boiled eggs are one of the best breakfasts to have in Malaysia. Still, it is not easy to find a good kopitiam with tasty bread. Good Taste Restaurant offers charcoal grilled bread that you would instantly fall in love with. To top off your breakfast, their wantan mee, curry mee or even claypot loh shu fan are what you should try out to fill you up before you hit the road again.
Hours: 7am-4pm, Monday-Sunday.
Address: 13, Jalan Temenggung 3/9, Seksyen 9, Bandar Mahkota Cheras, 43200 Cheras.
Tel: 016-311 7743
After a great breakfast, navigate yourself towards the direction of Muadzam Shah and your next stop would be the Taman Rekreasi Ulu Bendul, also known as the Ulu Bendul Recreational Park.
Ulu Bendul Recreational Park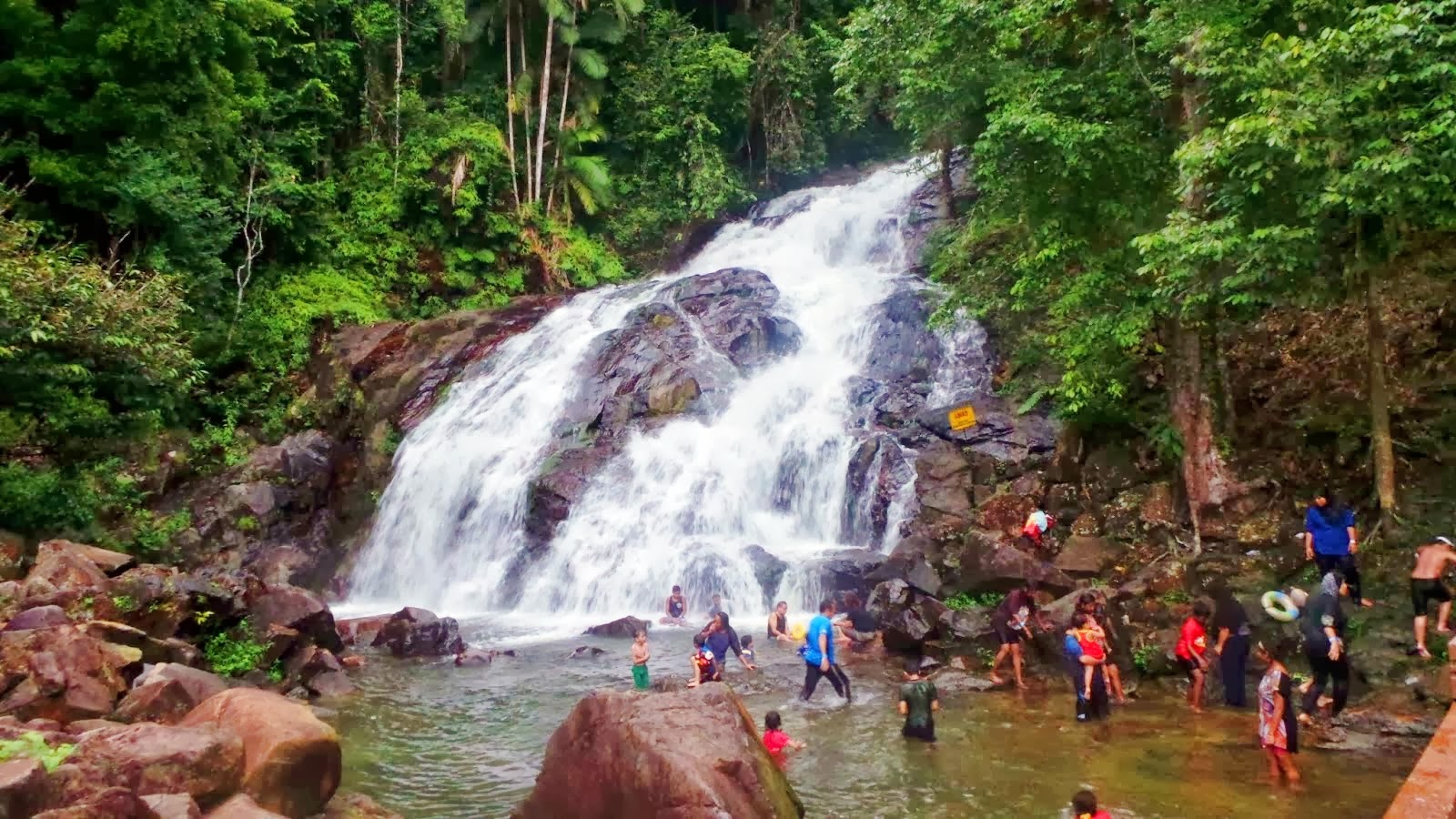 Malaysia is blessed with warm weather all-year long but who wouldn't love dipping into cold running river? This recreational park is often crowded during evenings, so heading there before the crowd kicks in would be a good idea. Alternatively, you could even opt to pack your lunch and have a picnic here.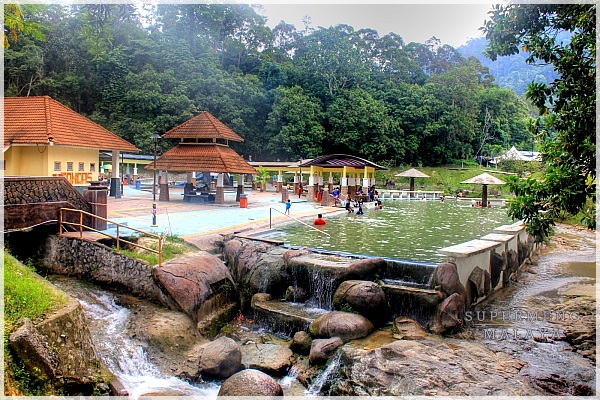 You could choose to swim in the pool or even in the running river. Perhaps even both!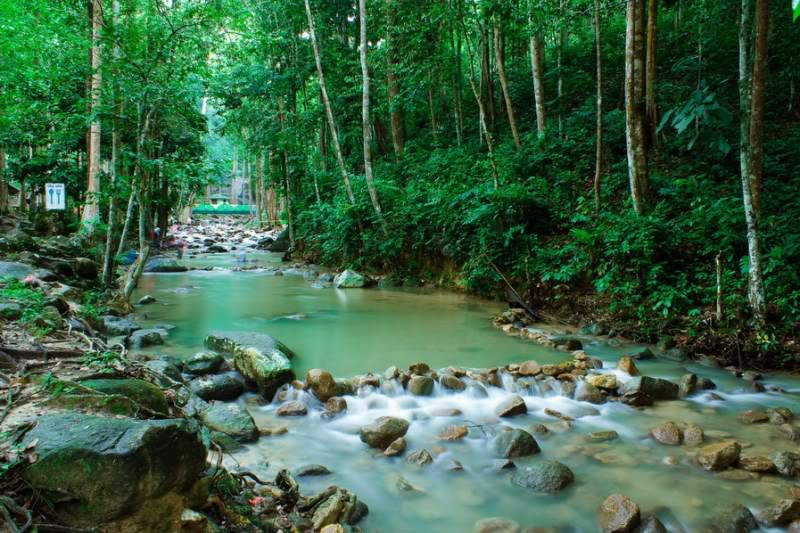 This is a great place to hang out with friends and family and the best part is it costs next to nothing and it's your chance to indulge in what nature has to offer you. Next up on the roadtrip is a one and a half hour drive to Kuala Pilah where you can have a quick pitstop to fill your tummy during teatime.
Sinaran Hailam Kopitiam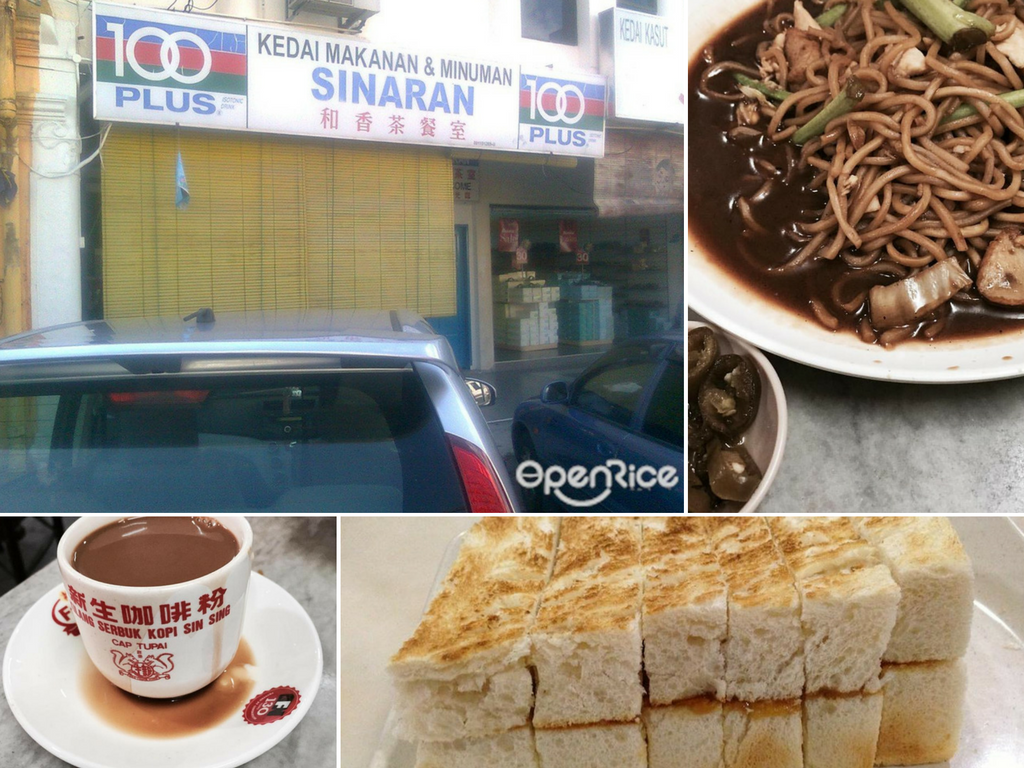 At Sinaran Hailam Kopitiam, you could enjoy yourself with a nicely brewed cup of hot coffee. Typical kopitiam fare like wan tan mee or mee hailam are also available in this coffee shop. Other dishes that you should not miss out on is their fried rice and Hainanese chicken chop, as well as Hainanese butter and kaya bread which would go so well with your coffee.
Hours: 7am-10pm, Monday-Sunday.
Address: 158, Jalan Yam Tuan, Kuala Pilah Town, 72000.
After lunch, make a move towards one of Malaysia's hidden gems. Not many know about this stunning turquoise blue lake which is one of Muadzam Shah's best kept secrets. The little town is inhabited mostly by students and not many would think of venturing towards Muadzam Shah because there aren't too many exciting attractions here. However, Tasik Biru, Bukit Ibam is definitely worth the travel.
Tasik Biru, Bukit Ibam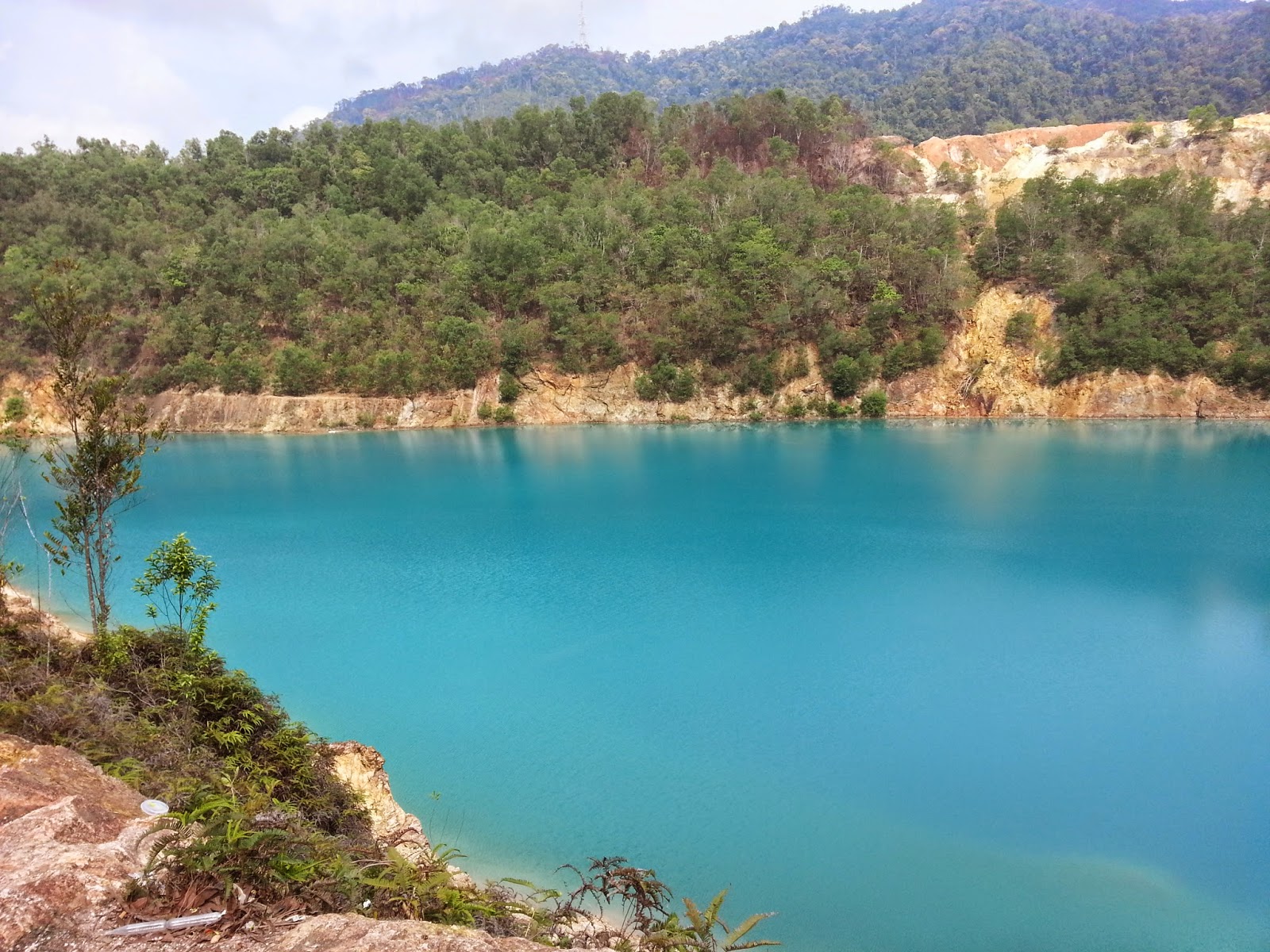 From Kuala Pilah to Bukit Ibam, it would take you a 1 hour and 45 minute drive but the view that awaits is one you should definitely charge your phone battery up for. Snap a few pictures by this lake for memory's sake because the breathtaking scenery is sure to make your trip one you won't soon forget!
The best part is, the lake is truly blue in real life as well. The picture below depicts the lake beside one which is murky and it is a stark comparison against the majestic Tasik Biru!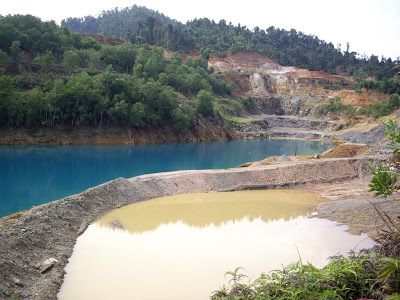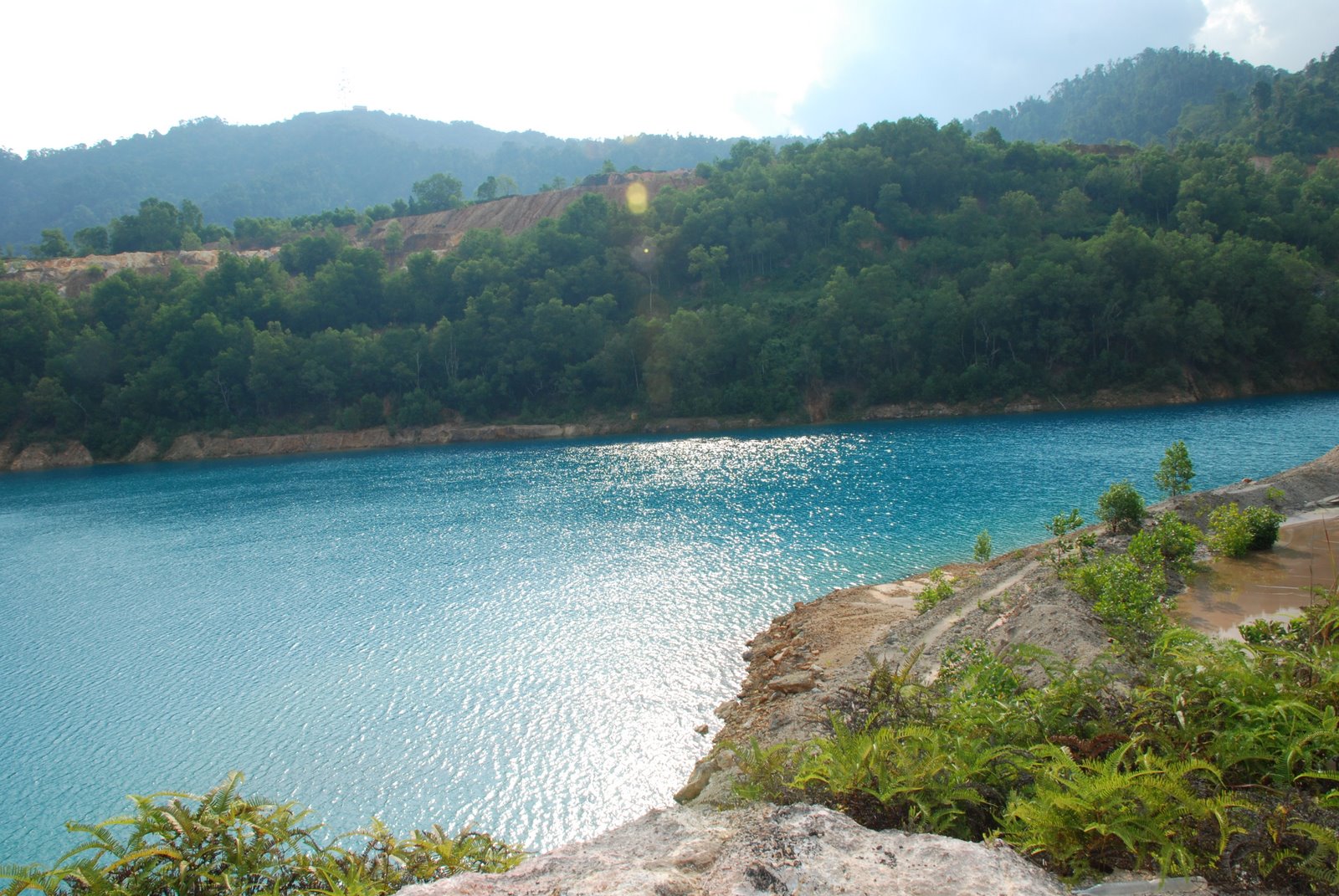 After taking tons of photos, you should be famished by now. In a quiet little town like Muadzam Shah, you might not expect any nice delicacies but I beg to differ. Just a half hour drive from Tasik Biru would take you to Restaurant 23B where you can finally have dinner!
Restaurant 23B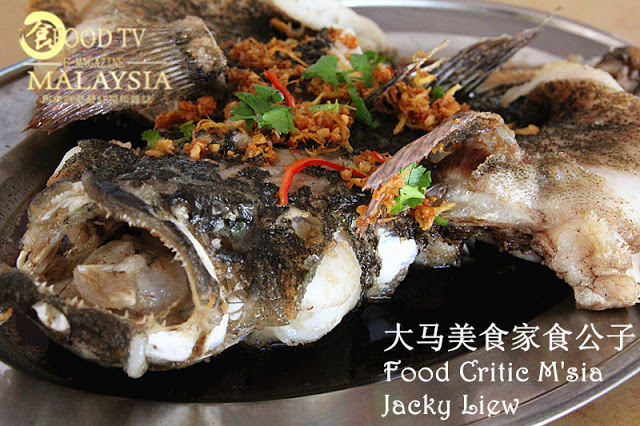 Restaurant 23B is run by a Malaysian Aborigine couple in Kampung Kedaik, along Jalan Muadzam-Rompin. The owner had gained his experience working in a Chinese Restaurant as a cook and that inspired him to now run his restaurant with its specialty being seafood.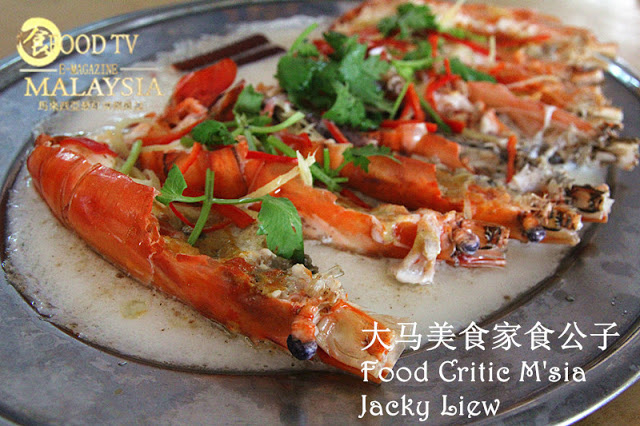 Take your time indulding in some fresh prawns and seafood. You certainly would find yourself full to the brim and ready to doze off after a long day of adventure.
Hours: 11.30am-10pm, Tuesday-Sunday. (Closed on Mondays)
Address: No.20, Hadapan Pejabat Jheoa, RPS Kedaik, Jalan Muadzam Shah, 26820 Kuala Rompin, Pahang.
Tel: 019-998 9911
After a tiring day, it is the best to have a great night sleep in a beautiful resort and Mangala Resort & Spa is one of the more luxurious options to try in Kuantan.
Mangala Resort & Spa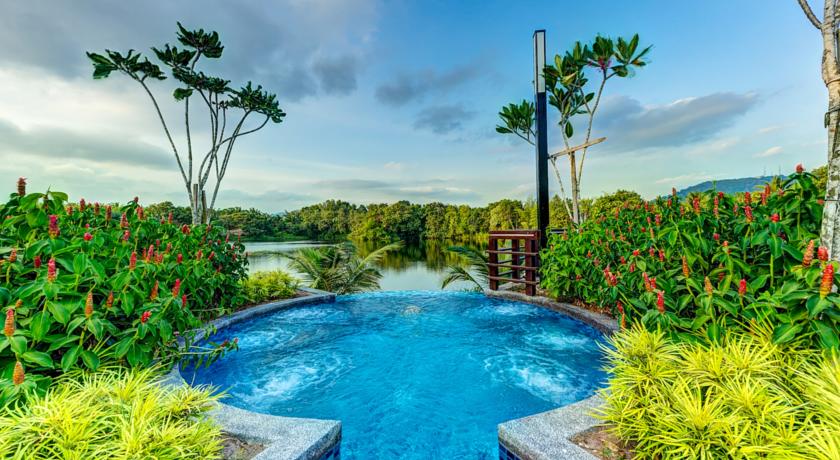 Mangala Resort & Spa is a hidden gem located in Gambang, Kuantan. We won't blame you if you wind up spending much time relaxing in this resort due to its scenic views and array of amenities. It is the perfect place for friends, family or couples to hang out in and a great getaway from the city as well.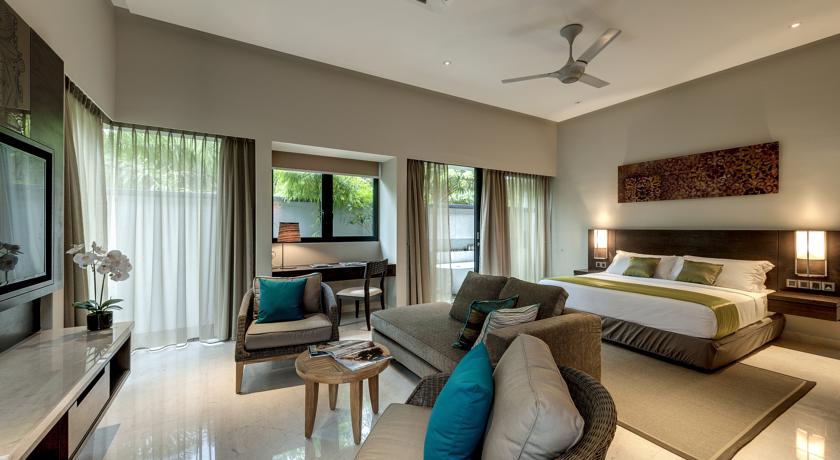 There are roughly 6 different types of villas in Mangala Resort & Spa and you can choose the one which suits your group of friends best. For instance: Jala Villa is built on the lake, Vana Villa has either the lake or forest view, Sara Cottage overlooks the wetland, Vana Villa offer private pools and has either a lake or forest view, Jala Suite is suitable for families with two bedrooms in the suite, and Vana Suite offers two bedrooms and a private pool.
Book the suite in advance to score yourself the villa which you prefer.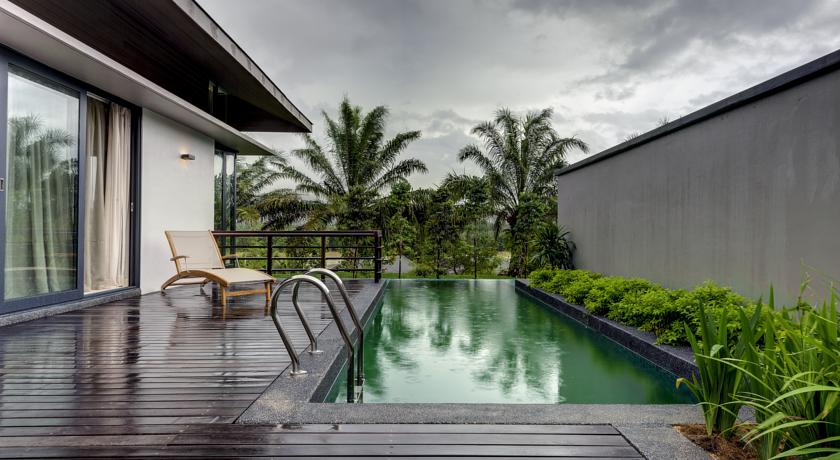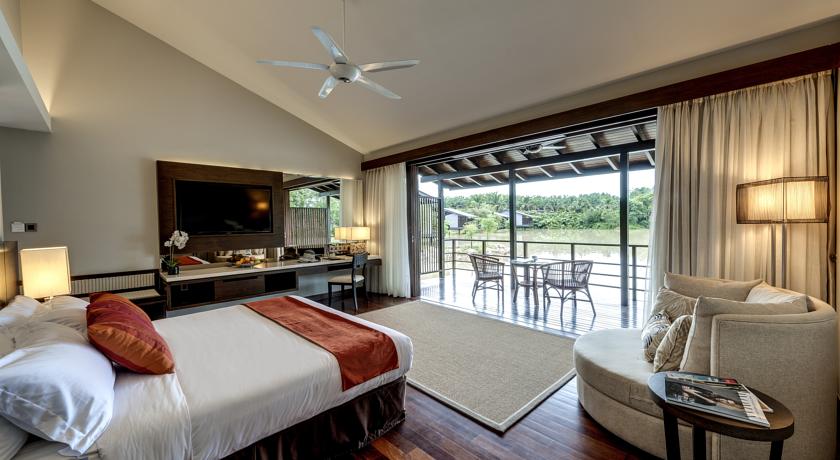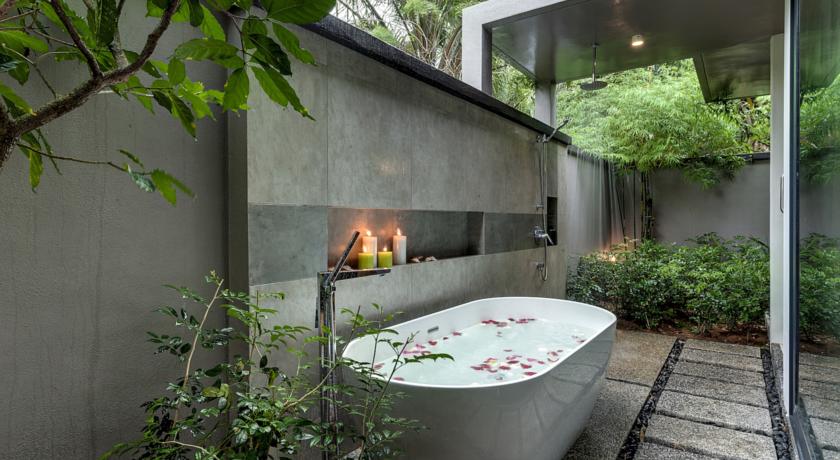 At Mangala Resort & Spa, you can have a swim at night or even just dip yourself in the pool and enjoy the starry night sky. Alternatively, there's even a spa that you could utilise to melt the stresses of life away in.
Hours: 24-hour front desk.
Address: Lebuhraya Tun Razak, 26300 Kuantan, Pahang Darul Makmur.
Website: Mangala Resort & Spa
Tel: 09-505 7788
Waking up in the morning after a great first day of a roadtrip, you could then enjoy your breakfast in the resort or opt to travel out to grab a breakfast at a restaurant which is famous for its nasi lemak.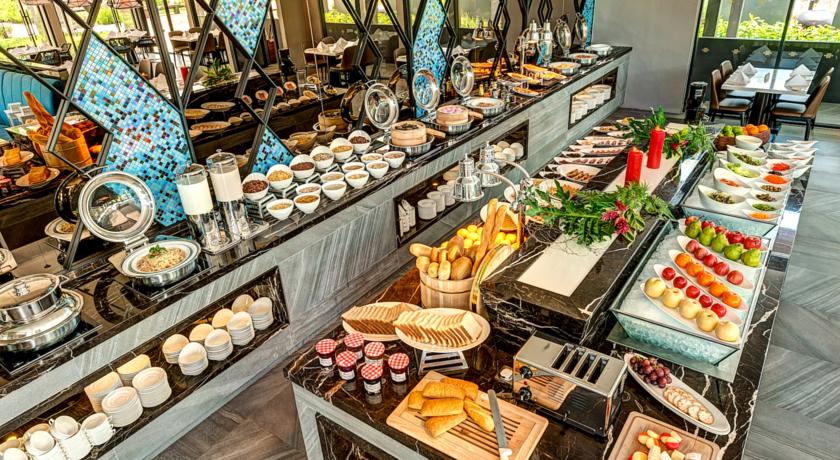 Restoran Zaman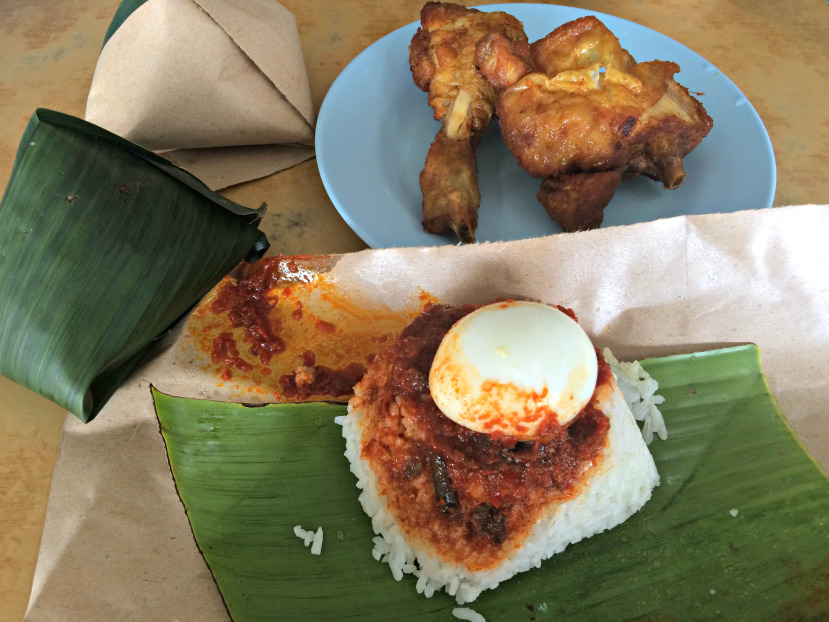 Restaurant Zaman is a self-service restaurant that offers the best must-eat nasi lemak in Kuantan. The restaurant could be packed at peak hours but it is definitely worth waiting for. That's because their nasi lemak is truly one which deserves queuing up for. It has just the right amount of spiciness from the sambal, paired with rice infused in coconut milk and topped off with a hard boiled egg. That alone would give you the energy you need for day 2's activities!
Next on the roadtrip is the National Elephant Conservation Centre in Kuala Gandah.
Hours: 6am-2pm, daily.
Address: Lot 1-3811, KM14 Jalan Gambang, Kuantan.
National Elephant Conservation Centre @ Kuala Gandah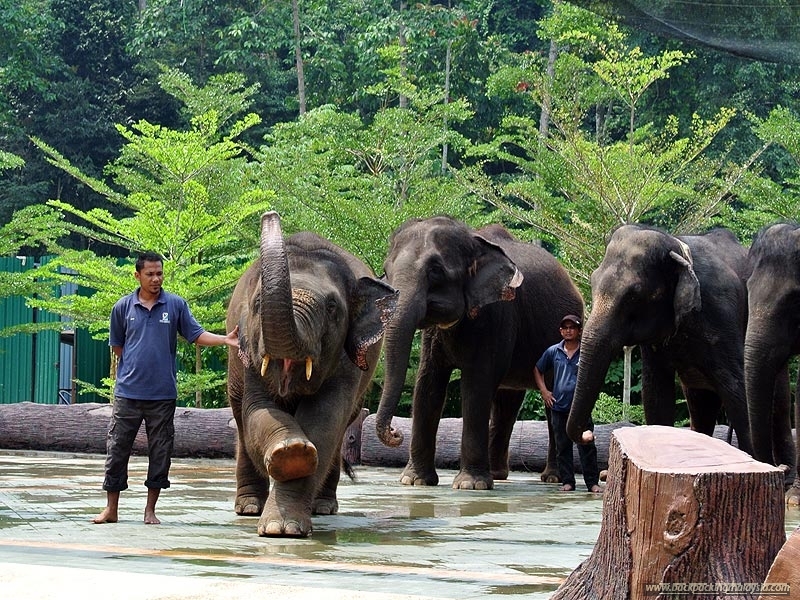 As the last destination in our 2D1N trip, I figure you should end it with something interesting. As a normal KL-ite, we don't usually get close to nature, what more animals.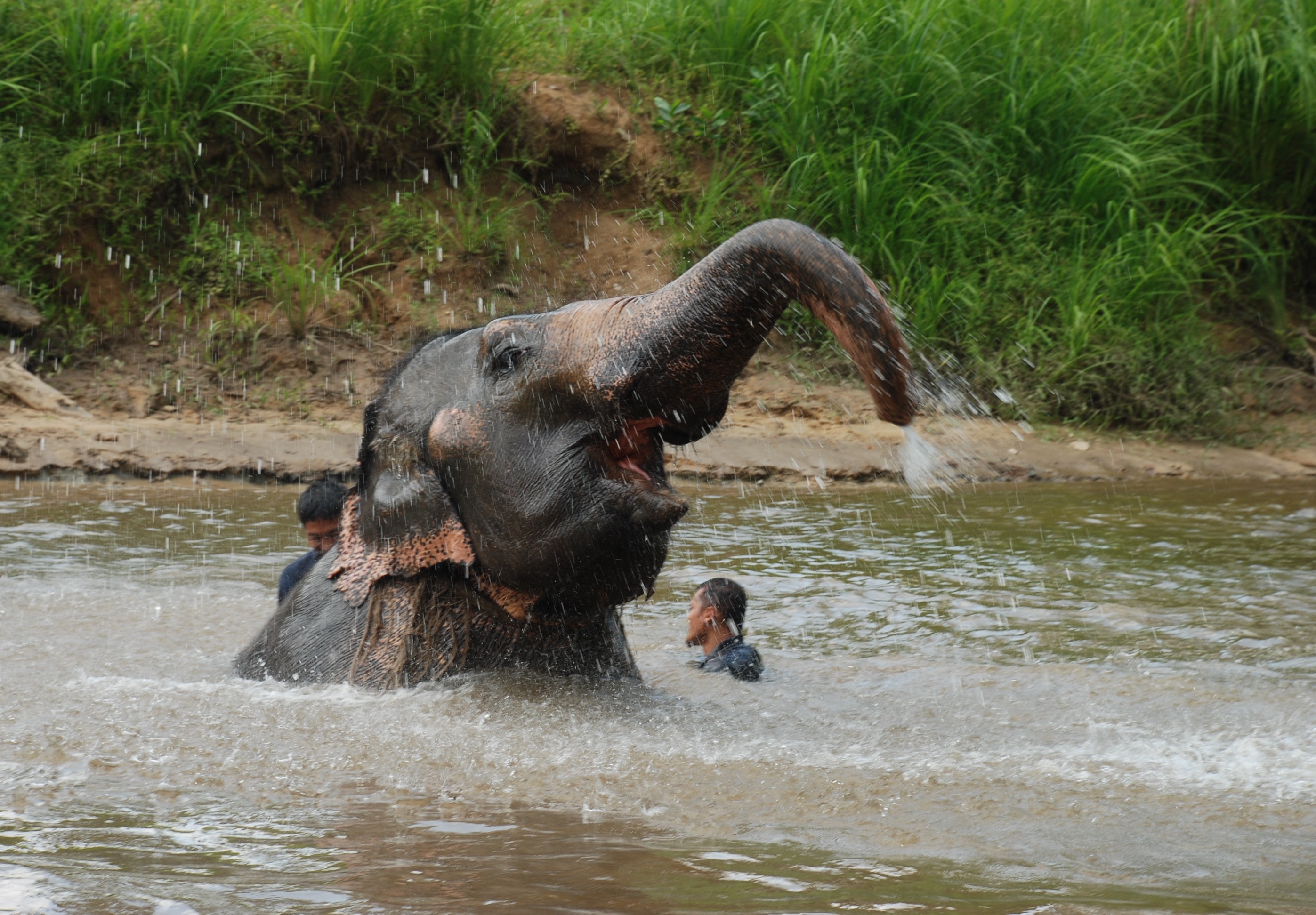 If the weather permits, this is where you get the chance to bathe some elephants at the elephant conservation centre. Spending some time with the friendly creature is the best way to end your memorable roadtrip with. All you need to do is prepare an extra set of towel and clothes should you get the precious opportunity to bathe the elephants!
Check out the planned timetable for visitors at NECC and make sure you plan your visit at the right time to catch all the exciting activities this centre has to offer!
Hours: 10.30am-4pm, daily.
Address: 28500 Lanchang, Pahang, Malaysia.
Website: Wildlife.gov.my
Tel: 09-279 0391
Feature Image Credit: www.nabihahmazlan.blogspot.com, onlyadayaway.com, gayatravel.com.my.