Chicken wings. Many have dubbed them as 'the greatest snack ever created by man'. People are willing to queue up for a long, long time just to get a plate of steaming hot, greasy, glazed wings in their hands. KL is full of hidden gems where you can get the best chicken wings out there, and the fact that these places have gained thousands of fans over the years pays homage to their wing expertise. Check out the following places when you want your chicken wing fix (but I bet you know of these places already):
Fatty Crab, Taman Megah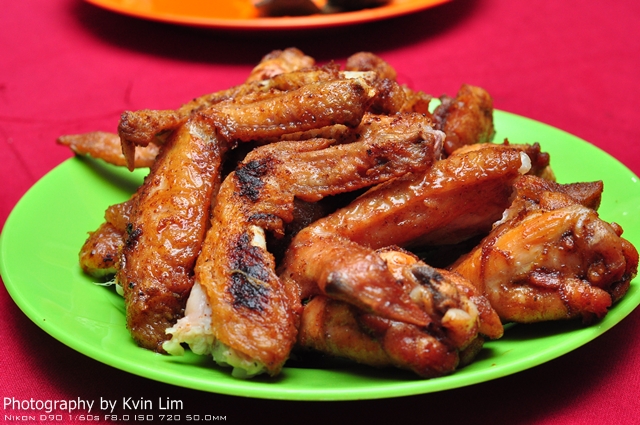 Even though Fatty Crab is known far and wide for their crab dishes (hence the name), your meal will not be complete without an order of their fried chicken wings. Because the wings are flash fried, it develops a perfectly crisp outer skin that crunches with every bite, balanced with the moist and juicy flesh on the inside. They're also seasoned excellently, which is what makes the dish next level. Better order at least two plates, you'll be polishing these off in seconds!
Pork-free
Address: 2 Jalan SS 24/13, Taman Megah, 47301 Petaling Jaya, Selangor
Hours: 5.30pm-11.30pm daily
Tel: 1300 222 100 / 03 2273 3100
The Birdmen Co, SS15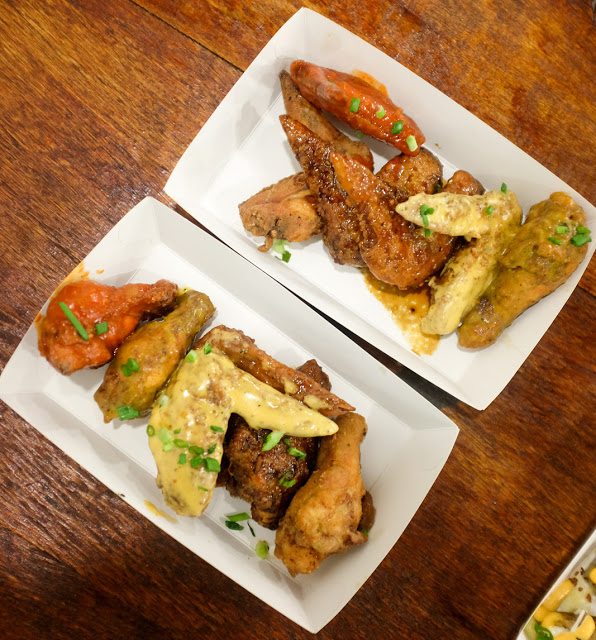 The Birdmen Co opened its doors about a year ago, and it has attracted people from far and wide to have a bite of their signature chicken wings. They offer six different servings of wings, from your run-of-the-mill fried chicken wings, to a garlic parmesan-coated one, honey mustard, BBQ sauce, hot sauce, and even an Asian twist to this American classic. You can even order a sampler plate which comes with one of each type of chicken wing, so you can try them all!
Halal
Address: 113, Jalan SS 15/5A, 47500 Subang Jaya
Hours: 5pm-11pm daily, closed on Mondays
Tel: 012-447 0407
Website: https://www.facebook.com/thebirdmenco/
Zawara Coffee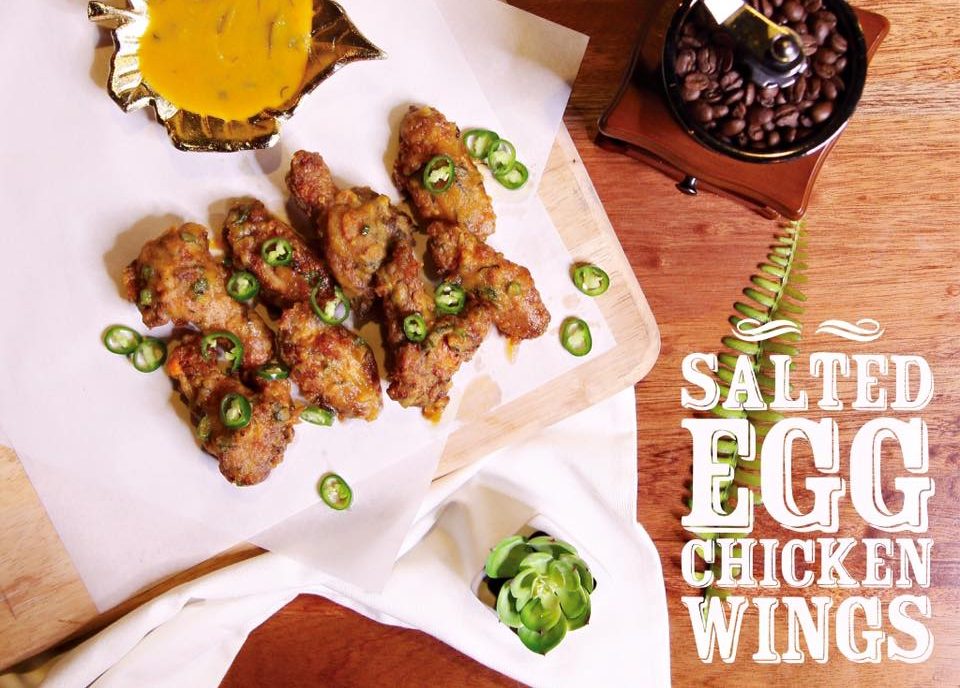 This chic, modern café now has multiple outlets all over the city, from Bukit Jelutong to Shah Alam to The Curve, Mutiara Damansara. They don't only specialize in coffee though, and their main dishes are good enough to make their way onto loads of online food blogs and Instagram posts. They've come up with five different chicken wings for you to choose from, including classic buffalo wings, cheesy jalapeno wings, and even salted egg chicken wings. Many have sung Zawara's praises for their crispy, succulent wings, so give it a try for yourself and see what all the fuss is about!
Halal
Available at several outlets nationwide
Hours: 9am-11pm on Sun-Thurs, 9am-12am on Fri & Sat
Website: http://www.zawaracoffee.com/
Wong Ah Wah, Jalan Alor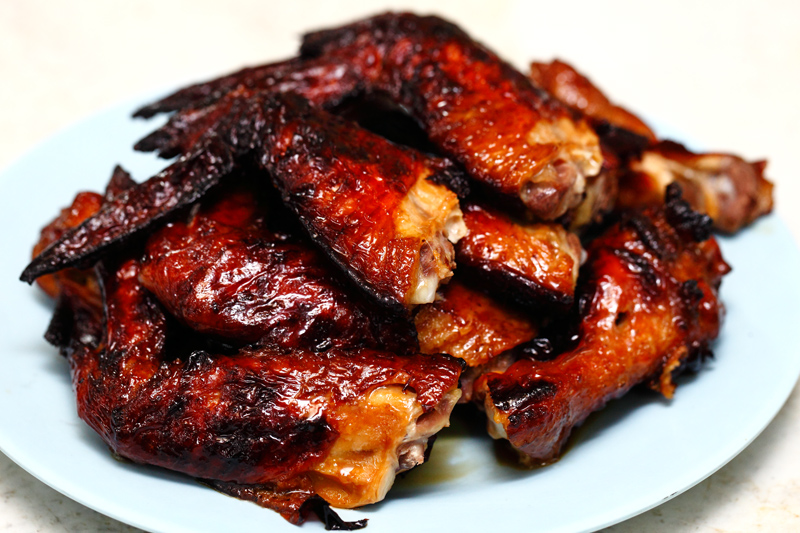 Many would consider Wong Ah Wah to be the ultimate king of chicken wings in KL. This roadside-stall-turned-five-shop-lot empire has been serving up chicken wing realness for years and years now, and they still attract large crowds everyday. Their juicy chicken wings dripping in homemade glaze makes countless mouths instantly water, and lots of patrons have praised the chicken wing angels for bestowing us with what's considered as the best chicken wings you can get in KL. The secret ingredient that keeps people coming back for more? They let the charcoal smoke from the grill infuse the wings before setting them on the grill, to give them that intense smokey flavour that sets these babies apart from other wings.
Non-halal
Address: 1-9, Jalan Alor, 50200 Kuala Lumpur
Hours: 5pm – 4am daily
Tel: 03-2144 2463
Queen's Restaurant, Jalan Peel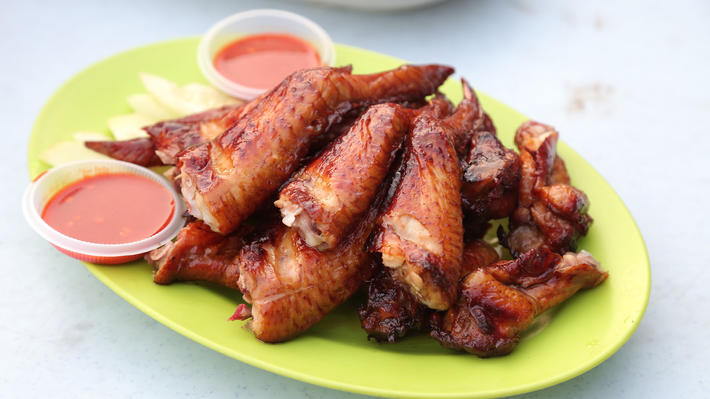 A close contender to Jalan Alor's offering, Queen's Restaurant on Jalan Peel has become somewhat of a main attraction due to their smoky, juicy, crispy chicken wings. Marinated with honey, grilled over open flames to develop its golden brown skin, then served with a side of spicy chili sauce, this is Malaysian street food at its best.
Non-halal
Address: 96, Jalan Peel, Maluri, 55100 Kuala Lumpur
Hours: 7pm-10.30pm daily, closed on Mondays
Tel: 016 979 2490 / 016 272 8029
DubuYo Urban Korean Food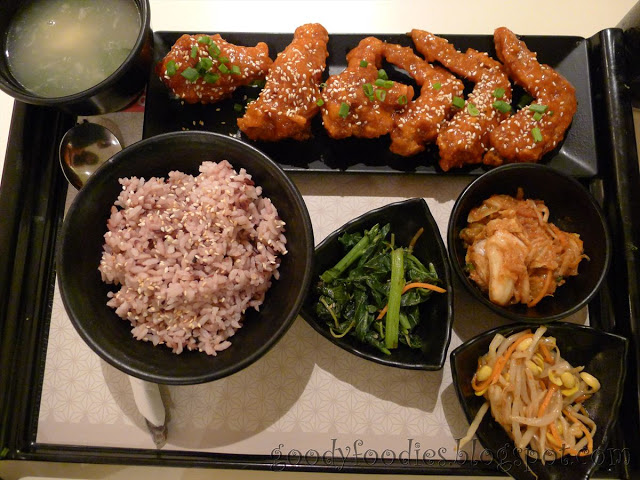 We all know that Americans love their chicken wings, and so do we in Malaysia. But did you know that it's a big thing in Korea too? Koreans have their own version of fried chicken, and DubuYo have come up with their own twist on Korean fried chicken. Their Korean spicy wings are a set of six chicken wings, deep-fried to crunchy perfection and then lathered with their house-made spicy sauce. Served with side dishes like kimchi and brown rice, this is the place to go if you want to get your hands on addictive Korean-style wings!
Halal
Available at several outlets nationwide
Website: http://www.dubuyo.com
My Wing Man @ Brolly, Menara Felda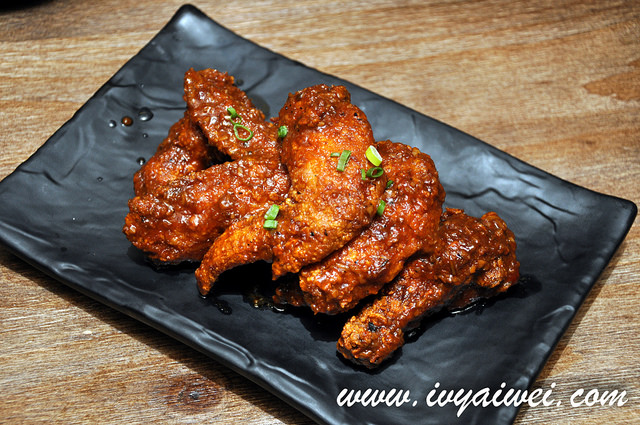 My Wing Man will be your 'wing' man indeed, with their menu exclusively consisting of all things chicken wings. They serve up eight (!) different kinds of oatmeal-coated wings for your dining pleasure, from classic sauces like hot sauce and peppery brown sauce, to more unique options like creamy percik, sweet plum sauce, spicy Korean bean paste, Cajun-style, and their recommended cencaluk wings. There's definitely something for everyone, regardless of whether you like Asian-style wings or Western all the way!
Pork-free
Address: Menara Felda, Platinum Park, No. 11, Persiaran KLCC, 50088 Kuala Lumpur
Hours: 11am-late daily
Tel: +603-2181 4122
Website: http://www.my-brolly.com/
Mikey's New York Pizza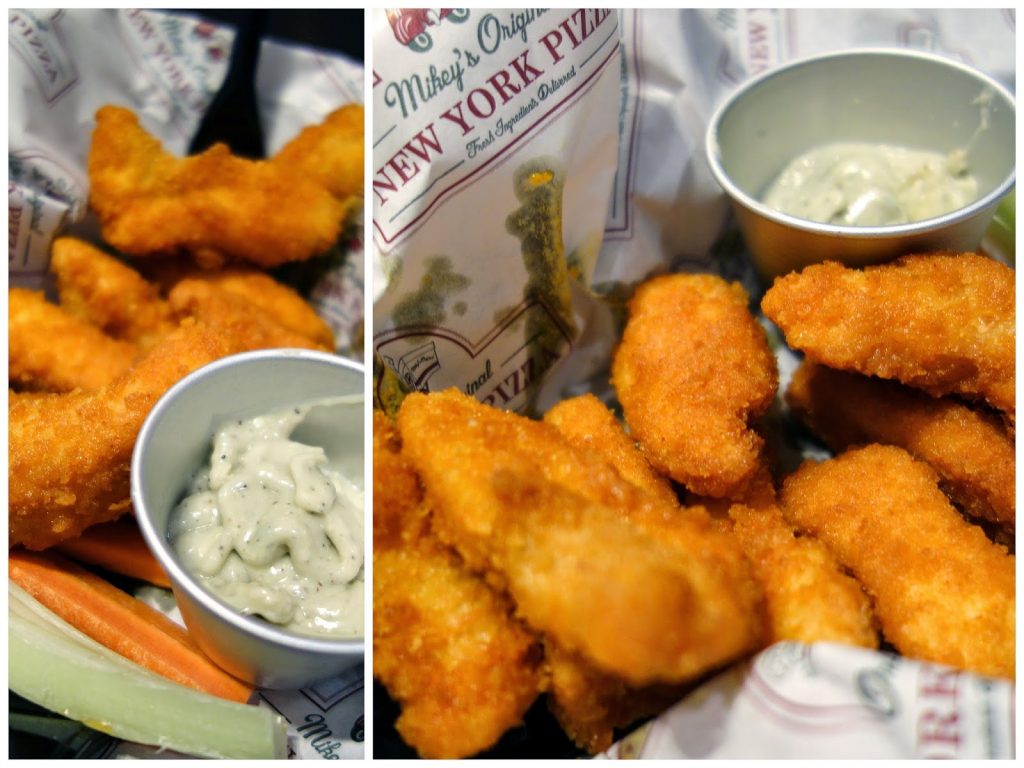 What's a better side for your pizza than good ol' chicken wings? Mikey's serves their wings stripped of their bones, smothered in a layer of breadcrumbs and your choice of either their signature buffalo or BBQ sauce, and served with an accompanying tub of delicious blue cheese dip. Pop these in your mouth without getting messy and fiddling with the bones! Truth be told, they're like more upmarket versions of our standard chicken nuggets!
Halal
Available at Bangsar Telawi, Mid Valley Megamall, and Publika
Website: http://mikeyspizza.com.my/
Go forth and get your chicken wing fix ASAP. Make sure to wash those hands before you dive in!
Featured image credit: Time.com