It's always fun to eat fusion foods, and to discover that two cuisines you never thought would go together actually tastes pretty amazing in combination! Even more so when you're having your meal in a fine dining setting, and the fancy ambience just adds a little extra something to make your dinner that much more special. Ever wondered where the best places in town are to have some fine fusion dishes? This list will tell you all about it:
Gastro Bar, by Burgeon, PJ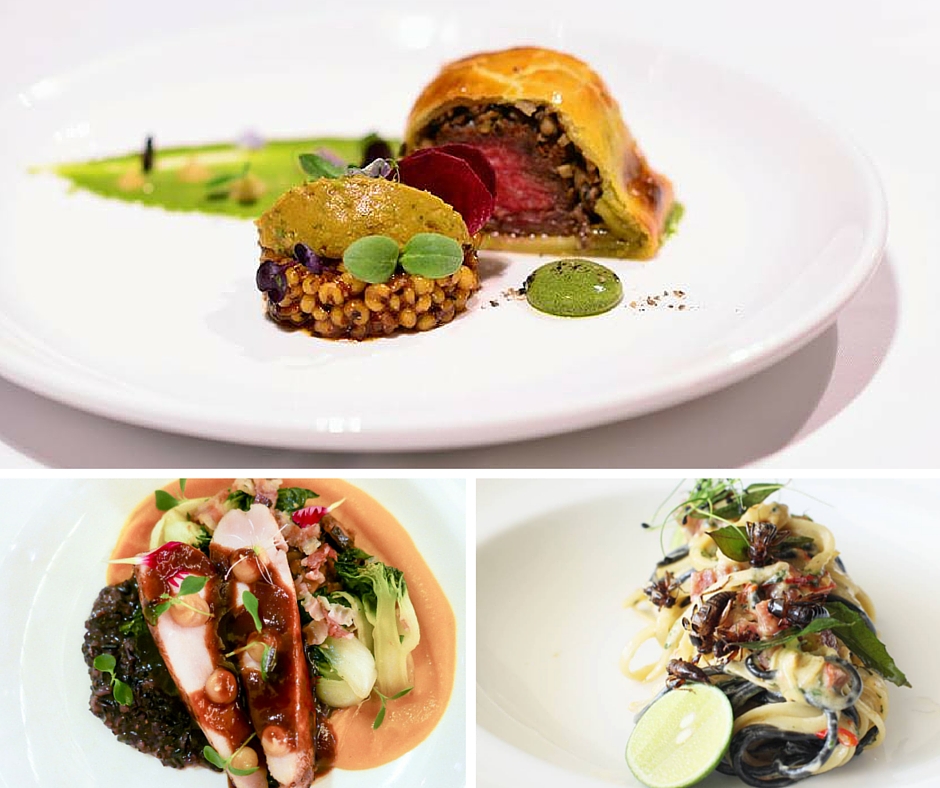 This bar has made quite a name for itself, and a quick peek into their menu leaves no surprise as to why. Their innovative drinks and entrees have wowed many, and their Weekly Exploration dishes leave much room for the skilled chefs to show off their skills and impress patrons with quirky flavor combinations (they were even serving cricket carbonara last week!). This week's special dish is the Barley Natto Wellington, a fusion of traditional Japanese elements with a classic British dish. A tender beef strip is coated in rice wine mushroom duxelle, and accompanied with fermented barley risotto that's both fresh and smoky. Talk about a marriage of cultures! Other cool fusion dishes they serve include the watermelon lime granita dubbed as their interpretation of the ice kacang, Japanese-inspired mushroom tortellini, and their East-Meets-West chicken risotto. If you're down for some interesting fusion dishes, Gastro Bar is the way to go.
Non-halal
Address: Gastro Bar, By Burgeon, 8-10, Jalan BM 1/2, Taman Bukit Mayang Emas, Petaling Jaya, 47301 Selangor, Malaysia
Hours: 6pm-10.30pm on Tues-Sun. Closed on public holidays
Tel: +603-74975373
Website: http://burgeon.co
DC Restaurant by Darren Chin, TTDI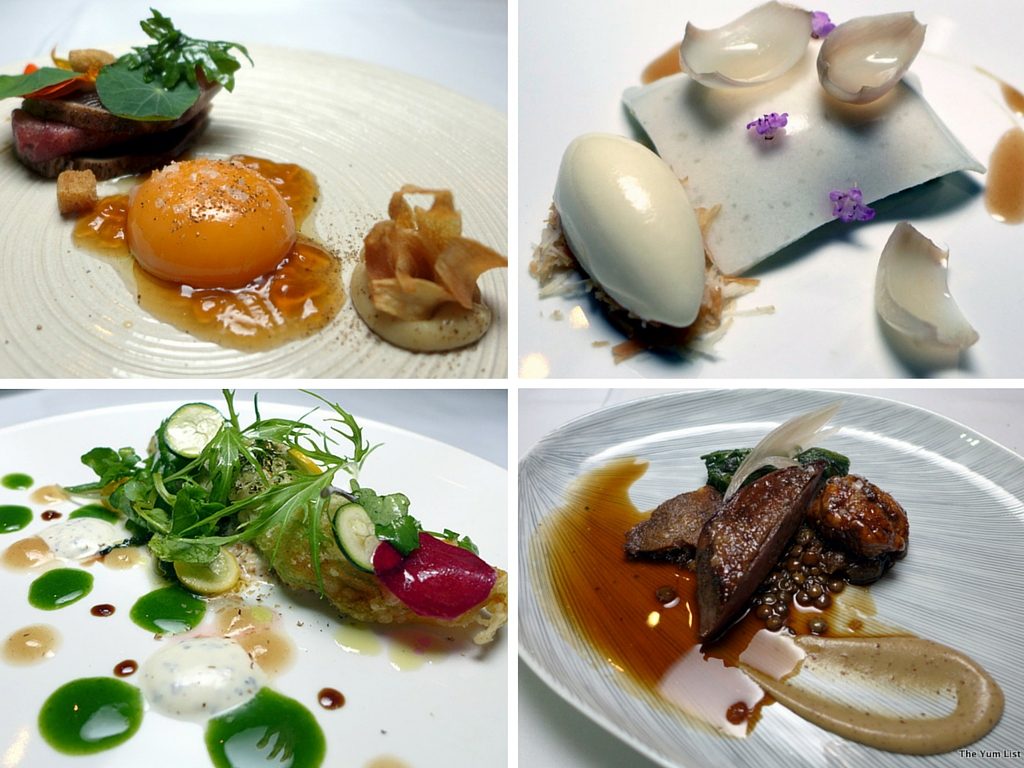 Chef and owner Darren Chin has a philosophy for his restaurant, and I'll let you read it in his own words: "The best product, and therefore the best food, is good, clean and fair. We respect nature only by using products at their seasonal peak. We honour the hard work of our farmers by making full use of every part of the harvest, from the skins that hold the pods to leaves that sprout from the trees." This is reflected prominently in DC's dishes, which feature local, sustainable ingredients in high-end French-inspired cuisine. They serve their dishes in your choice of a 3, 5, or 7-course meal, each one showing off impeccable flavors to impress your palate. Although quite pricey, the skillful fusion of French-style preparation of Asian flavours shows through in every dish, and you'll be won over by their selection. There isn't really one single dish that you must try, because you have to try them all!
Pork-free
Address: DC Restaurant by Darren Chin, 44 Persiaran Zaaba, Taman Tun Dr. Ismail, 60000 Kuala Lumpur, Malaysia
Hours: 7pm-11.30pm on Tues-Sun
Tel: +603-77310502
Website: http://restaurant-dc.com
Fiq's Gastronomy, Subang Jaya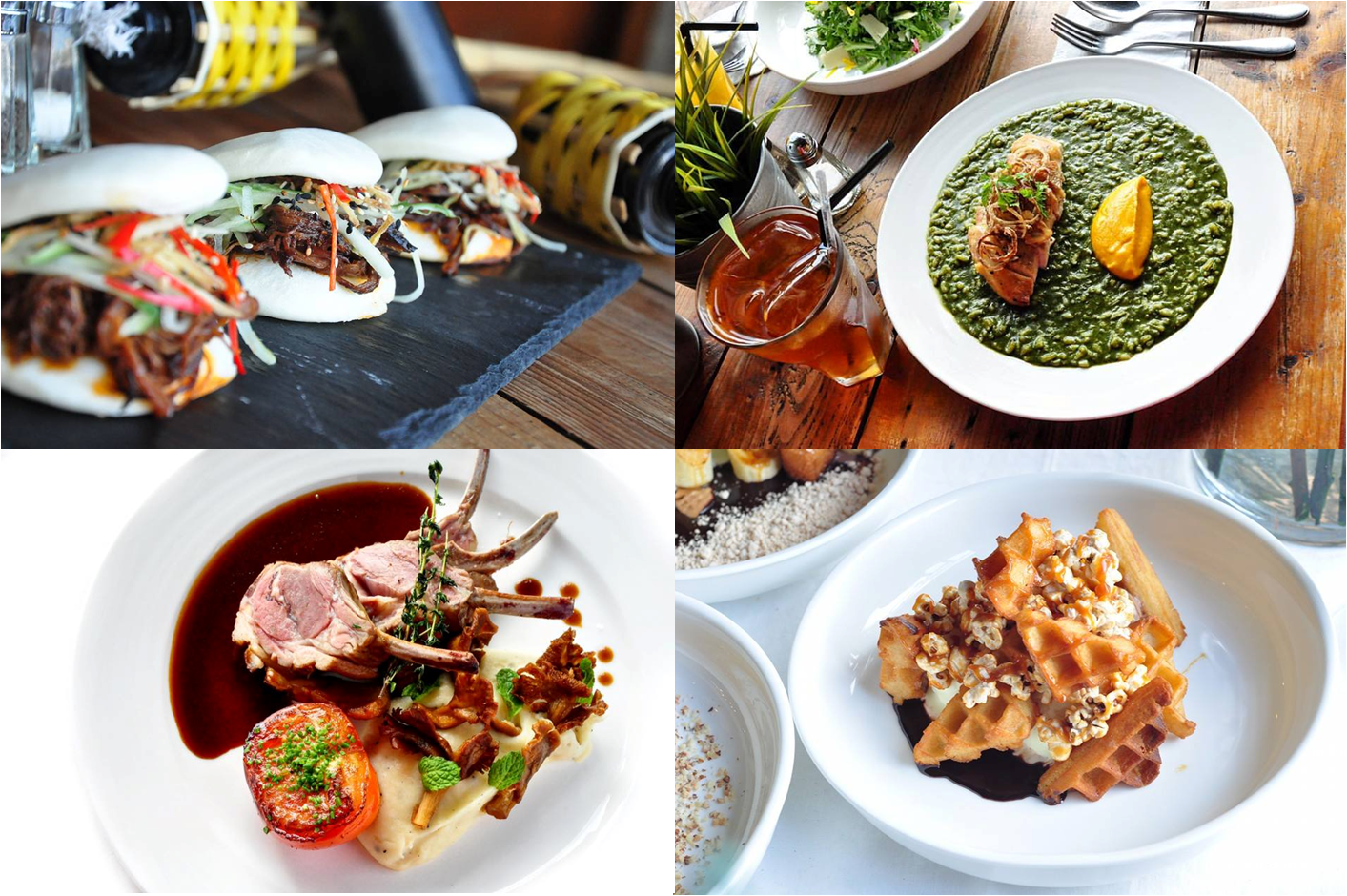 This family-friendly restaurant in Subang aims to fuse together well-known international cuisine with our tried and true Malaysian flavours and ingredients, to come up with unique dishes to win over their customers. They pride themselves in sourcing some of their ingredients through local, independent farmers and producers, so you'll know that part of your meal comes directly from the farm and you'll be supporting local producers in their craft. They are in the midst of switching up their menu, as they do every 3 months, to ensure fresh tastes and ideas within the restaurant. Noteworthy fusion dishes include the Malaysian-inspired fish and chips (with chilli powder and sambal mayo!), roasted pandan spring chicken served Western-style, and their sweet and spicy citrus pasta. They also have a special moreh menu for Ramadhan to fulfill your late-night food cravings! Check this place out for hearty meals and a chilled out atmosphere to hang out with your friends and family.
Halal
Address: Fiq's Gastronomy, No 34 Jalan SS19/1D Subang Jaya, 47500 Subang Jaya
Hours: 4pm-midnight, daily
Tel: +603-56130473
Website: http://fiqsgastronomy.com
Sitka, Damansara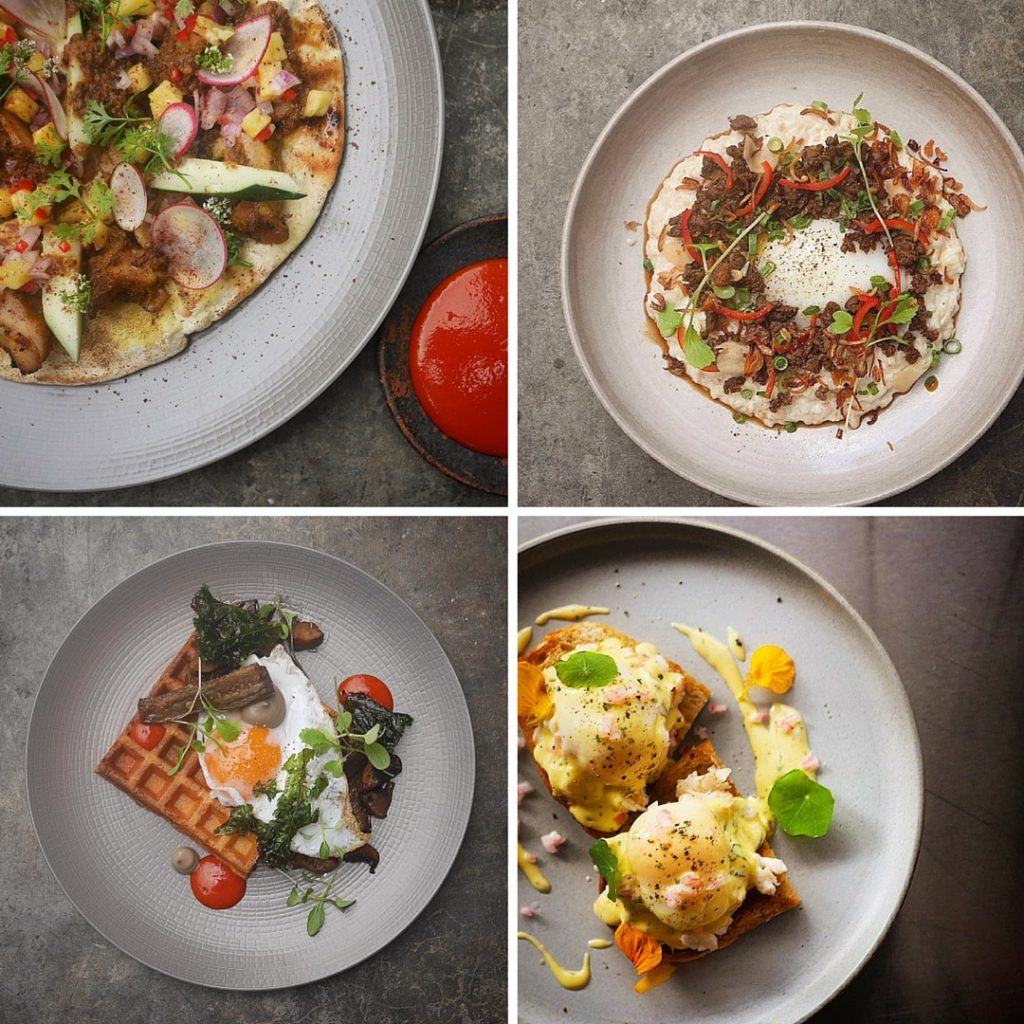 Sitka also works in sourcing their ingredients locally, and incorporating them into their innovative meals that draw inspiration from cultures all over the world. Their pretty plating and tasty dishes result in a must-try culinary journey, imbuing Southeast-Asian elements into traditionally Western dishes. Their menu constantly changes too, so there will always be something new to try out the next time you visit. Interesting cuisine fusion  combinations like mushroom miso waffles, chicken satay on flat bread, and chilli beef porridge with Scottish oats and pickled ginger are crowd pleasers, while sweet treats include their white chocolate cream infused with Thai basil. Let out the adventurous foodie in you and have a taste of the weird and wonderful at Sitka.
Pork-free
Address: Sitka, 8-5 Jalan Batai, Damansara Heights, 50490 Kuala Lumpur
Hours: 9am-10pm daily
Tel: +60-320111117
Website: http://sitkarestaurant.com
Pop Up Dining KL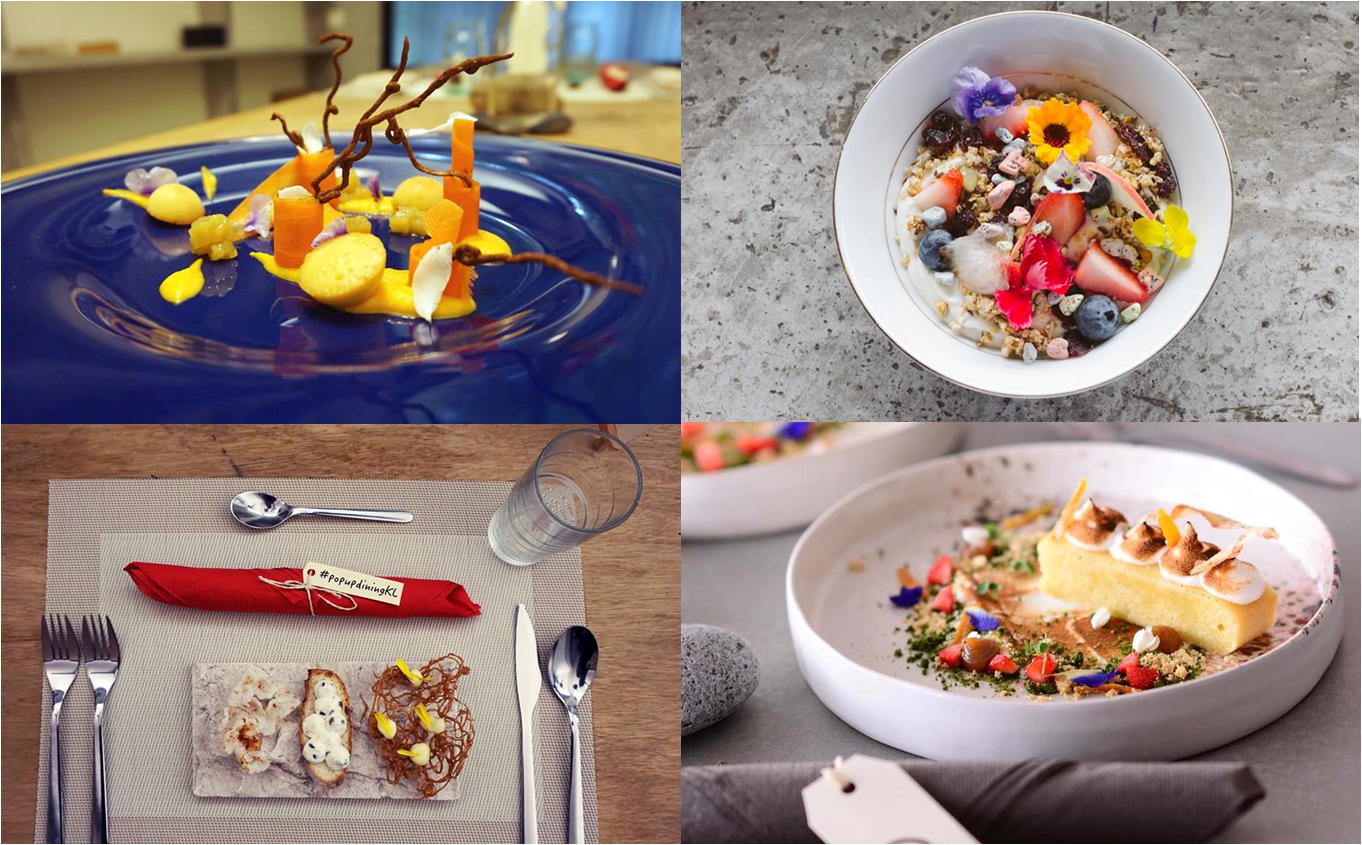 A trio of young, skillful chefs came up with the unique idea of creating a pop up dining initiative in KL, where they will serve up 5-course meals in various restaurants around the city sporadically throughout the year. Their irregular dates and venues result in fresh surprises every time a new dining session is announced, and their stunning array of dishes that they have served in the past undeniably prove the talent that these chefs have. They specialize in coming up with exquisite cross-cultural dishes, including their nasi lemak-inspired risotto (cooked with coconut milk and pandan, topped with prawns and anchovies), spicy Asian-style chocolate dessert (70% dark chocolate cremeux, phyllo, lemon ginger curd, candied cinnamon, pickled chilli, and smoked paprika almond), and crepes stuffed with local ingredients like Asian pesto, ikan bilis tempura, and prawn with dill mayo. Look out for their next dining adventure by stalking their Facebook or Instagram pages!
Pork-free
Tel: +6010-766 9708
Facebook: https://www.facebook.com/PopUpDiningKL/
Instagram: https://www.instagram.com/popupdiningkl/
Dewakan, Shah Alam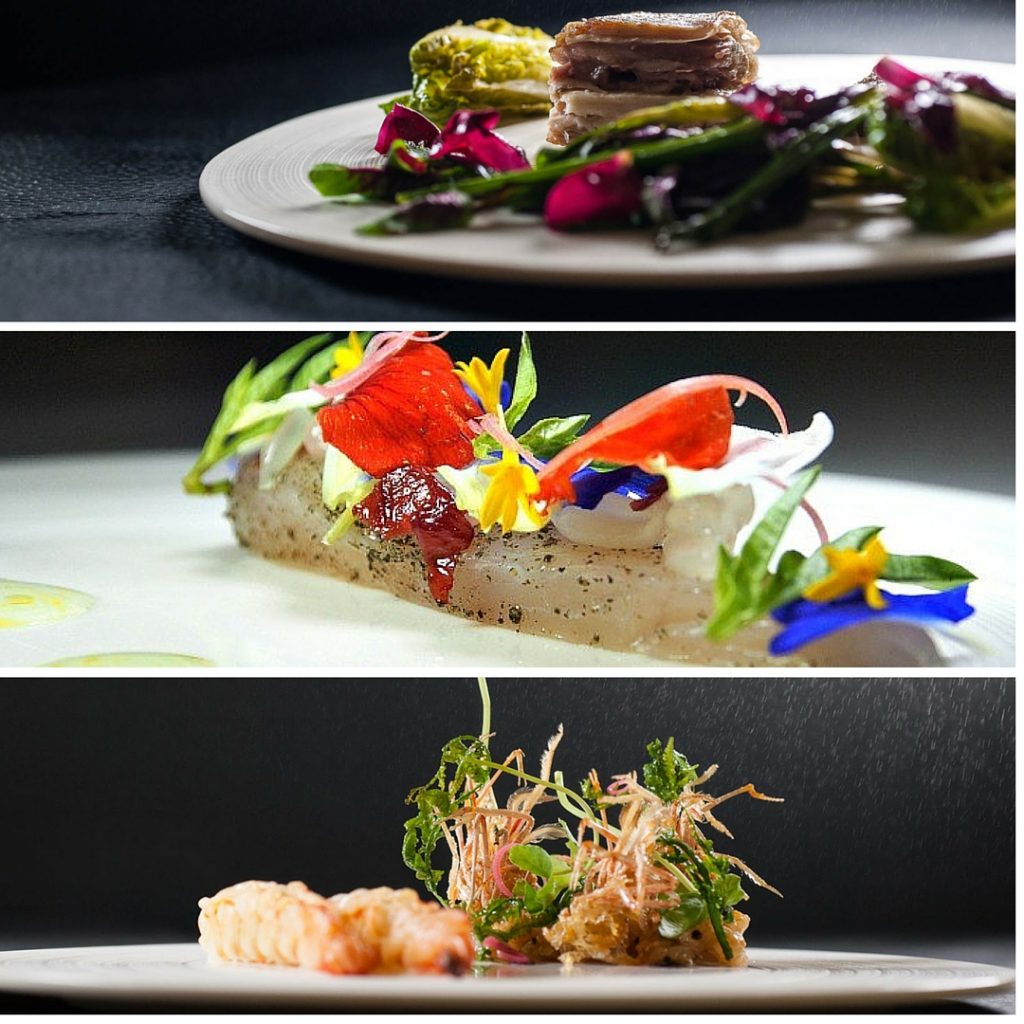 Inspired by the colourful, earthy flavours of our beautiful country, Dewakan fuses together ingredients that are as natural and traditional as they get, with gastronomical techniques and international elements. The result is unique, exquisite dishes that will floor you with their beauty and taste. Located within KDU University College, Dewakan incorporates local produce into their cooking, to make sure that every bite is fresh and sourced ethically. You can choose between having a 5-course meal or a 10-course one, each dish artfully prepared and presented. Their fusion selections include cured mackerel with various local flavours like ulam raja and pomelo, or a mushroom dish with raw and roasted mushrooms, green curry paste, cumin yogurt, smoked mackerel flakes, and local flowers, among many others. On the other hand, desserts include their Gula Melaka dish, a highly photogenic plate of gula Melaka marquise with caramelized white chocolate, date sponge, and mulberry, with a side of sour meringue and pulut ice cream.
Halal
Address: Dewakan, Lower Ground Floor, KDU University College, Utropolis Glenmarie, Jalan Kontraktor U1/14, Seksyen U1, 40150 Shah Alam, Selangor
Hours: 6:30pm-10pm on Mon-Sat
Tel: +60355650767
Website: http://dewakan.my
It's totally worth it to fork out that extra bit of cash to indulge in gourmet dishes every once in a while, right? After all, it's not everyday that you can dine in luxury and enjoy exquisite meals to tantalize your taste buds. Go on, make your reservations and have a top-class meal!