Mid-Autumn Festival, or Mooncake Festival as some might like to call it, is soon approaching.
If you've been thinking about elevating your mooncake gifting for family, friends, partners, or clients this year, you're in luck.
Here are some brands selling elegant and luxurious versions of the Chinese confection, which are sure to delight one's eyes and palate.
1. Four Seasons Hotel Kuala Lumpur x Jimmy Choo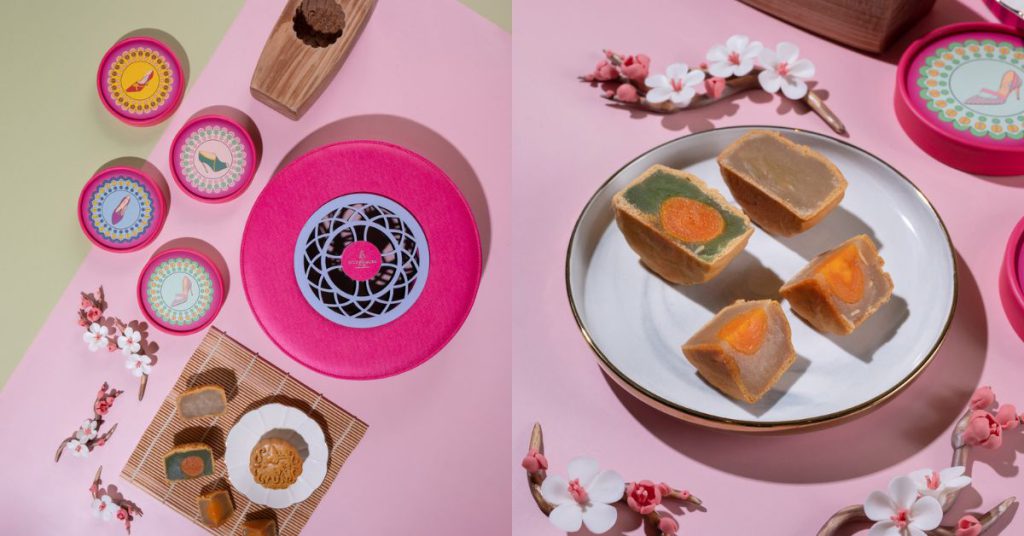 Packaged in an exclusively designed box by famed Malaysian shoe designer Jimmy Choo, this collection by Four Seasons Hotel comes in two types—Traditional Baked and Handcrafted Snowskin.
If the latter sounds like the ideal indulgence for you, just make sure you have a stomach for Malaysia's prized possession, the durian, as one of the flavours included is the Durian Musang King.
Other than that, the flavours included in the Handcrafted Snowskin mooncake set are White Lotus Paste with Seaweed and Macadamia Nuts, Valrhona Chocolate with Himalayan Salt and Single Yolk, as well as Trigona Rum Ki Tikki.
True to its name, the Traditional Baked Mooncake includes more traditional flavours. This includes Lotus Seed Paste with Single Yolk, White Lotus Seed Paste, Pandan Paste with Single Yolk, and Pu Er Tea Paste with Tangerine Skin.
Jimmy Choo's expertise truly shines in the beautiful gift box, which plays a big part in the presentation of the mooncakes.
The custom box features pink and lavender tones as well as some festive symbols. The round totem box and peacock origami pattern on it are Jimmy Choo's creative interpretations of the traditional Chinese custom.
Price:
Traditional Baked Mooncake – RM488
Handcrafted Snowskin Mooncake – RM588
Where to buy: Website
Contact: N/A
2. Shangri-La Kuala Lumpur's Over the Moon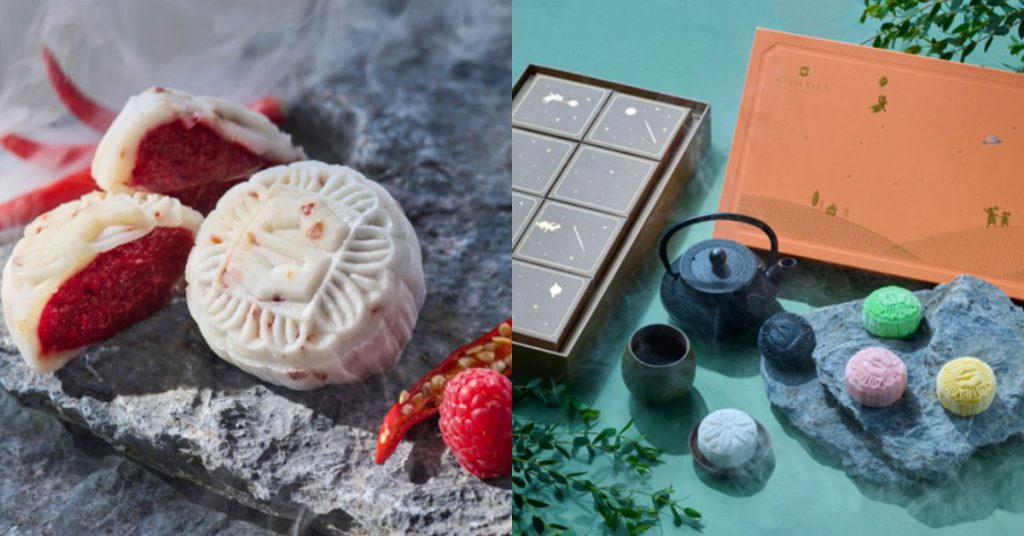 Shangri-La goes back to basics with their Over the Moon collection. Featuring minimalistic yet oh-so-elegant handcrafted baked and ping pei (snowskin) mooncakes, the boxes with golden details are simple and sophisticated, perfect for those who love subtlety.
The fillings combine both the classic as well as the new. For example, The Treasure Gift Box includes two pieces of each of the following:
Red Bean Paste (with 30-year-old dried tangerine skin), White Lotus Seed with Malaysian Hibiscus, Lotus Seed Paste Single Yolk Enriched with Summer Black Truffle, and Lotus Paste Shangri-La's Tie Guan Yin Tea and Single Yolk.
Shangri-La also offers snowskin mooncakes with flavours such as Shangri-La's Premium Musang King Ping Pei, Coconut Ping Pei, Black Sesame & Nutella Ping Pei, Strawberry & Yoghurt Ping Pei, Raspberry & Chili Padi Ping Pei, and Green Apple & Wasabi Ping Pei.
Yes, you read that right. Chili padi and wasabi in mooncake. Definitely extra points for uniqueness.
Other than the Treasure Gift Box, Shangri-La also offers a Premium Golden Gift Box includes two units of Lotus Seed Paste with Double Yolk, one Premium Summer Truffle Lotus Seed Paste with Single Yolk, as well as a unit of assorted nuts and sun-dried fruits.
The King of Mooncake Gift Box is perfect for durian lovers, as it includes six pieces of the Ping Pei Premium Musang King mooncakes.
Price:
Treasure Gift Box – RM388
King of Mooncake Gift Box – RM388
Premium Golden Gift Box – RM250
Individual traditional baked mooncakes – RM39 to RM43
Individual Ping Pei mooncakes – RM28 to 68
Where to buy: Website
Contact: +6019 390 2257 (Whatsapp), +603 2074 3560
3. Hard Rock Hotel Penang's Moonlight Serenade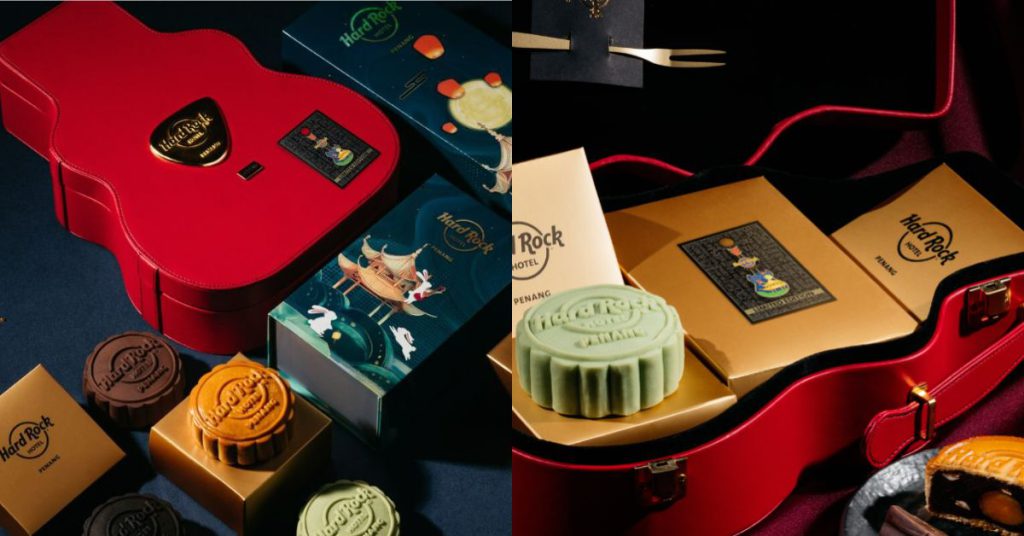 Packaged in an adorable guitar-shaped case, Hard Rock Hotel Penang puts a twist on their Moonlight Serenade mooncakes this Mid-Autumn Festival.
The limited-edition leather case is finished in a bold red hue. Only 500 sets of the case have been produced, making it extra exclusive. Inside the case, there's a set of golden utensils and four mooncakes.
The flavour options include: Pure Lotus Double Yolk (Less Sugar), Golden Charcoal Mooncake, Mixed Nuts, Tiramisu Walnut, Green Tea Lotus, Red Mean Single Yolk, and Double Chocolate.
Other than the case, Hard Rock has also released a Premium Mooncake Box that comes in a box adorned with elements of the Mid-Autumn Festival, albeit still Hard Rock- themed, of course. This box comes with four mooncakes of your preferred flavours.
Price:
Exclusive Mooncake Case – RM388
Premium Mooncake Box – RM168
Where to buy: Online, In store
Contact: +60 4 886 8015
4. The Westin Kuala Lumpur's Moon Rabbit Treasure Chest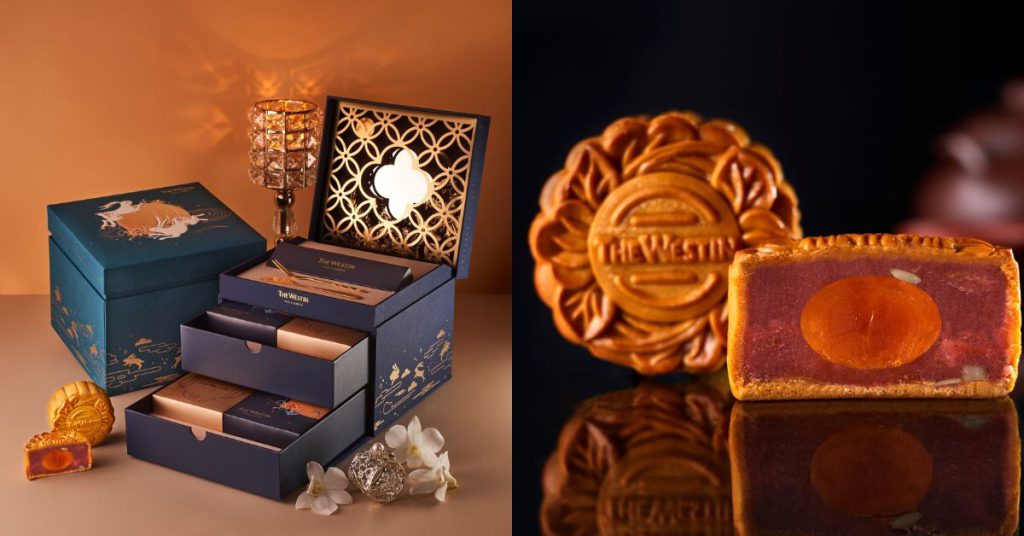 Introducing a whimsical tiered box that's designed to supposedly transport individuals back to the "old-world charm of lunar worship", the Moon Rabbit Treasure Chest collection is The Westin's take on Mid-Autumn celebrations this year.
The Treasure Chest comes in either teal or blue and depicts jade rabbits and celestial designs on the box. More intricate design details can be found inside the box, as well as a set of golden utensils.
Each box comes with four mooncakes with the following flavour options: Assorted Fruit & Nuts, Golden Emerald with Single Yolk, Lotus, Lotus with Single Yolk, Red Bean, Chocolate, Noble Delight with Single Yolk (Dragon Fruit), and Royal Fairy with Single Yolk (Osmanthus).
Price: RM238
Where to buy: In-store (make a booking first here)
Contact: +603 2773 8495
5. EQ Kuala Lumpur's Celestial Treasures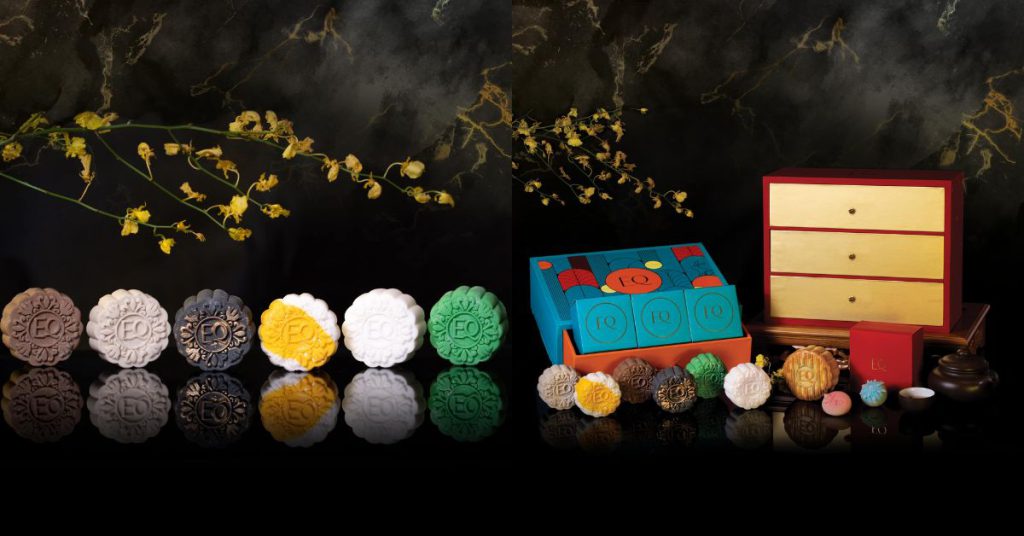 For this year's Mid-Autumn Festival, EQ has released two beautiful collections of mooncake treats.
These collections consist of not just traditional baked mooncakes as well as snowskin mooncakes, but also unique handcrafted nerikiri wagashi, a kind of Japanese confection.
Decorated with cyan and orange-toned packaging, the Longevity Collection comes in three options: four traditional baked mooncakes, six snowskin mooncakes, or six handcrafted nerikiri wagashis.
The Autumn Jade Collection comes in a lovely tiered red and gold box with drawers you can pull out to reveal the treats.
This set also comes in three options. It can come with four traditional baked mooncakes, six snowskin mooncakes, or six handcrafted nerikiri wagashis.
Each option in the Autumn Jade Collection comes with two premium teas—pu'er and jasmine.
EQ offers so many different flavours, so we had to break it down in a table for you:
Traditional Baked Mooncakes 
– EQ Signature Pearl of Harmony
– Low Sugar White Lotus Single Yolk
– Traditional Cantonese Mixed Nuts
– Pandan Lotus
– Tiramisu Red Bean
Snowskin Mooncakes
– Golden Charcoal Musang King Durian
– Emerald Yuzu Pandan
– Mint Chocolate, Hawaiian Nut
– White Lotus Seed Paste, Pistachio, Sour Plum
– Red Bean Paste, Green Tea, Tangerine Peel
– Black Sesame Paste, Coconut Lava
Nerikiri wagashi
– Needle flower and rabbit: Citrus Adzuki-flavoured
– Butterfly and windmill: Matcha Pistachio
– Lantern and rabbit: Yuzu Passion Fruit.
Price:
Longevity Collection – RM198 (Traditional Baked), RM238 (Snow Skin), RM338 (Wagashi)
Autumn Jade Collection – RM 268 (Traditional Baked), RM288 (Snow Skin), RM388 (Wagashi)
Where to buy: In-store at EQ, Kampachi and IPPUDO Restaurants, AICB Building's Thyme Out Café, Centre Court in Pavilion KL
Contact: +6012 278 9239 (WhatsApp)
6. Banyan Tree Kuala Lumpur's Moonlight City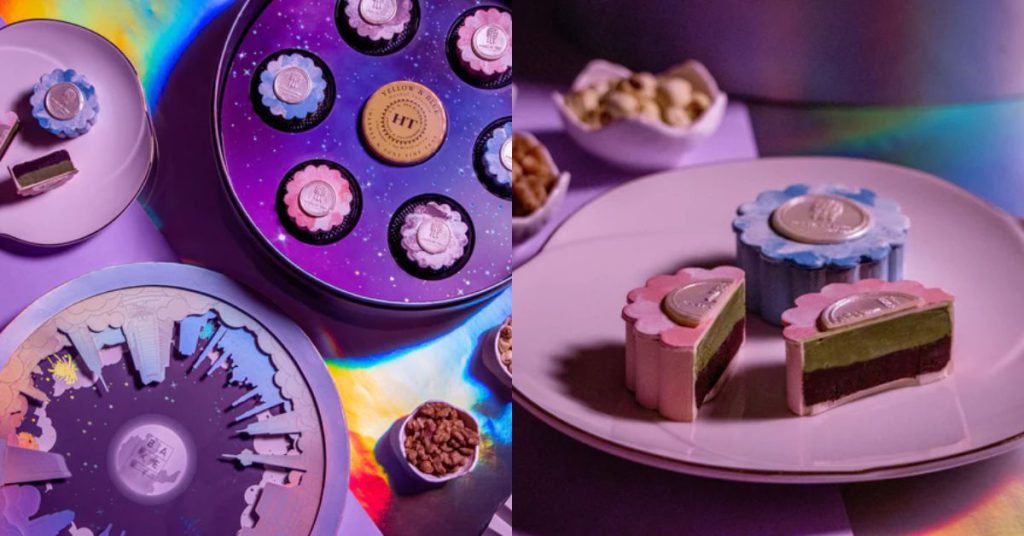 An iridescent sight to behold, Bake by Banyan Tree has reimagined Mid-Autumn Festival to depict Kuala Lumpur's cityscape in a set, to a starry night on its packaging.
Within the glittery packaging, six pieces of chocolate mooncakes can be found. The range of fillings include Green Tea Red Bean, Coffee Caramel Walnut, and Lotus Paste.
Other than the mooncake, the box also includes a tin of Yellow & Blue Herbal Infusion Sachets by Harney & Sons Fine Teas, which is a combination of chamomile, lavender, and cornflower.
Price: RM352
Where to buy: Website
Contact: +6012 288 2135