Recently, a Facebook post from social media user Siti Na'imah Mohamed went viral for all the heartwarming reasons. 
The post consisted of two images of a personal letter from a Mr Lee Hui Sen.
The letter, which was addressed to the home owners of a residence which was on auction, read:
"I am Lee Hui Sen, the purchaser of the auctioned home in which you are living in now. I apologise for purchasing your home and I must have caused unnecessary worry upon you and your family. The other day, my family and I went to your home and I saw some children's clothing outside the home.
With this, my family and I did not have the heart to ask you to leave after we have purchased your home. My family has made the decision to no longer pursue the home although we have already paid 10% to the High Court (RM44,500). We may lose the amount of money but the money would be going towards your bank account. We hope that this might be of help to you.
Despite that, you should discuss with the bank to restructure your loan, or the home will be on auction soon. You should discuss with the bank to lengthen the installment so that you can decrease each monthly amount to your own personal capability.
As a personal advice, if possible, you should also dispose of the old plants and flowers at the side of your home so that it would look neater, and good energy can then flow in. Also, most importantly the thorny tree beside your home. Good luck and have a nice life, forever to you and your family."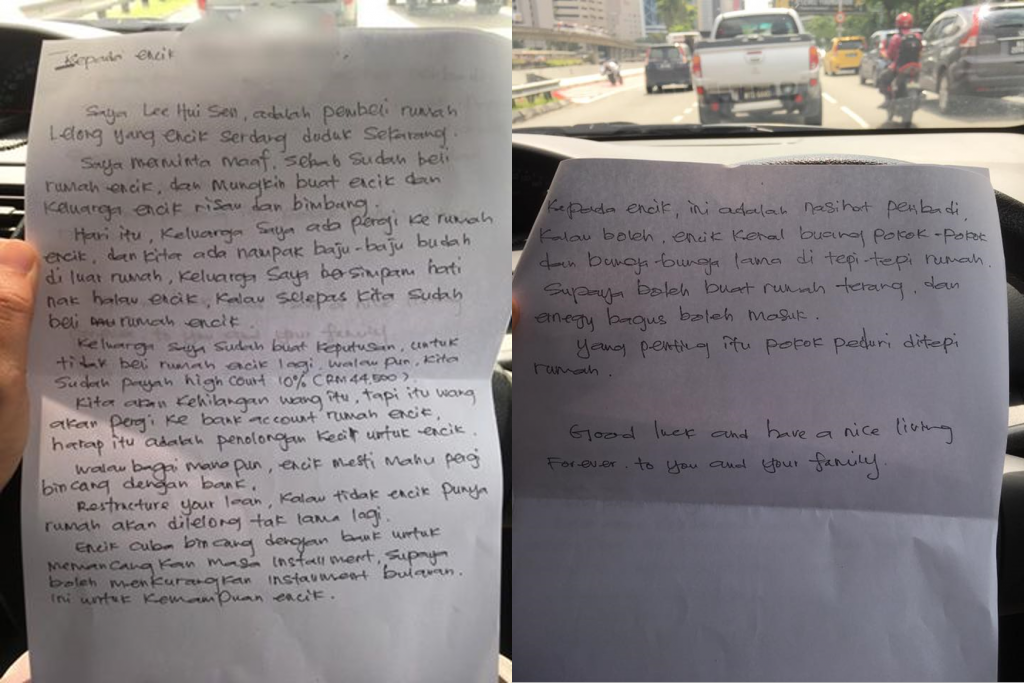 This heartwarming letter shared during this festive season of kindness and giving certainly warmed netizens' hearts.
One Facebook user shared, "What a super good man! In times of bad economy, we still have angelic souls like this!"
Another noted, "Although he is of different faith, his love for others is certainly above and beyond. Here's to wishing him a life full of success. Thank you Mr Lee Hui Sen."
At a time where there are personal struggles all around due to poor economy, it is amazing to see hearts of gold who are willing to go above and beyond for others!
Feature Image Credit: Siti Na'imah Mohamed