Feel like getting your hands dirty and devoting yourself to a world of ribs? Just imagine warm and sticky ribs that you can't wait to get your hands on, with some sticky yet delicious BBQ sauce coating the rib, offering multiple flavours from sweet to savoury.
There's also the taste of spices that you would definitely lick off your fingers, till it's clean and there's nothing left on it! Just imagine this: ribs that are so tender that the meat separates from the bone easily. Got you salivating yet? Well, let us bring you on a ribs' ride, with finger licking goodness you will want to have all to yourself.
1. Naughty Nuri's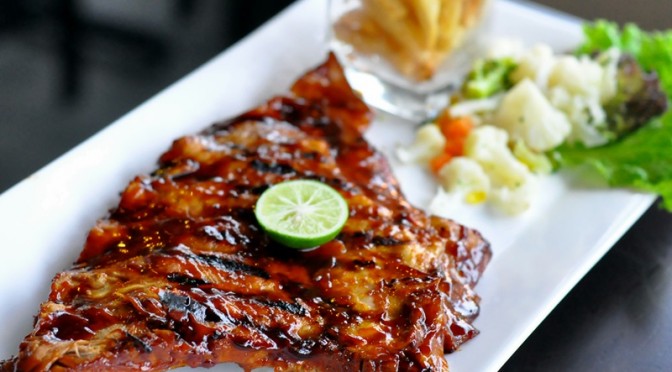 Naughty Nuri's serves pork ribs that you would not forget and definitely will re-visit after you have tried it once. Naughty Nuri's is a Balinese restaurant that serves their signature char-grilled ribs. You would not want to miss this if you are craving for a good rib that you could easily peel the meat off the bones.
The rib that is coated with a layer of sticky, savoury and sweet BBQ sauce will make you lick your finger clean right after you finished one. You might not get to visit Bali, but in the meantime, you could definitely get the Balinese sensation from Naughty Nuri's!
Available at several locations nationwide.
2.Pink Belly @ Lorong Kurau, Bangsar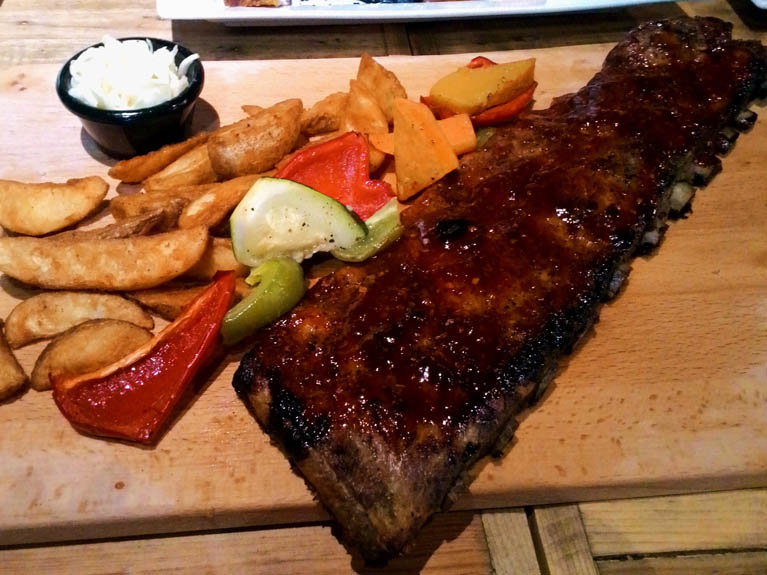 If you are a pork lover, then you will fit right in at Pink Belly. You'll wish you could just stay there and try all the dishes on their menu. Pink Belly serves different pork dishes but their pork ribs are definitely worth a try. The BBQ sticky pork ribs are tender enough that you could eat it with your fork and knife without putting much pressure on slicing it through.
Their pork ribs are served in a portion good enough to share, and you should definitely go with some friends or family, or you will definitely leave Pink Belly with a full stomach!
Address: No.1, Lorong Kurau, Taman Bukit Pantai, Kuala Lumpur 59100.
Hours: Open daily for lunch and dinner.
3.  Outback Steakhouse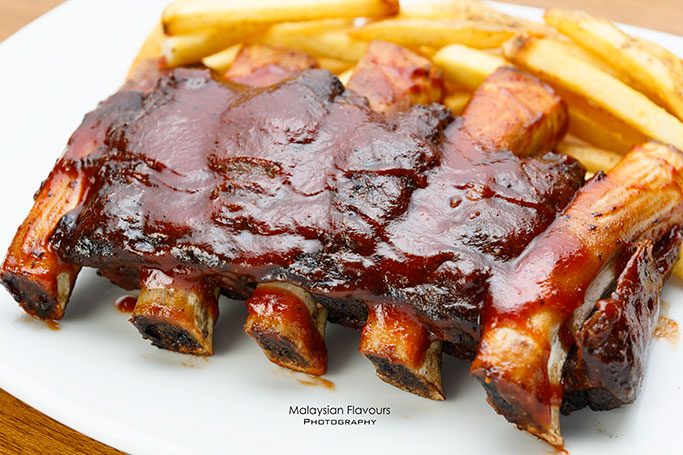 Outback Steakhouse serves the yummy, scrumptious American-style food in their restaurant. Their most popular dish for their main course is definitely the BBQ beef ribs. If you are looking for beef ribs instead of pork ribs, Outback Steakhouse is definitely your choice to go for.
The beef ribs are smoked and grilled to perfection and you could certainly taste the sweet-smoky BBQ sauce with its tender meat. You would not want to miss this out when you are looking for beef ribs that are coated with a delicious and well-balanced BBQ sauce.
Available at several locations nationwide.
4. Three Little Pigs & The Big Bad Wolf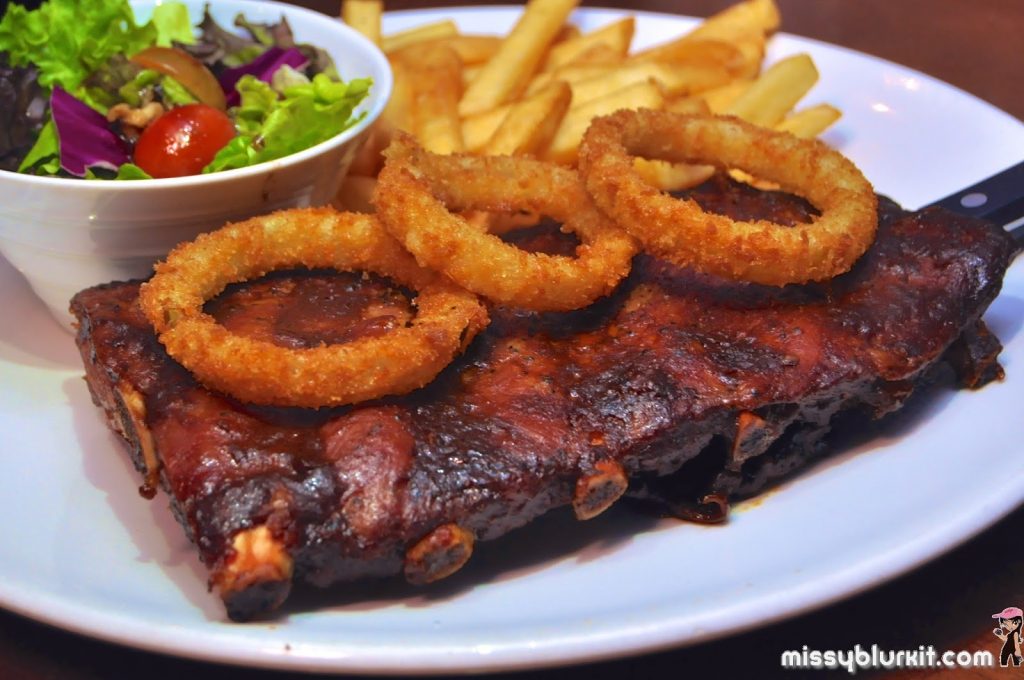 Three Little Pigs & The Big Bad Wolf is another restaurant that serves different kinds of pork dishes. Here are their delicious pork ribs that you should not miss out when you visit the restaurant. The Glazed BBQ Pork Ribs is served with some salad, fries and onion rings.
It brings about the right amount of nutrition, so you don't have to worry about eating just meat alone. Their pork ribs are imported from the USA and are cooked till perfection, where all you need is to get your hands dirty when you eat. You won't even have time to think about how many carbs you have to burn when you hit the gym the next day – that's how good it is!
Available at several locations nationwide.
5. Morganfield's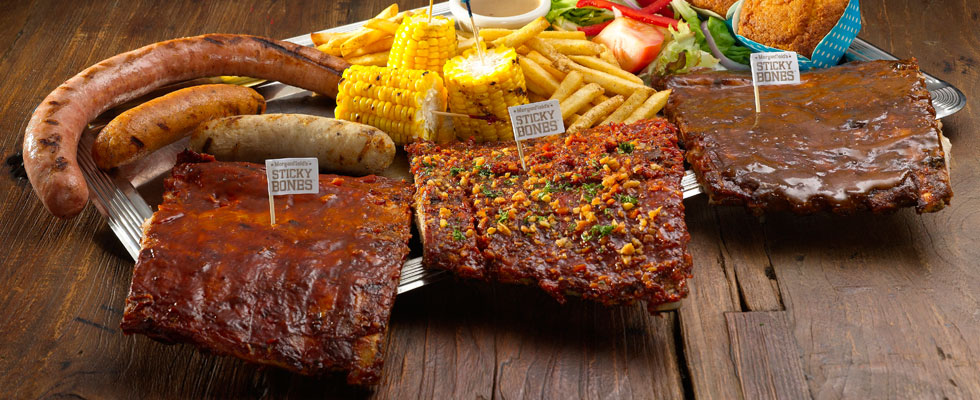 Morganfield's serves ribs as their main course. You could see ribs with different coated sauces in Morganfield's. When you visit Morganfield's, it is definitely a great place for you to hang out with your friends or family, as all their dishes are usually in a big portion that is suitable to share with a large group.
You will get to taste different flavours of ribs when you order a sharing platter. However, Morganfield's does offer sticky bones as well, whereby you can just try out one single flavor. The tender meat coated in the yummy BBQ sauce is something you will be willing to eat up all on your own, and not feel guilty at all about it!
Available at several locations nationwide.
Website: Morganfields 
Feature Image Credit: www.omid.com.au