The culture of eating healthy has experienced a significant boost over the past couple of decades, and vegetarianism/veganism is reeling in more and more people to join its fold with the enticing promises of keeping fit, being animal-friendly, and only consuming all-natural food.
With the number of vegetarians and vegans steadily on the rise, it has become increasingly easier for us to find vegan-friendly food options in supermarkets, eateries, and even being sold online. If you're living the veggie lifestyle, or are interested in giving it a try, the following restaurants that serve awesome vegetarian/vegan food should definitely be on your list:
Ashley's by Living Food, Bangsar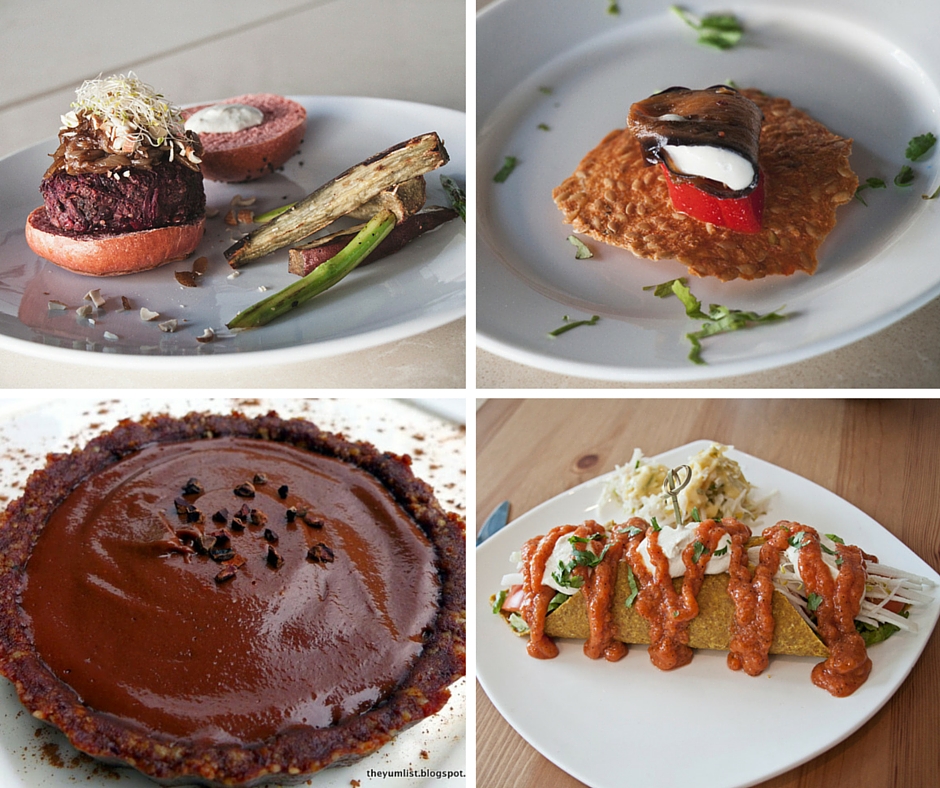 This eatery has something on the menu for everyone, whether vegetarian, vegan, or not. They make everything used on their menu in-house, including their flour and bread, to ensure that all the ingredients are fresh, healthy, and retaining their natural nutrients. Their meals are all clearly labeled 'raw', 'vegan', 'vegetarian' or 'carnivore', so you won't have to worry about what's in them.
For starters, their Living Pulled Eggplant is a much raved-about dish of raw eggplant marinated in chili and sliced paper-thin, stuffed with silky nut cream, and laid atop roasted red peppers and a crispy flaxseed disk. Mains include their cult-favourite raw enchilada, Red Vege burger (the patty is made of beets, mushroom, and quinoa, hence the dark red colour), and their own version of a ratatouille, with layers of cheese and pasta in a creamy pumpkin ratatouille sauce.
Don't forget their heavenly desserts, especially the jaw-droppingly amazing raw chocolate tart. Who would've thought eating healthy would taste so good?
Ashley's by Living Food, 11 Jalan Telawi 3, Bangsar Baru, 59100, Kuala Lumpur
Hours: 11am-11pm on Mon-Thurs, 11am-11.45pm on Fri, 9am-11.45 om Sat, 9am-11pm on Sun
Tel: +6017-325 3663
Website: http://www.ashleys.my/
The Origin, Ampang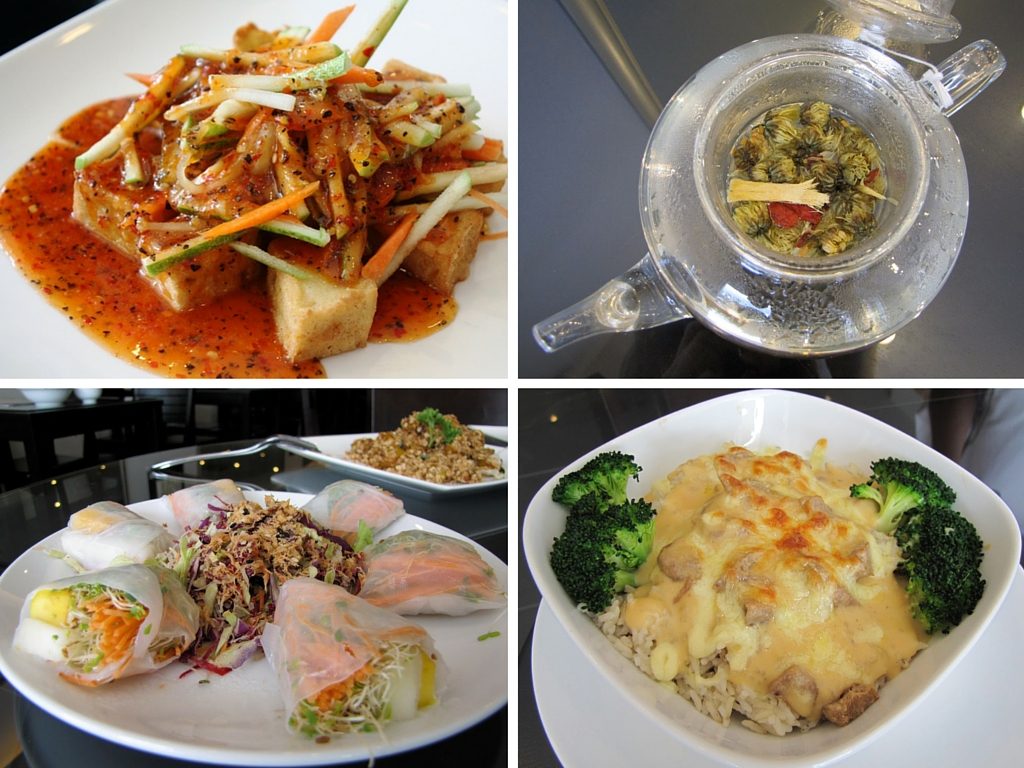 If fusion food is more up your alley, then check out highly-rated The Origin in Ampang. Serving up your favorite local cuisine, albeit in animal-friendly form, they attract the vegetarian crowd with their garlic and onion-free cooking, mock meats made from soy, and locally-sourced, fresh ingredients in their dishes.
This fully vegetarian restaurant, with plenty of vegan options to choose from, specializes in traditional Chinese, Malay, and Thai cooking (many of the recipes come straight from grandma). Their baked cheese rice, assam laksa, tempeh rendang, and pumpkin tofu with passionfruit sauce comes highly recommended from past patrons. Drinks-wise, they specialize in several flower teas and fresh fruit juices, and their matcha soy shake doesn't disappoint.
Many have dubbed this the 'best vegetarian restaurant in KL', so don't take that lightly and drop by if you feel like having some healthy meals!
The Origin, No 8, Jalan 1/67B, Off Jalan Mengkudu, Ampang, 55000 Kuala Lumpur
Hours: 11.30am-3.30pm, 6pm-9.30pm on Tues-Sun
Tel: +603-4253 5388 / +6016-291 3000
Website: http://originvegcafe.com/
Organica Lifestyle, Bangsar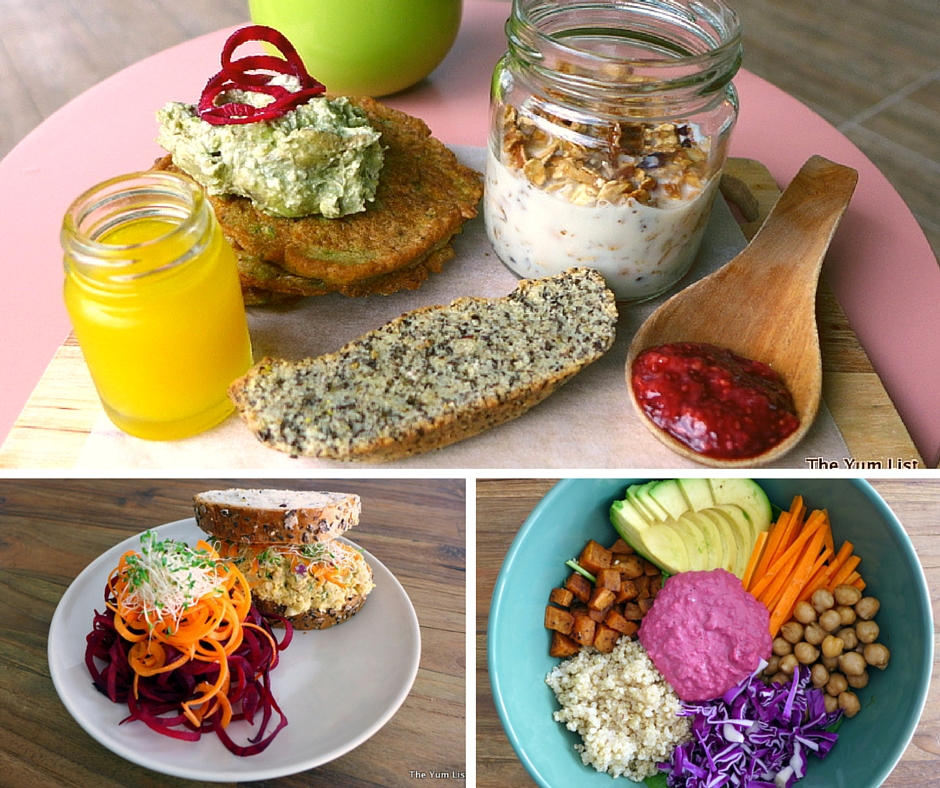 This fully-vegetarian restaurant has a very cozy feel and will make anyone that walks through their doors instantly feel at home. Just recently moved into a bungalow house in Bangsar, Organica Lifestyle creates wonderfully vibrant and fresh dishes that are not only easy on the eyes, but also on the tongue.
Their zucchini and carrot fritters, reminiscent of hash browns, have been gushed about so much on the Internet, as well as their creamy mashed avocado and feta cheese that packs a real flavor punch. They also have brightly-coloured vegan bowl, a smorgasbord of fresh ingredients like chickpeas, sliced avocado, quinoa, red cabbage, and a lively purple salsa-style sauce that is as Instagrammable as it is healthy.
Also try out their smashed chick pea sandwich, a chunky blend of mashed chick peas, dill, turmeric, onions, and sea salt within thick slices of bread, that's easy and quick to chow down if you're in a rush. They're rolling out a new menu soon, so stay tuned to their Facebook page for more info! Besides selling hot meals, Organica Lifestyle also organises classes, workshops, and sells other health food too, so check them out if you're interested!
Organica Lifestyle, 66 Lorong Maarof, Bangsar, 59000 Kuala Lumpur
Hours: 10am-5pm, Tues-Sun
Tel: +6012-704 8565
Website: www.organicalifestyle.com/
Simple Life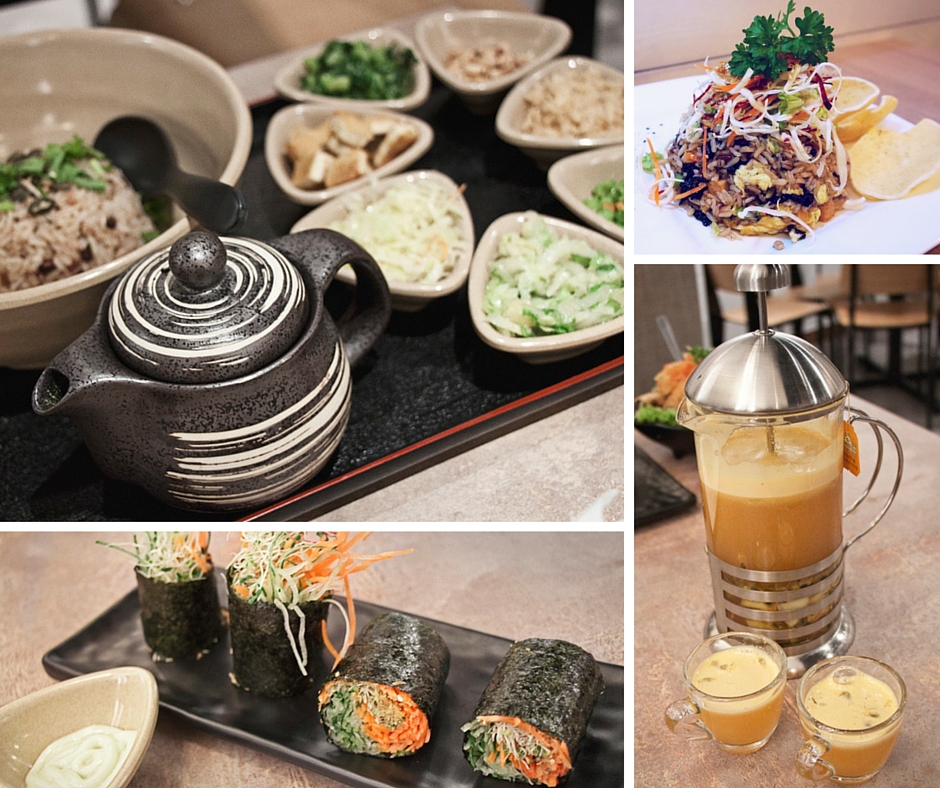 This booming franchise in KL (which now has over 10 outlets city-wide), proudly serves vegetarian meals made with organic and all-natural ingredients, all the while avoiding MSG, preservatives, and trans fats like the plague. They incorporate dishes from all corners of the globe, with Malaysian, Italian, and Japanese influences in their cooking.
Not only are they fully vegetarian, but some of their dishes are vegan too! Their wide range of items on the menu will have something for everyone, and their own versions of our favourites like brown rice nasi lemak, vegan laksa, and organic lei cha taste just like the originals.
Also coming highly praised is their mixed fruit tea, a warming blend of peach and passion fruit tea with chunks of orange, passionfruit, pineapple, watermelon, and apple for some bite. Seeing as most of their outlets are located within malls in the Klang Valley, this option will be one of the more accessible ones on this list.
Available at multiple outlets nationwide.
Website: http://www.simplelife.com.my/
RGB & The Bean Hive, Jalan Damai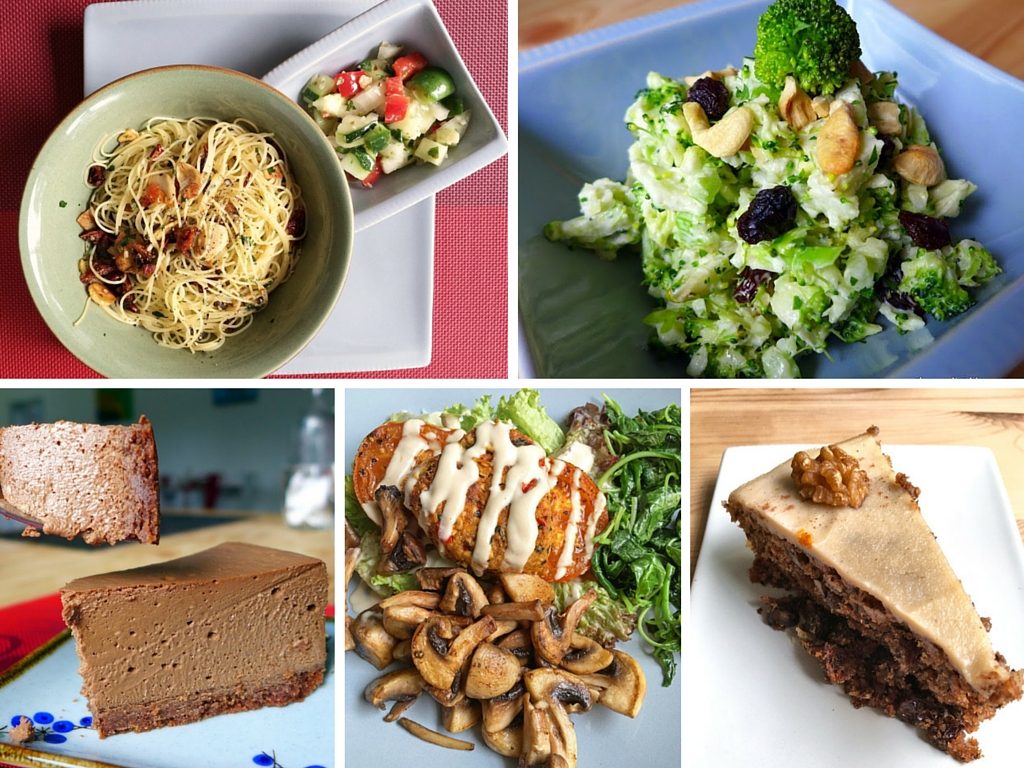 This discreet café will make your little green hearts flutter with delight, as their vegetarian menu consists of scrumptious meals to appease your hungry stomachs. Their dishes are neatly labelled as 'vegan', 'Buddhist vegan', and 'gluten-free', and their delectable offerings will fill you right up.
Popular dishes include their eggplant pesto pasta, creamy pumpkin soup, tempeh-version of a BLT, and the colourful Thai basil and tofu fried rice. Don't miss out on their sinful desserts, especially the Moroccan orange spice cake (drenched in citrus syrup no less), mocha cheesecake infused in heavy coffee flavour, and richly dense chocolate brownies. And of course, have a cup of coffee here, seeing as that's probably what RGB is most well-known for!
RGB & The Bean Hive, 35 Jalan Damai, 55000 Kuala Lumpur
Hours: 9am-4pm on Mon, 8.30am-4pm on Tues-Fri, 9am-6.30pm on weekends
Tel: +603-2181 1329
Website: https://www.facebook.com/RatherGoodBeans/
Dharma Realm Guan Yin Sagely Monastery, Jalan Ampang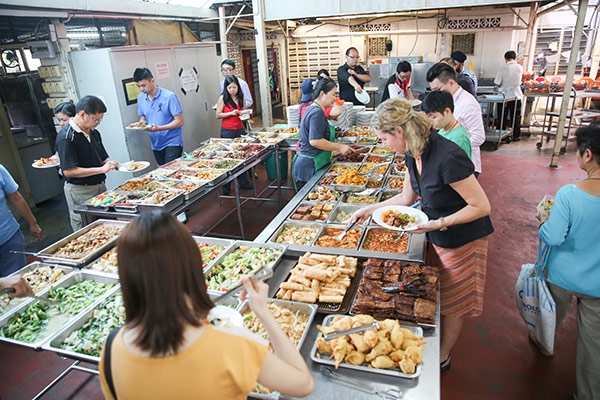 Heaven really is a place on earth for broke vegetarians, and it's at this monastery at Jalan Ampang. It's not glamourous, but their extensive assortment of dishes that you can choose from (upwards of 50 on some days) is not only delicious, but also extremely affordable, so you can pile on those veggies and not have to worry too much about burning a hole in your wallet. Don't worry about preservatives and MSG either, because their food is free from any of that bad stuff.
Choose from various vegetable dishes, noodles, mock meats, soups, and anything you'd ever want to eat from a vegan joint like this. A mountainous plate of food shouldn't set you back more than RM10, as this monastery doesn't sell for profit, hence their prices are significantly cheaper than other cafeterias like it. Avoid this place during weekday lunch hours though, as it's a popular lunch spot for nearby office workers and it'll be pretty busy then.
Address: 161, Jalan Ampang, Kuala Lumpur.
Hours: 11am – 2.30pm on weekdays
As proven by this list, veggie cuisine isn't just boring greens and raw food, but it can actually be scrumptious, complex dishes that will give any regular restaurant dish a run for its money. Even if you're not vegetarian/vegan, you should give these places a go. Who knows, it might even convince you to take the leap into being meat-free!