There is an unspoken obsession among millennials for anything and everything rainbow. We may not talk about it often, but we certainly lead our lives with our best unicorn foot forward. Whether we wear it loud in our outfits or hair, or subtly upload snapshots of colourful dishes onto our Instagram account, it's without a doubt that rainbow is the way to go.
Here are 7 cafés that wisely incorporated colourful desserts into their menu, because, why not?
1. Aether Café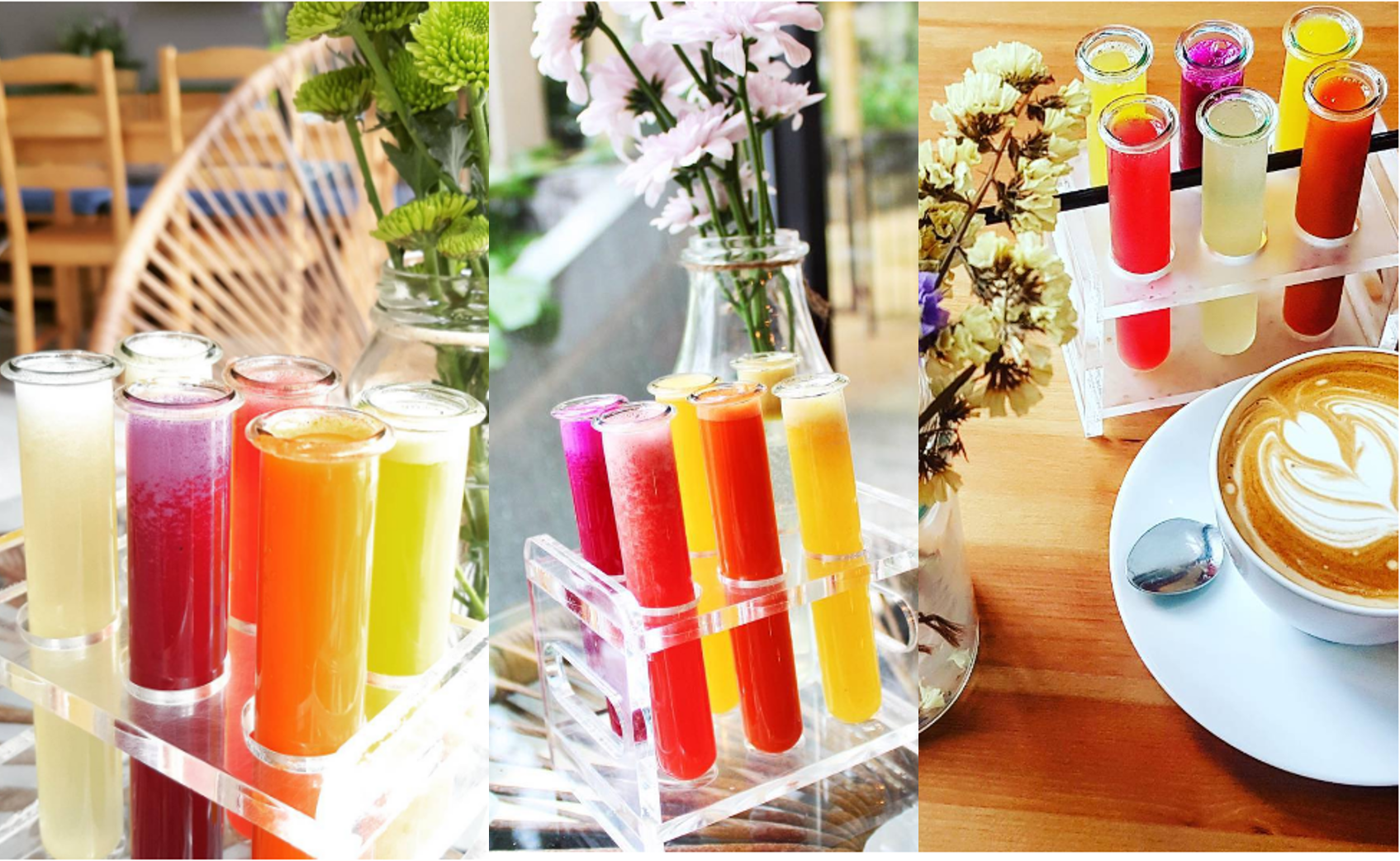 Nobody said that shots had to be unhealthy. At Aether Café, picture perfect nutrition is their priority. I mean, where else in Malaysia would you find apple sandwiches?! Their rainbow shots would make you feel like you're doing your body a favour and they are essentially fruit juices in a test tube. This allows you to sample different fruits such as apple and pineapple, without having to commit to an entire glass of it.
Address: Unit G1, Office Block Pusat Kreatif Kanak Kanak, Tuanku Bainun 48, Jalan Tun Mohd Fuad, TTDI.
Tel: 03-2856 0416
2. Hello Kitty Gourmet Café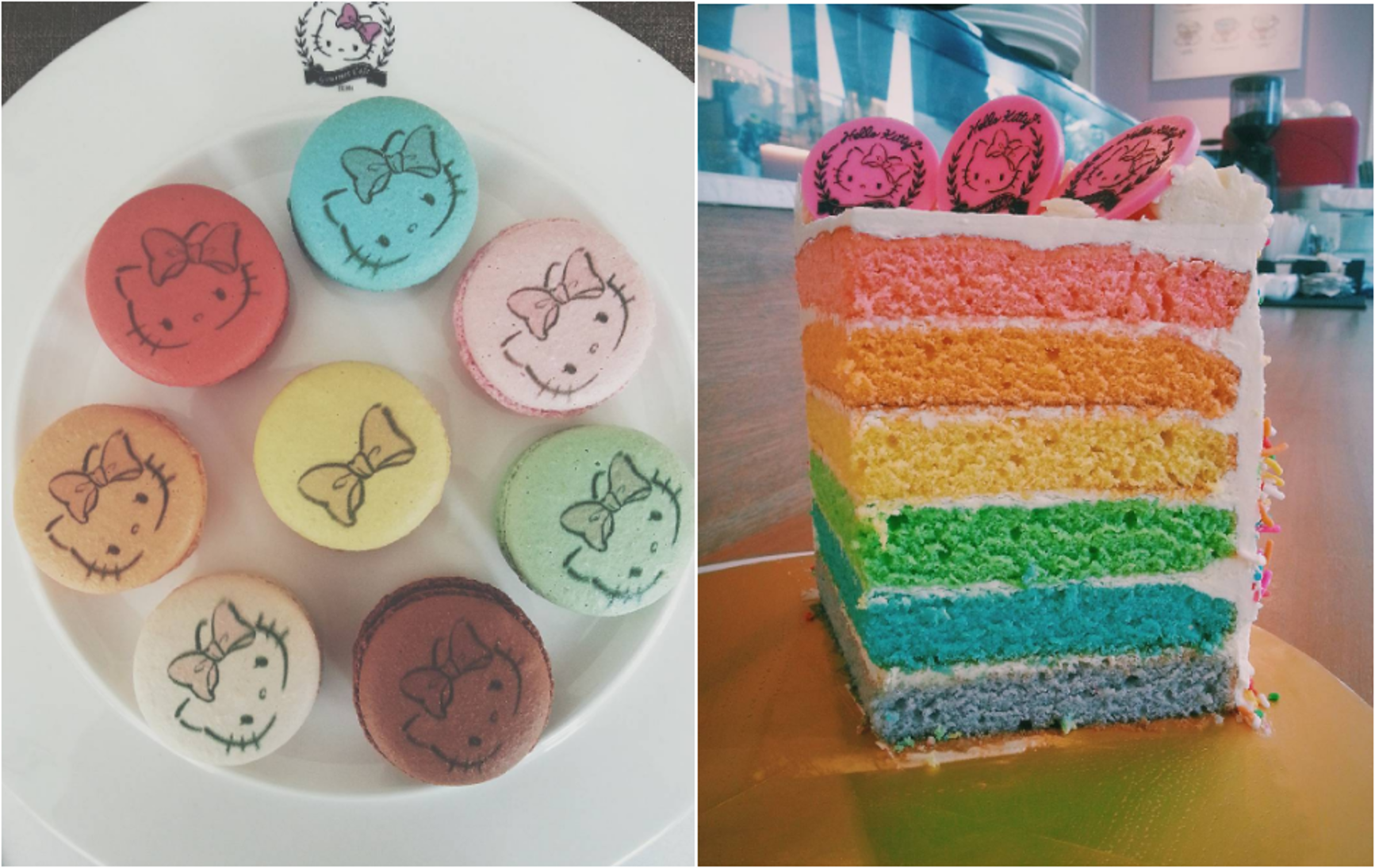 In Hello Kitty's home, one should not expect anything less than a 24-7 rainbow party. And that's what you'd get here. The café doesn't stop at multi-coloured macarons, they make rainbow cakes too! These standout rainbow dishes are further complemented by other meals which are nothing short of colourful either.
Address: Lot 083.F.6, Oasis Boulevard, Sunway Pyramid.
Tel: 03-5612 7703
Website: http://hellokittygourmet.com.my
3. Magnum Café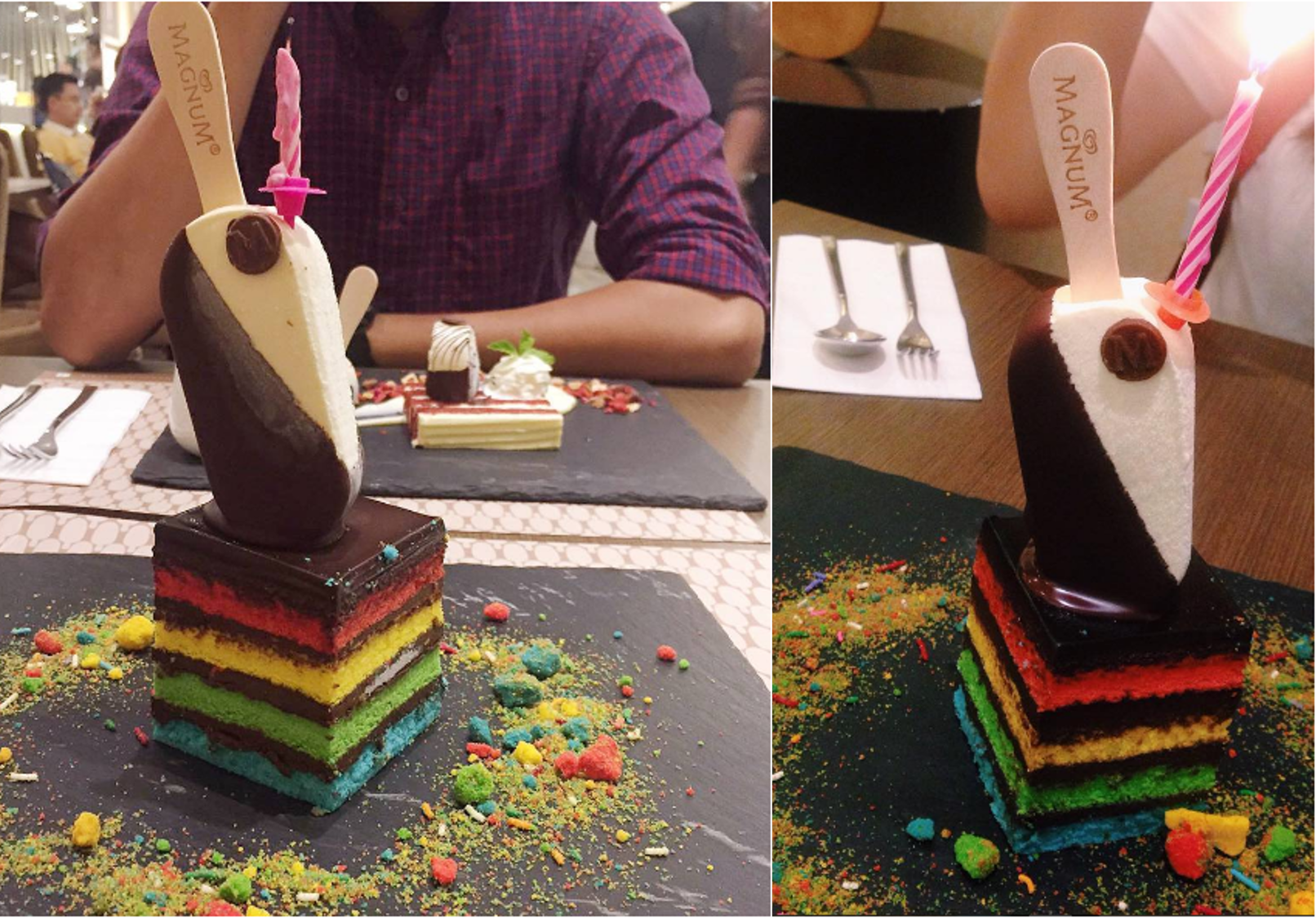 Who doesn't love tucking into a sweet and decadent dessert after a long hard day at work or school? Ice cream is often the go-to dessert and Magnum knows this thought far too well. That is why they wisely paired the classic ice cream with a layered rainbow cake. The dessert is complemented with crushed colourful cereal, making it a mouth-watering dish not to be missed!
Address: T-023, 052 & 053, Megamall, Mid Valley Megamall.
Hours: Daily, 10am-10pm.
4. Ahoy Café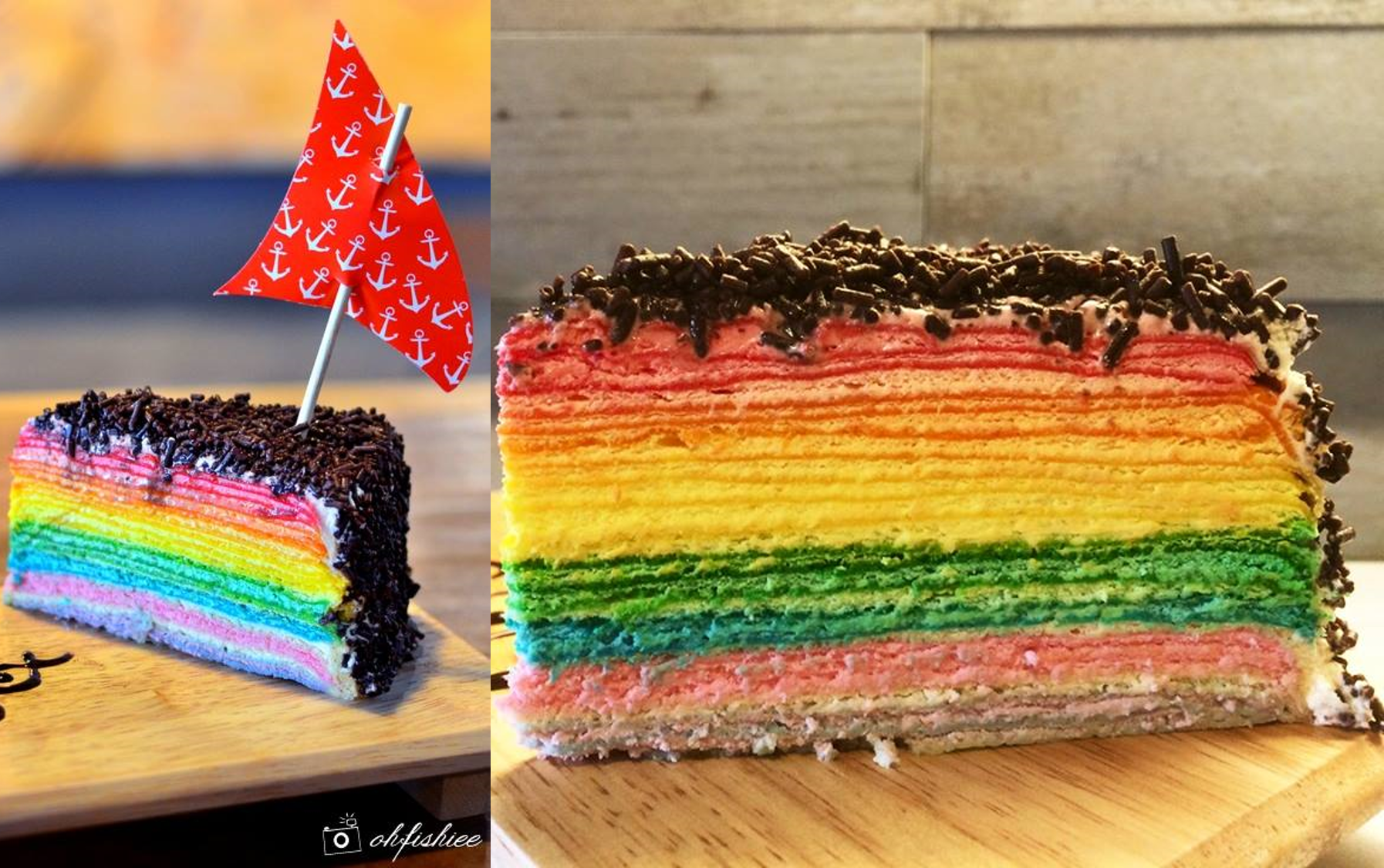 This café might have its main meal fare, but it's clear that their desserts are standouts. Chocolate molten lava cakes, red velvet lattes, peanut butter blueberry cheesecakes and of course the signature rainbow mille crepe are what you would find at Ahoy. The rainbow mille crepe dessert with its exterior cream layer makes for a rich dessert that is Instagram-worthy and fills the tummy at the same time.
Address: 74, Jalan SS 15/4, Subang Jaya.
Tel: 019-914 1334
5. Lepaq Lepaq Café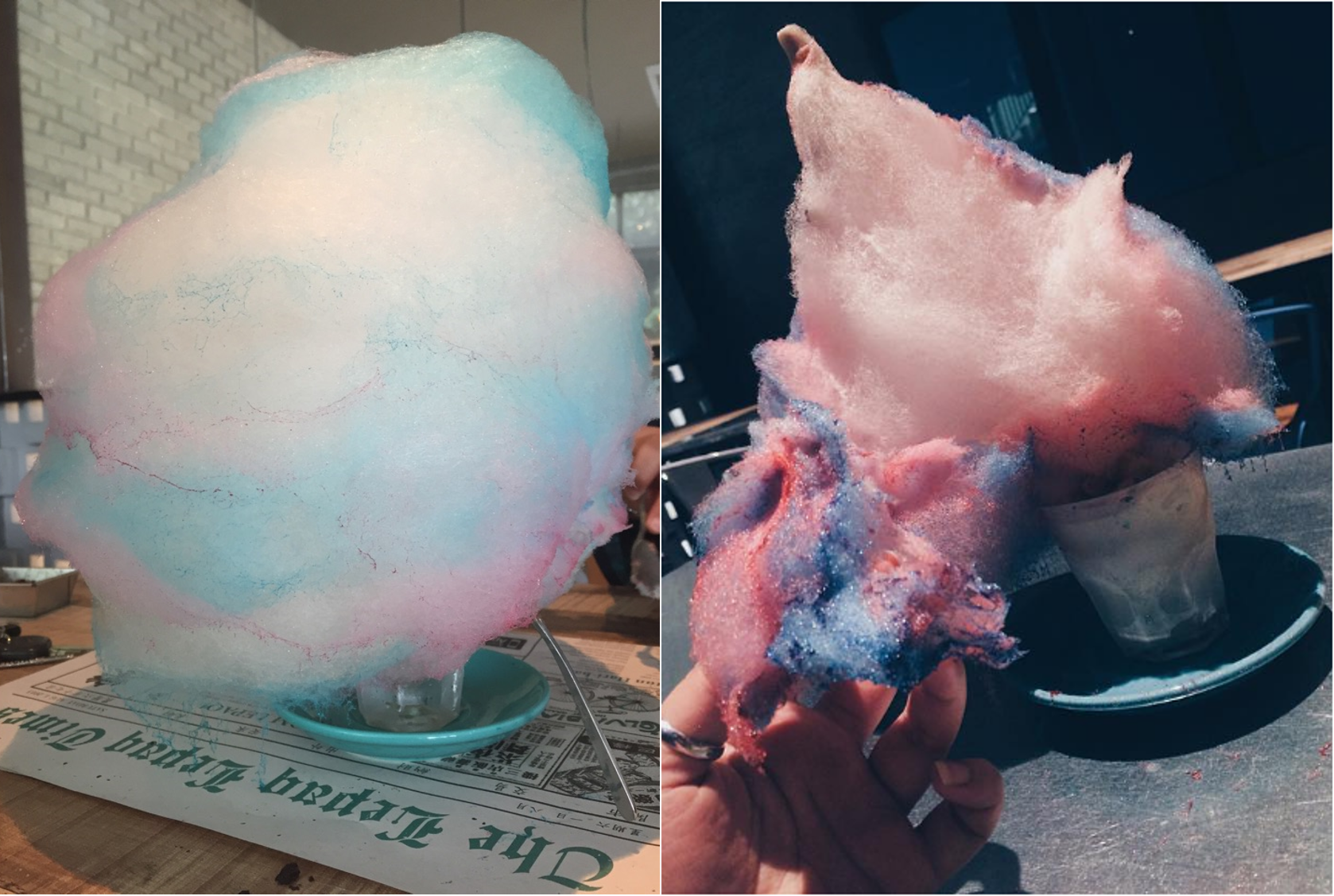 Perhaps there is a correlation between cotton candy and happiness. It is a treat often sampled at the carnival and it has a sense of playfulness to it. Hence, when Lepaq Lepaq decides to dye their cotton candy, known as the Signature Rainbow Dessert with splashes of red and blue, it becomes a mixture of rainbows and clouds – the perfect treat to have at any time of the day.
Address: 57, Jalan Ceylon, Bukit Ceylon, 50200 Kuala Lumpur.
Hours: Daily, 10am-10pm.
Tel: 03-2022 2293
6. Bowery Petit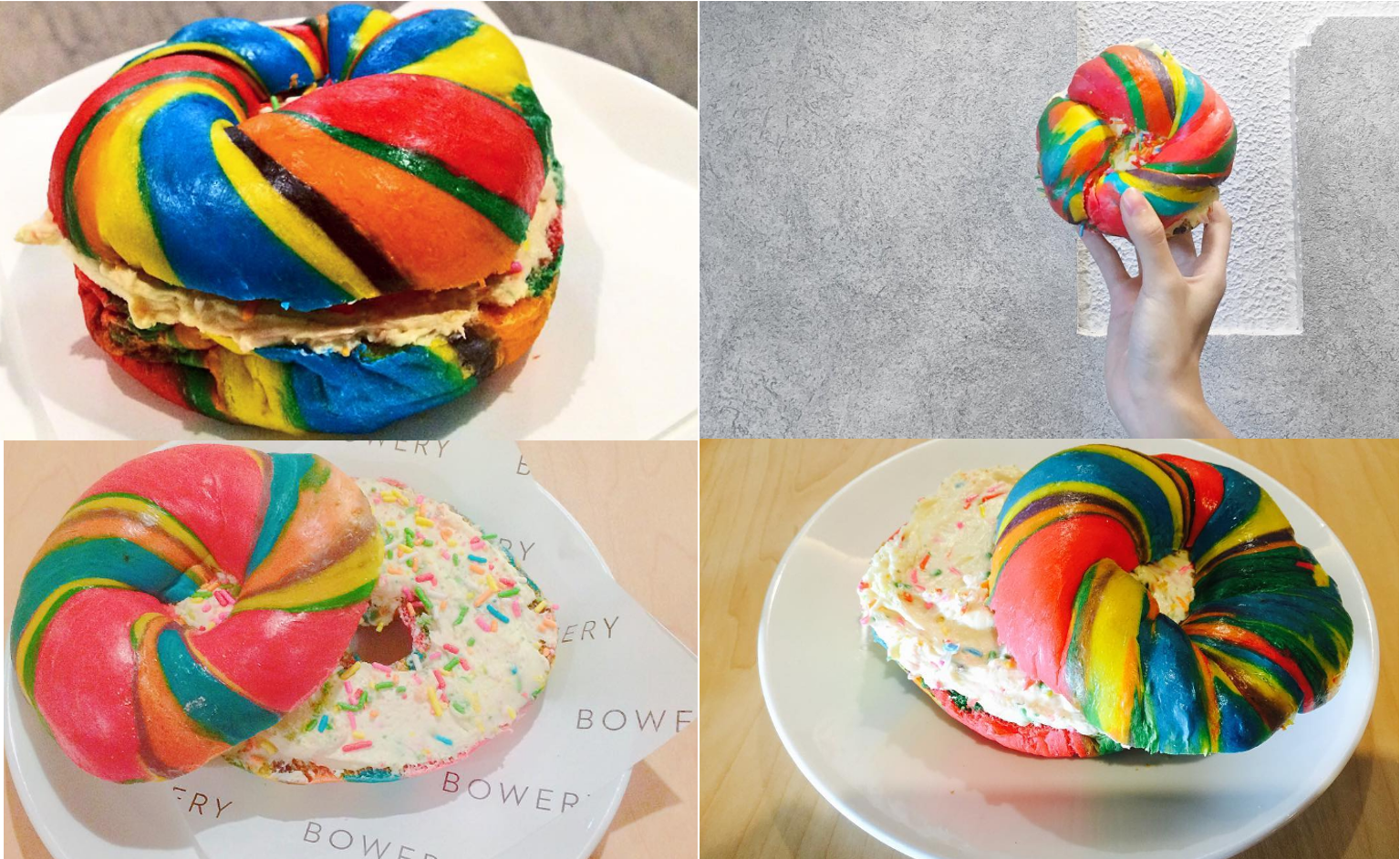 Swirls of fun, bright colours made the rainbow bagel at Bowery Petit an instant Instagram hit. Everyone wanted to document their rainbow discovery and we wouldn't blame them. After all, the rainbow bagel with its creamy centre, sprinkled with hundreds and thousands, wasn't just a feast for the tummy – it was also a feast for the eyes.
Address: 48, Persiaran Zaaba, TTDI.
Hours: Daily, 8am-11pm.
Tel: 03-7710 0295
Website: http://www.thebowerygroup.co/
7. Soft Launch Café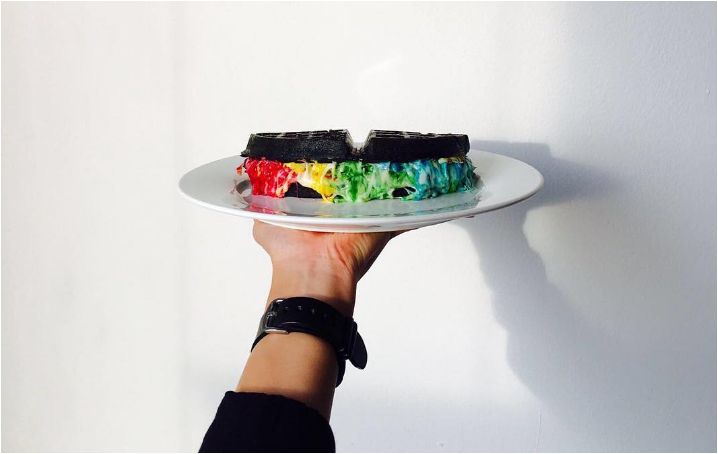 Stop what you're doing now and head right over to Soft Launch Café. Why? That's because this rainbow mozzarella cheese waffle is only available for the month of August. The special treat concocted by the culinary minds behind this eatery have mentioned that the rainbow waffle will only be available during this month, but perhaps if a swarm of hungry rainbow-lovers rush over to sample their waffles, they just might extend that duration. Who knows? One could certainly hope.
Address: 101-1, Jln Radin Bagus, Sri Petaling, 57000 Kuala Lumpur.
Tel: 03-9054 8686
Feature Image Credit: Soft Launch Café, Ahoy Café, @t.u.u.zam, @thewjiexyx