I'm sure that all of us have seen those towering, monstrous, messy milkshakes on the Internet before, overflowing with an overload of toppings, sauce, and whipped cream, and probably impossible to go through on a single sitting by yourself. These freaks of nature are aptly names 'Freakshakes', and they originated from the pioneers of the creative food scene, Australia. If you've always wanted to try one out for yourself, plenty of cafés in KL are starting to whip up their own versions of these monster milkshakes, so grab a friend (or two), head to these eateries and order up your own freakshakes:
Garage 51, Bandar Sunway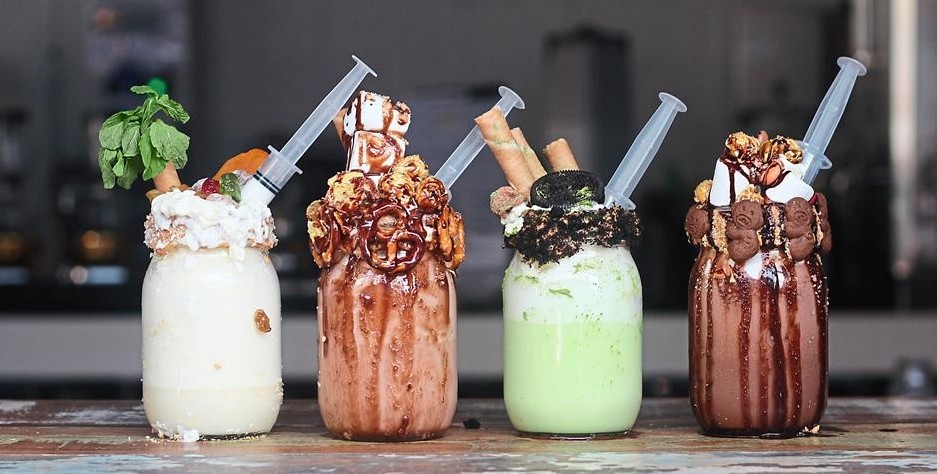 One of the first places in Malaysia to introduce their own version of freakshakes, Garage 51 by CoffeeSociete in Bandar Sunway proudly serve their Messed-Up Family, an array of monster milkshakes to suit anybody's tastes. Their ultimate crowd-pleasers are definitely The Son (chocolate hazelnut milkshake with Nutella, salted pretzels, popcorn, marshmallows, and cream), or The Cousin (salted caramel milkshake with a brownie, cornflakes, marshmallows, pretzels, and a boatload of whipped cream). They even have seasonal flavours like a bandung milkshake during Raya season (with a whole curry puff sticking out at the top!) and a special Halloween concoction complete with gummy worms and Mamee noodles (?). Their milkshakes have proven super popular over the past year or so since they've been introduced, so give them a try yourself!
RM18.90 each
Address: 51, Jalan PJS 11/9, Bandar Sunway, 46150 Selangor
Hours: 11am-11pm daily
Tel: +603-5612 5618
Website: https://www.facebook.com/Garage51MY/
Mad About Coco
https://www.instagram.com/p/BG59vsysYA0/?taken-at=518668494
This cutesy restaurant specializes in all things chocolate, and their Nutella Bomb milkshake is no exception. A thick, creamy Nutella milkshake is topped with a golden bun filled with Nutella, dusted with icing sugar and sprinkles, and all overflowing with Nutella, of course. This is definitely something that will give you a sugar-induced heart attack and send you to chocolate heaven. I have to warn you, this isn't for the faint of heart!
RM18 each.
Available at Fahrenheit 88 and Publika
Tel: +603-2631 5896
Website: https://www.facebook.com/madaboutcoco/
Patissez, Bangsar

The café that started it all in Australia has opened its first international branch right here in KL, so we can now all taste the real deal without flying 7 hours to the land down under. Having only been open for a month, Patissez has already been making headlines. People have been swarming for their signature freakshakes (after all, they did coin the term!), and all four of their flavours have gained fans of their own. You can choose from the Pretzella (Nutella, pretzels, and cream), Muddy Pat (chocolate fudge, brownies, marshmallows), Like A Velvet (red velvet cake, cream cheese, and raspberry gel), and the one and only DurianFreak (durian flesh, salted caramel, white chocolate, and honeycomb). Their milkshakes are definitely bringing everybody to their (figurative) yard, and it's no wonder why.
RM23 each.
Address: 42 Jalan Telawi, Bangsar, 59100 Kuala Lumpur.
Hours: 11am-midnight on Mon-Thurs, 11am-1am on Fri, 8am-1am on Sat, 8am-midnight on Sun
Tel: 03-2202 2999
Website: https://www.facebook.com/patissezmalaysia/
3 Bags Full, Kota Damansara
This café has introduced their own version of freakshakes, fittingly named the Monster Milkshakes. Each milkshake is named after a popular monster, like the Green Goblin, a bright green mass of blended avocados and bananas, topped with a ton of whipped cream, green kitkats, cucumber slices, a macaron, and a sprig of mint, and Frankenstein, a chocolate and banana extravaganza, complete with salted caramel cake, whole Oreos, marshmallows, chocolate sauce, and nuts. This beverage (or is it a dessert?) could probably substitute a whole meal or two, it's that huge!
RM16.90 each.
Address: 38A-1 Jalan PJU 5/10, Dataran Sunway, Kota Damansara, 47810 Petaling Jaya
Hours: 11am-10pm on Tues-Thurs, 11am-11pm on Fri, 9am-11pm on Sat, 9am-10pm on Sun, closed on Mondays
Tel: 03-6150 2831
Website: https://www.facebook.com/3bagsfull.my/
Gaffe & Co. @ Garage KL, Ampang
Gaffe & Co. is a café within the container complex called Garage KL, and what they're most known for is their Sloppy Family, three beautifully messy milkshakes for you to indulge on. Named after their beloved Star Wars, you can choose from Dequeen-A Poppy (strawberry milkshake overflowing with strawberry sauce, marshmallows, gummy candy, rainbow wafer sticks, and whipped cream), Jar Jar Beans (coffee milkshake with caramel sauce, love letter sticks, gummies, cream, biscuits, and garnished with coffee beans), or Sloppy Tropper (a peanut butter and chocolate shake dripping with chocolate sauce, peanut butter, cookies, marshmallows, and nuts). And at only RM15 a pop, this option is the most affordable one on this list!
RM15 each
Address: 841 Jln Hulu Kelang, Hillview, 68000 Ampang, Kuala Lumpur
Hours: 4pm-midnight on Mon-Thurs, 4pm-1am on Fri, 9am-1am on Sat, 9am-midnight on Sun
Tel: 019-380 5277
Website: https://www.facebook.com/gaffeNco/
Save some space in your stomach if you're planning to visit any of these cafes soon, or bring someone with you to share with! Careful not to get into a sugar coma after drinking these monstrous freakshakes!
Featured image credit: emirates247.com