Waffles. The classic dish that has made its way to all corners of the globe. They come in all shapes and sizes, soft and chewy, crisp and fluffy, topped with ice cream, chocolate, maple syrup, whipped cream, even bacon or chicken. You can have waffles for breakfast, lunch, or dinner, as your main or as a dessert. Waffles are such flexible creations, and can hold pretty much any kind of topping imaginable. Can you tell I really like my waffles? Not just me, but most people love anything to do with waffles, and KL is full of places to get sinfully delicious ones with no hassles. Here's a list of the best waffles you can get near you. Try not to drool all over yourself though!
BRYCG, Jalan Nipah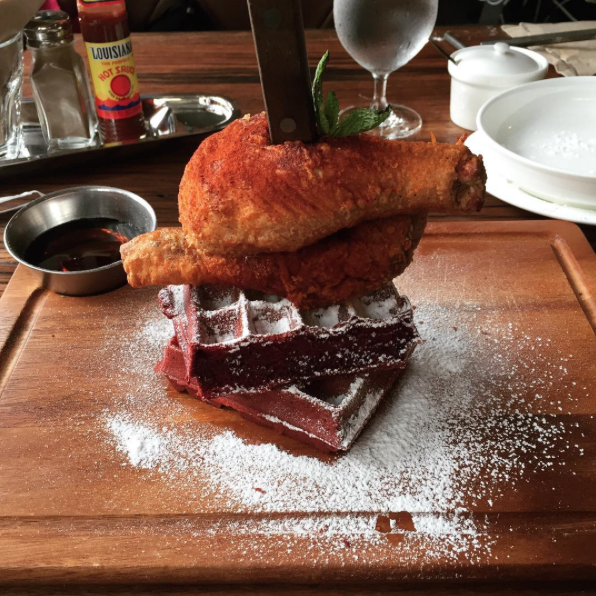 BRYCG (pronounced 'bridge') specializes in food from down South, and their New Orleans-inspired dishes are not only unique, but they're pretty darn good too. Their Red Velvet Fried Chicken Waffles look (and taste) stunning, with two bright red waffles stacked atop each other, dusted with icing sugar, piled high with buttermilk-fried chicken, and a knife stabbed through the mountain on your plate to complete the dish. Served with a side of maple syrup, it perfectly compliments the savoury chicken. This is only served during breakfast, so make sure to come by relatively early to grab your plate!
Address: 1, Greenhouse by Muir, Jalan Nipah off Jalan Ampang, 55000 Kuala Lumpur
Hours: 11.30am-10pm on Mon-Thurs, 11.30am-11.30pm on Fri, 9.30am-11.30pm on Sat, 9.30am-10pm on Sun
Tel: +603-2630 6728
Website: http://facebook.com/BrycgSouthern
Le Pont Boulangerie, Jalan Kelang Lama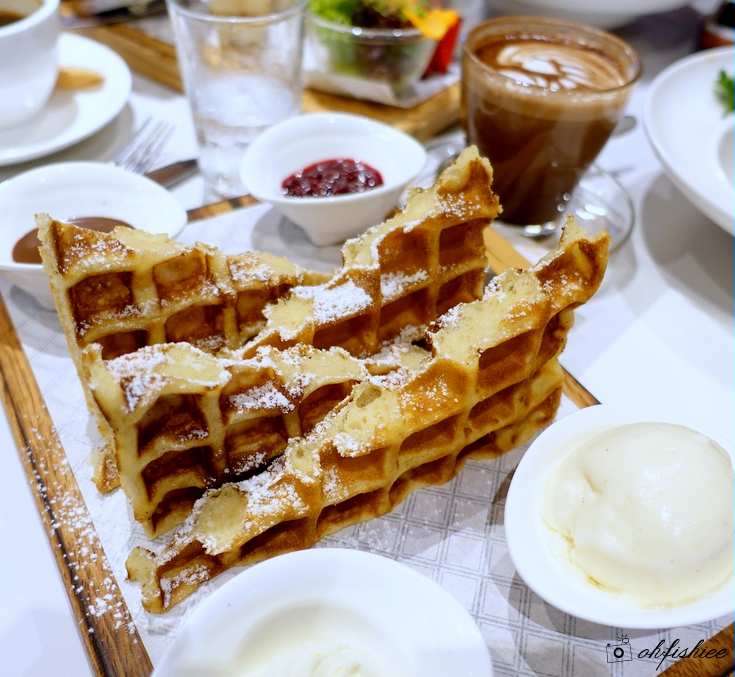 This quaint French bakery located on Jalan Kelang Lama bakes fresh breads, cakes, and pastries everyday, but their signature hot waffles attracts quite a crowd! The presentation of the dish is a feast for the eyes, where the waffles are cut into symmetrical triangles and stood up, so you're meant to grab hold of them with your hands. Choose your dip, as the dish comes with 4 different ones (ice cream, whipped cream, chocolate sauce, and berry marmalade). The fresh waffles go perfectly with all of them! A light dusting of icing sugar completes the dish. Protip: make sure to avoid this place during peak hours and weekends, because it gets really packed then!
Address: 6, Jalan 1/137C, Batu 5, Jalan Kelang Lama, 58000 Kuala Lumpur
Hours: 8am-midnight on Sun-Thurs, 8am-2am on Fri & Sat
Tel: +603-7783 0900
Website: http://www.lepontboulangerie.com
Raku Pizza, SS15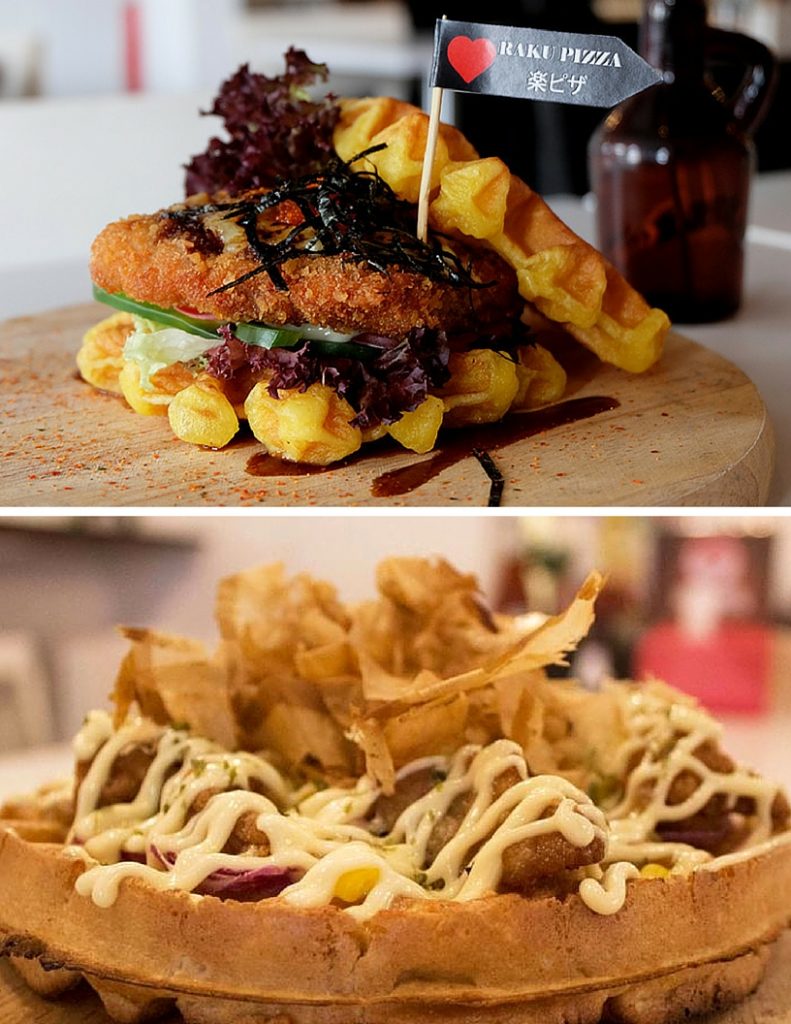 Raku Pizza is known for their Japanese twists on Western dishes, which is exemplified pretty well in these dishes. There are two noteworthy waffle dishes in Raku Pizza, both of which provide a different interpretation to our standard waffle. First, the Katsu Waffle Burger. Two Belgian Liege banana waffles replace standard burger buns, and your choice of either soft shell crab, curry katsu, karaage chicken, or tonkatsu (fried pork cutlet) sandwiched in between. Garnished with shrimp roe, katsu sauce, seaweed, and veggies, this is a match made in heaven between traditional American and Japanese food.
The other interesting waffle dish they make is Raku's Pizza Waffle, which is, as the name suggests, a pizza made out of a waffle. Topped with curry sauce, fried karaage chicken, cheese, bonito flakes, sweet corn, and drizzled generously with mayonnaise, this pizza-waffle hybrid is the best of both worlds if you're looking for Italian or Japanese food!
Address: 80, Jalan SS 15/4d, SS 15, 47500 Subang Jaya, Selangor, Malaysia
Hours: 10.00am to 10.00pm daily
Tel: +603-5631 2188
Website: http://facebook.com/rakupizza
The Owls Café, Bukit Jalil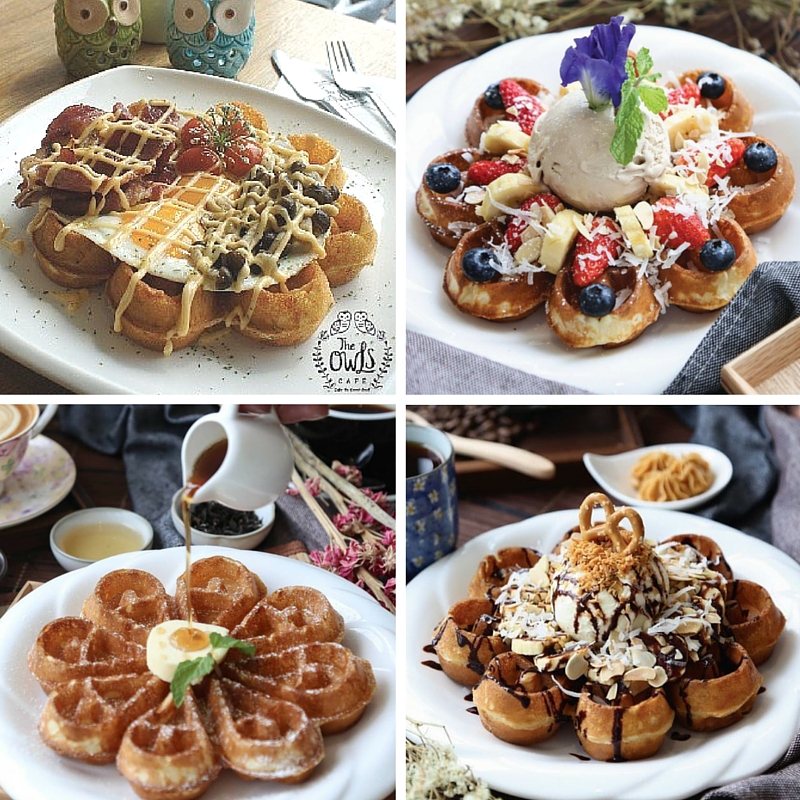 This owl-themed café is already well-known for their signature waffles, so it's no surprise that they would show up on this list! Their best-sellers are Rebecca (warm, crispy waffles topped with a scoop of Earl Grey ice cream, almond slivers, maple syrup, and a sprinkling of assorted fruits and berries), and David (sliced bananas, vanilla ice cream, peanut butter cream, chocolate sauce, and a garnish of coconut flakes on waffles). They also have savoury options as well, like Sally Salmon (scramble eggs infused with truffle oil served with smoked salmon slices and cherry tomatoes) and Buffy Beef, which is basically your typical breakfast dish on a waffle (eggs, bacon, mushrooms, and tomatoes). Make a date with one of these waffles for brunch one day, I'm sure you'll have a ball with them!
Address: 12-1, First Floor, Block 5, Jalil Link, Jalan Jalil Jaya 6, Bukit Jalil, 57000 Kuala Lumpur
Hours: 10am-7pm on Sun-Thurs, 10am-11pm on Fri & Sat. Closed on Mondays
Tel: +603-9543 9828
Website: http://facebook.com/theowlscafe
VCR, Taman Galloway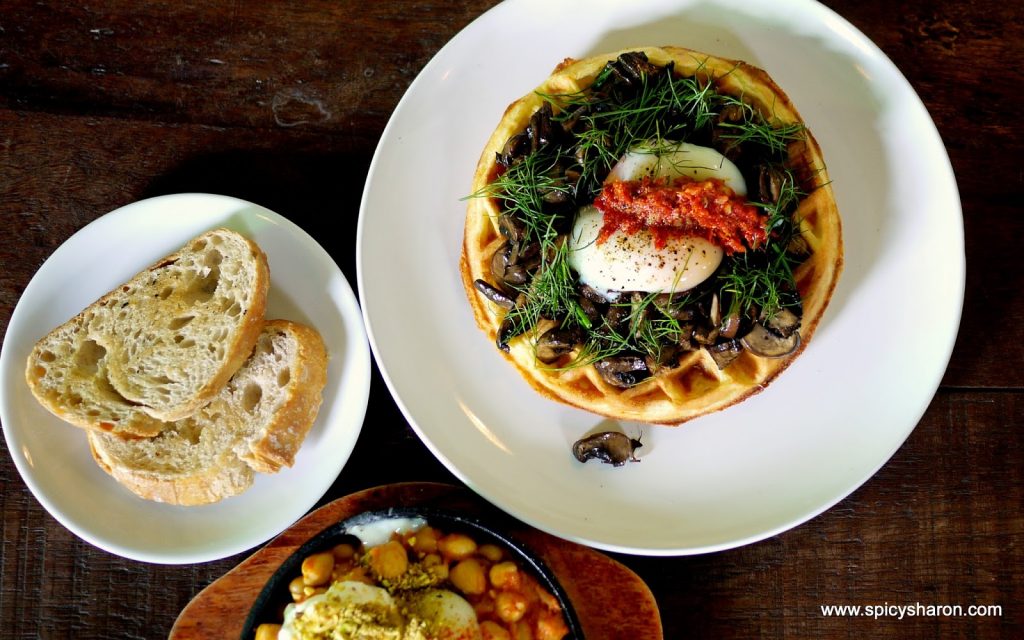 People usually flock to VCR for their artisanal coffee brews and cake selection, but their brunch-time potato waffles are something everyone should try. Made out of mashed Russet potatoes, these thick waffles are topped with a generous serving of mushroom fricassee, 63˚C poached egg, tomato chutney, and a sprinkling of fresh rosemary over top. If you haven't tried potato waffles before, this is a good place to get your first impressions in! Don't forget to have a cup of coffee or two to complete your meal!
Address: 2, Jalan Galloway, 50150 Kuala Lumpur
Hours: 8.30am-11pm daily
Tel: +603-2110 2330
Website: http://vcr.my
The Daily Grind, Bangsar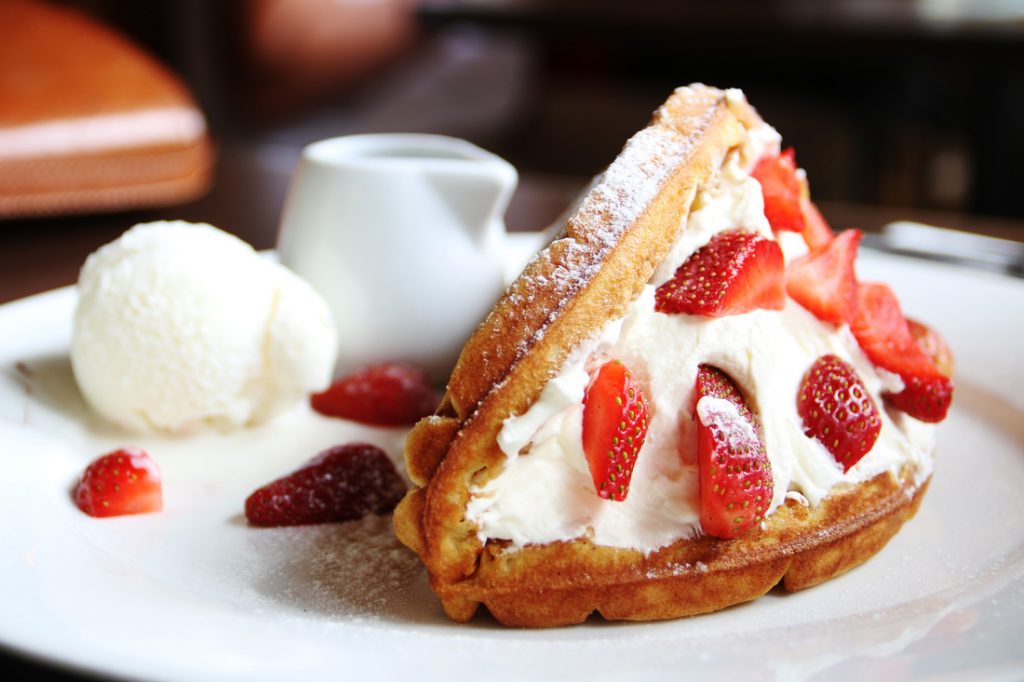 Even though a burger joint might not be the first place you'll think of for waffles, trust me when I say you need to head down to The Daily Grind and try it. Their Old-Fashioned Waffle is a taco-like waffle full to the brim with fluffy whipped cream, and dotted with fresh strawberries. A scoop of vanilla ice cream and some icing sugar makes this dish look perfectly delectable. Even though the ingredients may sound simple, don't pass this one up, it's seriously good!
Address: LG8 Lower Ground, Bangsar Village 1, Jalan Telawi 1, Bangsar Baru, 59100 Kuala Lumpur
Hours: 11am-11pm daily
Tel: +603-2287 6708
Website: http://www.thedailygrind.com.my/
Standing Theory, PJ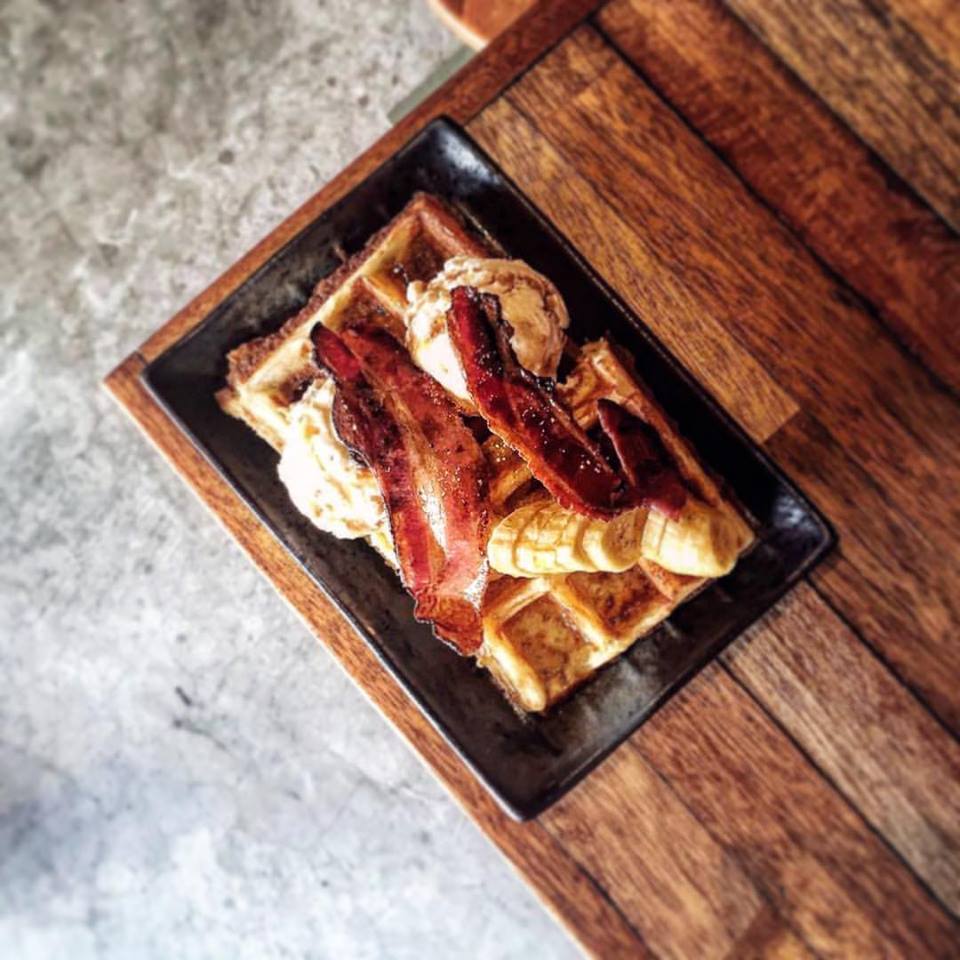 When writing a list of good waffles, one must include Standing Theory's BBC waffles. BBC stands for bacon, banana, and cornflakes, and that's exactly what's on the waffles. Crispy bacon slices, freshly sliced bananas and creamy cornflake ice cream, and drizzle of maple syrup makes this dish a spectacular one, and perfect for a post-meal dessert or for an interesting brunch. Be warned though, if you have a small appetite you should probably bring someone with you to share!
Address: 26, Jalan SS2 / 103., 47300 Petaling Jaya
Hours: 11.30am-4.30pm for lunch, 6.30pm-9.30pm for dinner
Tel: +6 011-1233 1455
Website: http://facebook.com/StandingTheory
Chequers, TTDI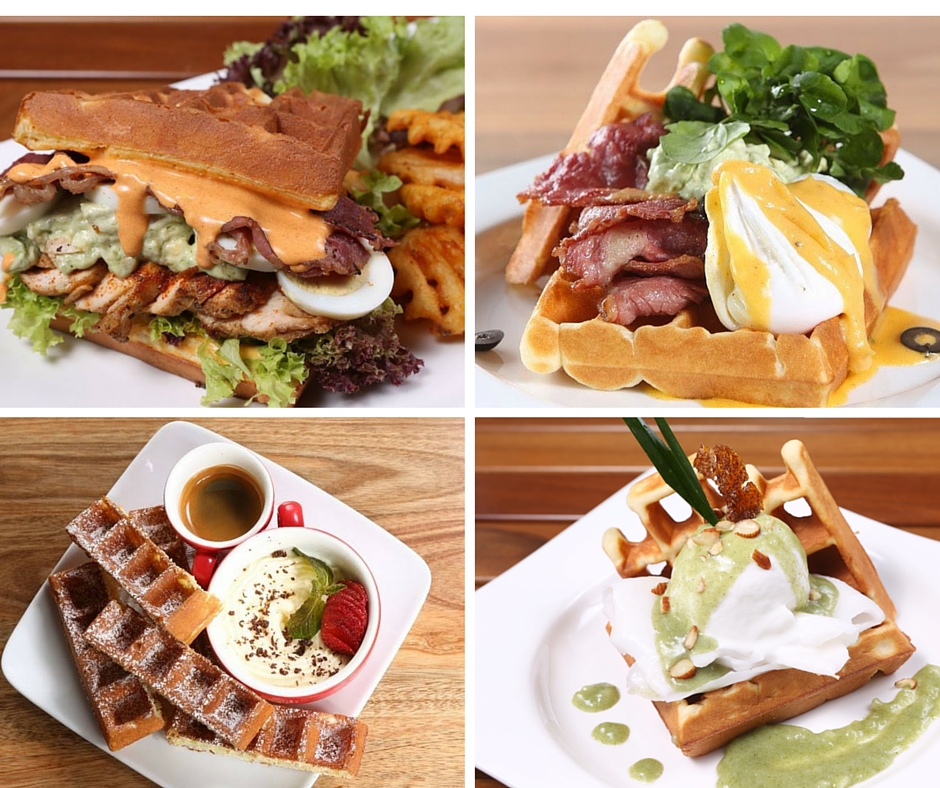 Chequers are known for all things waffle, from sweet to savoury to everything in between. They serve up over 10 different waffle dishes, including desserts and mains, and you can even create your own waffles to suit your personalised tastes. Must-try items are their Deconstructed Tiramisu (with waffles replacing the biscuit base, naturally), Tropic Coconut (coconut ice cream, coconut waffles, fresh coconut flesh, creamy pandan sauce, and almonds slices), Down Home Benny (a savoury, eggs Benedict waffle with beef bacon and guacamole), and their chicken cobb sandwich, with waffles as the sandwich bread, of course. You can eat waffles any time of day at Chequers, so even if you want waffles for dinner, you know where to go!
Address: 153, Jalan Aminuddin Baki, Taman Tun Dr Ismail, 60000 Kuala Lumpur
Hours: 8am-11pm daily, closed on Wednesdays
Tel: +603-7733 3068
Website: http://chequers.com.my
GoGetter Café, Bukit Jalil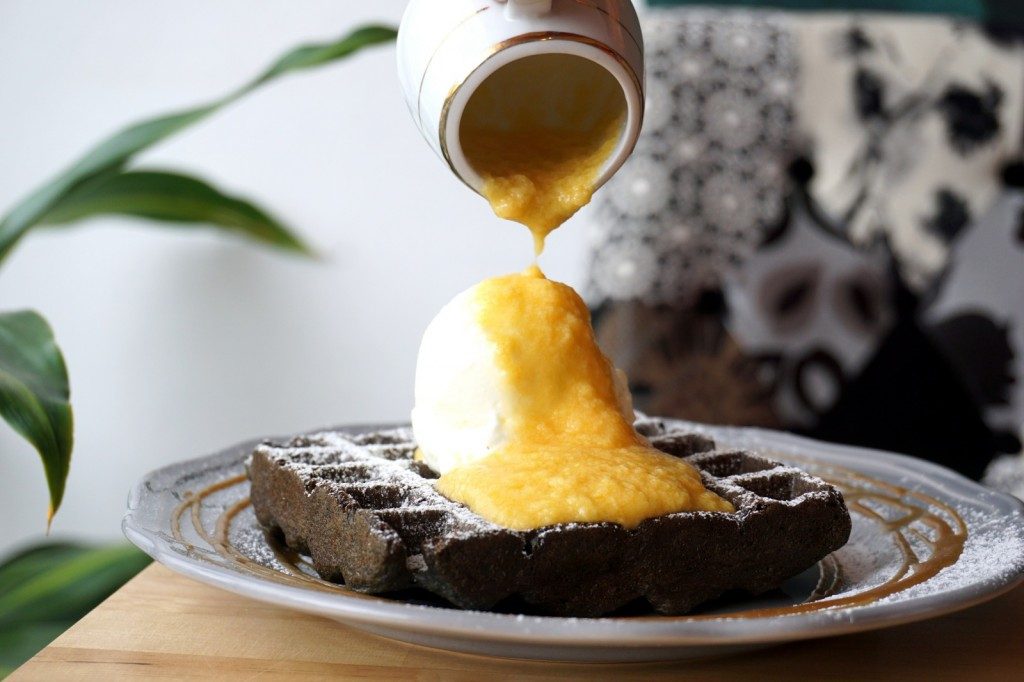 This bright and cheerful café makes several unique waffle dishes, all of which look so goshdarn good. Their pandan waffles are served with gula Melaka, desiccated coconut, as well as coconut ice cream, and its supposed to represent our favourite ondeh-ondeh, albeit in waffle form. Other than that, they also have a black charcoal waffle with ice cream, salted caramel sauce, and served with a little jug of thick salted egg yolk custard (because we all know how well salted egg yolk goes with desserts). Drop by this sunny café to indulge in some good waffles!
Address: 12A-1, First Floor, Block 5, Jalan Jalil Jaya 6, Bukit Jalil, 57000 Kuala Lumpur
Hours: 12pm-11pm daily
Tel: +6019-260 2288
Website: http://www.facebook.com/gogettercafe
Eggu, Atria Shopping Gallery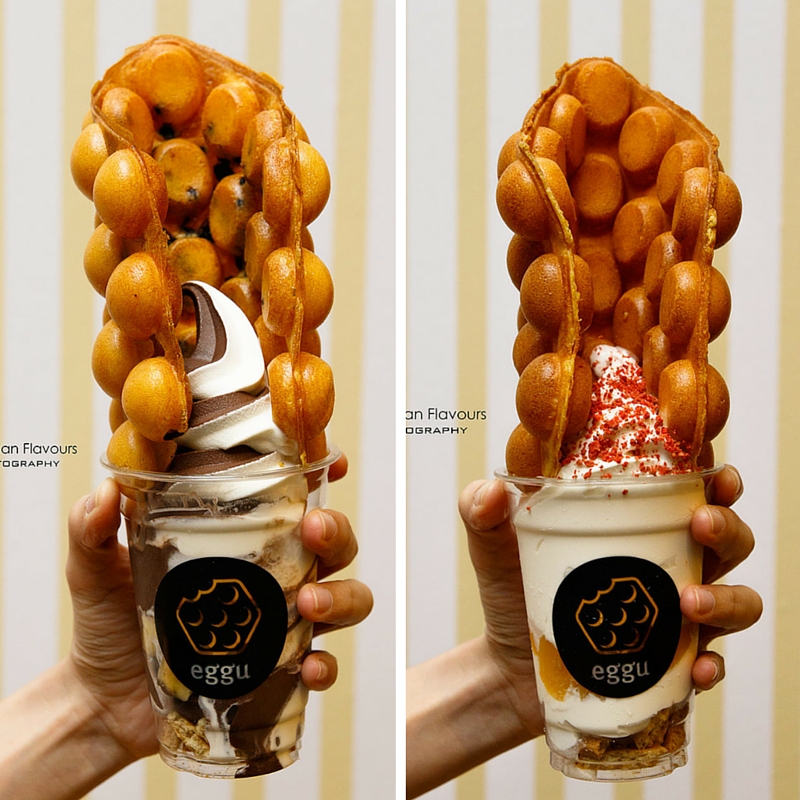 These are definitely not your conventional waffles. Egg waffles/eggettes/bubble waffles are a famed Hong Kong street snack, and they're starting to make their way into our country so we can all have a try. Made of egg, sugar, flour, and evaporated milk, these bubble wrap-like waffles are served either plain, or with all sorts of different toppings. Same goes to Eggu, where you can choose to have your eggette plain, or with their signature soft serve ice cream. Their eggettes come in several flavours, including green tea, butterscotch, and even charcoal! They also have parfait-like concoctions of crushed biscuits, sliced bananas, a heavy swirl of soft serve, and chocolate chip eggettes all stuffed into a cup. Now's your chance to try out this infamous dish for yourself!
Address: Atria Shopping Gallery, Level 3, TK3A(a), Jalan SS22/23, 47400 Kuala Lumpur.
Hours: 11am – 9.30pm daily
Tel: +603-7732 0749
Website:  https://www.facebook.com/eggu.my
Grab some friends and make plans for a waffle date this weekend! Who knows, you might discover a new hang out spot to chill out at regularly! Let us know of any other waffle places we missed down below.