Fortune cookies are so 19th century. Fortune nasi lemak is now the way to go.
Appu Uncle Curry House in PJ, that has made quite a name for itself for their banana leaf rice and fish head curry, have come up with a cool twist on our national breakfast dish. They have created the ingenious idea of incorporating fortunes (of sorts) into their nasi lemak bungkus.
This dish has become somewhat of the main attraction during breakfast ever since its inception in 2014, with people vying to get their fortunes told, so to speak, by Uncle Appu. A quick search of #NasibLemak on Instagram shows pages of pictures people have taken of their nasi lemak destinies.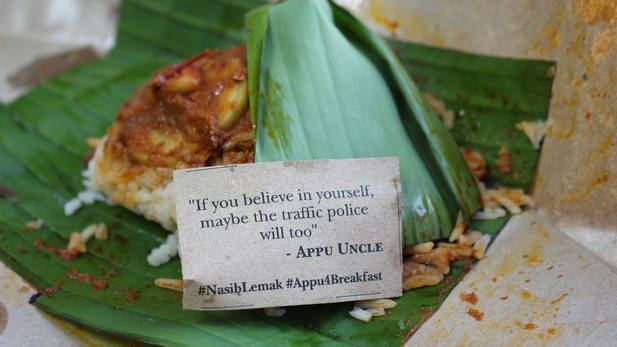 His clever quips and funny but profound truths in the 'nasib lemak' will leave anybody with a smile on their face.
"When life gives you lemons, make teh o ais limau," quotes one.
"When everything's coming your way, you're in the wrong lane," says another.
https://www.instagram.com/p/BDuIf6nBBOi/?taken-at=385246490
This interesting localised version of the ever-so-popular fortune cookies (which, by the way, was created in America, not China!) has put a fun spin on breakfast and is a good way to start off your day.
Their nasib lemak is only served from 7am to 11.30 am, and 3pm onwards everyday. If you're feeling like getting some quality nasi lemak at a wonderfully quirky place, Appu's is the way to go. For RM1.90 per bungkus, this is probably the cheapest fortune-telling session you'll ever find in KL!
Address: 14 Jalan 19/3, Petaling Jaya, 47301 Petaling Jaya, Malaysia
Hours: Nasib Lemak available from 7am-11.30am; 3pm onwards. 
Open 7am-9pm daily.
Tel: +60 3-7932 3030
Website: http://facebook.com/AppuUncle