It's that time of the year again for Muslims worldwide to test their discipline and patience while fasting, which proves especially difficult when surrounded by mouthwatering dishes and beverages.
A staple of Malaysian Ramadhan celebrations is the Ramadhan Bazaars, a gathering of up to hundreds of food stalls selling dishes to tempt even the most diligent of fasters. The smoky aroma of open grills, the inescapable shouts for attention from sellers, and the crazily packed environment all add up to the quintessential Ramadhan experience.
Overwhelmed by the seemingly endless choices of bazaars you should visit? Check out this list of the best bazaars nearby to see which ones you won't want to miss:
Taman Melawati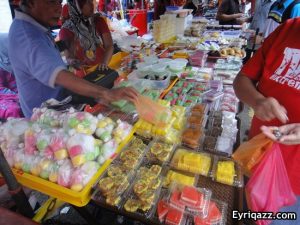 Known for its huge size and sea of visitors, this Ramadhan bazaar is not for the weak-willed. Row after row of food stalls clamor for your attention (and your money), selling the standard fare of nasi campur, Roti John, traditional desserts, and assorted noodles, but also hot-selling food such as the famous tepung pelita (the gooey white-and-green dessert that tastes both sweet and salty) and ayam tempurung, which are whole chickens cooked inside huge clay pots. If you want to stop by, make sure to come early, as the more popular foods tend to sell out quick.
Open daily, 4pm-8pm.
Address: Jalan Bandar Melawati, Taman Melawati, 53100 Kuala Lumpur
Pandan Indah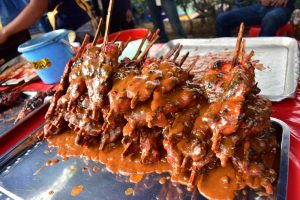 Popular among the residents of the area, the Pandan Indah bazaar does not disappoint when it comes to its variety of food. Long queues will be visible for the popular dishes like the tepung pelita and murtabak Singapore, but a myriad of other delicacies are available for your buka puasa, like ayam percik, roti jala, and satay. Also don't miss out on their unique fried durian! This bazaar might not be as big as some other ones in the Klang Valley, but it's definitely a must-visit if you're in the area.
Open daily, 4pm-8pm.
Address: Jalan Pandan Utama, Pandan Indah, 55100 Kuala Lumpur
Uptown Danau Kota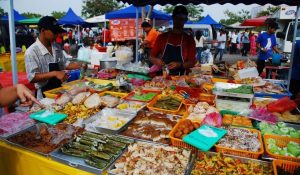 This place runs year round as a pasar malam, but transforms into the Ramadhan bazaar of your dreams during the holy month. Notable stalls include the tasty roti John, a plethora of yummy kuih-muih, and popia basah. Be ready to face the horde of hungry customers though, because you won't be the only one looking to find something delicious to sink your teeth into for dinner.
Open daily, 4pm-8pm.
Address: Jalan 1A/6, Danau Kota, 53300 Kuala Lumpur
Stadium Shah Alam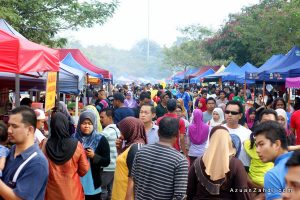 This bazaar ranks high among visitors, mostly because of its immense size and its wide variety of treats up for sale. Being one of the largest Ramadhan bazaars in the country, it's no wonder that this joint attracts a humongous crowd! Walking among the large range of stalls and weaving through other bazaar-goers might seem like a chore to some, but this place will surely not disappoint. Customers flock to popular stalls selling fresh fruit juice, ikan bakar, various cakes and puddings, and ayam golek. Other delights that should be on your agenda from here are the popia, sata, and kek batik.
Open daily, 4pm-8pm.
Address: Car Park, Shah Alam Stadium, Section 13, 40100 Shah Alam, Selangor
Putrajaya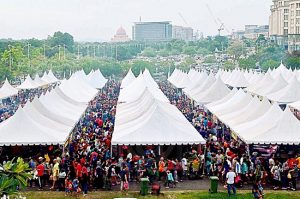 This spacious bazaar is full of your favorite Ramadhan eats, and features over 200 stalls so you'll definitely find something you've been craving for. Expect to wait in line for the murtabak, nasi kerabu, and sugar cane juice, but you will not be disappointed by their deliciousness. Also, don't forget the local snacks like pisang goreng cheese, keropok lekor, and otak-otak. You might want to come early if you want a nearby parking spot, or else be prepared to park your vehicle some ways away from the bazaar.
Open daily, 4pm to 8pm.
Address: Presint 3, Kiblat Walk, 62000 Putrajaya, Wilayah Persekutuan
Taman Tun Dr. Ismail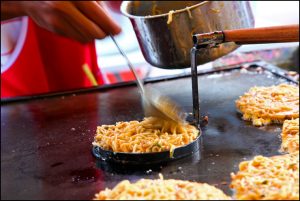 One of the most popular spots to hit up during Ramadhan, this prolific bazaar features a boatload of different kinds of food, ranging from the tried-and-tested dishes that prove popular with the regulars, to the new and unique that have taken the bazaar scene by storm. Check out the infamous murtabak maggi, innumerable types of rice dishes like nasi tomato and nasi kukus, crunchy popiah goreng and the ayam percik that sells like hotcakes. For dessert, try out the pretty fruit puddings, putu piring, and traditional delights.
Open daily, 4pm-8pm.
Address: Jalan Tun Mohd Fuad 2, Taman Tun Dr. Ismail, 60000 Kuala Lumpur
Even though all this food might seem tempting, try to hold yourself back from buying everything you crave. Nobody wants to over-buy and waste! Which one of these bazaars do you like to frequent? Give your recommendations in the comments below!