While at The Banjaran Hotsprings Retreat, we had 5 meals at Pomelo, so you can probably say we got to know the restaurant pretty well.
BREAKFAST
Breakfast can be included as part of your room's rate, but on its own it's RM150/pax. It's an à la carte menu, not a buffet, so you can just order whatever you'd like.
Each breakfast starts with a 3-tiered selection of pastries and fruits as well but they weren't the best cuts of fruit (not very sweet or ripe enough), except for the pomelo, that was good. And the pastries weren't as fresh as we'd like so the mini croissant was already too chewy and not crisp enough.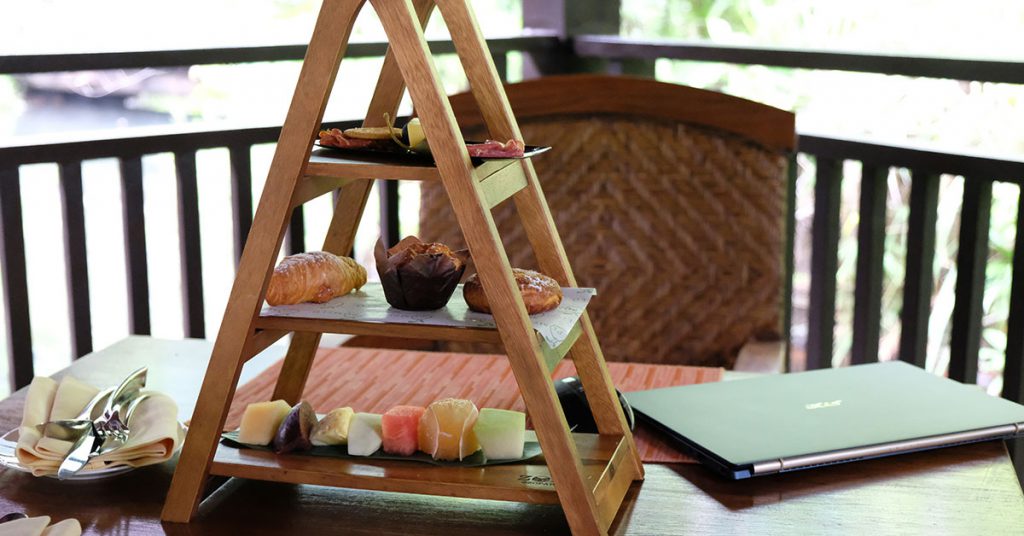 Tabouleh: A refreshing citrusy mix that has a kick thanks to the onions and lemon juice, Venxhin ordered this for both breakfasts she had. It's probably leaning too much on the sour side for most people but for those like her who enjoy a sour taste on the palate, it's perfect.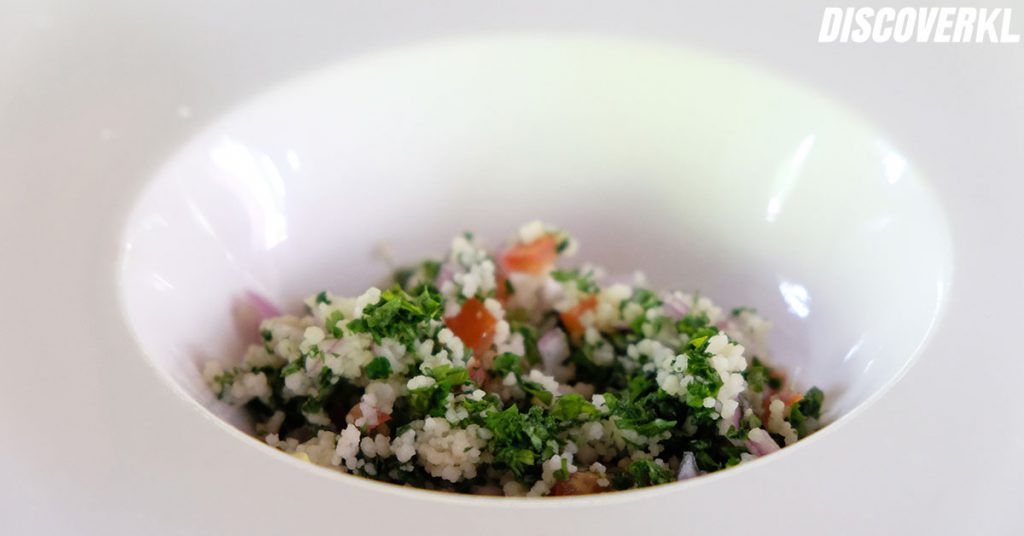 Belgium waffle: Really small in size and was a bit soggy. And although it didn't taste bad, it really wasn't great. The portions of cream, berries and maple syrup served with it was a bit much, compared to the size of the waffle itself. Double the waffles, maybe?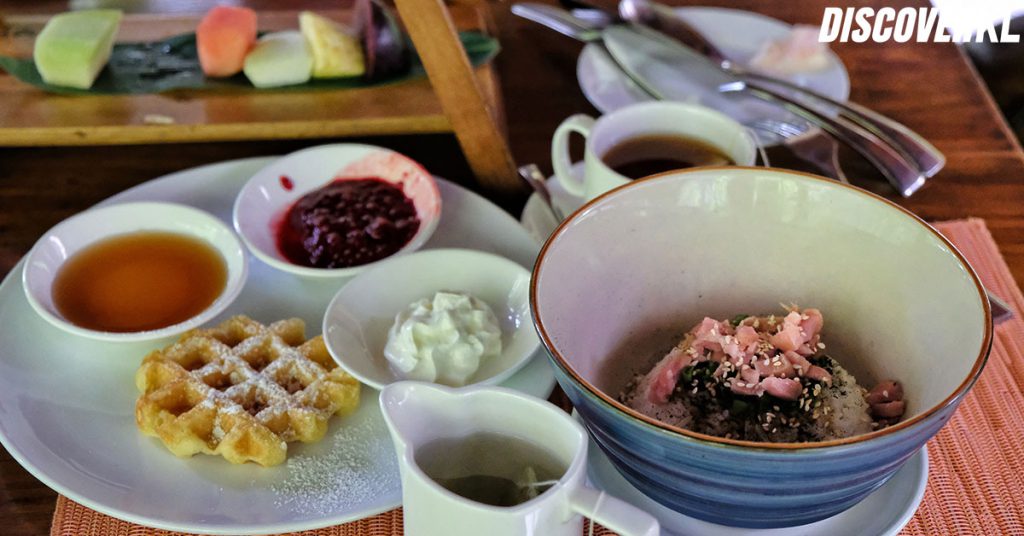 Tuna ochazuke: Although the tuna was very fresh, it was a full bowl of rice and a bit lacking in taste. Ochazuke is actually a very simple dish in terms of ingredients, but it's supposed to taste so warm and fulfilling if you get it right. This was a miss for us.
Shakshuka: This was one of the tastier dishes we had for breakfast, but we found that the ratio of the pita bread to the sauce was off. There was very little bread (half a pita), and SO much sauce.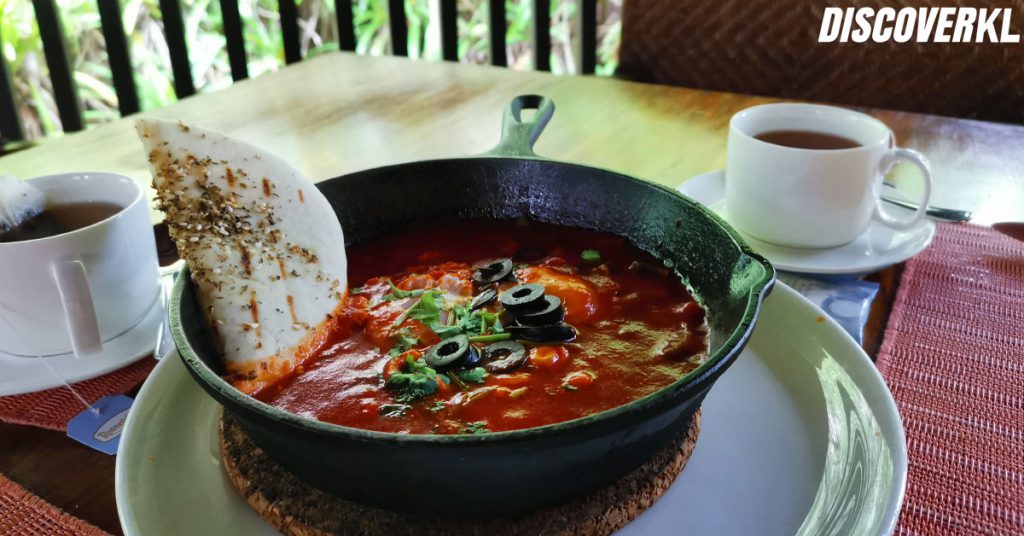 We decided to order other things just so we could soak up the yummy mix of peppers, tomato, various herbs and runny eggs. This is actually our recommended dish to have for breakfast BUT it should be shared. It's a little hard to handle alone for the first meal of the day.
Singapore omelette: Fried with oysters and coriander, the egg was firm but still moist enough, and seasoned well. However for its size, having only 3 oysters in it did make us wanting more.
LUNCH
For the both days we went, Pomelo was quite calm and empty, likely because many of the guests opted to travel out to Ipoh town instead. So it's a very chill and casual affair. Each lunch starts with a serving of charcoal-oven baked focaccia, salted butter, and finely pureed olives.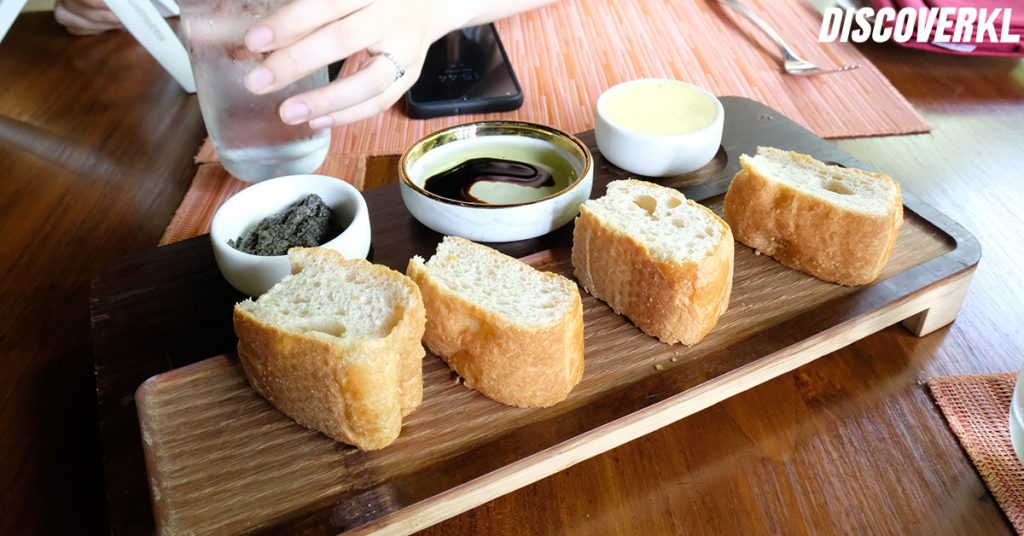 Malaysian oxtail soup (RM45): This was such a pleasant soup! It was so good to slurp up, and left a lovely savoury aftertaste on our tongues. The meat was stewed to perfection and oh-so-tender, they achieved a flavourful fall-off-the-bone consistency with this.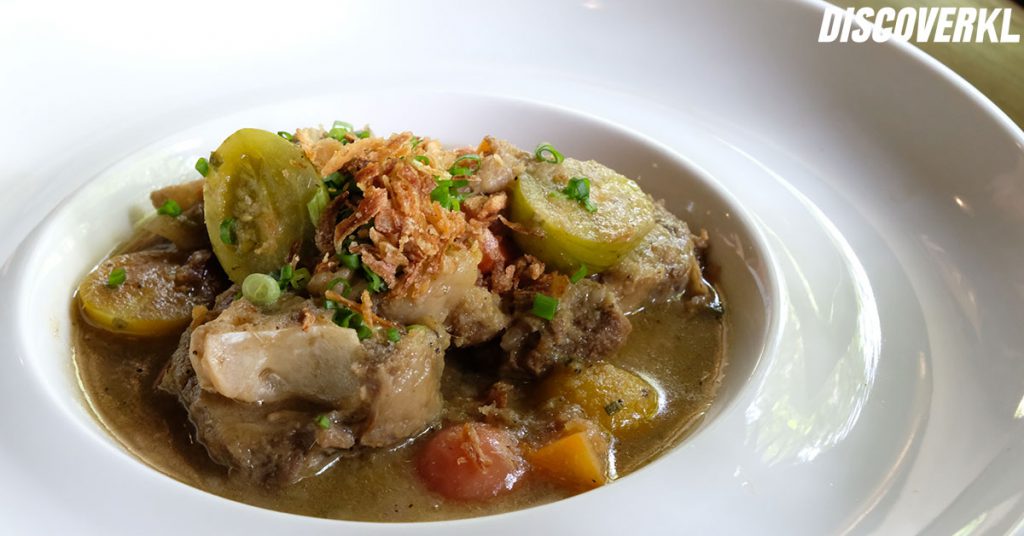 Beef bolognese tagliatelle (RM75): Even though we were both really hungry when eating this pasta, it was so rich that even with the two of us sharing this 1 main, we had trouble finishing it. The pasta is al dente, chewy, great texture, and in terms of the amount of beef to sauce ratio, very satisfying.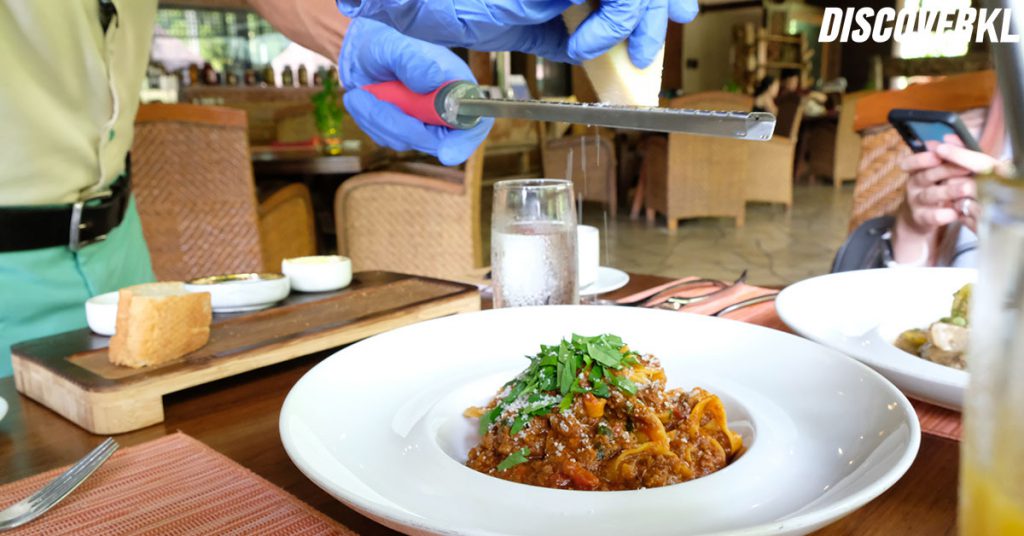 Crab bisque (RM50): This is a worthy contender to the amazing bouillabaisse we had at Pomelo for dinner (see review below). The bisque itself had a strong umami kick from the crab, but it was just a bit too watery. We'd have liked it reduced down just a little bit more to a thicker, more creamy consistency.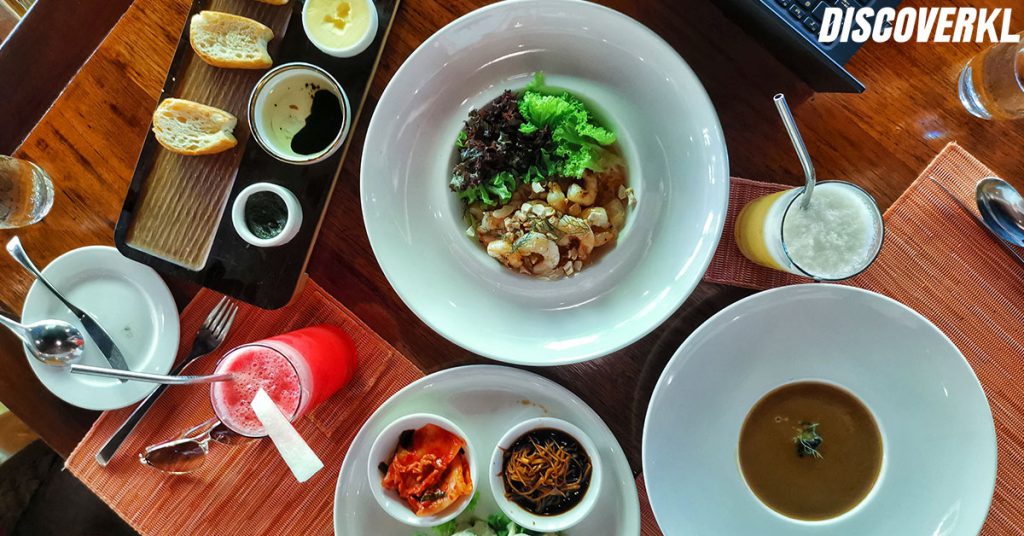 Pomelo salad with grilled prawns (RM65): Of course we had to try Pomelo's signature salad, and this did not disappoint. The pomelo pulpy bits were fresh and sweet (we are in Ipoh after all, so we expect no less), and the prawns! So juicy! So fresh! So firm and has a good bite to them! The sauce itself has a touch of spiciness and really makes you go in spoonful after spoonful. Because we only had this on our last lunch there, we didn't get to reorder this dish again, and for that we are very, very sad 🙁
DINNER
We had the opportunity to have the Pomelo Candlelight Dinner and it was at this meal where we were served one of our favourite dishes at the retreat. This meal is priced at RM450/pax and the setup and lighting is very romantic. Too bad we don't have that sort of feelings towards each other (no offense to how attractive we are individually), so we were more focused on the food.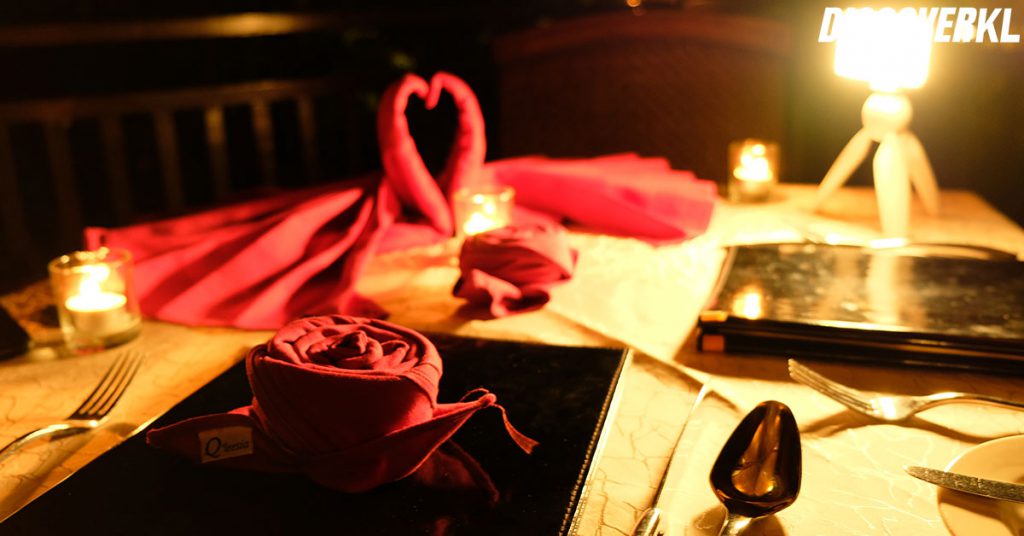 We were told that the amuse bouche is up to the chef's fancy, and what we got was a satay ball in peanut sauce, with coconut flakes shaped into a heart as a decoration.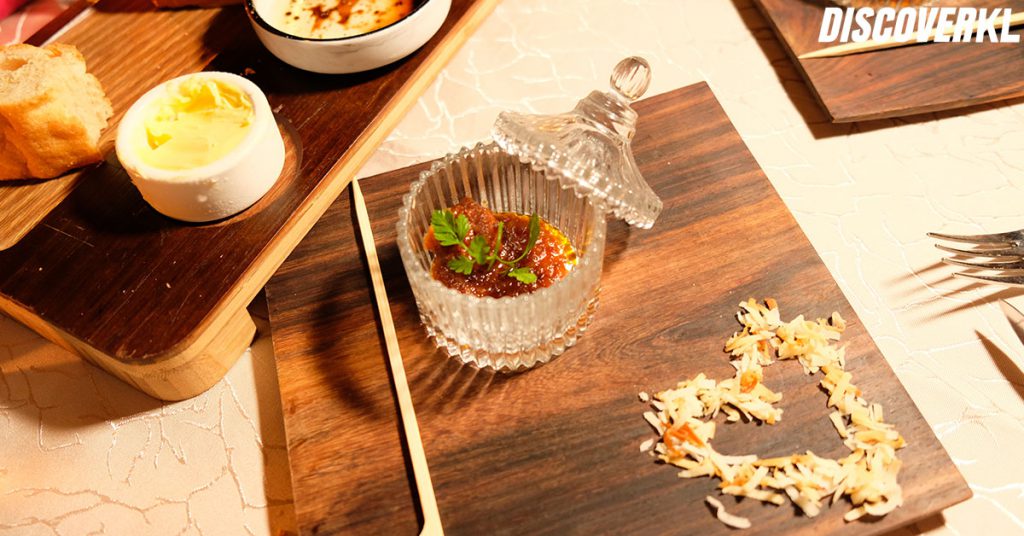 Guys, that small brown little ball was deceptive, it REALLY packed a punch. It's much spicier than it looks, and it definitely gave us a "kick". A delicious opener to the meal and an awakening for what's to come.
For the tuna maguro, we had it both raw and seared and it was excellent both ways. When you had it raw, you could taste the natural sweetness and freshness of the fish; with it seared, it added a nice charred flavour.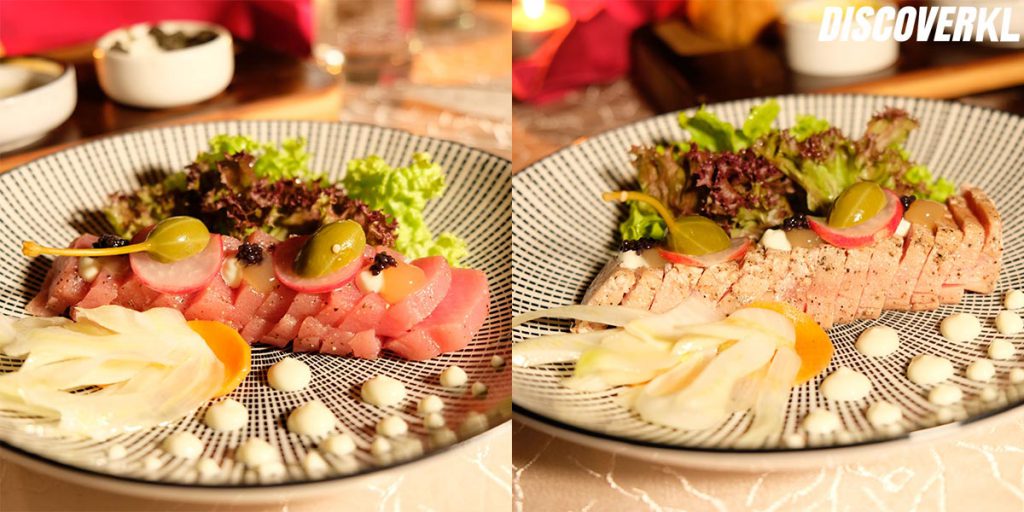 There was no overly strong fishy taste and the honey wasabi mayo went very well with it, but the capers (some of the largest we've seen served here in Malaysia) were very strong, and very sour. Sarah couldn't touch hers unfortunately.
When the steaming hot seafood a la bouillabaisse was poured before our eyes, we already started salivating from the rich seafood aroma wafting towards us.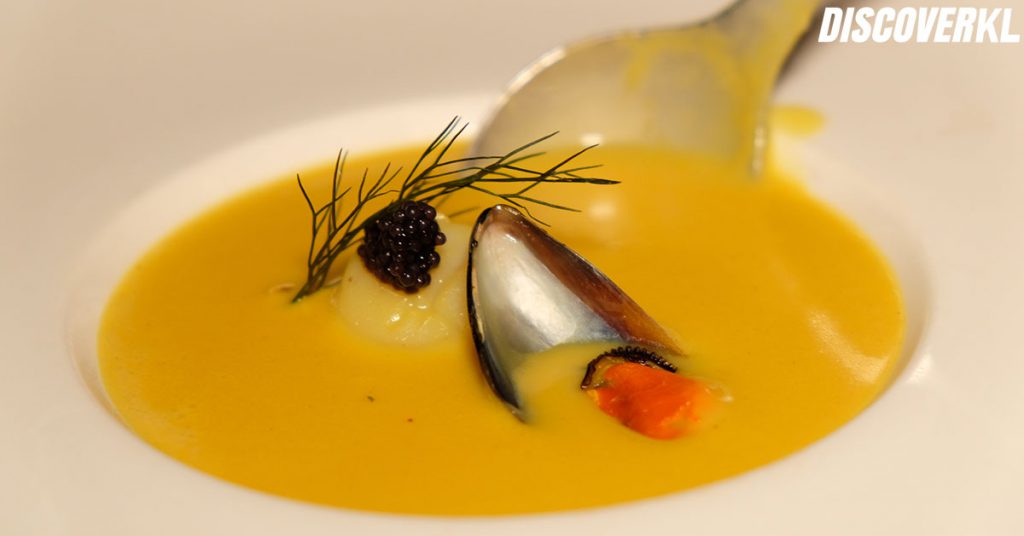 All the individual ingredients were cooked to perfection, and the prawn was a highlight, it was juicy and so sweet. The scallop too was amazing, and we savoured every bite of creamy, delectable stew. We even tried to order it again at lunch the next day because it was THE best bouillabaisse we've ever had, but sadly it's only available as part of this dinner set 🙁
The palate cleanser is Banjaran's signature sorbet and it has Thai basil, yuzu, mint and a dose of popping candy. It's refreshing, sour, and the popping candy is a fun yet nostalgic touch. From now on, every sorbet should have popping candy in them, Sarah thinks.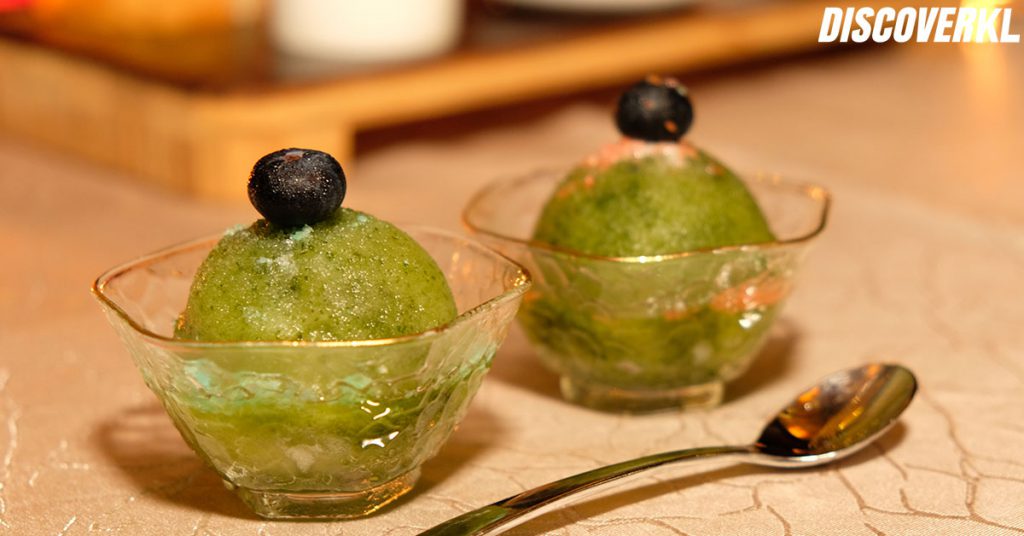 We got the honey pepper glazed lamb rack and the steak, but though the portions were very generous, these were actually the more forgettable parts of this meal.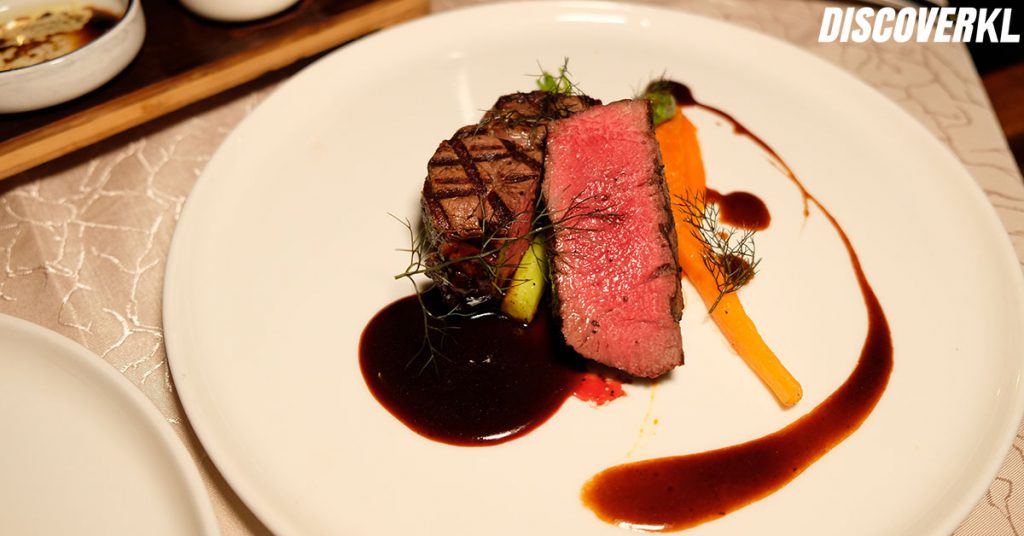 The lamb was actually quite hard to cut through for a bite, Sarah had to knife up to save Venxhin from cutting woes. The beef was also a little tough, and overall both mains did pale in comparison to the other amazing dishes we've already had.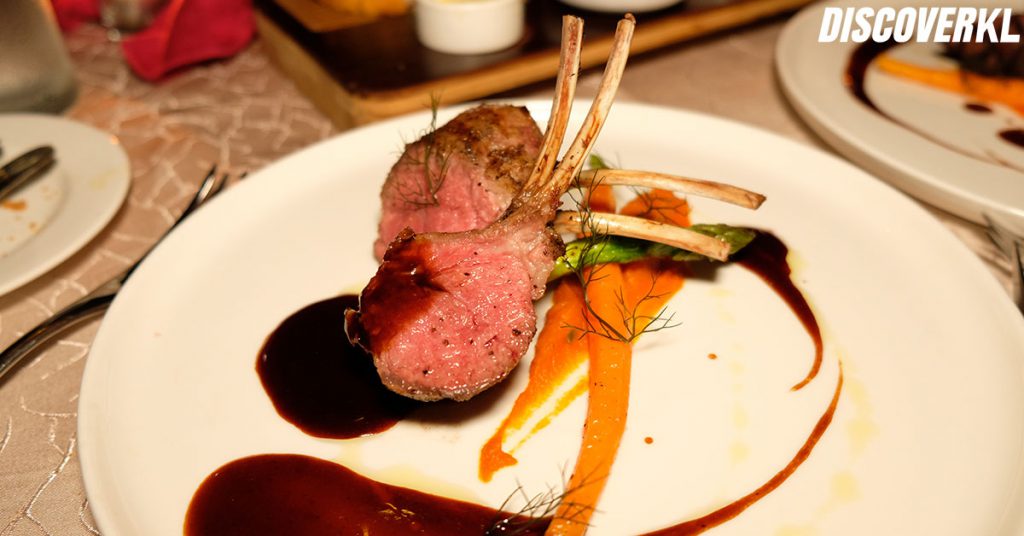 For dessert it was a beautiful mix of raspberry coulis, a lemon jelly-like mousse, strawberries, mint leaves, red velvet cake, and more. Due to questionable choices that were made in her youth, Venxhin is actually desensitised to sourness so she doesn't really get the "puckering" reaction to anything sour. So this dessert was made exactly to her tastebuds.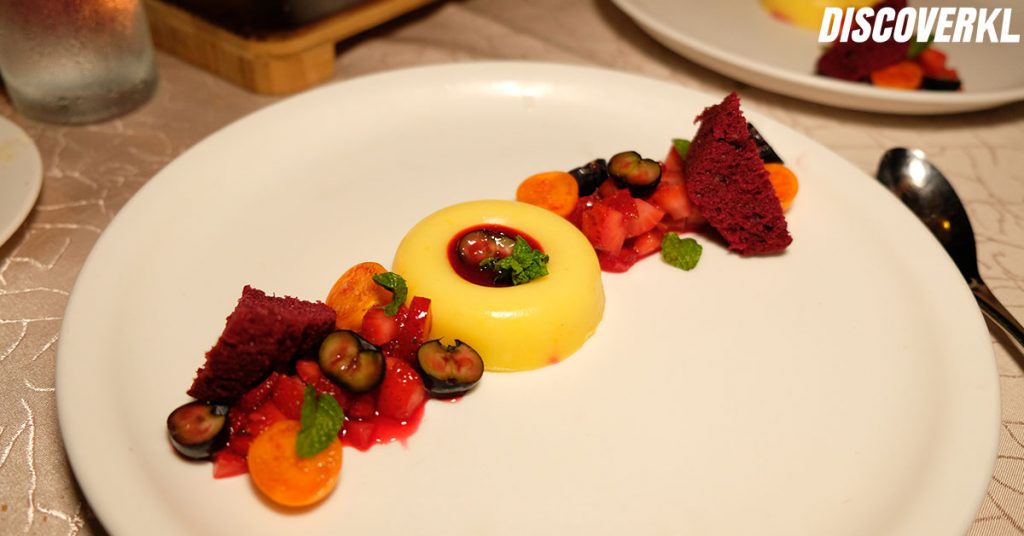 For other more normal people like Sarah, they would certainly appreciate the mint leaves and red velvet cake bits which helped to balance out the sourness.
We would think that for most normal tastebuds, it would be a bit relieving if sweeter strawberries were used, again to counter the sourness too. But if you're like Venxhin, this is much better than a lot of overly sweet chocolatey desserts elsewhere.
As an overall recommendation, Pomelo seems to shine for their seafood dishes in particular. If you're in doubt, just head for the seafood and you should be pleased. The service is really commendable too. The Chef came out to check on us and other patrons, the waiters were friendly and helpful, we were treated like VIPs and it's not because we're there for a review. This same service and attention is extended to all guests there, because that's just the standards of this haven.
Pomelo
Website: https://www.sunwayhotels.com/the-banjaran/dining/pomelo
Location: No. 1, Persiaran Lagun Sunway 3, Sunway City Ipoh
Phone Number: +60 5 210 7777
Operating Hours:
– Breakfast from 7am to 10.30am
– All day A la carte dining from 12 noon to 10pm