Have you heard of the world's smallest chef? He's French, and only 5.8cm tall.
Yes, we're talking about Le Petit Chef, who you may have heard of from all the global social media attention he's gotten since his first appearance in 2015.
He's the star of a dining experience that's a 3D-mapping project by Skullmapping, an artist collective based in Belgium.
Over the years, the thumb-sized chef has travelled the world to show off his culinary skills, and my colleagues and I had the opportunity to be his guests for a night at ELEMENTS in TREC.
Upon arriving for our 7 PM session, we were escorted into a dark room that had black curtains covering up all its windows.
On the tables were glasses of water and books labelled 'Dinner Time Stories' for each person, illuminated by a circle of bright light coming from the projectors that were all across the ceiling.
The books were simply the main 'stage' on which Le Petit Chef would be appearing later.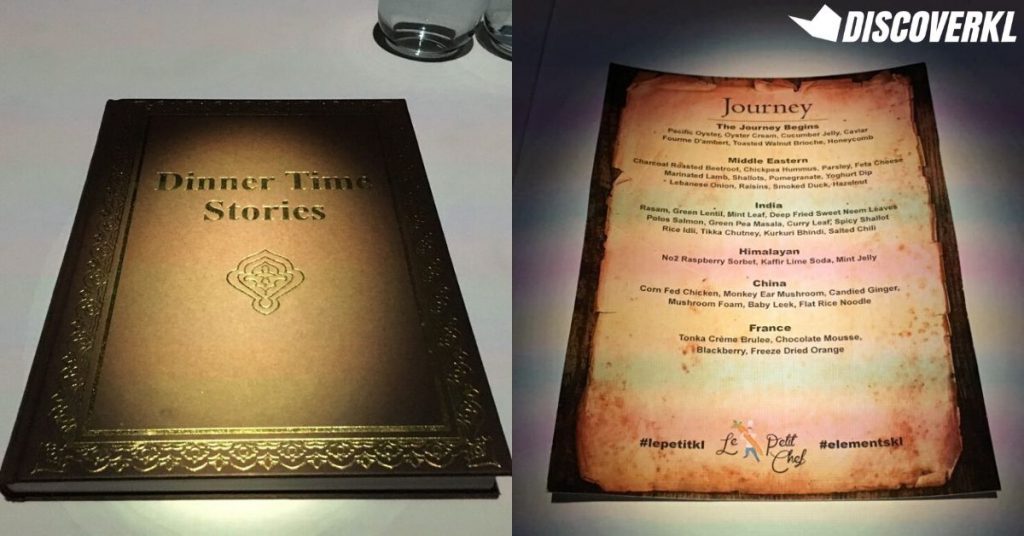 Inside the book was the actual menu sheet, and the theme for our particular dining experience was Marco Polo's journey across the Silk Road, which Le Petit chef would be emulating.
It was a 6-course dinner that included starters, Middle Eastern, Indian, Himalayan, Chinese, and French cuisine.
For Starters…
I'll come right out and say it: I don't like oysters.
So, of course, I wasn't too keen on the starters upon reading its first two ingredients: pacific oyster, and oyster cream.
As Le Petit Chef embarked on his journey across the sea, he eventually got stranded and disappeared out of sight. The starters were then brought in, and I tackled the brioche first, still eyeing the oyster warily.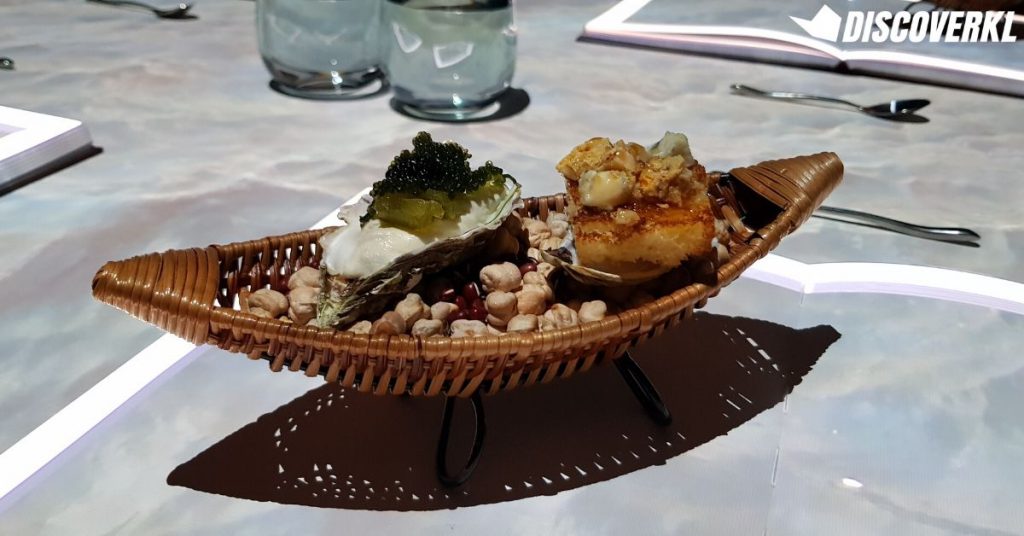 The brioche topped with fourme d'ambert (a mild blue cheese) and honeycomb was sweet and tinged with the typical stinky savouriness of blue cheese. Nothing special, but it served its role as a little something to awaken the palate before the main courses rolled in.
When I tackled the oyster, I was fully expecting to bite into a fleshy body, but surprisingly only got a mouthful of oyster cream. Its flavour was light and subtle, with the caviar spheres adding pops of saltiness as I chewed.
Making It To The Middle East
After Le Petit reappeared and washed up on shore, he trekked across the desert before entering a bustling Middle Eastern square.
He got into his usual shenanigans, and then the second course was brought in. This time, it was a course to be shared between two people.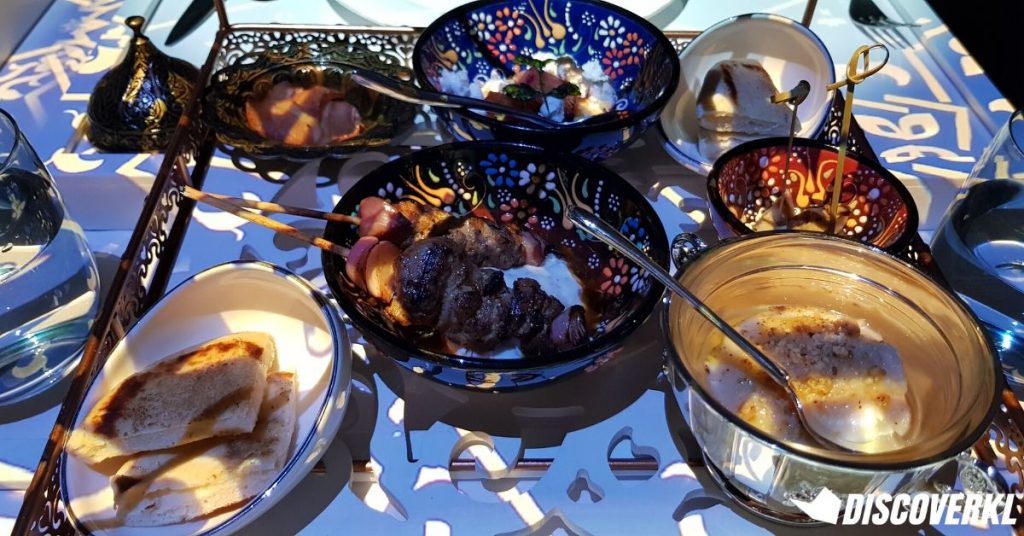 There were marinated lamb kebabs, smoked duck crisps, feta cheese, hummus, yoghurt dip, pita bread and beetroot.
You might think that the lamb kebabs would steal the show, but my favourite thing was the pita bread dipped in all the condiments. The lamb ended up tasting rather bland in comparison to the stronger flavours of the dips.
I'm no food connoisseur, but overall, I found the meal nicely balanced in terms of proportion and flavour.
Into India We Head
We watched Le Petit Chef and his bird friend play in the colourful dyes for Holi before getting served our food.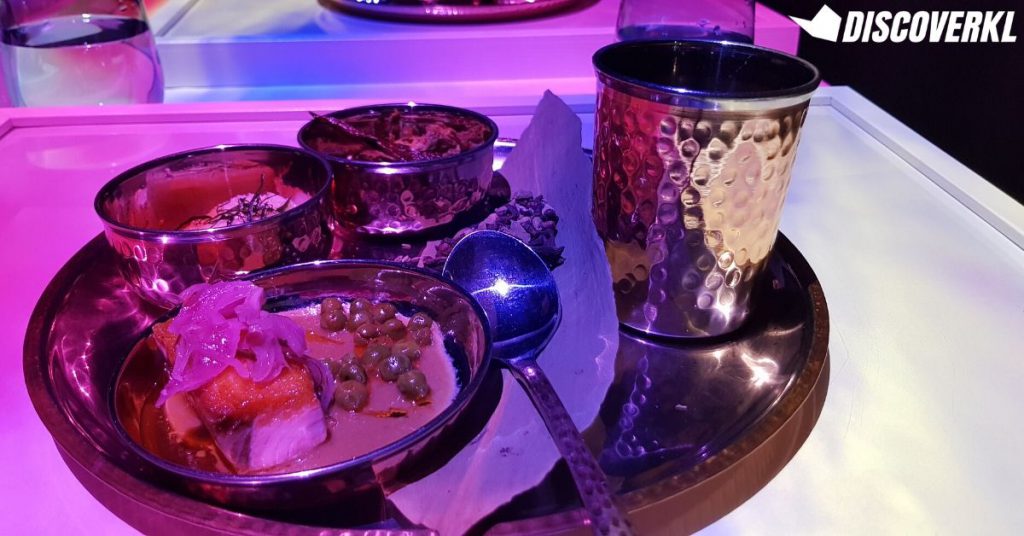 This time we had rasam, salmon, green peas masala, rice idli, and tikka chutney. Biting into the salmon that was cooked to perfection was love at first taste.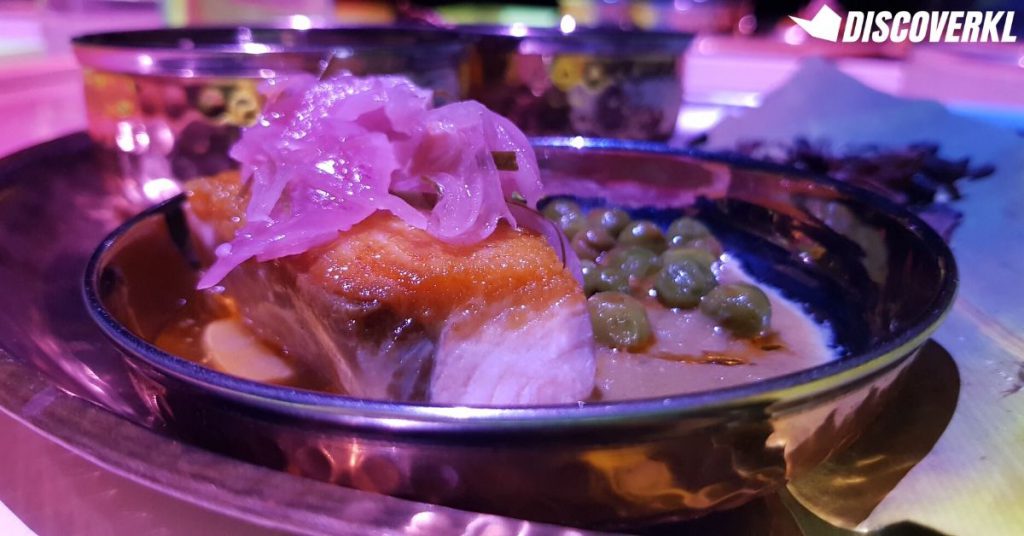 For this dish, I definitely recommend taking bites of everything at once as the combined flavours were phenomenal and cemented it as my favourite course of the night (yes, even before I had tasted the last three).
I skipped the rasam, however, as its tangy flavour is not something I've acquired the taste for yet.
Hiking Up The Himalayan Range
Well, Le Petit Chef didn't actually hike up the mountains. He had his feathery friend conveniently fly him to the snowy peak.
To simulate the cloudy frost you'd find in the Himalayans, the dessert of raspberry sorbet, kaffir lime soda and mint jelly comes with dry ice on the side (not inside).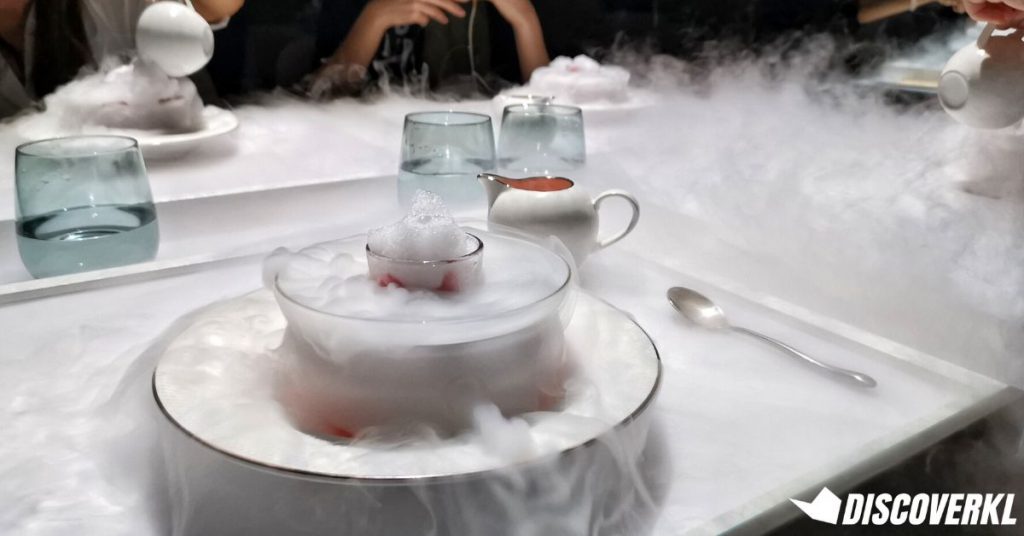 As I poured hot, rose-scented water on the dry ice, white clouds began brewing. Looking across the room at the other tables and seeing a blanket of clouds covering the entire place was a sight to behold.
The dessert itself was a nice palate-cleanser, tart and cold enough to refresh the senses. A little on the sweeter side, but I'm not complaining.
Chased Like A Chicken In China
After landing in China, Le Petit Chef got into some trouble when he ate food left out for spirits. A dragon statue came alive and began to chase him down, but his bird friend came to the rescue.
For the last main course for the night, we had flat rice noodles, mushrooms, chicken and baby leek.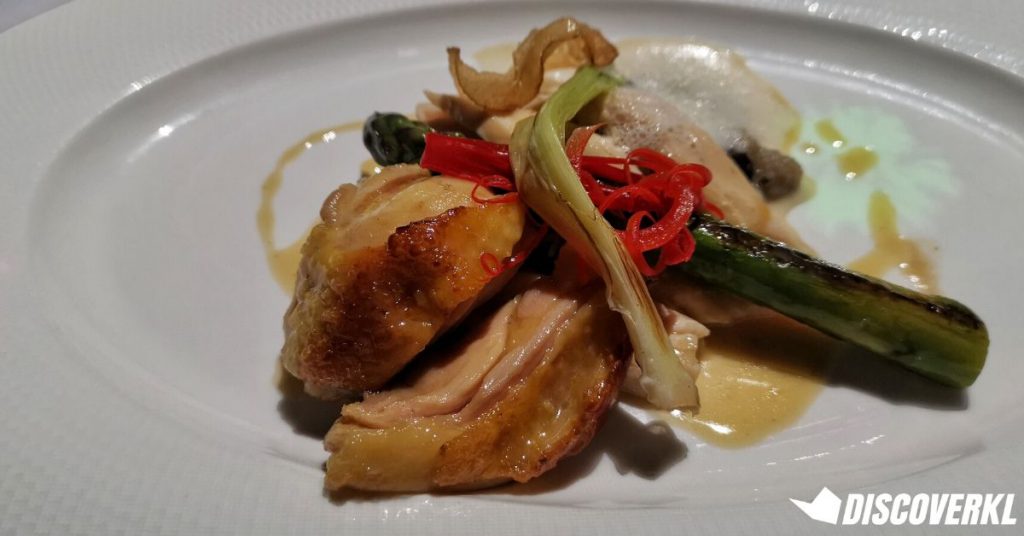 The noodles were soft and springy, the mushrooms were flavourful, there was a bit too much chicken (as delicious as it was), and I'm pretty sure the baby leek had somehow been replaced by asparagus (which I still enjoyed)!
One of my colleagues commented that the chicken was a little salty, but we both agreed that we would rather it be salty than bland.
The French Finale
Le Petit Chef returned to his place of origin, spoke to us for a bit then promptly disappeared. We received a plate each and had it arranged to sit perfectly within the circle of light from above.
He soon popped back up and began 'preparing' our dessert, crème brulee. Once it was done and he scorched its surface, we had the real thing delivered to us.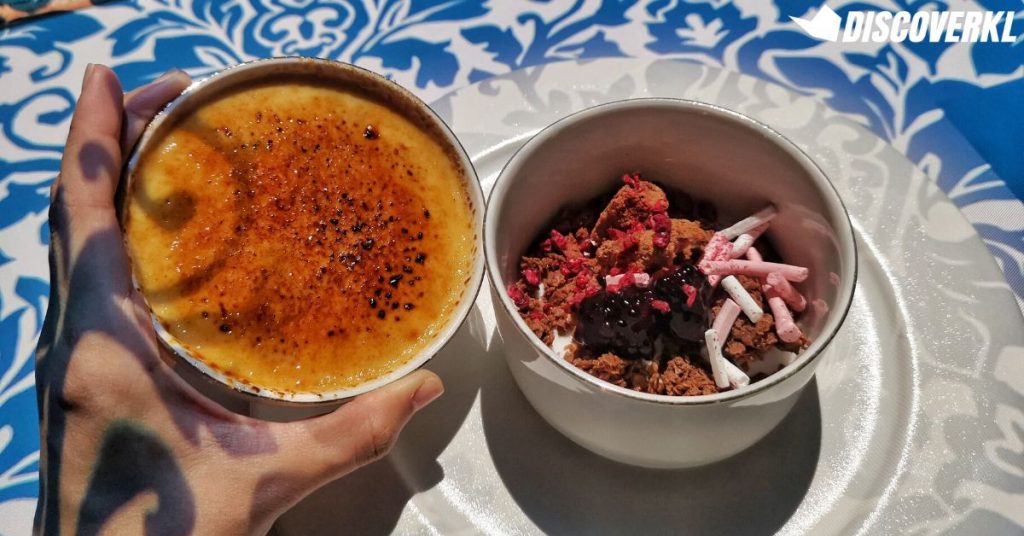 It was a two-part dessert: a plate of crème brulee on top of a bowl of chocolate mousse. I enjoyed the creamy, sweet custard of the crème brulee more, but after trying both desserts together, that was how I cleaned off the plate and bowl.
Reflecting On The Journey
The proportions of the 6 courses were sufficient for me as I usually don't eat much, and prefer to have variety over quantity.
Even if you're a large eater, I have a feeling that you might be full at the end because of how the overall dining experience is spread out over an hour long.
While Le Petit Chef was entertaining, it was the food cooked by Chef Steve Ariffin (the real chef behind it all) that I really enjoyed.
There was also a host who interacted with guests throughout the experience, dressing up in the traditional garb of each cuisine's location appropriately and teaching us how to say various phrases like 'cheers' or 'let's eat' in different languages. He injected some liveliness into the dining experience in a way that a projected animation can't quite do, as hard as it may try.
I can say with confidence that it was an enjoyable dinner, though I do wish I was able to eat a little slower and savour the food more. Alas, the other diners were fast eaters, and I couldn't have the entire room waiting for me.
If you're interested in experiencing Le Petit Chef's journey for yourself, do make sure you arrive on time. Several patrons arrived late due to the weather and traffic, and they missed the starters, but the show had to go on as there was no rewinding of the animation.
Hours: Two sessions daily (excluding Mondays) at 7 PM and 9 PM, with an additional 5 PM session only on Fridays and Saturdays.
Address: Elements KL Sdn Bhd, Hive, Unit H-G-11, Trec, 438, Jalan Tun Razak, Kuala Lumpur
Website: Le Petit Chef @ ELEMENTS
Tel: 03-2282-6413