Cookies. Big or small, crunchy or chewy, they're all a delight with a glass of milk. 
It was said that the first chocolate chip cookie was invented in 1937 by Ruth Graves Wakefield of Whitman, Massachusetts. Prior to that, cookies were apparently baked as test cakes to test the oven temperature.
Besides Pepperidge Farms, Famous Amos and Subway, here are 10 places to get your hands on some freshly baked ooey gooey circles of joys.
1. Saved By The Cookie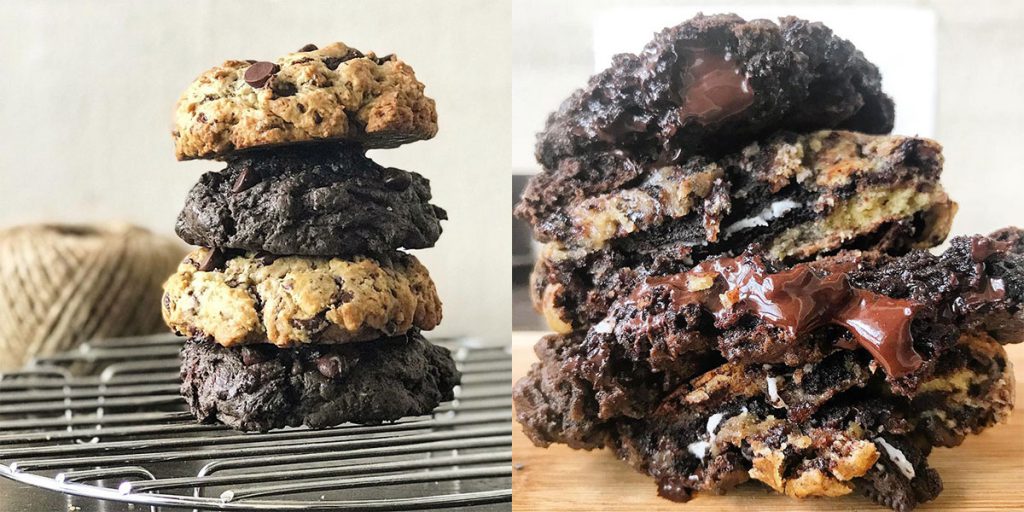 Priced at RM5.80 per piece, these soft cookies are oozing with enough chocolate to save you from life's stresses. Weighing at 100 grams per cookie, that's one dense pile that's crispy on the outside but thick and gooey on the inside.
The love for cookies stemmed from the two founders' first bite into a warm, chewy chocolate chip walnut cookie in New York City. Started in 2018, they now have up to 5 different cookies, namely the:
Classic Chocolate Chip
Dark Chocolate Sea Salt
Dark Chocolate Peanut Butter
Oreo Chocolate Chunk
S'mores
We heard their Double Chocolate Sea Salt and Oreo Chocolate Chunk cookies are to die for!
Tip: Heat up your cookies for about 20-30 seconds to achieve the indulgent gooey effect.
Website: Saved By The Cookie
2. Petiteserie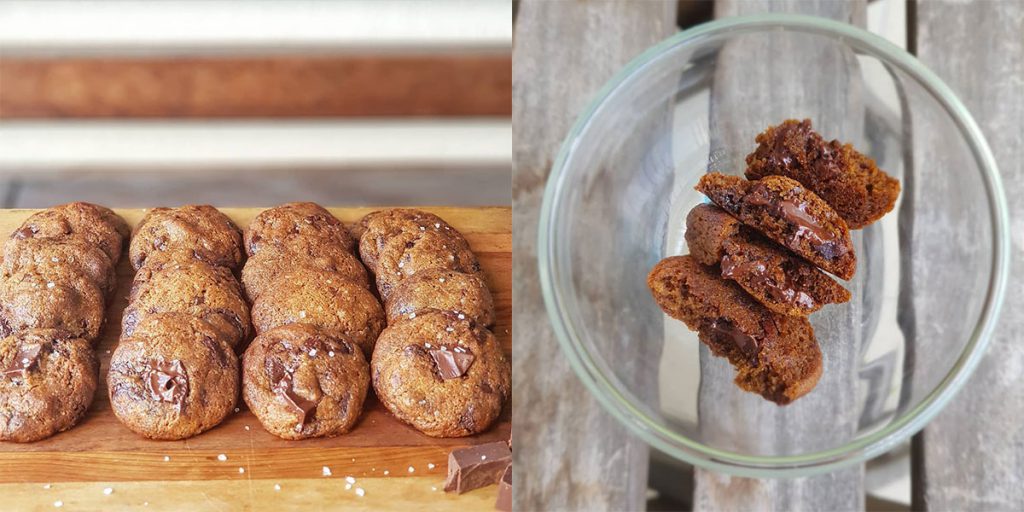 If you're a fan of having your chocolate with a tinge of salt, Petiteserie has you sorted. Graduating from Le Cordon Bleu Malaysia in 2014, Janice is "all about taste and texture'. Taking pride in being a pastry perfectionist, her signature hand-laminated croissants are also a must-try besides her Chewy Chocolate Chip Cookies.
Cookie dough with a molten Belgian chocolate center balanced with salt sure sounds like a cookie made in heaven!
Website: Petiteserie
3. Taqookies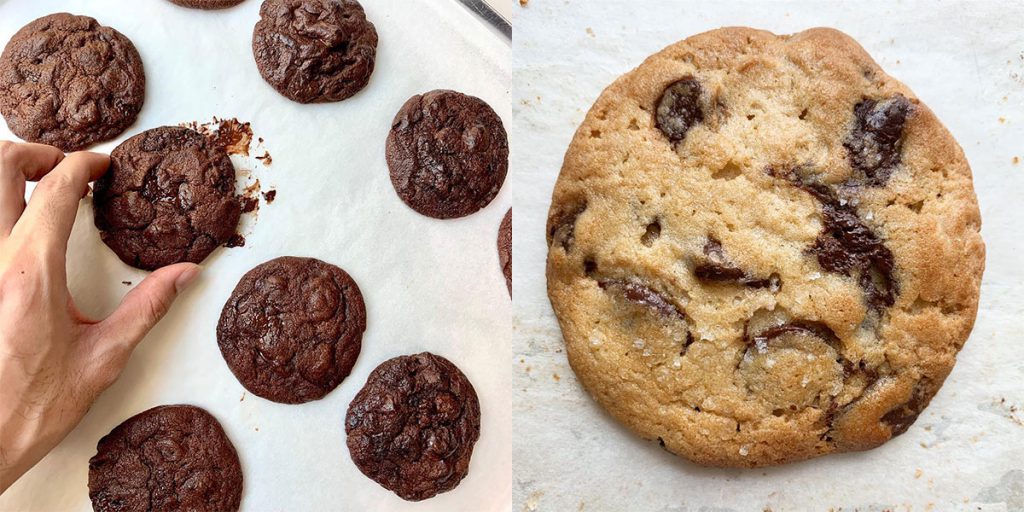 Coining themselves as the #GoodestCookiesEver, Taqookies' cookie recipes have been in the family for two generations. Made with quality ingredients, each cookie is weighed and shaped before baking to ensure an even distribution of nuts to molten chocolate chips.
These are the flavours they have thus far:
Double Dark Chocolate Espresso
Belgian Double Chocolate Chip
Honey Walnut Chocolate Chip
Almond Latte
Teh Tarik Hazelnut
Milo Kosong
Sirap Bandung
Orange Cranberry Oatmeal
Sold by weight, get your hands on their cookies at Frangipani Bulk, The Hive Bulk Foods and at NUDE The Zero Waste Store.
Website: Taqookies
4. Big Cookie Theory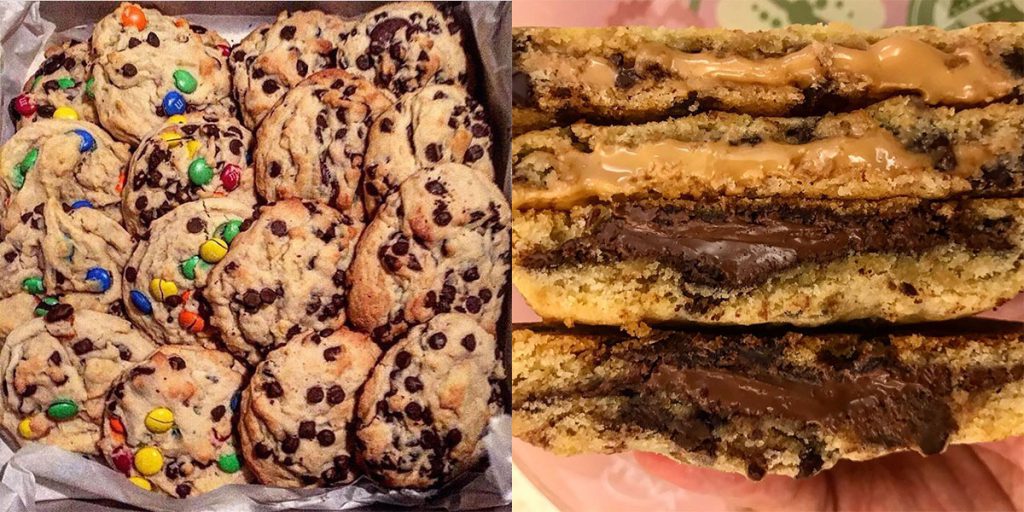 If Cookie Monster had a bakery, it would probably be something along the likes of Big Cookie Theory. "Dough-ing" strong since 2012, this 7-year industry veteran began with three flavours—Cookie Butter, Nutella and Peanut Butter.
Today, they serve a wide variety of gooey chocolatey and delectable desserts made from cookie dough and brownie batter.
Among sinful stacks of chocolate cakes covered in chocolate drizzles, their chocolate chip cookies and peanut butter and jelly cookies still shine the brightest.
Website: Big Cookie Theory
5. Wildflower Desserts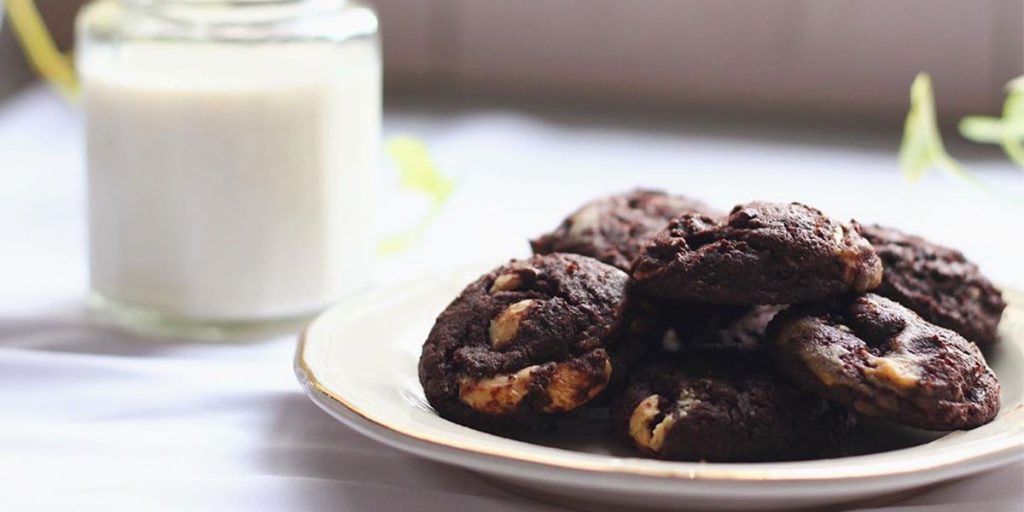 A quick scroll through their Instagram feed and you'll be greeted with cakes topped with beautiful floral arrangements. Known for her cakes that appease the tongue and the eyes, Rachel's a cake designer and baker who creates custom-made desserts in the forms of cakes, cookies, pretzels and even cake pops.
Besides adorable festive and themed cookies, her soft baked Double Chocolate Cookies were launched in mid-June due to popular demand.
Website: Wildflower Desserts
6. SugaRie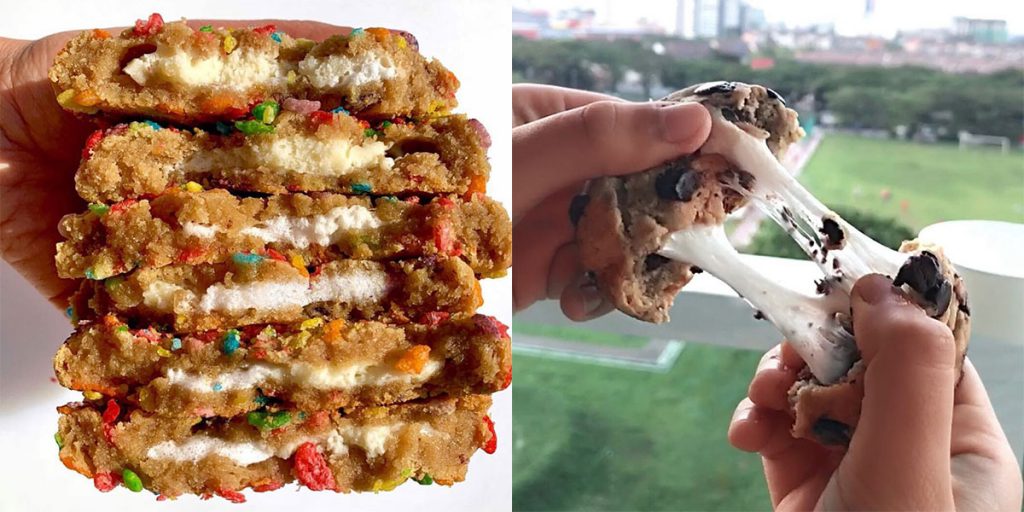 Speaking of cakes, SugaRie's not only known for their sinful "s'moregasmic" brownies but they also bake soft cookies stuffed silly with fillings.
Priced at RM5.20, they've got up to 6 types, namely the:
Nutella Stuffed Cookie
S'mores Stuffed Cookie
Salted Caramel
Milk & Cereal
Reese's Peanut Butter
Elmo Cookie
And if 5 cookies for only RM24 isn't enough, you can get a whole tray of ooey gooey cookies called a cookie pie, with either Nutella or salted caramel topped with fluffy marshmallows.
Website: SugaRie
7. Baked KL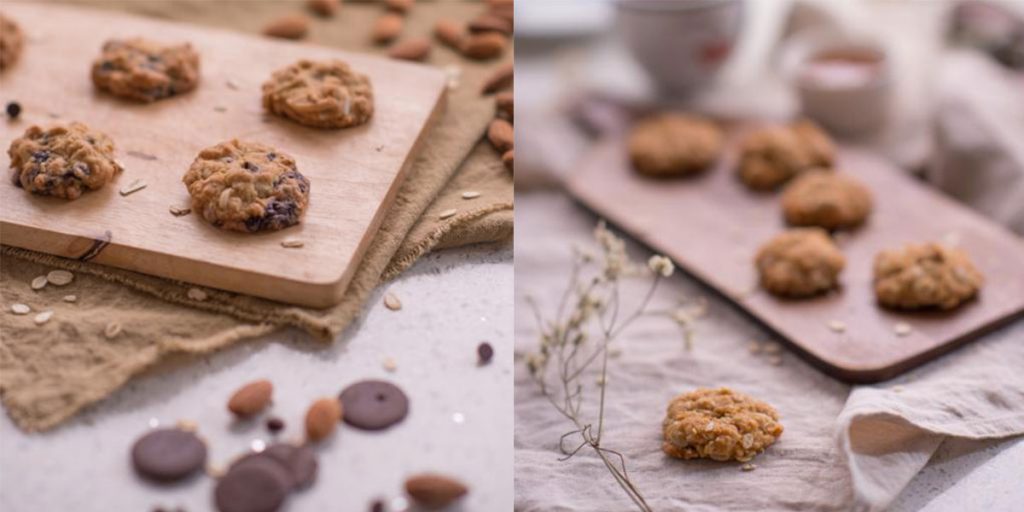 Besides selling vegan and gluten-free brownies, they've also got these chewy cookies that are not! Bite-sized and packed in a resealable packet, they're priced at RM18 per pack.
The Chewy Choc Cookies are oatmeal-based, contains nuts and is chewy and crunchy in one bite. For an egg-free alternative, their honey coconut cookies are sweetened with honey and apparently goes well with a hot cup of tea!
Website: Baked KL
8. September Bakes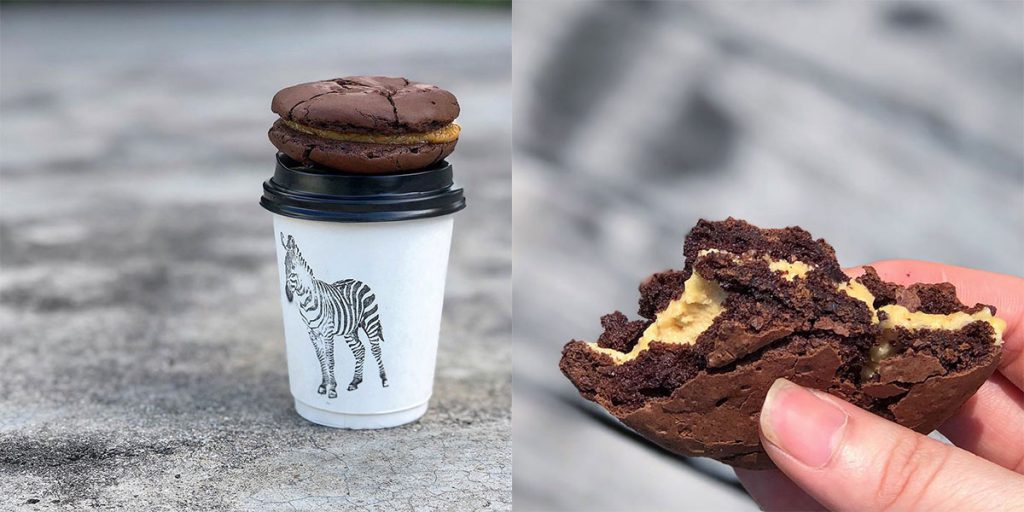 3 words. Peanut. Butter. Brookies.
Founded by Bakeroo, September Bakes is owned and founded by an avid home baker who left the corporate world to do what makes her happy. Gaining experience from around the world and from well-known pastry chefs, she now bakes brookies, cakes and cookies.
Supposedly being the first brookies in town, her delicious creations are hand made and hand piped with a buttercream of your choice. Here are the flavours to be sandwiched between two chewy chocolatey brownie cookies:
Salted Caramel (Bestseller with it being savoury, rich and velvety)
Chocolate (Packed with dark chocolate for a rich and intense experience)
Peanut Butter (Made with SKIPPY Peanut Butter)
Peppermint (Inspired by an AFTER 8 Chocolate Mint Slice)
Raspberry (Raspberries and dark chocolate in a velvety buttercream)
Priced from RM40 for 5 pieces or RM60 for 20 baby brookies, they're available at Kopenhagen Coffee, DahMakan, Bens Independent Grocer, Bucket B Cafe, The Bean Belt, Grey Sky Morning and online.
Website: September Bakes
9. Lilin Cakes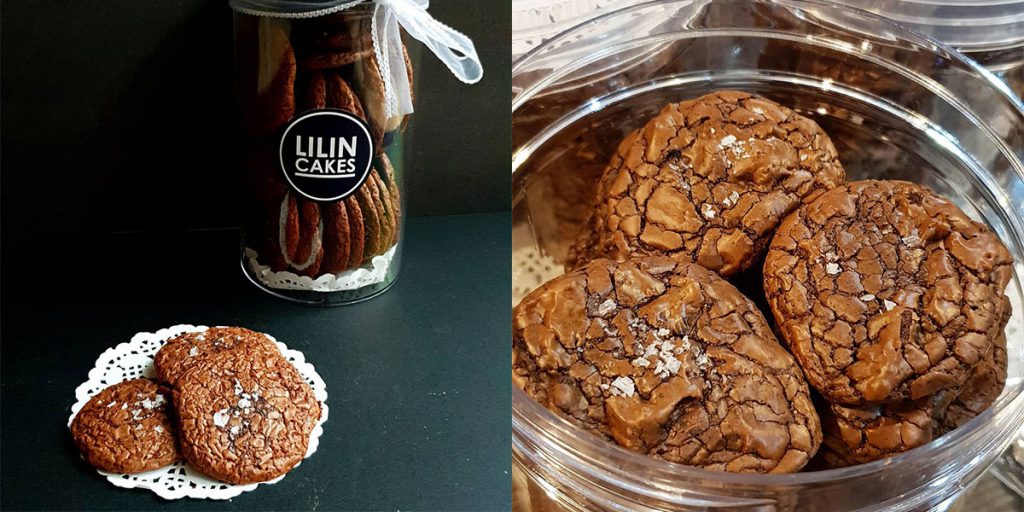 Founded by Liyana and Lina, a dentist-economist duo, they create beautiful custom-made cakes and these irresistible cookies that apparently taste like brownies.
Priced at RM35 for 300 grams, here's how they're made, according to the team:
"Lots of melted couverture chocolate, more chocolate chips, very little flour and cocoa powder, topped with Maldon sea salt flakes."
Dictionary Time: Couverture chocolate is a high quality baking chocolate made with a higher percentage of cocoa butter than traditional chocolate meant for consumption.
Best eaten within the first three days, these Brownie Cookies are soft, moist and chocolatey with a touch of savoury.
Website: Lilin Cakes
Bonus!
10. DOPE DOUGH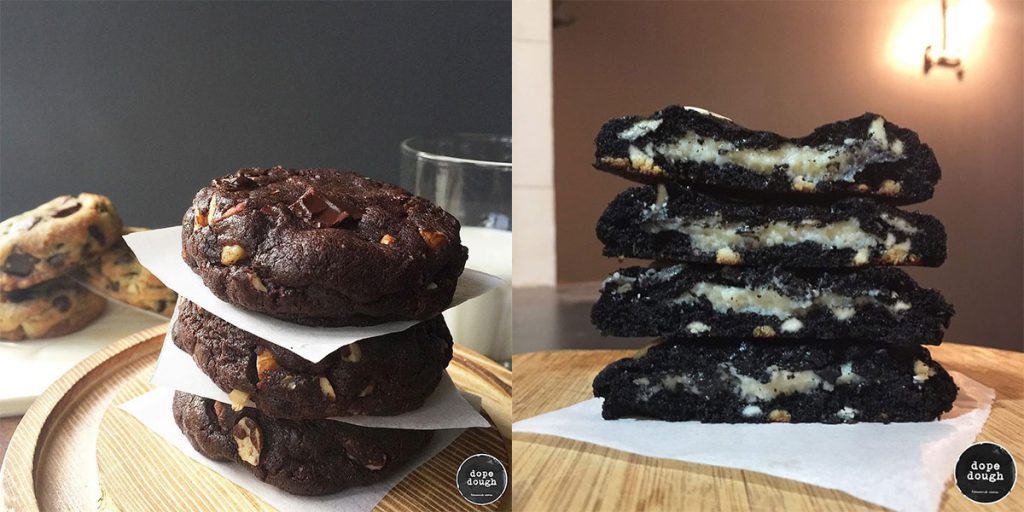 Hailing across the sea from the island of Borneo is DOPE DOUGH of Sabah. These homemade gourmet cookies come in 12 different flavours, with and without fillings such as peanut butter, salted caramel and marshmallows.
Baked by nareezmadethis, an avid doodler and creative soul, these cookies can be found in Kota Kinabalu, Sabah. Grab 'em with a cuppa at Dock In Hostel & Cafe, Loop House and Chapter Two Coffee.
Website: DOPE DOUGH
Feature Image Credit: Saved By The Cookie, SugaRie