Editors Note: Updates have been made as of 1pm, August 1st 2019.
A brownie is a dessert that consists of melted chocolate, cocoa powder, sugar, eggs, salt, and butter or margarine.
It was created out of a creative inkling by Fannie Merritt Farmer when she drastically reduced the flour in one of her chocolate cookie recipes.
In most places, they either sell cake-like or fudge-like brownies and the outcome depends on the ratio of fat and chocolate to flour. The higher content of fat from oil and moisture of molasses in brown sugar and the shorter the baking time, the fudgier a brownie should be.
Personally I love the fudgy ones. They would have a chewy or cookie-like consistency that's baked flat with a crackled top.
Hence, here are 11 places to get your fix for some fudgy brownies in KL.
1. Good Ground Bakery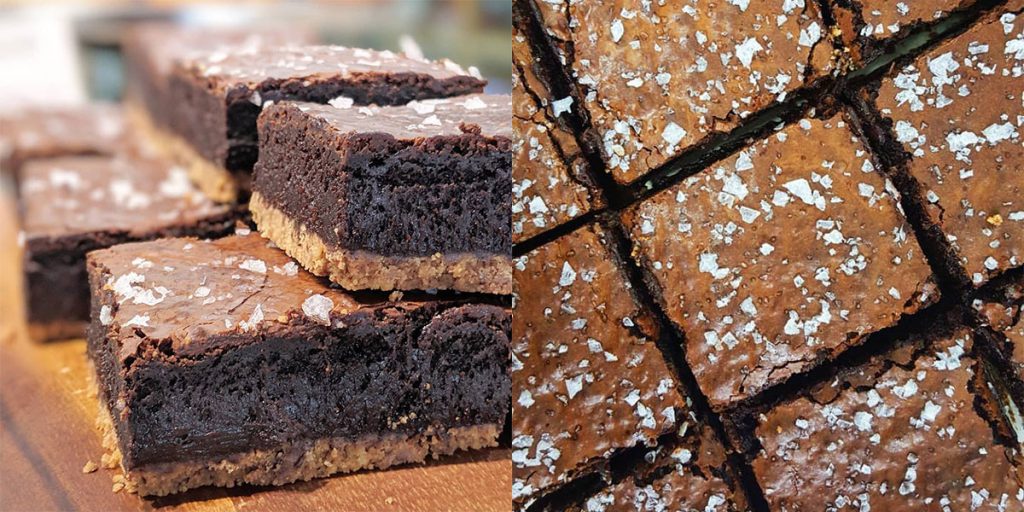 At Good Ground Bakery, they've got their brownie recipe sorted.
Crackly on top, fudgy, chocolatey, sweet and with a touch of sea salt in the middle, the cookie base adds a nice crunchy texture to this gooey square of joy.
Not cakey but decadently moist, we'd see this going perfectly well with a glass of red wine.
Price: RM10
Hours: Tuesdays-Saturdays: 10.30am-7pm (Closed on Sundays and Mondays)
Address: 143, Jalan SS 17/1a, Ss 17, 47500 Subang Jaya, Selangor
Website: Good Ground Bakery
Tel: 03-5879 7904
2. Jaslyn Cakes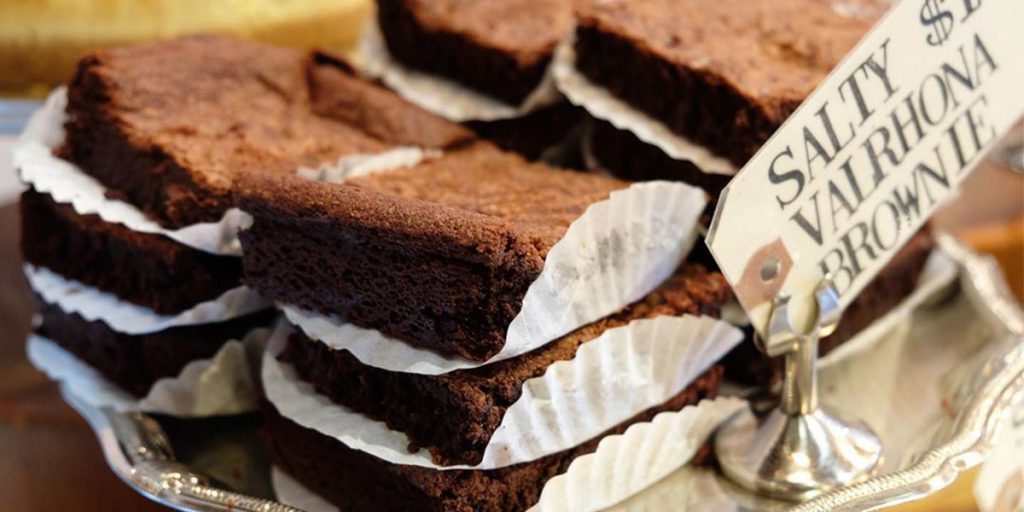 If you're a fan of chocolate with a touch of salt, this is another option for you. Jaslyn Cakes is now available in both Bangsar and Mont Kiara with their baked goods made fresh daily.
They've got brownies made with Valrhona Guanaja chocolate chunks and sprinkled with sea salt flakes and Blondies. For their Blondies recipe, they have replaced the chocolate with brown sugar and vanilla.
To get your hands on a tray (16 slices) of brownies, do note that you are required to pre-order them a week in advance.
Price: 1 slice (RM12), 16 slices Blondies (RM150), 16 slices Brownies (RM165)
Hours: Tuesdays-Fridays: 11am-7pm; Saturdays-Sundays: 11am-8pm (Closed on Mondays)
Address: 7A, Jalan Telawi 2, Bangsar Baru, Kuala Lumpur
Website: Jaslyn Cakes
Tel: 03-2202 2868
3. VCR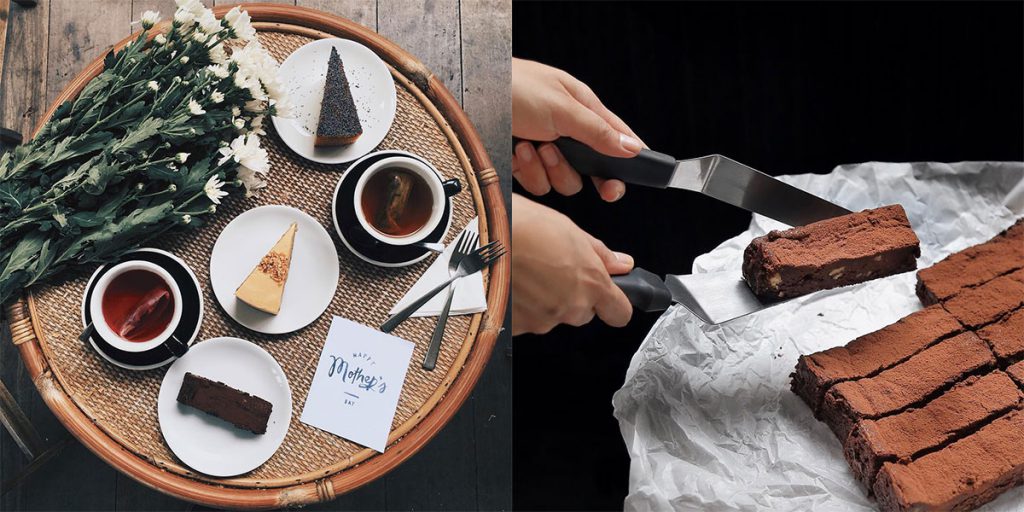 I have been the longest fan of their coffee since my first sip in 2012 and nothing makes the love grow stronger than a decadent bar of brownies to go with it.
In the menu, the brownie is described as, "Rich and moist chocolate brownie with toffee and chopped walnuts, topped with cocoa powder dusting." I don't know about you but I'm sure as heck excited to return and give these bars a try.
Hours: 8.30am-11pm, Daily
Address: 2, Jalan Galloway, Kuala Lumpur
Website: VCR
Tel: 03-2110 2330
4. Brownies Bar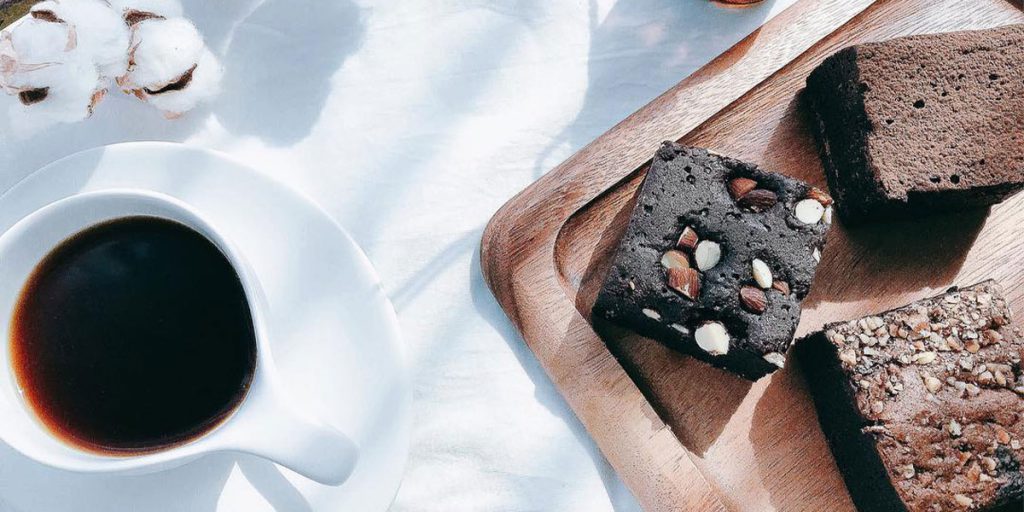 Founded by The Accidental Bakers who are known for their beautiful cakes, they're sharing the love for brownies with patrons in Pavilion Elite and The Gardens Mall.
They've got 9 types of brownies, including dark chocolate brownies, sea salt almond brownies, Nutella brownies, Oreo brownies, durian brownies and cempedak blondies.
Price: Between RM5-RM6
Hours: 10am-10pm, Daily
Address: Pavilion Elite and The Gardens Mall
Website: Brownies Bar
To have them sent to you
Because sometimes we just want to Netflix and chill with a whole box of brownies to ourselves.
5. SugaRie KL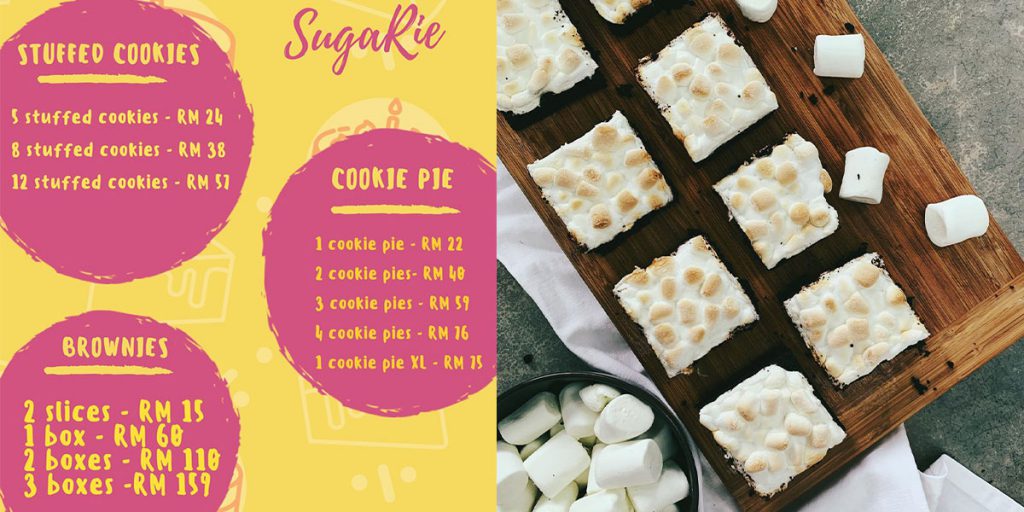 Torched marshmallows on chocolate brownies and Nutella-filled cookies? Uhm, yes please!
Founded by 21-year-old Risha and her partner, they specialise in stuffed cookies and s'mores brownies. Based in Subang Jaya, their Instagram feed has got us drooling all over our phones. We'd warn against watching videos on the page when you're hungry.
Delivery fees start from RM8 but you can opt to pick it up on your own as well.
P.S.: They also deliver Nasi Lemak for your fried chicken, egg and sambal cravings.
Location: Subang Jaya
Price: 2 slices (RM15), 1 box (RM60), 2 boxes (RM110), 3 boxes (RM159)
Website: SugaRie
6. Luv Vanilla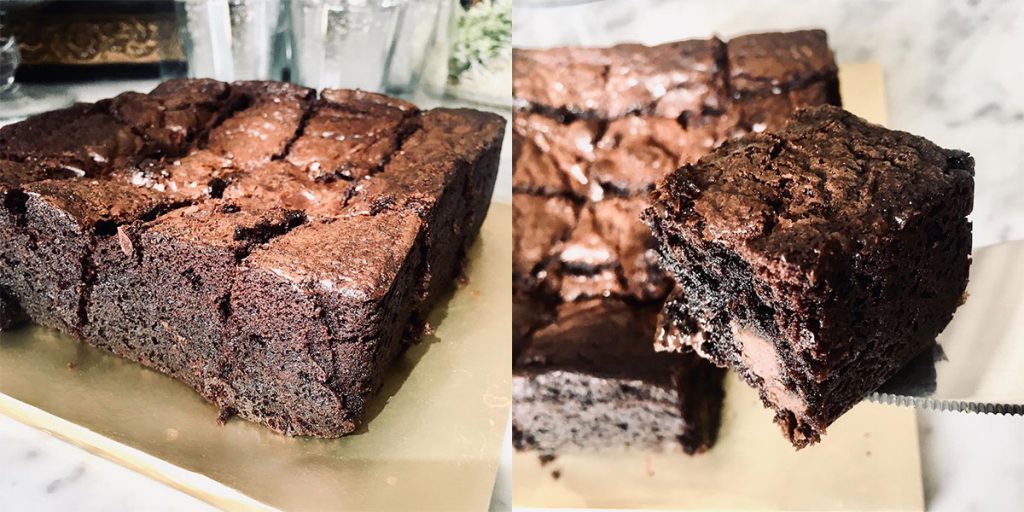 If you've got a craving for home-baked goods, Luv Vanilla's your gal. Pineapple tarts with cheese crumbs, Brownie Bottom Cheesecake, and Mini Chocolate Pear Cakes are just the tip of the iceberg for them.
And of course, their Ooey Gooey Brownies that're talimakan-approved. 😉
Location: Kuala Lumpur
Price: 6×6 inch (RM20), 7×7 inch (RM30), 8×8 inch (RM40)
Website: Luvvanilla_
7. Lovebiteskl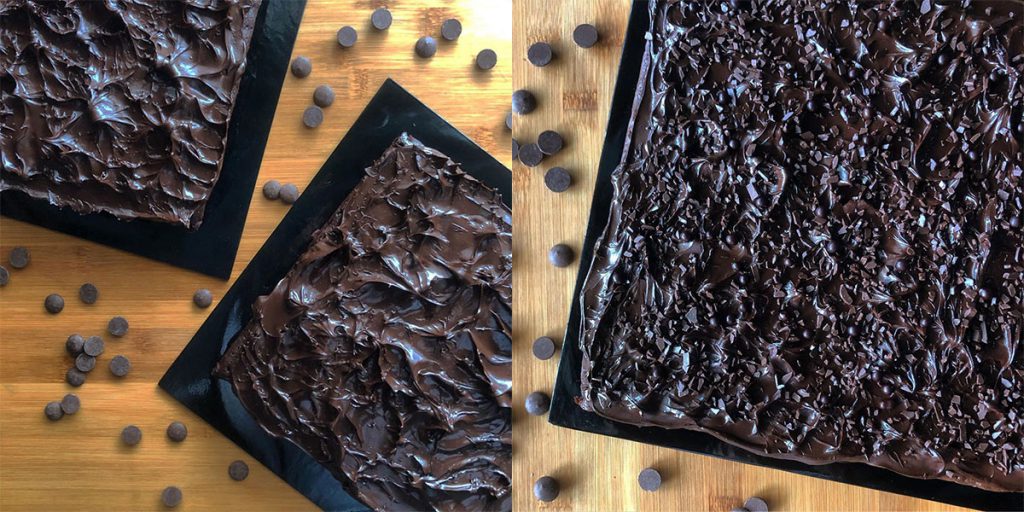 If brownies had a sexy nickname, this would be it. Lovebiteskl bakes all sorts of desserts, from chocolate ganaches, Pandan Gula Melaka Squares and even Trownies, that're apparently a combination of brownies and tarts.
They've got the basic Chocolate Fudge Brownie and also its cousins, with the addition of walnuts and hazelnuts too!
Location: Puchong
Price: 8×8 inch (from RM60), 10×10 inch (RM90)
Website: Lovebiteskl
8. Chewy Bakes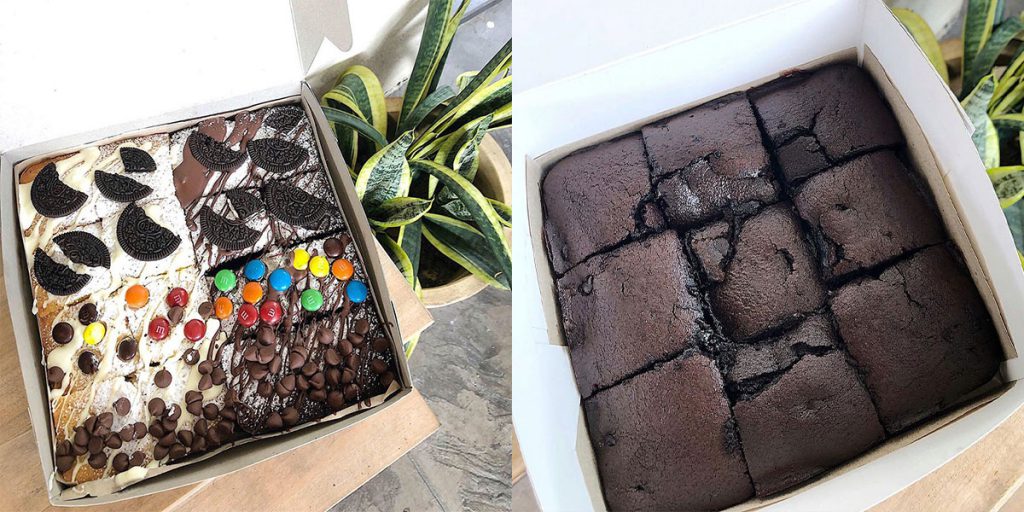 Sometimes when we binge-watch baking videos online, we'd just get a sinful craving for a dense chocolate-y slice of brownie topped with caramel, sweets and more candy. And not just one square, but a whole cake to make you tingle with excitement.
We're loving how sinfully delightful the cakes at Chewy Bakes look. Based in Subang Jaya, all their brownies come with chocolate chips on the inside and chocolate drizzles on the outside.
P.S.: Watch the founders' customer reviews (on Instastories) for a dose of entertainment. Their conversations are endearingly hilarious.
Location: Subang
Price: 9 pieces Classic Brownies (RM32), Mixed Brownie (RM36), toppings start from RM3
Website: Chewy Bakes
9. Baked KL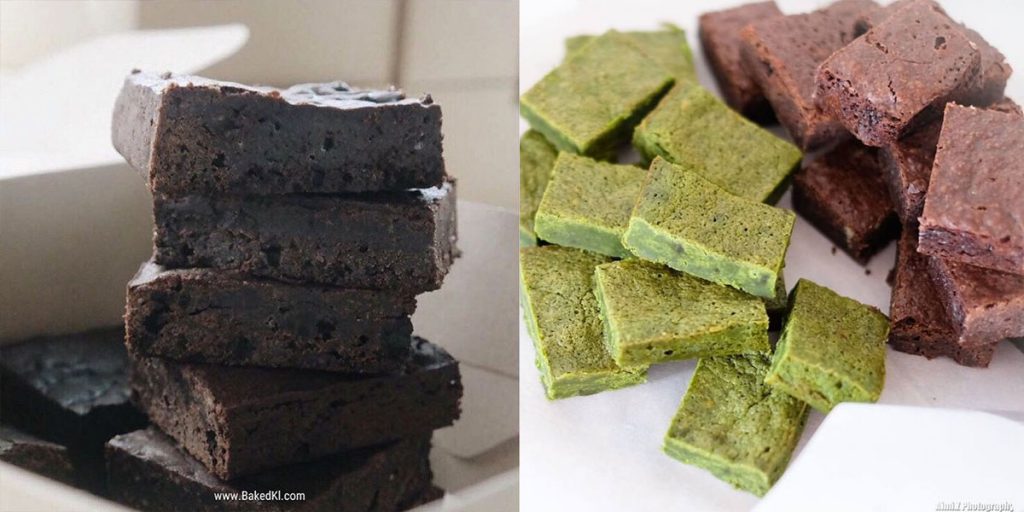 Gluten-free and vegan, their cakes are equally as delicious as your regular brownies. They've got 6 different types of brownies and blondies with different consistencies to choose from. I've had their Brown Cow Brownie and it was delightfully chewy out of the fridge.
Their Choc Stellar brownie is a chunky gooey fudgey gluten and nut-free brownie which sounds great too. If you're mad about matcha, their Matcha heaven blondies could satisfy your matcha and brownie cravings all at once. 😉
P.S.: 10% of their total sales are donated to a cause each year. How's that for feel-good brownies?
Location: Ampang
Price: 12 pieces Madagascar Brownie (RM59), 12 pieces Choc Stellar Brownie (RM75), 12 pieces Matcha heaven blondies (RM65)
Website: Baked KL
P.S.: Here's where to look for a large assortment of cakes to be delivered to you. 😉
For a guilt-free treat
If you've recently felt really guilty on the amount of sugary drinks and treats you've consumed, here are healthier alternatives. Because brownies are forever. ❤️
10. The Honest Treat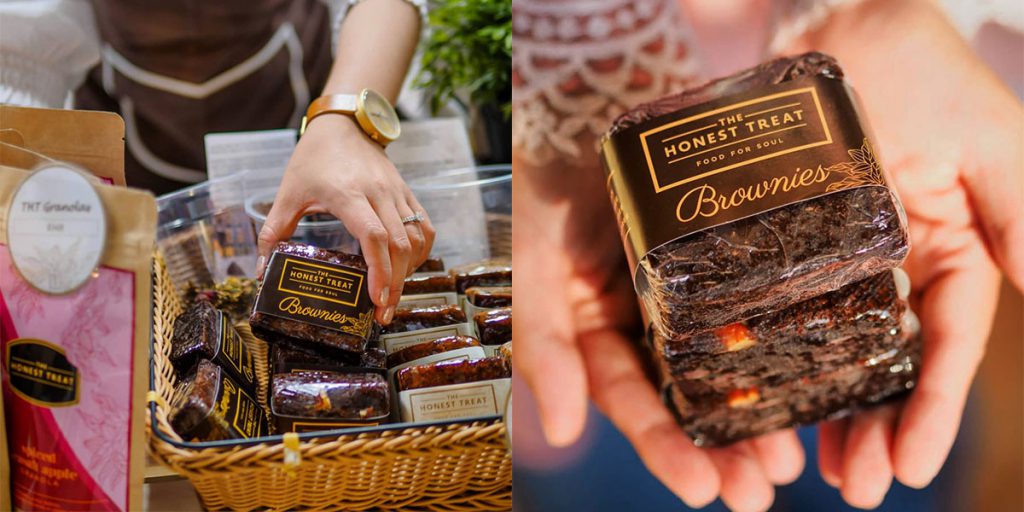 Wrapped to-go, these decadent gluten-free and vegan squares are available at all La Juiceria Superfoods outlets. Made with buckwheat flour, these are healthier treats to have and the team usually includes one large whole dark chocolate chip that's melt-in-the-mouth soft. Their naturally-coloured fruit-based raw cakes are also a great dessert alternative.
Price: RM4.90
Location: La Juiceria
Website: The Honest Treat
Tel: 018-368 1288
11. Kind Kones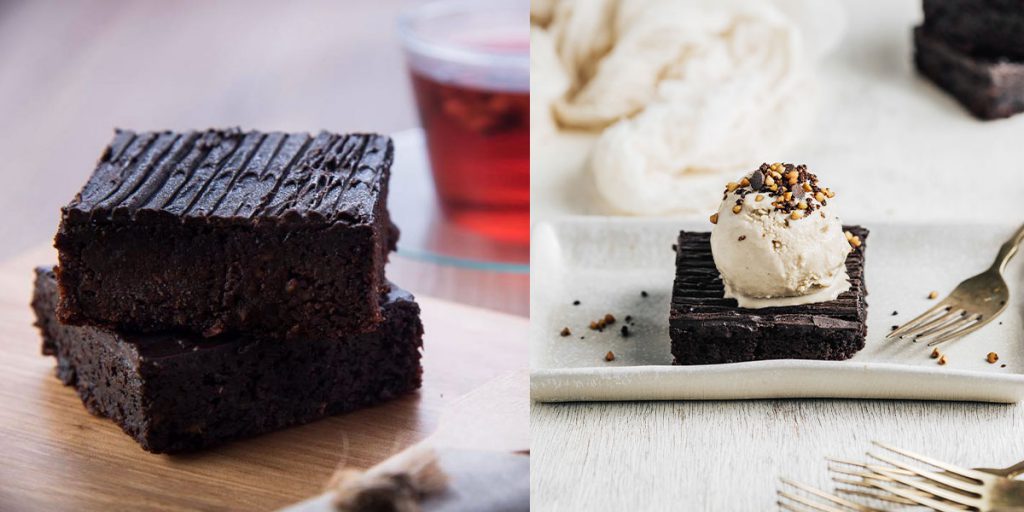 Not only do they serve up some creamy all-natural vegan ice cream, their sweet potato brownies are potentially one of the fudgiest you'll ever have.
The naturally starchy consistency of sweet potatoes maintain the brownies' moisture, making it soft and fudgey. It's the perfect star in their Brownie Sundae (RM25.90).
Price: RM15.90 (brownie alone)
Hours: 10am-11pm, Daily
Address: Bangsar Village, 1 Mont Kiara, Empire Subang, MidValley, Plaza Damansara
Website: Kind Kones
Tel: 03-2011 5313
Feature Image Credits: Instagram Users @chewybakes & @luvvanilla_