Bullet journalling is a passion project pursued by countless, with the hashtag #bulletjournaling quickly reaching the 1 million mark on Instagram.
It's not something that can be pursued within minutes and would require the pursuer to spend hours labouring on a single spread.
A spread is the term used for a 2-page artwork which can be both functional and artsy.
Some bullet journalists (fondly known as bujo artists) use these spreads as a diary, whether daily or weekly. Others use it to track their daily tasks and activities, including things such as water intake and their exercise routine.
We spoke to 5 Malaysian bullet journalists to find out what's their favourite spread and how someone who's new at the artform can replicate a similar spread in their own time too.
1. Marisa Wong of Simpleme.bujo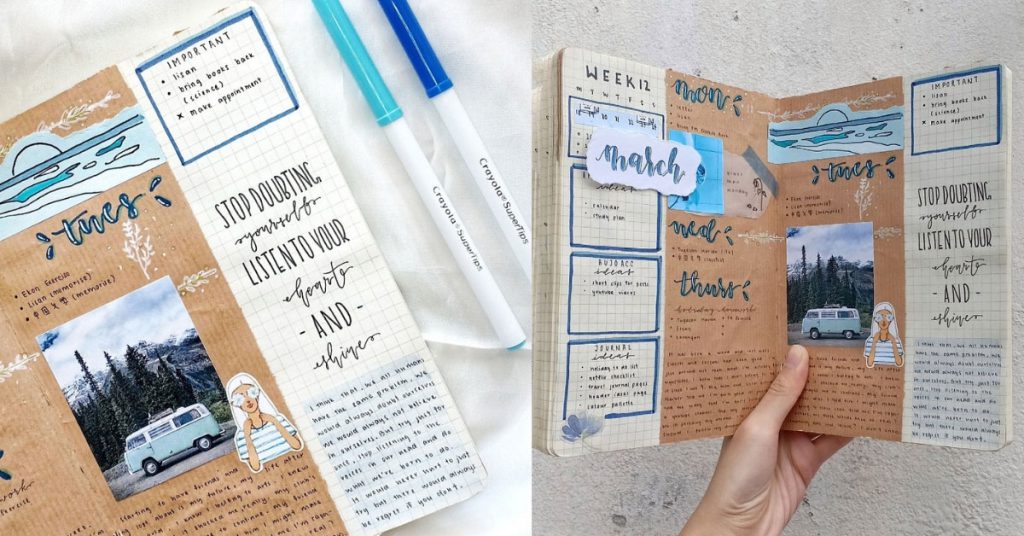 17-year-old Marisa Wong might still be in school but she carves out the time to pursue her passion in bullet journalling. She began journalling as of July 2018 and this newfound hobby is not foreign for the artsy Form 5 student. Growing up, she pursued drawing, origami, DIY projects and designing, hence journalling is another way for her to express herself.
Marisa describes her journalling style as one that is inspired by nature and she favours anything floral. It's not uncommon for her to include insect and space-themed patterns in her bullet journal spreads as well. Being a high school student, Marisa shops for her journalling tools on Taobao or at book fests as they tend to be more affordable and suits her budget.
Marisa's favourite spread is one she created back in March. Detailing her weekly adventures as a high school student, Marisa shared that the spread layout took her an hour to create.
To recreate this spread, you'll need: Brown paper, Crayola Super Tip markers, sticker paper.
2. Low Kai Xuan of Arctisticwolf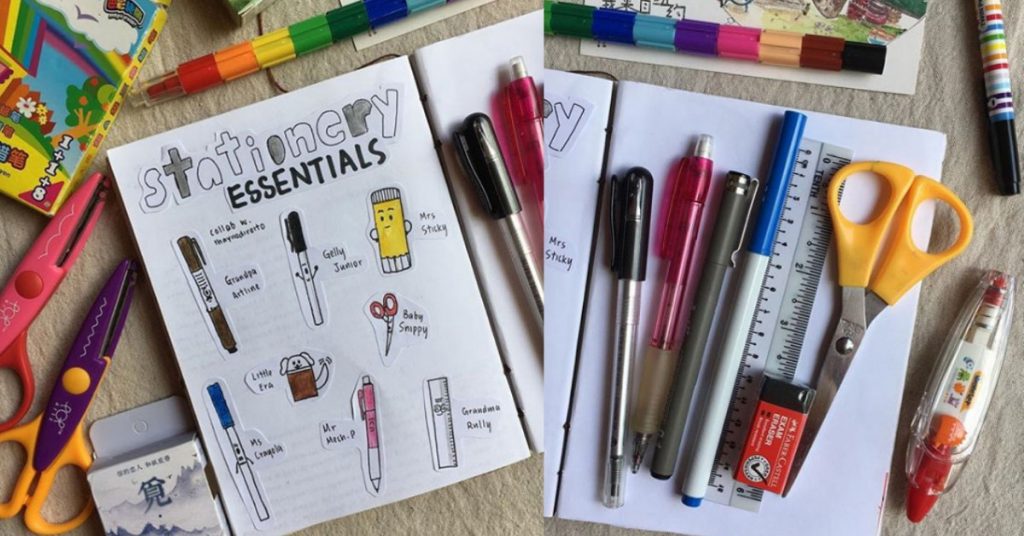 Low Kai Xuan has been bullet journalling for the past year and she picked it up after gaining inspiration from other bullet journalists on Instagram. The 17-year-old high school student confessed that she does not have a particular style. "I think my style is quite random. Usually I just go with the flow, doing whatever I want at that moment as long as I'm happy," she noted.
She details her daily life in her bullet journal, much like a diary entry, except that it's far more artsy. Kai Xuan's favourite spread is one she created at the end of March 2019 and it took her 1-2 hours to finish. "It's actually a collaboration with my friend so we decided to do a spread about our stationery essentials and I decided to express it by drawing them into stationery family members," Kai Xuan shared.
To recreate this spread, you'll need: Pilot Super Grip 0.5 mechanical pencil, Shachihata Artline 0.1 pen, Kooh-I-Noor colour pencils
3. Lulu Ang of The Dots And Grids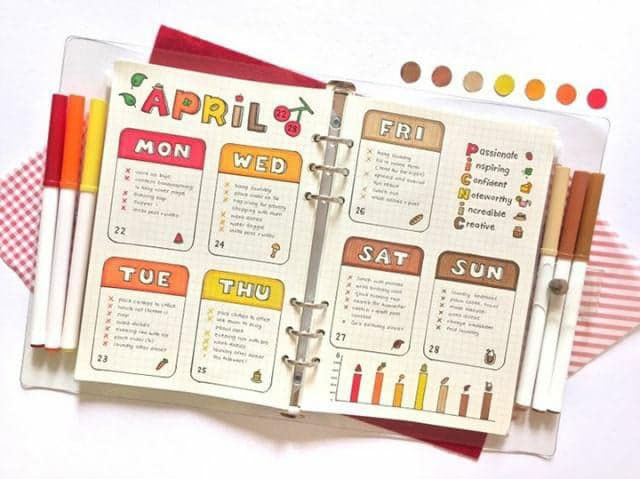 Lulu Ang, better known as The Dots And Grids on Instagram has a pretty straight forward reason for her social media handle. "I journal in an organised layout on dotted and grid papers," she shared. The 25-year-old has been bullet journalling for a little over a year now and she began pursuing it as a way to inspire herself through the low moments in life. It was also a way to keep a record of her life as a 25-year-old.
"I think it would be fun looking back at what I have done in the past when I get older," she noted. She also finds her bullet journalling to be very useful in motivating and reminding her to drink water, as she doodles her daily water log in her journals.
She doodles different themes each and every time, whether that may be a weekly or monthly theme. Her favourite spread is an adorable picnic one she created in April 2018. It took her 40 minutes to create from scratch and she was inspired to create it out of her desire to go on a nice picnic under the sun. "Thinking of what to bring for an ideal picnic session alone excites me a lot," she shared.
To recreate this spread, you'll need: Crayola Super Tips markers, Sakura Pigma Micron pens
4. Fai Kawid of Rubyjournalling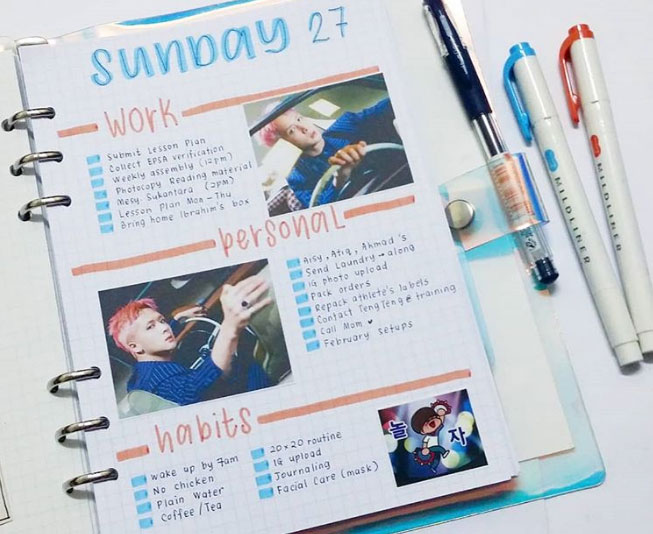 Being a teacher means requiring structure in your daily schedule, but that does not mean that you have to leave your creativity at the door. For Fai Kawid, her way of bringing the 2 together is through bullet journalling. "Being a teacher, there are always interesting things happening while I'm in class. I love to write about it as well as to reflect on any new lesson skills I used in class," Fai shared.
Fai bullet journals in order to plan for her daily activities and separates her entries into work and personal doodles. She also has a habit section to track her daily habits. Once she has completed a task, Fai would mark her progress through her journals.
The 33-year-old has been journalling for 4 years now and favours using her favourite Korean idol's photos to decorate her pages. Her favourite spread is one which includes Ravi of KPOP boy band, VIXX. It took her 10-15 minutes to create the simple spread which incorporates blue and orange colour schemes.
Fai's style would suit those who tend to have a busier schedule and can only spare a short amount of time daily to bullet journal.
To recreate this spread, you'll need: Mildliners highlighter, Uniball Signo 0.38 pen.
5. Lye Hazel of @hazellye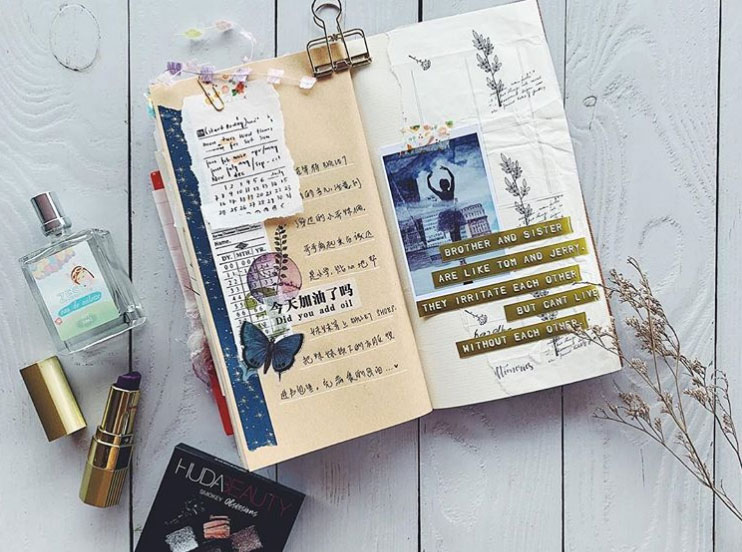 24-year-old staff nurse Lye Hazel has been bullet journalling for the past 2 years and she picked it up due to her low self esteem.
"Seeing my friends so passionate with their work and dreams, I felt that I was so useless which made me even more depressed," Hazel shared.
In 2017, she made the commitment to jot down 3-5 good things that happened each day in a little notebook. Following this, she picked up bullet journalling which helped in her time management.
Hazel's favourite spread was created during a recent ballet class this year and took her about 20-30 minutes to finalise.

"When I was waiting for my ballet class to start, I saw a brother and sister pair up at class. The brother helped his sister put on her ballet shoes and helped her to put on her tutu skirt," Hazel said of the special moment that made her feel warm inside, hence her immortalising it forever in her bullet journal.

To recreate this spread, you'll need: Bargain Mr. DIY pens at only RM1+. Hazel favours inexpensive pens and uses them as long as she is comfortable with them.

Feature Image Credit: The Dots And Grids, Lye Hazel