Calligraphy can turn a simple sentence or phrase into a work of art and that's a skill that calligraphy artists spend countless hours honing.
8 Malaysian calligraphy enthusiasts share with us how they got into this artform as well as the tools they always fall back on to create stunning works of art.
1. Dayang Hazirah of Dhazirahdraws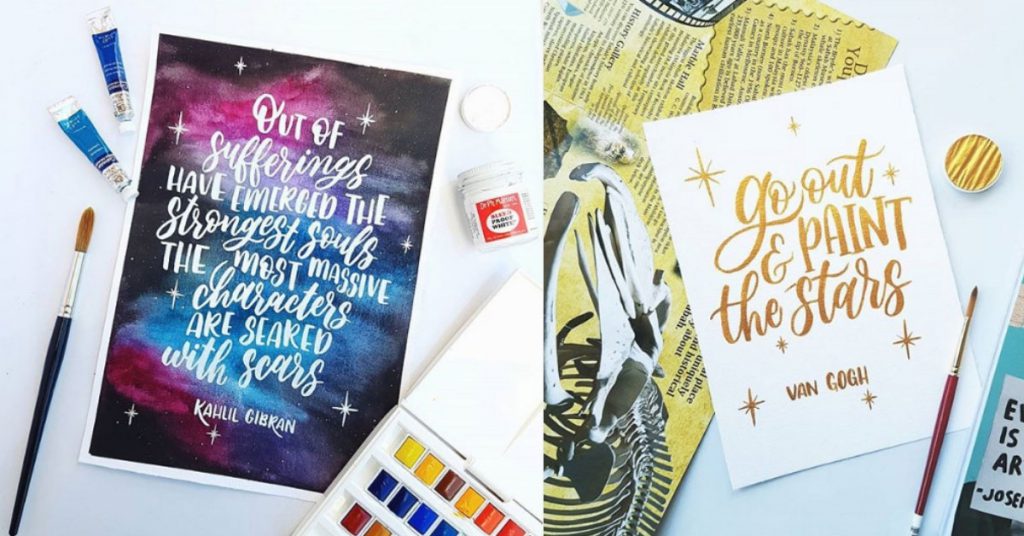 Sarawakian Dayang Hazirah first picked up calligraphy when she attended a workshop in Kligraphystudio. The 25-year-old has been calligraphing for 3 years now and finds the time to practice the artform any chance she gets, whether that may be on her study notes or on random receipts.
"I'd always carry a brush pen and a notepad with me in my purse. I believe practice helps a lot in improving and perfecting your strokes," Dayang said.
For Dayang, art became her escape and kept her sane whilst in dental school.

She currently sells her own customised artworks with calligraphy and paints a little on the side too.
Dayang's top 3 calligraphy tools: "I love Tombow dual brush pens, Coliro Finetec Pearl Colour in Moon Gold and Rhodia dot pads."
Dayang's top calligraphy tips: "Patience and practice goes a long way, take breaks, and do not compare yourself to other artists."
2. Abdul Rahman Fattah of Letterbrow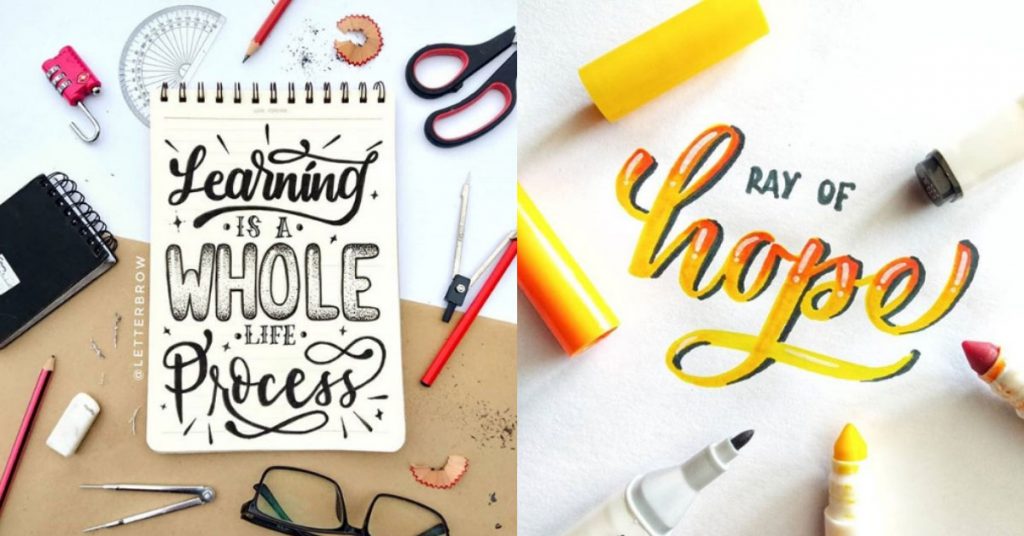 He might be fresh out of high school but 18-year-old Abdul Rahman Fattah has been passionate about calligraphing since his Form 3 days.
"I learned calligraphy by observing others' works on Instagram and also through the internet. Some of my favourite calligraphers which I learn a lot from are Ida (@winterbird), Lise (@inkandlise), and StefanKunz (@stefankunz)," Abdul Rahman Fattah noted.
Whilst he was still in school, graph papers and exam papers became his medium for calligraphy and he owes it to calligraphy for helping him to relax at the end of a busy school day.
Currently, Abdul Rahman Fattah sells his own personalised notebooks with his calligraphy designs on the covers.
Abdul Rahman Fattah's top 3 calligraphy tools: "Faber-Castell Zebra Mechanical Pencils, Pentel Fude Touch Pens, Tombow Dual ABTs."

Abdul Rahman Fattah's top calligraphy tips: "Most calligraphers I know, they hold on to this principle: "Done is better than perfect", where we aim for progress, not perfection."
3. Yimin Heng of @yiminheng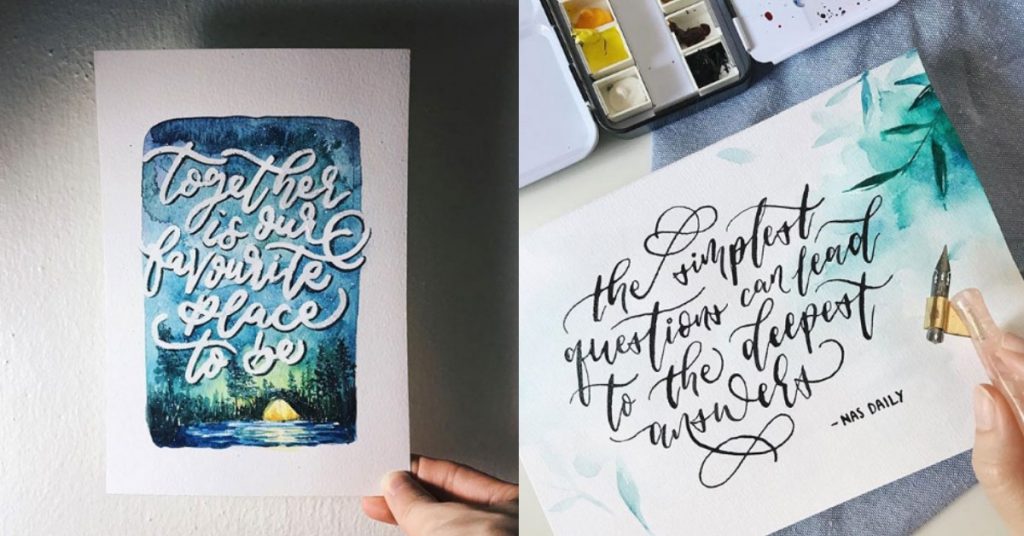 Graphic designer Yimin first begun lettering and experimenting with longhand styles of calligraphy as a way to unwind from hectic work routines.
The 25-year-old has been pursuing this artform for 3 years now and only gets the chance to practice the skill during the weekends and any free time she gets.
The artist sells her merch at yimingheng.bigcartel.com and shared how she sometimes secretly releases some limited edition merch for her fans. On top of that, she is always open for collaborations or bespoke calligraphy lettering projects on top of the occasional calligraphy workshop.
Yimin's top 3 calligraphy tools: "Tombow Dual Brush Pen, Pentel Aquash Water Brush + UMAE Water Colour, Brause Steno Nib with Oblique Holder"

Yimin's top calligraphy tips: "Learn from the basics. Understand the basic forms of every single stroke and it will let you be more confident in doing calligraphy."
4. Erica Chen of Erica Creative Studio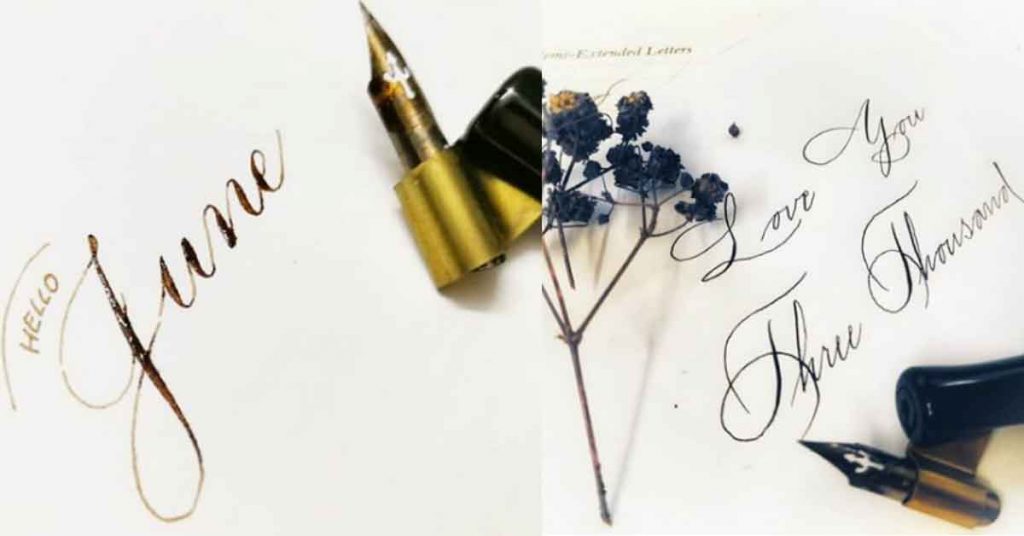 Erica was doing her doctorate in Business Admin when she picked up calligraphy. Amidst the stresses of pursuing her studies, the 31-year-old found that this artform gave her a sense of calmness.
It's been 3 years since she caught the calligraphy bug and now tries to squeeze in a calligraphy session at least once a week or apply her skills when she writes notes in her daily life.
Erica sells customised place cards and framed quotes as well as pursues the occasional commission work.
Erica's top 2 calligraphy tools: "Oblique Holder with Hunt 101 Nib, Gillot 303"
Erica's top calligraphy tips: "Practice, practice and practice. Nothing beats this best tip to improve."
5. Wan Shin of @Shin_Yeoh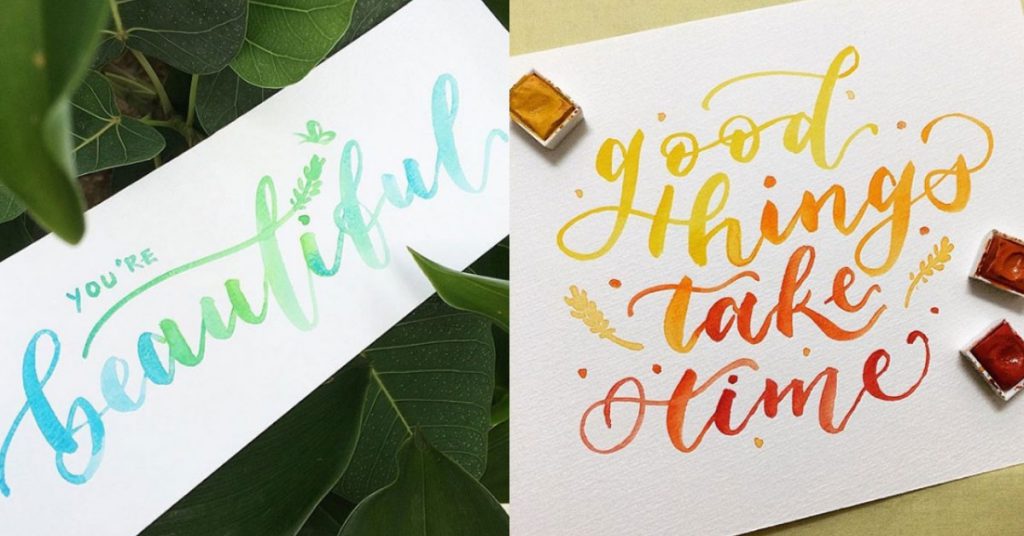 26-year-old Wan Shin is a full-time graphic designer by profession. The self-taught calligraphy artist picked up the skill after being gifted a set of Leonardt manuscript dip pens.That single-handedly kickstarted her calligraphy journey and she has been pursuing it for the past 2 years.
"At first i considered calligraphy as a hobby but after I started receiving commission works, I consider it a part time job. Now, I'm tempted to make it a full-time job. So when I introduce myself, I would add "I'm also a calligrapher" in because calligraphy is what I'm really passionate about," Wan Shin noted.
Currently, Wan Shin has a customise calligraphy service for anything, from invitation cards and phone cases to tote bags, pots and wall arts. Besides commission works, she also has her own calligraphy workshops.
Wan Shin's top 3 calligraphy tools: "I love Brause Steno Nib with the Oblique Holder, Finetec colours and Winsor & Newton water colour on textured paper!
Wan Shin's top calligraphy tips: Practice, constantly challenge yourself in trying out different calligraphy styles and get inspired by other calligraphers.
6. Nuramirah Syuhadah of @FleurCalligraphy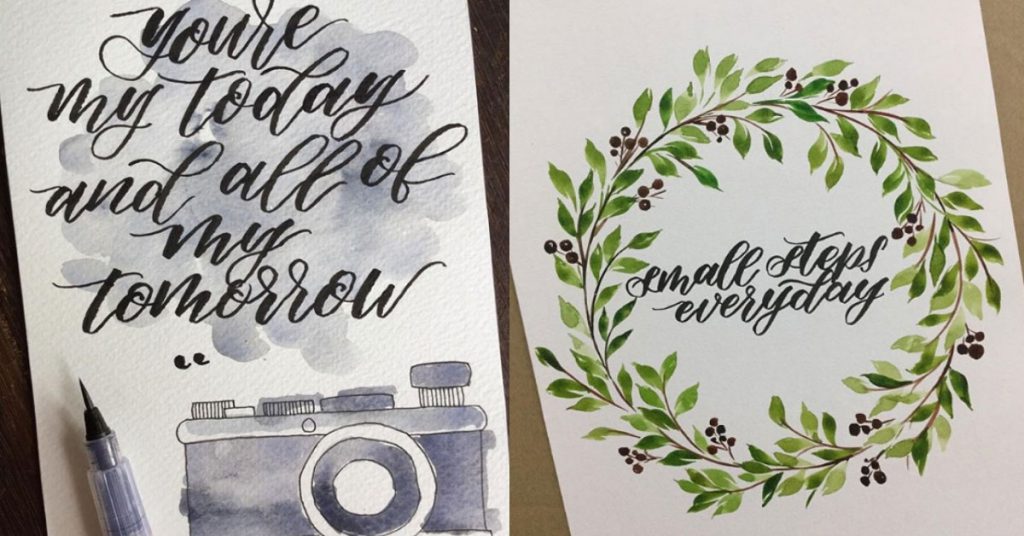 Final year architecture student Nuramirah Syuhadah Bt Mohd Zamree began calligraphing about 3 years ago. She began pursuing it after watching copious amounts of tutorials and videos on YouTube and Instagram.
"I learnt a lot from that, by observing and from repeated practice. I practice for about 2-5 times per week, depending on my schedule," Nuramirah shared.
The 22-year-old noted that she enjoyed calligraphy due to the fact that she is able to experiment with different styles of handwriting, on top of her own. Nuramirah does custom orders for place cards, acrylic signages and envelopes, among others.
Nuramirah's top 3 calligraphy tools: "My top 3 go-to calligraphy tools would be the oblique holder and nibs, ink and paper. I just use normal calligraphy pens from Stickerrific and for the ink, I'm using Finetec and Daller Rowney water colour"
Nuramirah's top calligraphy tips: Practice your hand movements, control the ink so it won't bloat and always do a prototype before starting on the final piece.
7. Choo Sook Ling of Mori.Alley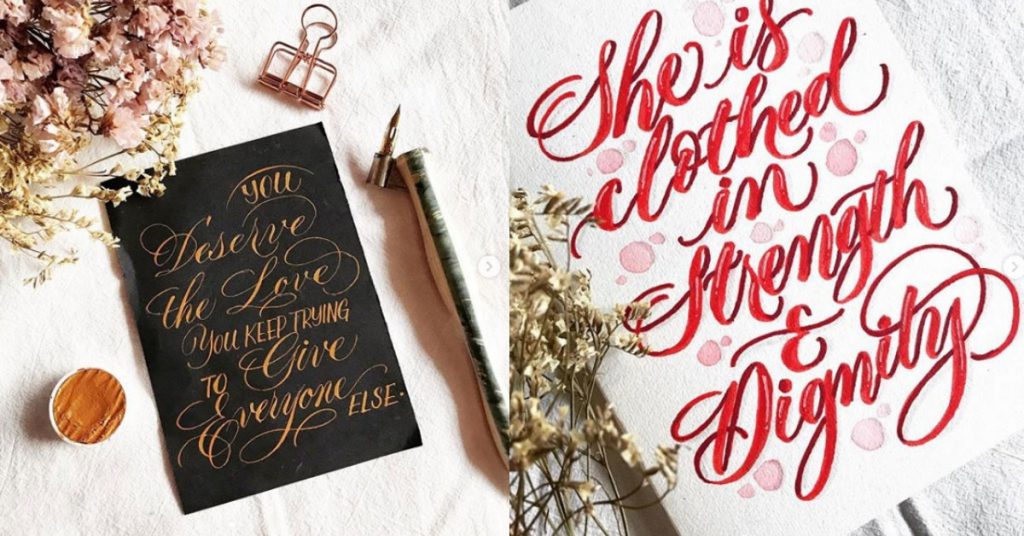 3 years ago, Sook Ling took an Introduction to Copperplate Calligraphy workshop at Craft Haven in 1 Utama and the rest is history.
The 28-year-old joked on how she used to have bad handwriting back in her school days and took the class as a way to improve her penmanship.
After her first class, she pursued calligraphy and practiced at least 5 nights a week. Nowadays, she does it at least once a week so she does not get "rusty" at it.
The Senior Accounts Executive teaches private calligraphy classes and has plans to teach brush calligraphy this year. Alongside a friend, Sook Ling is in the works of starting an online store selling calligraphy and art supplies such as oblique holders, ink, nibs and paper.

Sook Ling's top 3 calligraphy tools: Pointed Pens (Nikko G, Hunt 101 and Leonardt EF Principal), Ink (Walnut, Higgins Eternal Black and Dr. Ph. Martin), Paper (LIFE Noble, Rhodia, Muji)

Sook Ling's top calligraphy tips: "Never skip the basics. Many tend to hop right into writing words and quotes and neglect the foundation of all—the basic strokes. They might be boring and repetitive but these strokes actually form your letters and by practising calligraphy drills, we develop our rhythm and consistency in the letters we make."
8. Michelle Lew Chia Yen of Paperink.my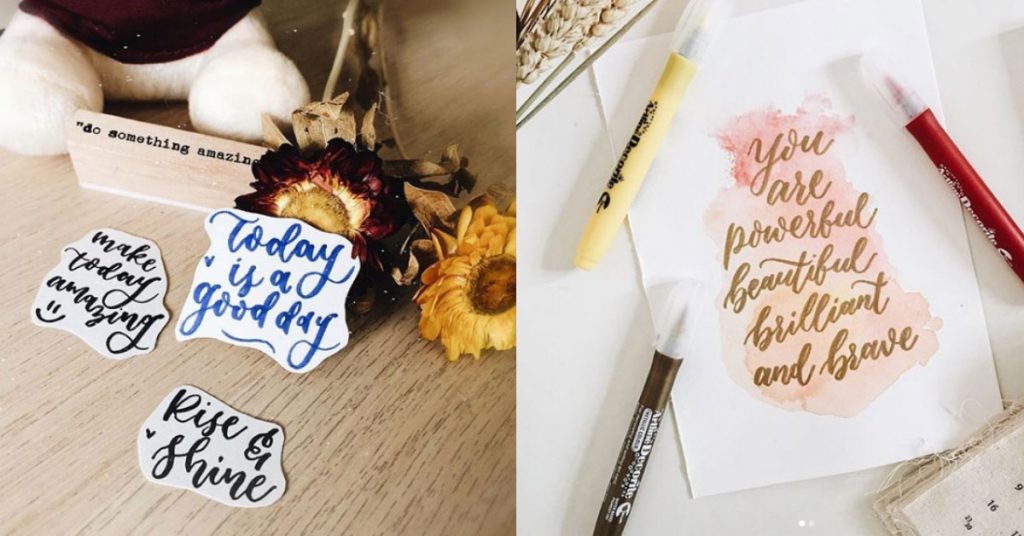 Michelle is a self-taught calligrapher and learnt her skill through plenty of YouTube and Instagram videos.
The 25-year-old took it up because she found that it helped her to relieve herself of her college stresses. The act of putting ink to paper helped her to slow down her thoughts and focus at the task at hand.
She offers custom calligraphy services for cards, weddings or any special events, on top of private brush pen lettering workshops for beginners.

Michelle's top 3 calligraphy tools: "Pentel Fude Touch Brush Sign Pen, Pilot Petit 3 Fude Pen and Artline Decorite Brush Pen."
Michelle's top calligraphy tips: "There is no shortcut in performing great artwork. The key is to practice and keep practicing until you are satisfied with the outcome.

Feature Image Credit: @yiminheng, @dhazirahdraws