Vyora is an artisanal chocolate brand that looks almost as if it originated from Europe.
In fact, if I hadn't stumble upon its IG page, I wouldn't have guessed that it's crafted by a pair of Malaysians.
Founded by Nana and Kay, Vyora focuses on creating halal-certified chocolates that are way too pretty to eat. And it's not just the cover, the chocolate bar itself is pretty darn gorgeous too.
Where we first savour meals with our eyes, it makes sense that Vyora emphasises on every aspect of its looks.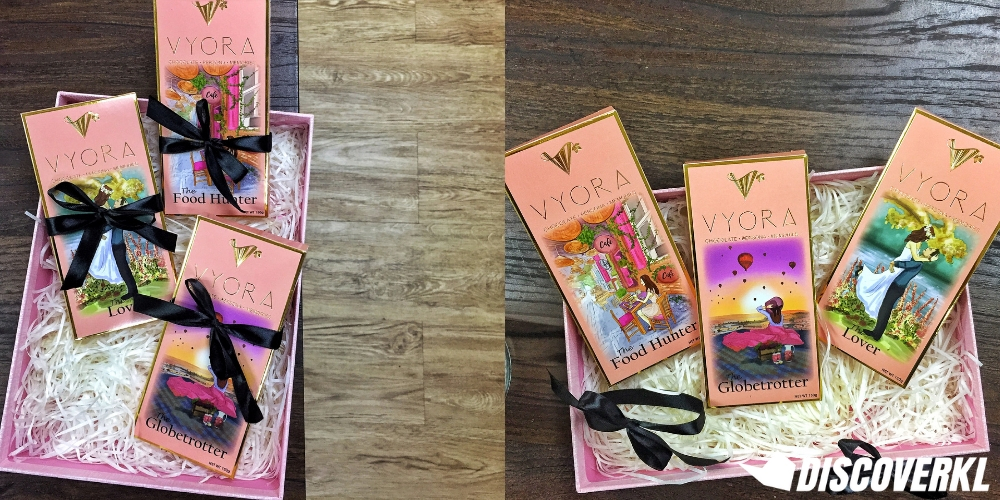 The Food Hunter—a milk chocolate bar with an assortment of dried fruits—comes with a cover illustration of a woman tucking into a feast at a café. It is meant for those who are ultimate foodies and will never miss out on a chance to go on an epic "foodventure" around Klang Valley.
The Lover—a dark chocolate bar with gold flakes—comes with a cover illustration of a happily wedded couple in a field of flowers. No guesses as to who this chocolate would be perfect for. 😉
The Globetrotter—a white chocolate bar with Froot Loops—comes with a cover illustration of a woman enjoying the view of hot air balloons swaying about in the sunset. This chocolate is great for those with a sense of wanderlust.
Vyora's packaging is no doubt gorgeous, what with its accented gold colours and detailed drawings on the front.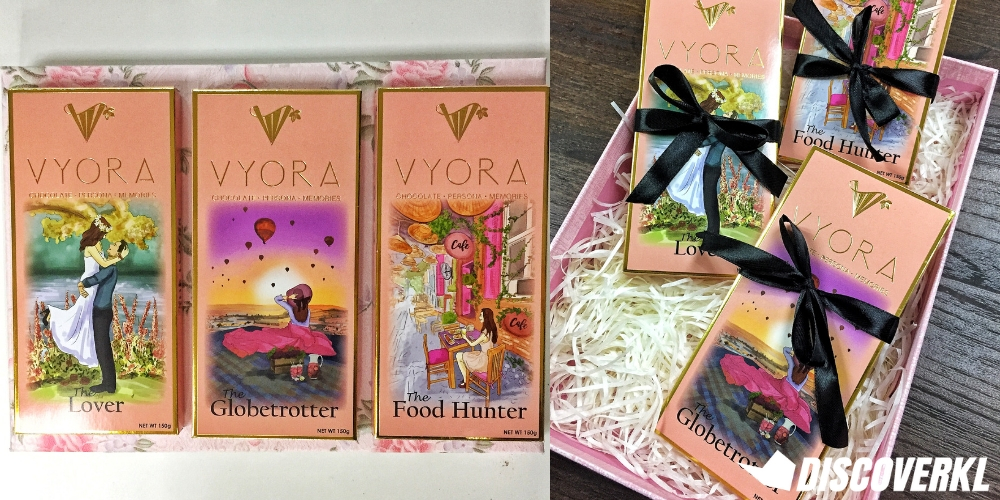 That being said, the entire back portion of the packaging proves to be pointless because of its gold lettering. Reading the ingredients list becomes a chore as it reflects against light.
Imagine trying to read faint writing on a light coloured surface—that's exactly what it's like to read the back side of Vyora's packaging. And it's such a shame too as each packaging comes with a special message at the back.
For instance, the Dark Chocolate graffiti bar comes with a message that reads "To my lover, this chocolate made me think of you. Love, you are my favourite, my partner, my lover, my best friend, my everything. My favourite place in all the world is next to you."
Now if you're the sort who gets stuck when it comes to sappy love poems, this bar of chocolate has done the leg work for you. You're welcome. It's just a shame that your partner will probably not be able to read the message.
If the way your food is presented means nothing to you, and taste is all you care for, you'd still be able to appreciate the details on each bar of chocolate: whether it be the gold flakes scattered across the dark chocolate, Froot Loops on the white chocolate or the generous amount of colourful dried fruits adorning the milk chocolate bar.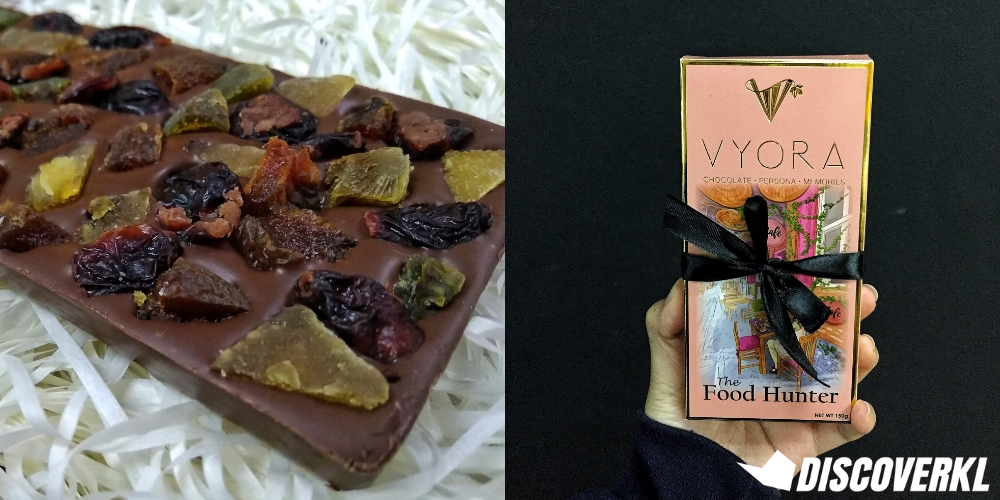 The Food Hunter has mild milky flavours and it doesn't taste as premium as its packaging might imply. If you're a huge fan of milk chocolate, you'd certainly be accustomed to a standard of creamy, velvety milk chocolate that this bar of chocolate unfortunately did not live up to.
What I did enjoy though is the fact that it's not as intensely sweet as milk chocs tend to be. The scattering of dried fruits is consistent and generous as well. You'll easily be able to sample most, if not all, of the dried fruit flavours within a row of chocolate.
The dried fruit adds a nice chewy texture to the otherwise melt-in-the-mouth chocolate. It could've been slightly tangier though, as not everybody enjoys the sweet on sweet flavour that this chocolate brings.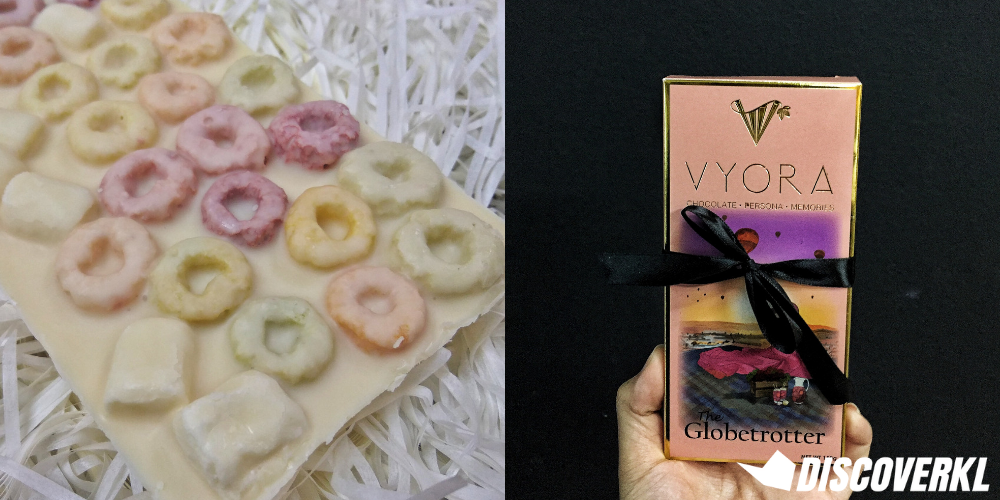 The Globetrotter comes with Froot Loops and this is definitely something that's a little more out-of-the-box. In theory, it sounds like a genius plan. Froot Loops is a classic cereal flavour and white chocolate is one of the favoured flavours amongst consumers.
Naturally, I had high hopes for this gorgeous bar. Unfortunately, while the Froot Loops added the obvious crunch to the chocolate, that's where the excitement ends.
The Froot Loops taste like cereal which is nearing its expiration date. Gone is the intoxicating sweet-sour flavours that Froot Loops are synonymous with. What you'll get instead is slightly bland cereal. The white chocolate itself is nothing special and pales in comparison to the other chocolate flavours from Vyora.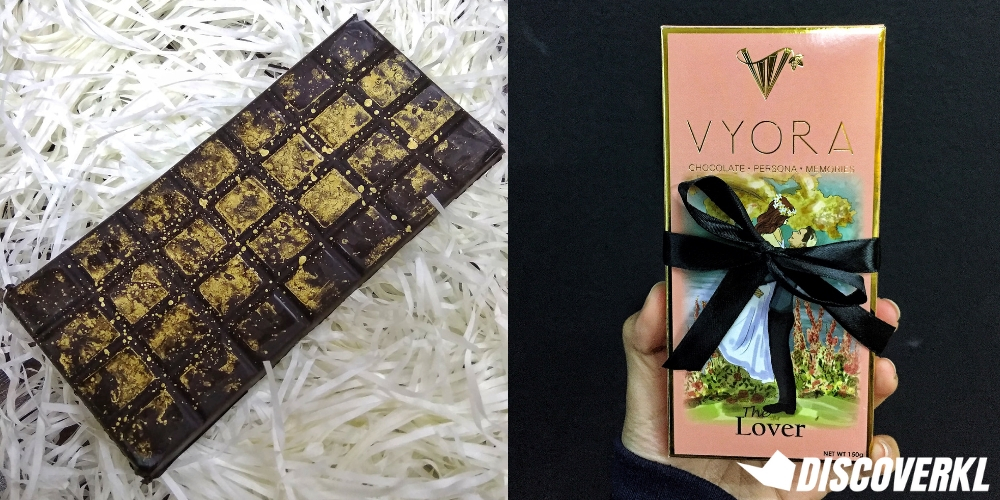 The Lover has an aromatic floral flavour which is almost rose-like. My colleague Iylia recognised a citrus note but it was fairly faint for me.
The dark chocolate flavours are not as intense as I'd hope it to be though.
But then again, I'm pretty particular about my dark chocolate being more bitter than sweet.
For a fan of extra dark chocolate, this might disappoint. But if you're one of those who are strictly against dark choc, this will be a pleasant introductory chocolate. The gold sparkles on it makes it appear like stars twinkling against a dark night sky. Definitely one for the 'gram.
I'd give Vyora major props for its presentation. It definitely looks premium and would be ideal as a gift. In fact, our favourite is The Lover.
The price is pretty steep per chocolate bar but The Lover would be worth it.

Vyora
Website: Vyora