The DiscoverKL team was recently invited to witness the launch of COCA Restaurant in Bangsar, a family owned Thai-Chinese fusion concept restaurant in Bangsar Shopping Center.
The evening was hosted by the ever-modest Chef Pitaya Phanphensophon who – through his lack of professional culinary training – prefers to be known as "a damn good cook" rather than a "chef", and he certainly lives up to his title.
A warm welcome by the staff allowed me to instantly settle in to the tastefully designed interior, with a floor to ceiling window offering you a view of the trendy Bangsar area. The venue is subtly partitioned into different dining areas, including a private booth for special occasions. Along with the luxury chairs and classy design, each table features induction cookers to accommodate the signature hotpot dishes. I was kindly offered a choice of wines, juices and tea. Naturally, I opted for a Chardonnay, which ended up being a great pairing for my first course.
After hearing the heartfelt story of their early years, new owners Jannio Shun and Elizabeth Thea Lee invited Chef (although he would insist on 'Cook') Pitaya to begin his demonstration.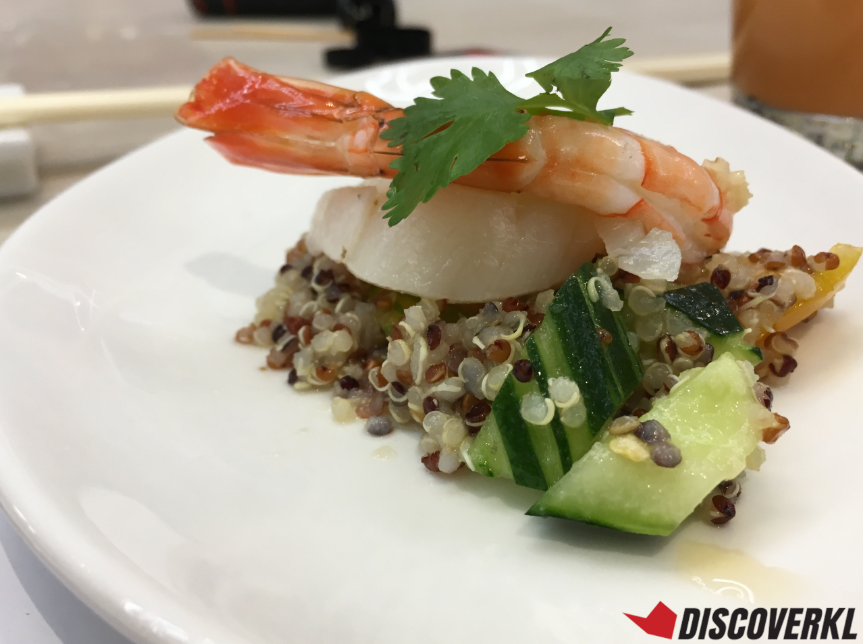 We started with the Yum Quinoa with Prawn & Scallop (Yum Talay Quinoa), which was a perfect aperitif; zingy lime working with modestly-spiced quinoa to compliment the umami flavours from the gently cooked prawn and scallop. These soft, light flavours were a breath of fresh air after a long day in Malaysian heat.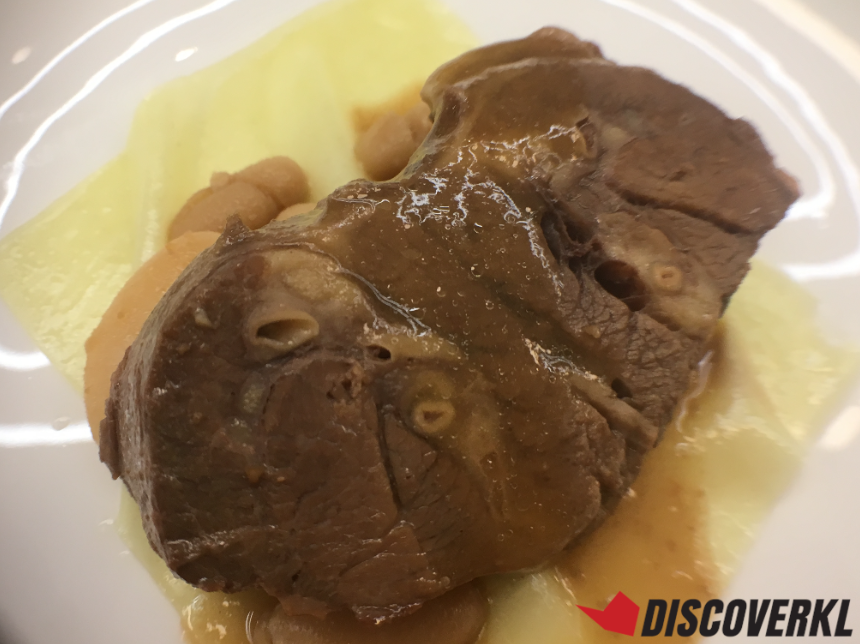 To follow, we had the Deconstructed Ox Tongue rested on a bed of butter beans with a wanton base. The ox's 180-day aged flavours really shone through, with the Shu Hao reduction doing all the legwork in keeping the predominantly savoury dish balanced, hinting at dark fruit notes and working with the buttery sweetness of the beans. It was at this point that I ordered a glass of Merlot, which helped couple the flavours together even more with its light finish.
Now for the intriguing Black Jasmine Rice. Chef Pitaya joyfully explained to us the health benefits of his organic ingredients, highlighting the rarity of this delicate rice and his high-school obsession with cooking the foods from his hometown; Surawong, Thailand.
As we were tucking in to the crispy skinned rice with the extremely spicy and slightly sour chilli sauce, I noticed that the chicken had a tougher texture than you would normally expect, Chef Pitaya explained that this was due to the age of the chickens, we were eating the organically farmed older chickens, the way his family has been doing for sixty-one years, instead of the mass-produced younger chicken you'd find elsewhere. Chef Pittaya rightfully summarised by challenging fast food outlets with a simple statement:
"Chicken doesn't come in boneless, it only comes in chicken! It has to run around all day, it couldn't do that if it didn't have bones".
If you haven't already guessed, the honest and humble relationship with tradition is fundamental in the concept of COCA's food.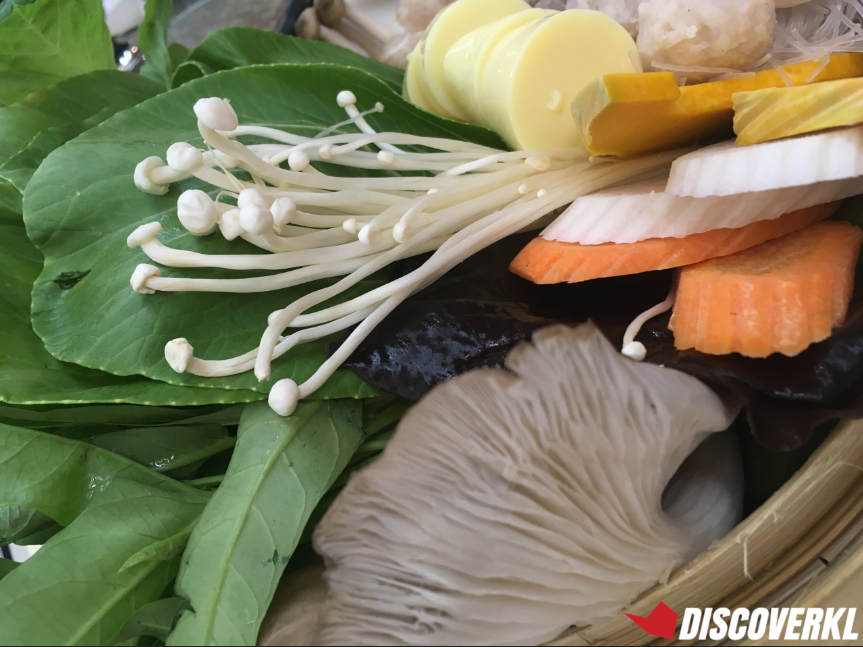 Now for the highly anticipated favourite – Hotpot. We were taken aback by the care and attention in the preparation of the hot-pot dishes. The suki sauce was a flavourful accompaniment to the crab meat dumplings and fresh vegetables, this truly was a well crafted hot-pot.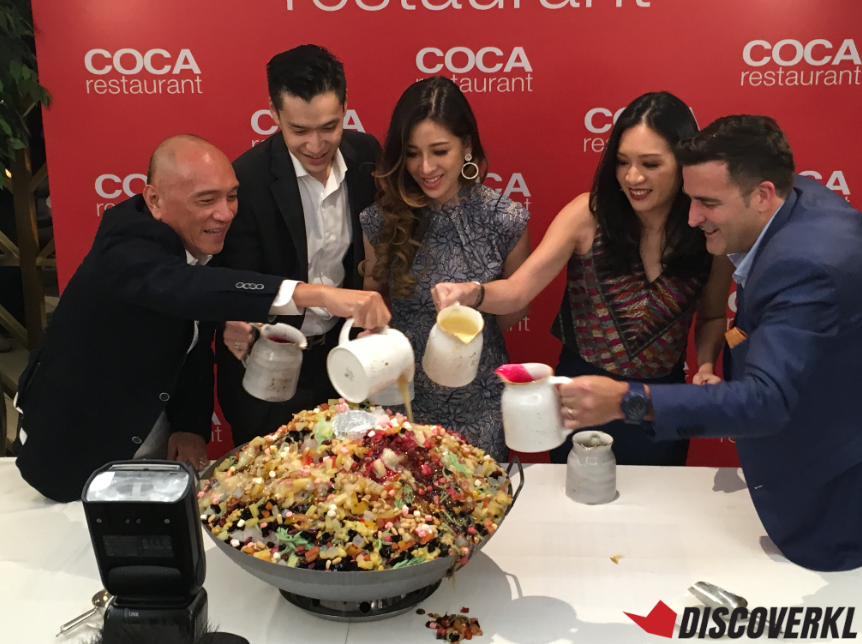 Lastly, although we thought we couldn't possibly eat more, we were served a huge Thai twist on ais kacang with marshmallows alongside cakoi with condensed milk for dipping. I felt that although these desserts are tried and tested favourites, they seemed fairly unflattering and out-of-place in this delicately contrived menu.
Nevertheless, the desserts were gone in seconds and we were offered champagne to wrap up a truly fantastic evening of good, healthy, intelligently crafted food.
COCA Restaurant
Hours: 11am-3pm, 6pm-11pm, daily
Address: TK1, Level 3, Bangsar Shopping Centre, Kuala Lumpur
Website: COCA Restaurant 
Tel: 03-20113575