May 17 marks the day that ramadhan officially begins in Malaysia and on top of being a holy season of forgiving and spiritual purification, it's also a season of glorious, glorious foods in abundance.
It's unmistakeable when ramadhan rolls around in Malaysia because there would be bazaar ramadhans everywhere and within these bazaars, you would find a mix of indulgent snacks and heavenly aromas wafting throughout the space.
Amongst the array of foods, here are 12 that most Malaysians would definitely be dreaming of during the month of ramadhan:
1. Roti Jala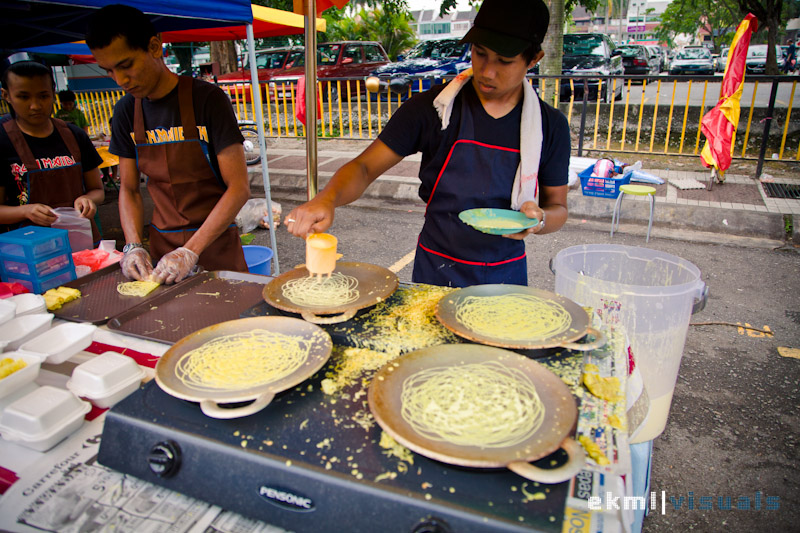 Creating roti jala is an art form in itself and you'd likely be mesmerised by the floral-like pattern it forms prior to becoming the delicious roti jala that you know and love. Delicious when paired with curry chicken, this is a light snack to enjoy prior to tucking into your sumptious dinner.
Typically Retails For: RM3-5 for a packet of 2.
2. Murtabak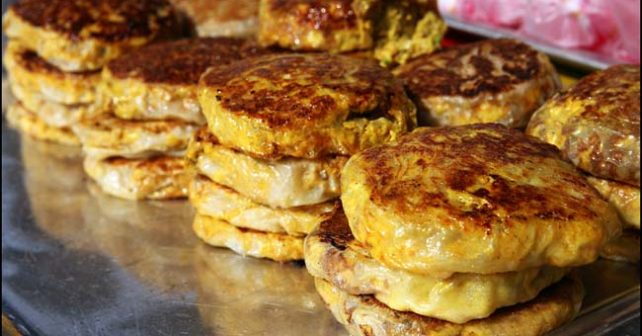 Minced chicken or lamb meat encased within a buttery dough—one slice of murtabak is never enough! Though having originated from Saudi Arabia, Malaysians have adapted the recipe to suit local tastebuds and it's perfect when paired with a side of ayam percik. 😉
Typically Retails For: RM5 per slice.
3. Roti John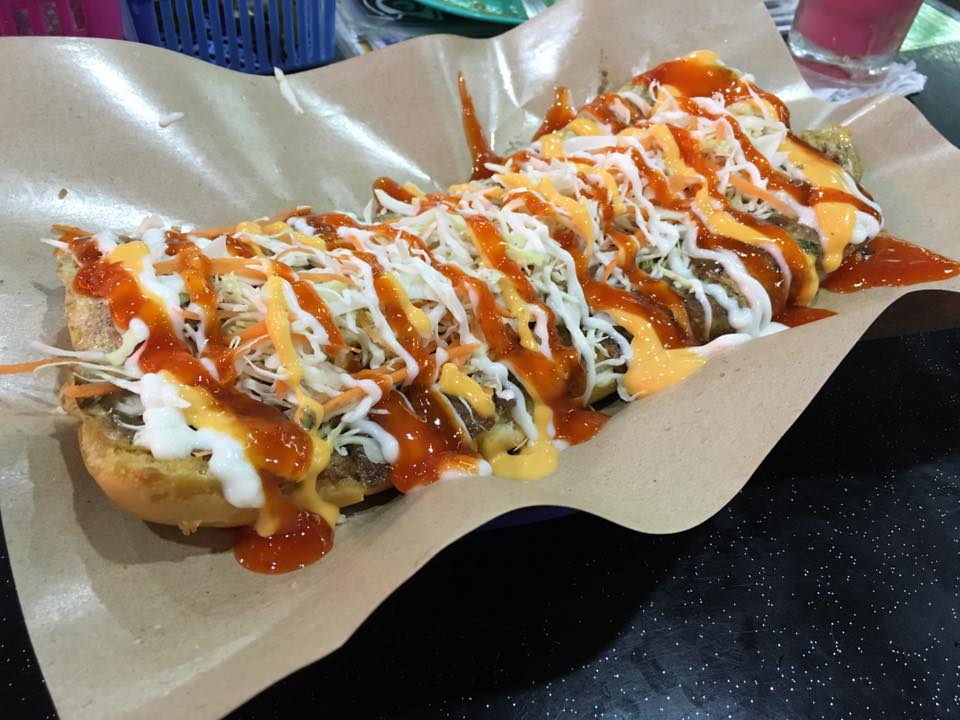 Queues at your local bazaar ramadhan would likely be for Roti John and there's no surprise in that. It's got everything that makes it quintessentially Malaysian. Perhaps it is due to how much it resembles the classic Burger Ramli, albeit with a twist. What makes a Roti John special though is the sauce! Generous amounts of mayonnaise, thousand island and chilli sauce no doubt gives this dish that extra oomph.
Typically Retails For: RM6 for one.
4. Putu Piring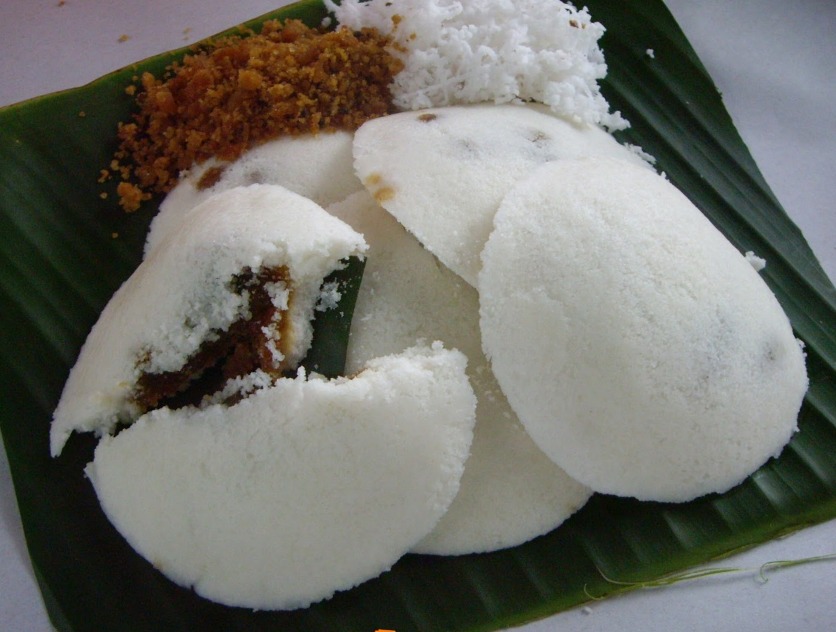 A putu piring is simple enough in its concept—rice flour, palm sugar and grated coconut are its key ingredients. But when steamed, the putu piring retains its warmth so much so that when broken into 2, it emits a strong coconut scent that just fills up the entire room. Best when eaten warm, most gerais would sell putu piring in tens.
Typically Retails For: RM1 per piece.
5. Ayam Percik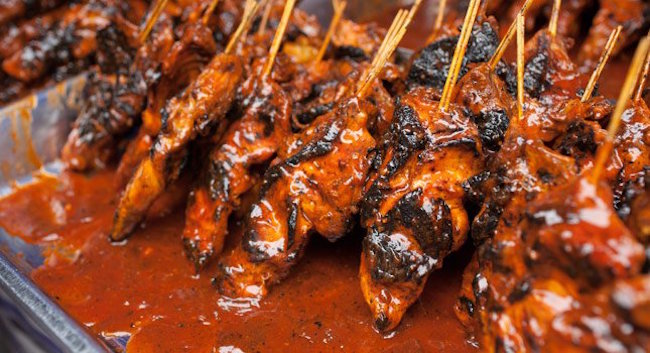 Ayam percik is synonymous with the ramadhan season and the secret to its addictive quality lies in the mouthwatering sauce that it is soaked in prior to cooking. A creamy sauce with a hint of sour, it's the perfect accompaniment to a juicy grilled chicken and white rice.
Typically Retails For: RM18-RM22 for an entire Ayam Percik.
6. Nasi Ayam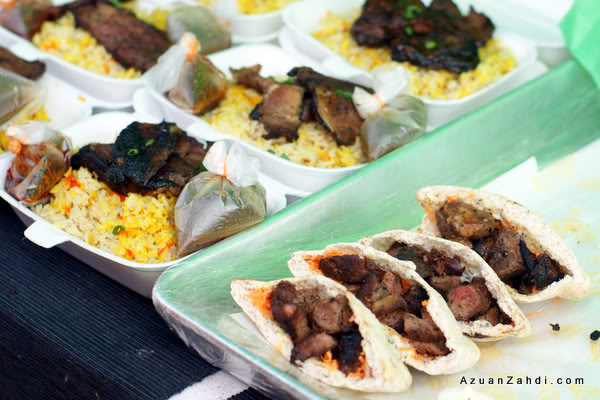 You'd likely see packets of nasi ayam lined up, one after the other, at a gerai in your local bazaar ramadhan. With so many options, the nasi ayam would likely be overlooked (especially if you're after finger foods instead). However, it's a great meal to enjoy, what with it being packed with carbs and protein. The highlight of the nasi ayam is typically the buttery rice it comes with.
Typically Retails For: RM5 per packet.
7. Kueh-Mueh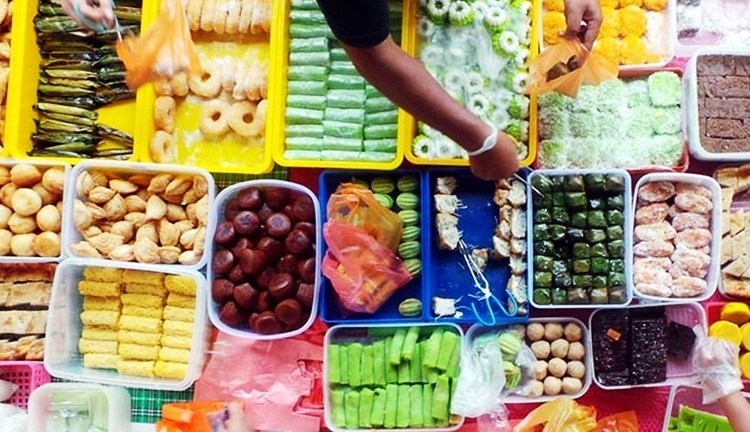 There'd likely be an assortment of kueh-mueh to choose from at your local bazaar ramadhan and whether you're looking for something sweet or savoury, these little snacks are great to enjoy post-dinner. It's also a plus that they're typically sold for only RM1-2 per piece so you'll be more inclined to select a huge variety just to try them out.
Typically Retails For: RM1-2 per piece.
8. Keropok Lekor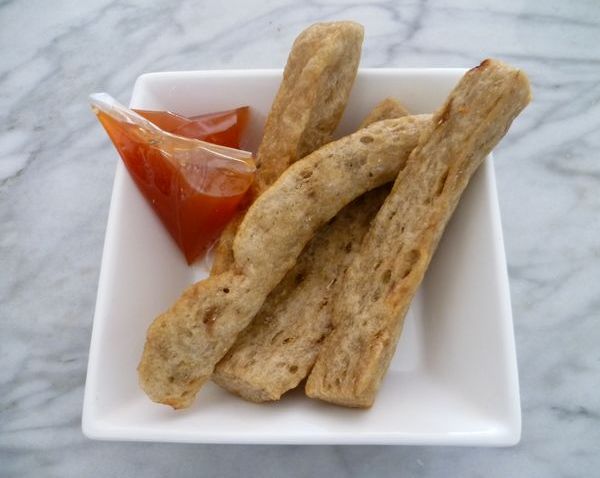 Keropok lekors originate from Terengganu and they come in 2 forms: soft or crispy. The soft, floury kinds are the ones you'd usually see at the bazaar ramadhan. Great keropok lekors would have a good ratio of fish to flour and they are a whole lot chewier too. Typically sold as a packet, you can enjoy 5-10 pieces of keropok lekor with the signature chilli sauce it comes with.
Typically Retails For: RM3 for a packet.
9. Nasi Kerabu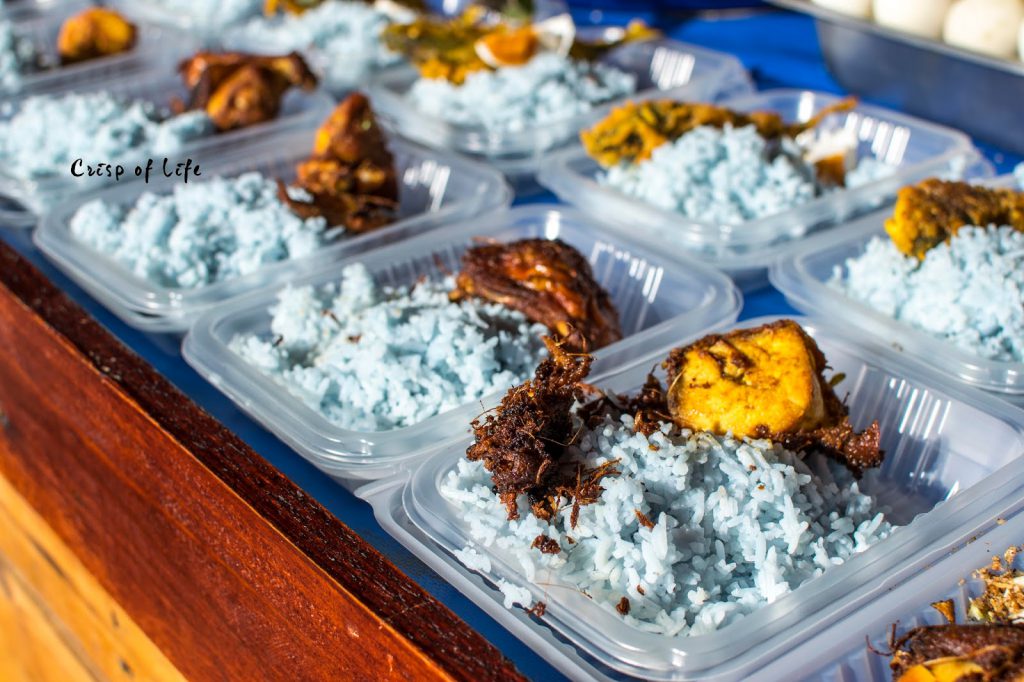 A Kelantanese delicacy, nasi kerabu is a bright and colourful dish to include in your flatlay shot for your bazaar ramadhan haul. More than just a beauty, it's a must-have for many homes during the ramadhan season. The bright blue nasi kerabu is usually served with ayam goreng, ulam vegetables, sambal tumis kelapa and kerisik sambal ikan.
Typically Retails For: RM6 per packet.
10. Popiah Basah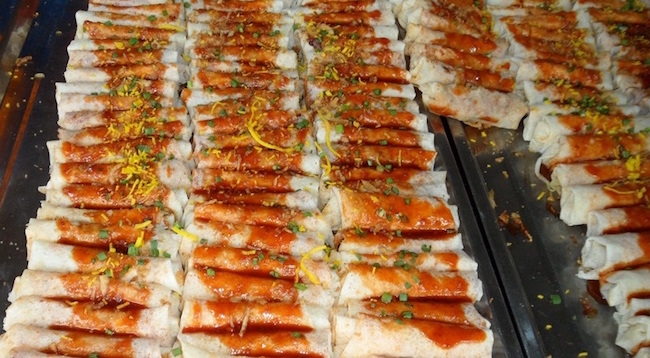 The popiah basah is packed with vegetables and when compared with the rest of the bazaar ramadhan grubs out there, it might be a less indulgent choice. Perfect for vegetarians, these popiahs—like the name suggests—are slathered with a sweet black sauce that contrasts against the savoury vegetables encased within the skin.
Typically Retails For: RM2 for a packet.
11. Lemang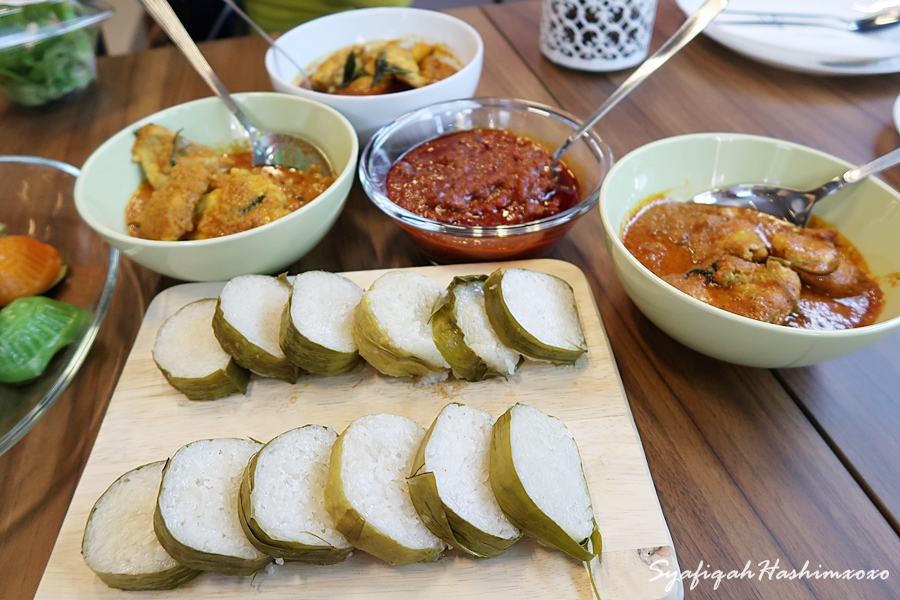 A staple during the Ramadhan and Raya season, lemangs are great because—like rice—it absorbs the flavours of curry and sauces very well. So, whether you're enjoying it with curry chicken, rendang or serunding, you'll find that the sticky glutinous rice is both addictive and filling.
Typically Retails For: RM5 for 1 lemang.
12. Satay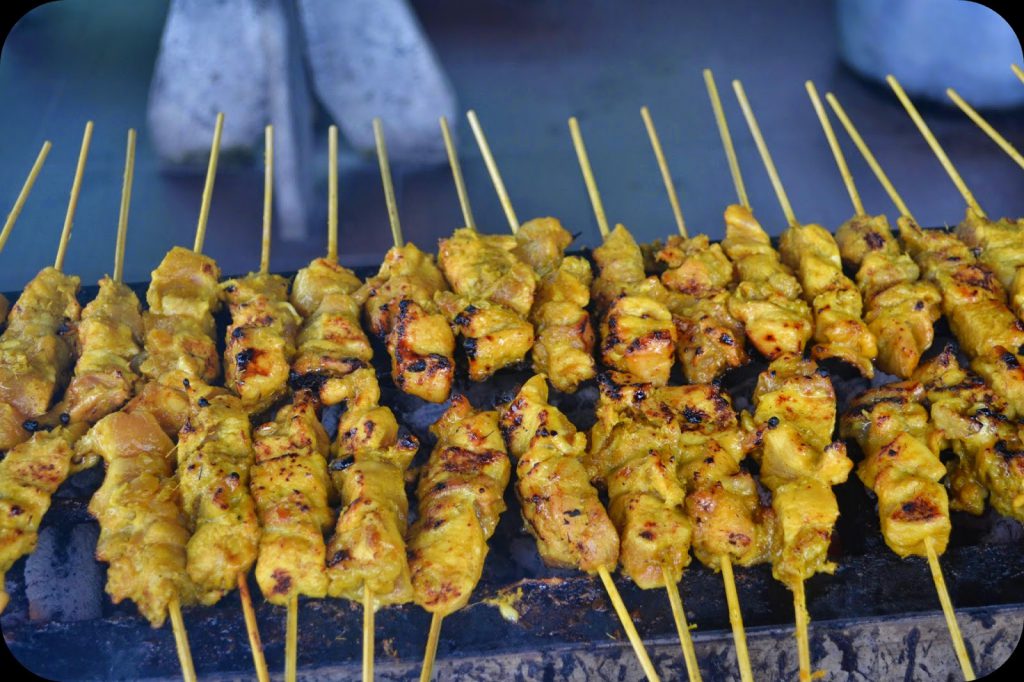 Satay gerais are hard to miss, what with all the smoke (and the queue) surrounding it. Being a rather affordable choice of protein, these sticks of grilled satay are great when paired with ketupat, the signature peanut sauce and crunchy cucumbers and onions.
Typically Retails For: RM6 for 10 sticks.
Feature Image Credit: Penang Happenings, Explo Rasa