Citizens across the nation had a collective sleepless night as they anticipated the results of one of the most iconic General Elections of all time.
Results finally trickled in during the wee hours of the morn', but needless to say, it has been a groundbreaking month-long experience for all Malaysians alike.
Unlike any other moment, our locals displayed patience, drive and sacrifice on a whole other level.
Here are the unforgettable 9 heartwarming moments throughout the election period leading up to the GE14 results announcement on the morning of May 10, 2018:
1. Businesses banding together to reward Malaysians with what else but FOOD?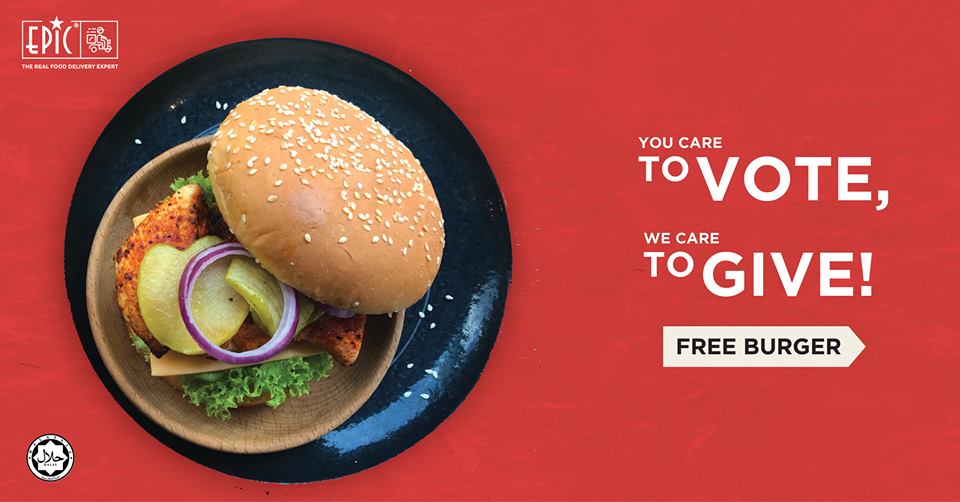 F&B businesses across the country sought to reward Malaysian voters for their effort by offering free food, drinks and more. Malaysians were in turn delighted by this, with some even making it their personal mission to hunt down all, if not most, of these eateries after casting their vote on May 9. From burgers, to a warm bowl of bak kut teh and even alcoholic beverages, it's nice to see how businesses all across the country opted to reward our citizens with the best possible thing: free food.
2. The entire #PulangMengundi movement in a nutshell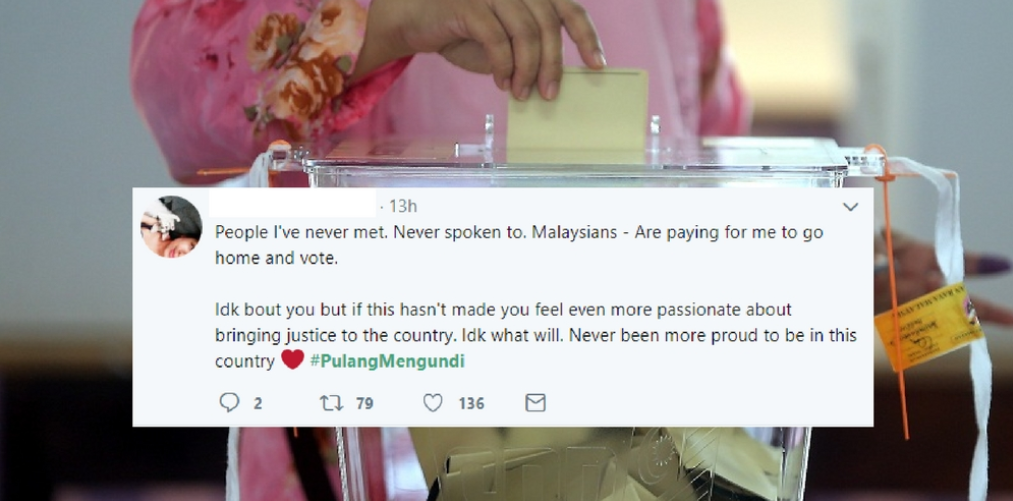 The #PulangMengundi movement began right after the polling date was announced and it took off on social media. It was truly a heartwarming time in the nation, with netizens feeling the same way due to the kindness portrayed by other anak-anak Malaysia.
From offering a ride to those who do not have transport to return home to vote, to offering to pay for strangers' ticket fare, the list goes on. Perhaps one of the most iconic stories of all to surface during the time was how a construction material company provided flight tickets, allowance and 3 days leave for more than 10 of their employees who are from East Malaysia. Read more on this story here.
3. Malaysians abroad booking tickets regardless of how expensive it is to return home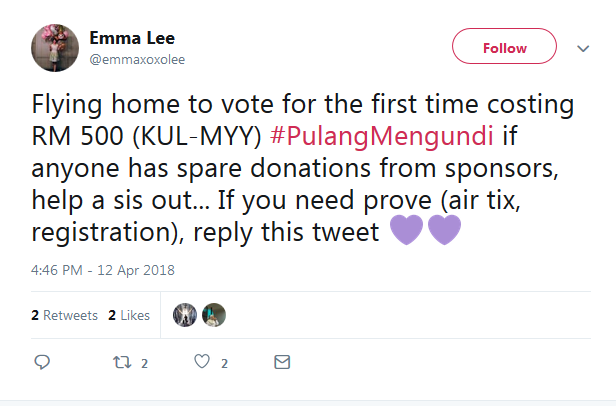 The price surge for flight, train and bus tickets home was somewhat inevitable with Malaysians scrambling to buy a way home to cast their vote. Still, those who did not manage to receive help through the #PulangMengundi movement decided to bite the bullet and pay exorbitant prices for their ticket. This act of going above and beyond one's budget is heroic in its own right.
4. Malaysians rushing to get their postal votes delivered

Malaysians abroad did their part too by casting votes through the ballot papers which were delivered to them. Unfortunately for these Malaysians, the ballot papers arrived at the eleventh hour, with some only having hours, if not minutes, to spare in order to rush their votes home. 2 incredible stories surfaced during the time. The first was of a group of anak Malaysia in Houston, Texas who rushed to the airport, holding up signs as a last resort to capture the attention of those homebound to Kuala Lumpur. These group of strangers struck gold when they met a kindhearted Malaysian pilot heading for his home country and the rest is history.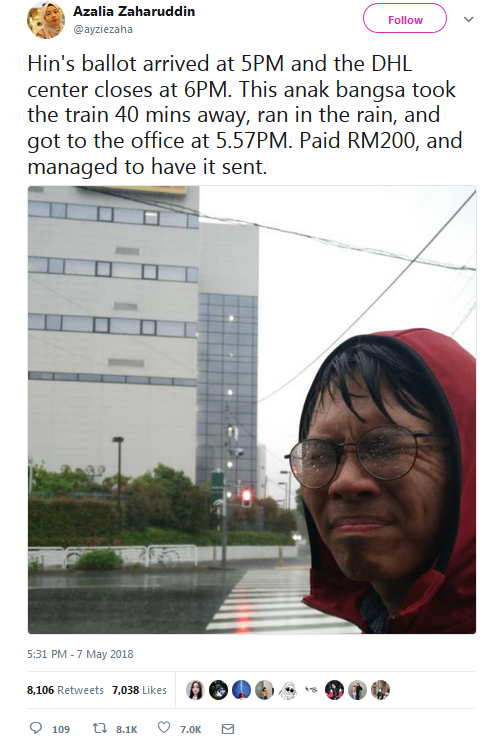 The second was of a Malaysian residing in Japan, who braved the rain in order to rush his vote to the post office there. He had 3 minutes to spare, by the time he arrived at the post office, drenched in rain water. Hin, the Malaysian in mention, had received his ballot paper just 1 hour before the post office was due to close for the day. In spite of this, he performed his duty and even paid an additional RM200 to rush the vote home.
5. Millennials volunteering to become polling agents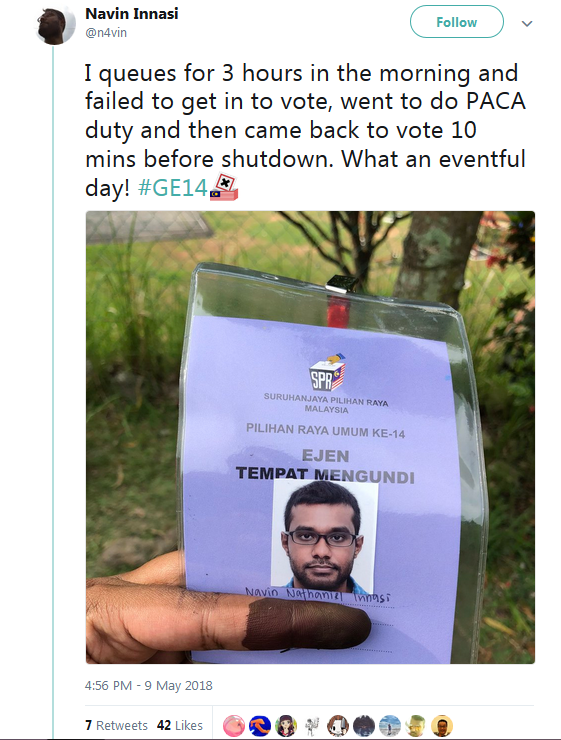 Young millennials outdid themselves this election by signing up to become polling agents, with some even being stationed outside of their voting district. Despite the long hours of service, these Malaysians stepped up and counted it a blessing to be able to serve their nation, regardless of how small or big the task may be.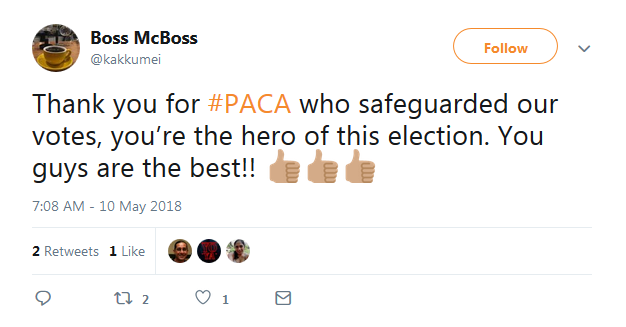 In turn, netizens expressed their gratitude to these hardworking Malaysians who gave it their all to ensure a fair and just election. One social media user shared, "Thank you for #PACA who safeguarded our votes, you're the hero of this election."
6. Young and old queuing till the very last minute to cast a vote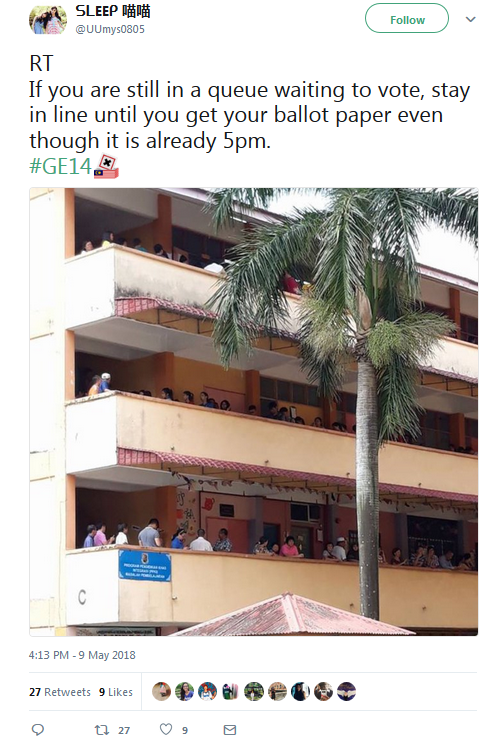 Malaysians whom arrived at their polling stations at the final hours, if not minutes, of the voting period stood their ground to perform their civic duty. Netizens backed these folks by urging them to insist on the right to vote as they were in line prior to the 5pm closing time. It was later announced that all polling stations were closed at exactly 5pm but nonetheless, the efforts of those Malaysians in line at 5pm does not go unseen.
7. Voting despite any physical hindrances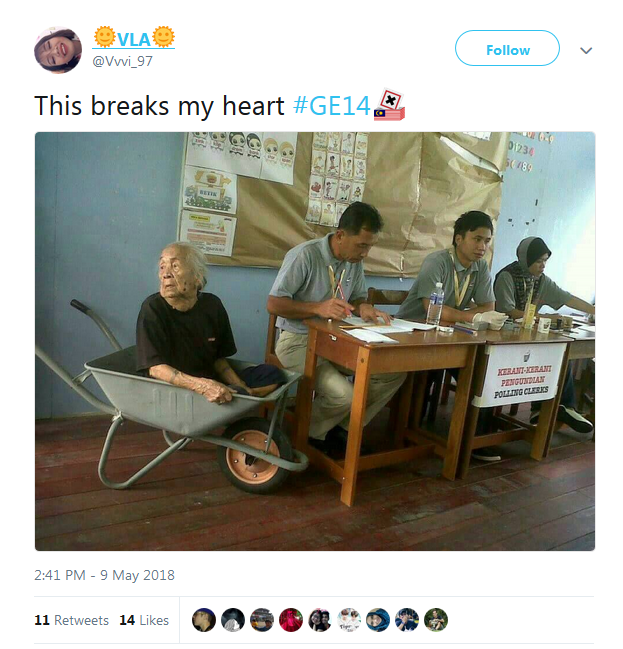 It was truly an incredible sight to witness Malaysians, despite their physical hindrances arriving to vote. Whether bound to a wheelchair or having difficulties walking, these bold anak Malaysia did not miss out on their chance to vote. An elderly man was even wheeled in to vote in a wheelbarrow. To see the extent that Malaysians would go through for the future of their nation is indeed heartwarming. As one netizen puts it, "This breaks my heart."
8. Malaysians waiting it out tirelessly at Padang Timur, PJ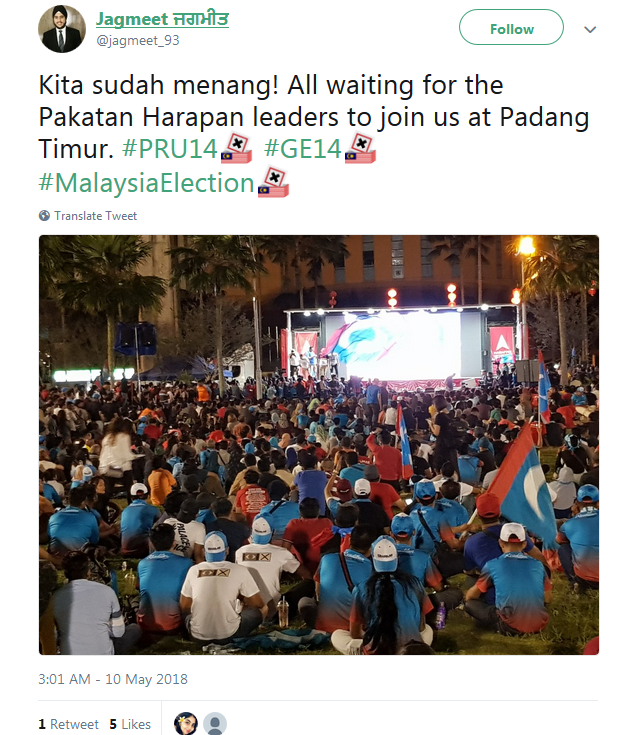 The results for GE14 only trickled in past 3am on the morning of May 10, but Malaysians disregarded the time as they waited for the outcome in Padang Timur, PJ. Hundreds, if not thousands, of Malaysians camped out since the evening of the night before. Even after the results had been unofficially announced, many stayed back to await the arrival of national leaders.
9. Malaysians singing Negaraku after the results was announced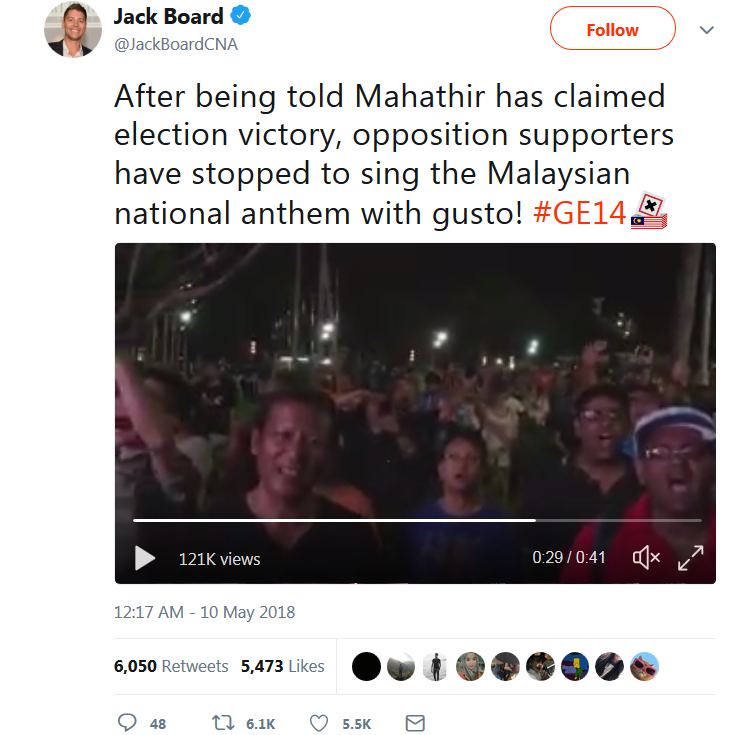 Nothing could be more beautiful than watching Malaysians of every background and culture singing the song that is synonymous with our country. After the announcement of the winning party, Malaysians sang the national anthem. some even teary-eyed at the outcome of this election.
Needless to say, there were many moments during this election period where Malaysians could truly say that humanity is restored, and at the very core of it all, all Malaysians alike can say that they are proud to be a part of this historic event in our country.
What other heartwarming stories did we miss out on? Let us know in the Facebook comment section!
Feature Image Credit: Kristina Mariswamy, Twitter user @Vvvi_97