Editor's note: This article has been updated as of April 11, 3.57pm. 
#ICYMI, the date for GE14 has been revealed—May 9's the date to mark in your calendar to fulfill your civic duties.
Alongside the announcement of the date for the general elections, locals have rallied up to show support for it in a way that can be summed up as nothing other than #trulyMalaysian.
Hashtags like #PulangMengundi and #CarpoolGE14 flooded the Twitterverse with folks offering what little they had in order to pave way for voters to have a say for the future of their nation.
In fact, here're the 5 things that has happened since the GE14 date has been announced that will make you feel like humanity is truly restored.
1. Companies giving their employees day off with travel allowance.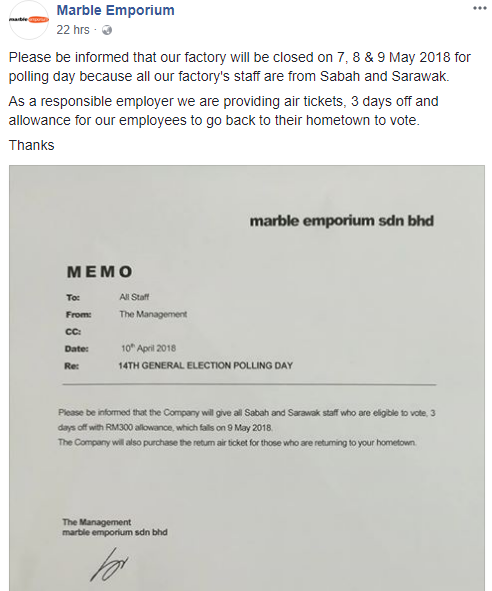 Perhaps the most viral of them all is the story of how Marble Emporium, a construction material company has provided flight tickets, allowance and 3 days leave for more than 10 of their employees who are from East Malaysia. Netizens commended the company for its efforts, some even sharing that they would opt to purchase marble from the company in the future when the need comes.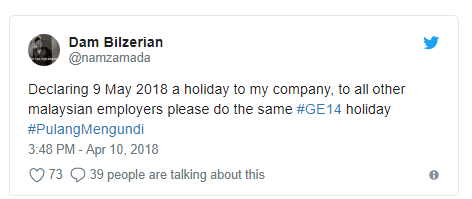 While Marble Emporium's story was the most publicised, other employers have also stepped up with some declaring May 9 as a holiday.
2. Malaysians offering to buy strangers air flight tickets home.
Kindness is when you go out of your way to show love to someone and when that someone is a stranger, it's all the more beautiful. That's what happened when Malaysian netizens offered to pay the price of air flight tickets for complete strangers.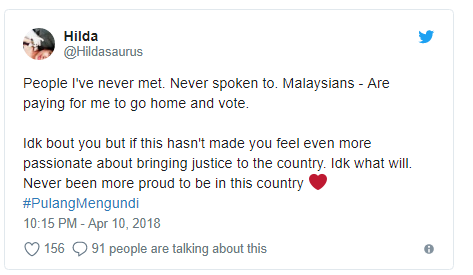 Twitter user @Hildasaurus testified to this, sharing that complete strangers are paying for her travel cost in order for her to have the opportunity to return home to cast her vote. "I don't know about you but if this hasn't made you feel even more passionate about bringing justice to the country, I don't know what will. Never been more proud to be in this country", she tweeted.
On a smaller scale, Malaysians are also offering financial assistance for those in need, whether that's in the form of bus and train tickets or toll and gas.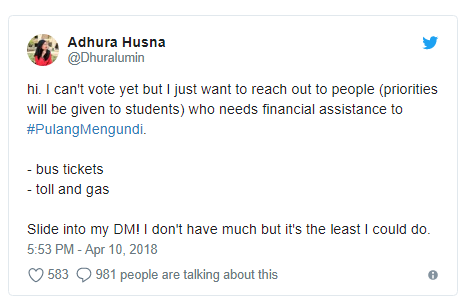 Twitter user @Dhuralumin herself is unable to vote as of yet but did her part by offering what little she had. "I don't have much but it's the least I could do", she tweeted.
3. AirAsia stepping up to offer the ticket date change for no charge.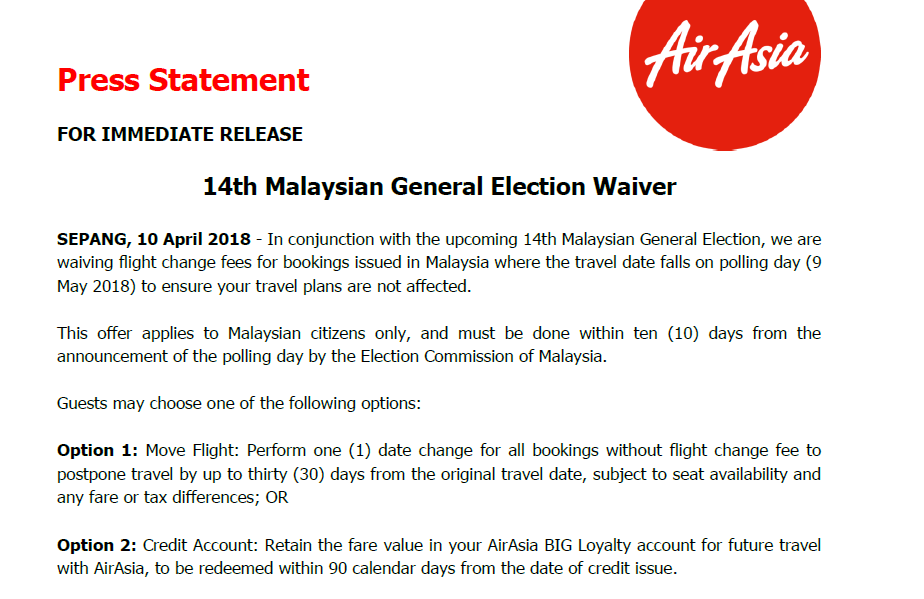 Flight carrier AirAsia announced on April 10 that they will be waiving flight change fees for bookings issued in Malaysia where the travel date falls on May 9. Where flight change fees would typically apply in such cases, it's nice to see that Malaysians have no additional monetary burden in order to move around their travel plans to accommodate the polling day.
4. Malaysians offering to drive those without transport to travel. 
As the price of flight, train and bus tickets soar through the roof with Malaysians rushing to purchase tickets to travel home, some kind netizens have offered to drive those without transport.
#CarpoolGE14 is a trending hashtag on Twitter and Malaysians are tweeting their travel details and the available pax they are able to bring along for the journey. Where some have included the pick-up location, others have even offered to drop their passenger home or to a nearby train/bus station if it's not too far off.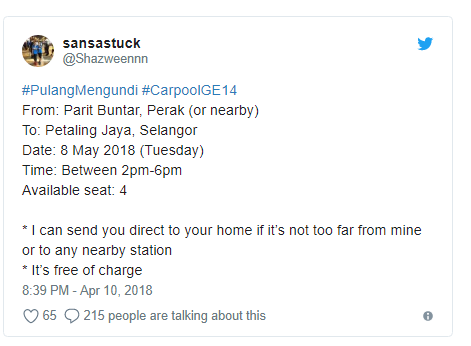 Likewise, there are also Facebook groups and pages where Malaysians can drop their travel schedule so others can PM if they wish to carpool along with them.
5. A Muar homestay offering free lodging for those who are traveling home to vote.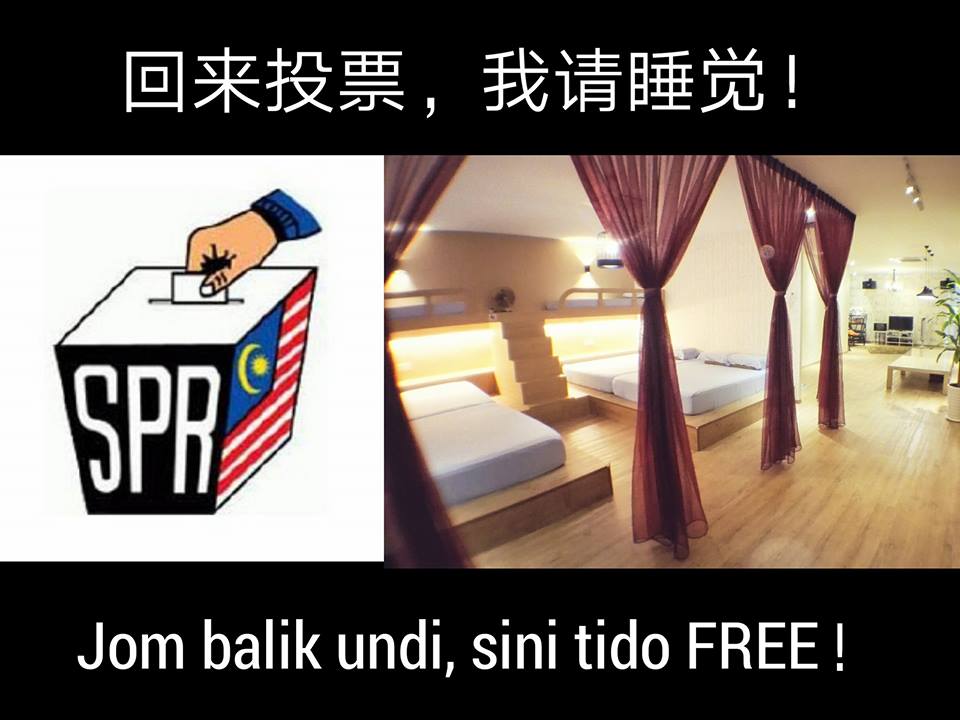 A homestay in Muar called Bococo Homestay Muar urged Muar folks to return home to vote. They even offered a place for guests to lodge at on May 8th and 9th and it is for absolutely free of charge. Netizens can direct message the homestay's Facebook page to book a spot and it's on a first come first serve basis.
For those who do not have a place to camp at and refresh themselves for polling day or after casting their vote, Bococo Homestay Muar's offer is a practical assistance.
With the polling day less than a month away, it's cool to see locals stepping up to do everything within their means so all who are eligible can play their part in Malaysia's future.
What other heartwarming stories did we miss out? Let us know in the Facebook comment section!
Feature Image Adapted: MMO, Twitter user @hildasaurus