There has been quite a number of circus act performances in Malaysia, such as the Malaysian Circus Show, Malaysian Street Circus, and Swiss Dream Circus. But international circus acts are almost an unseen phenomenon in the country.
However, this year, we will have our rare chance of witnessing an international circus in action: it's called the Greatest International Circus.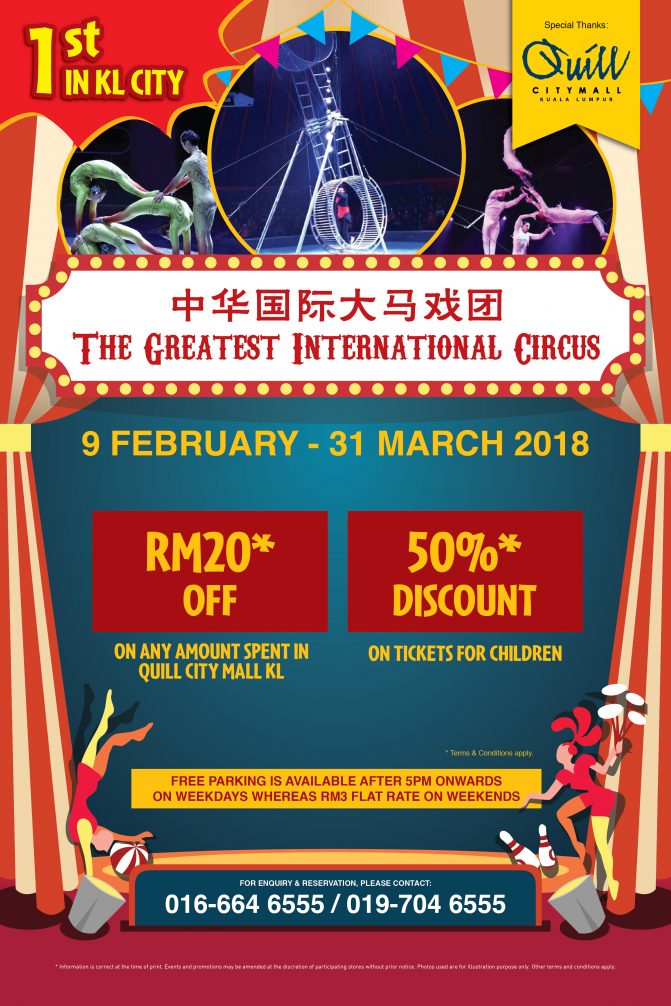 Located in Quill City Mall, the Greatest International Circus has commenced performance from 9th February, 2018, to 31st March, 2018.
The performances will include a host of acrobats and stuntmen, displaying stunts and acts that defy gravity and stop hearts. Apart from that, their performances will not only feature theatrical, dancing, and singing acts, there will also fantastical and magical elements that will wow the audience.

The timings of the performances are 8.30pm on Mondays to Thursdays, and 5.30pm and 8.30pm on Fridays to Sundays, including public holidays.
The pricing for the tickets are:
VIP: RM40 (Children), RM80 (Adult)
Hot Seat: RM30 (Children), RM60 (Adult)
Standard: RM15 (Children), RM30 (Adult)
In addition to that, any purchase of The Greatest International Circus ticket will grant you a 20% discount to any Quill City Mall shopping gains. Not only do you get to watch some heart-stopping circus acts, you also get to shop for less!
Featured Image Credit: Oh Bulan!