Valentine's Day is just around the corner but guys, do not fret because it doesn't mean that you would have to burn a hole in your wallet. Every February 14th, men around the world would splurge on the women in their life and most of the time, it is a rather expensive ordeal. For those on a shoestring budget, we've got your back. Here are 10 places in Klang Valley with dinner sets under RM150 per pax.
1. Roost KL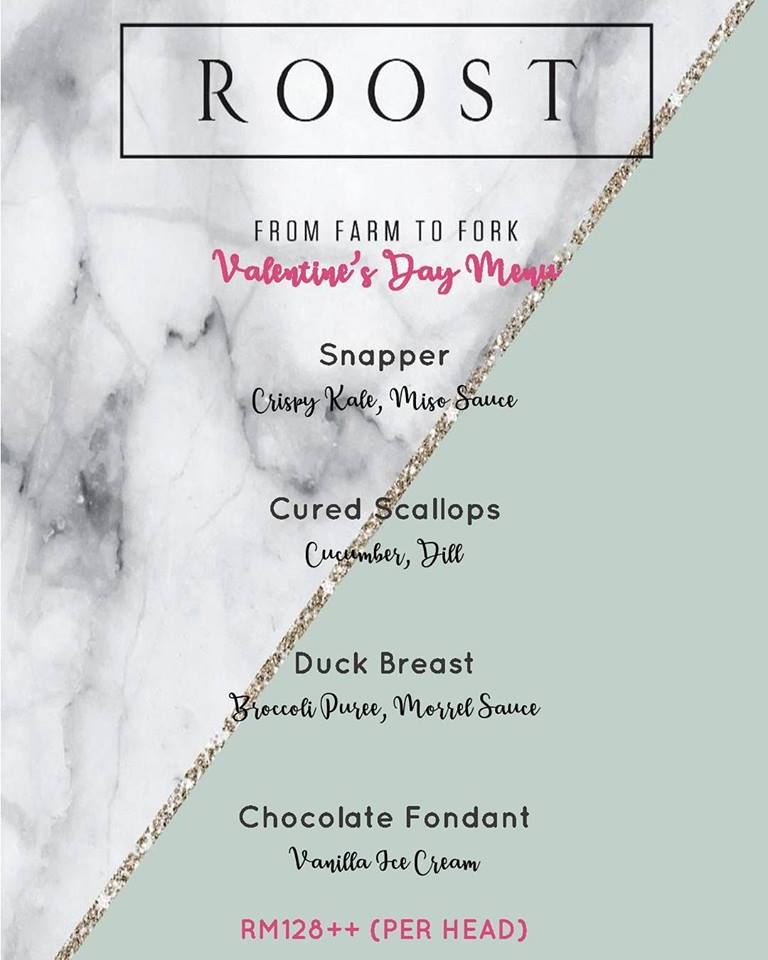 Minimalism and rustic appeal don't usually work together. Minimalism usually indicates not messy and uncluttered; rustic on the other hand, generally implies vintage. Despite being polar opposites, Roost KL managed to incorporate them into a romantic environment. Their Valentine's Day dinner menu's main dish is duck breast, accompanied by kale, scallops, and chocolate fondant. The set meal is priced at only RM128 per person.
Hours: Tuesday-Sunday: 11.30am-11.30pm.
Address: 69-1 Jalan Telawi 3 Bangsar Baru, Kuala Lumpur, Malaysia
Website: Roost KL
Tel: 03-2201 1710
2. Signature @ The Roof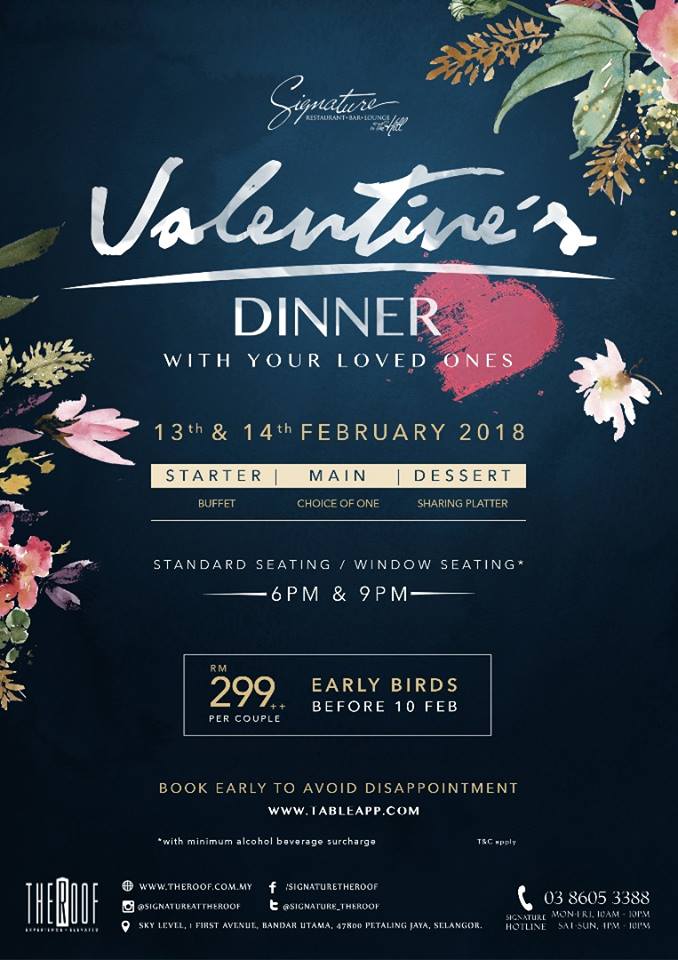 Floor to ceiling glass windows never fail to offer a romantic appeal. Signature at the Roof has just this, and for Valentine's Day, you'll get to enjoy a three-course meal while also having the liberty to decide on your dishes from the prefixed menu, rather than having them set it for you. The set menu is priced at RM149.50 per pax.
Hours: Monday-Sunday: 5pm-2am.
Address: Sky Lounge, 1 First Avenue Bandar Utama, Petaling Jaya
Website: Signature at the Roof
Tel: 03-8605 3388
3. The Living Room @ The Westin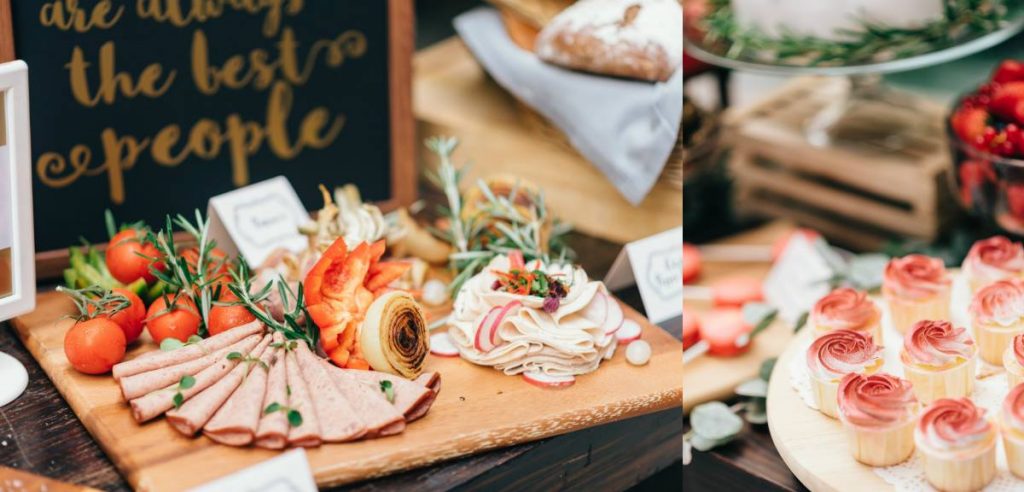 Bring your partner to an all-you-can-eat Valentine's Day dinner at The Living Room to try out a variety of dishes within a set price. Plus, with the glass sun burst sculpture hanging from the ceiling, the lighting is immensely mysterious, which makes the atmosphere rather sexy. For just RM142 per person, you'll get to enjoy a variety of fresh seafood and hot and cold platters. You also get access to the free flow Japanese sushi and sashimi bar, a carvery station with slow-roasted prime ribs, and a dessert station where you can find an endless pink chocolate fountain.
Hours: Monday-Sunday: 6am-12am.
Address: Level UG, The Westin Kuala Lumpur, 199, Jalan Bukit Bintang, Bukit Bintang, 55100 Kuala Lumpur, Federal Territory of Kuala Lumpur
Website: The Living Room @ The Westin
Tel: 03 2773 8338
4. Bobo KL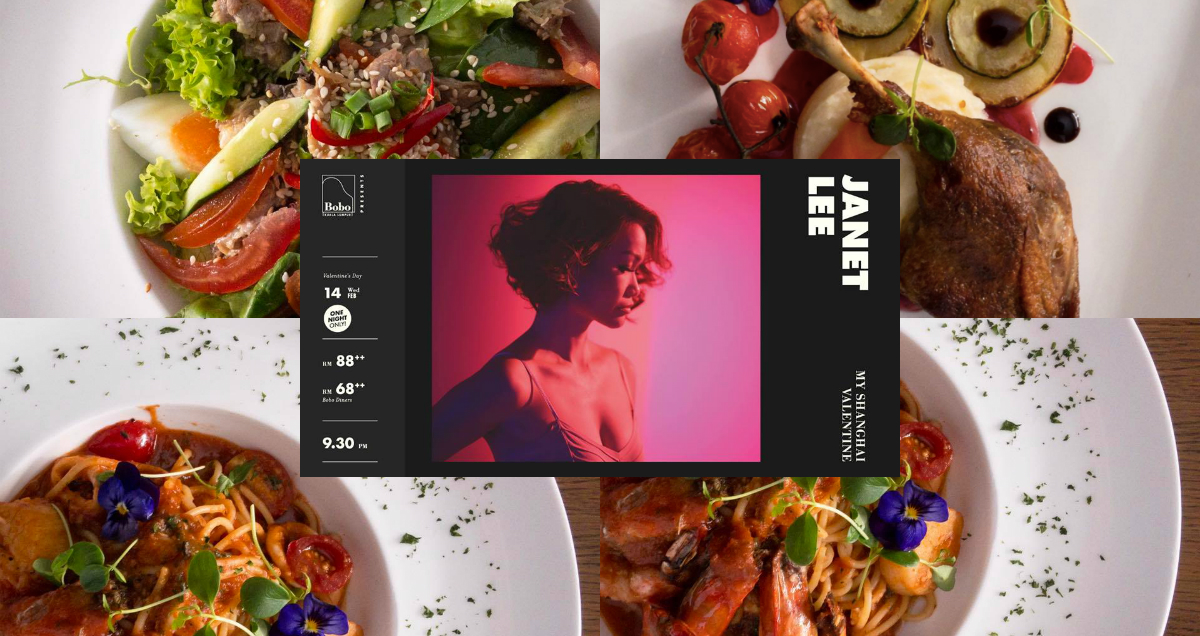 Bobo KL is one of the few speakeasies in Klang Valley located in Bangsar. Hidden on the first floor with a sign that says 'Life is better upstairs' at the steps, Bobo KL is one speakeasy bar that has live music and good food. They have entitled this year's Valentine's Day as My Shanghai Valentine, where the KL Shanghai chanteuse will be crooning love songs and covers of the unique blend between East and West while you get to enjoy a dinner consisting of Salmon Crudo, Oriental Duck Confit Salad, Duck Confit, and more from their fusion menu. All of this at only RM88 per pax!
Hours: Monday-Sunday: 5pm-12am.
Address: 65-1, Jalan Bangkung, Bangsar, Kuala Lumpur, Malaysia
Website: Bobo KL
Tel: 03-2092 5002
5. Samplings on the Fourteenth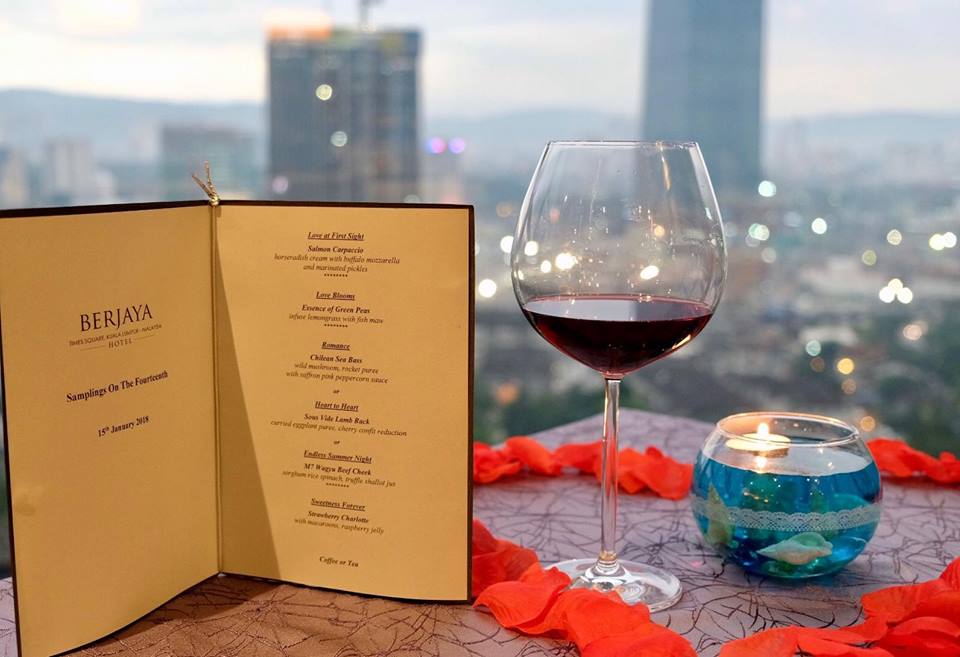 A fine dining experience is not complete without wine, and a day to celebrate love is not complete without some buzz. The entire menu is crafted by the restaurant's Chef de Cuisine, Chef Val. You will be able to enjoy a pre-Valentine's Day dinner set there at RM98 per pax, because who says that your Valentine's Day dinner has to be on Valentine's Day? One day before is all the better as you get to avoid the crowd on February 14.
Hours: Monday-Saturday: 6.30pm-10.30pm.
Address: Berjaya Times Square Hotel, 1 Jalan Imbi, 55100 Kuala Lumpur, 55100
Website: Samplings on the Fourteenth
Tel: 03-2117 8000
6. The Club @ G Tower Hotel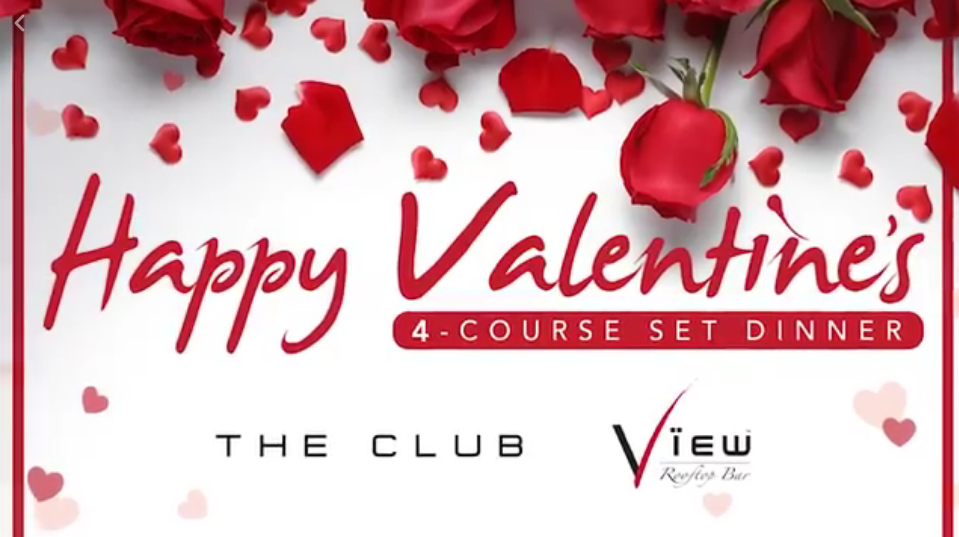 The Club has a team of culinary experts who are always whipping up new recipes and dishes. And for Valentine's Day, at just RM149 per pax, you get to relish in a four-course meal, complete with two glasses of bubbly. The entire four-course menu will be an appetiser for two, Moschata and Goji Berry Parmalat for soup, Sous Vide Spring Chicken or Norwegian Line Catch Trout for your main, and Red Velvet Hazelnut Parfait with Chocolate Indulgence for dessert.
Hours: Monday-Sunday: 6.30am-11.30pm.
Address: Level 28, GTower, Jalan Tun Razak, Kuala Lumpur, Malaysia
Website: The Club @ G Tower Hotel
Tel: 03-2168 1828
7. Fresca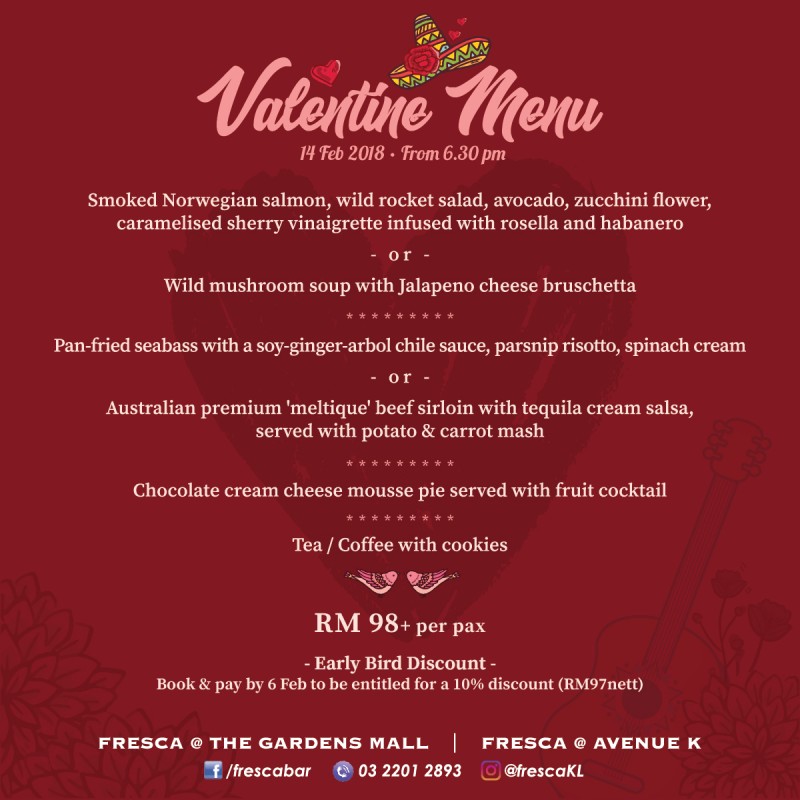 How about trying something Mexican for a change during Valentine's Day? Fresca literally means fresh and cool in the Mexican language, and you can bet that their dishes are made with fresh ingredients and the presentations are pretty cool in comparison to other Mexican restaurants. Their Valentine's Day dinner menu costs only RM98 per pax, offering food items like Smoked Norwegian Salmon, Wild Mushroom Soup, Pan-Fried Sea Bass, Australian Premium 'Meltique' Beef Sirloin, and Chocolate Cream Chip Mousse. You can find Fresca at The Gardens Mall and Avenue K.
Hours: Sunday-Thursday: 11am-11pm, Friday-Saturday: 11am-late
Website: Fresca
8. Empire Hotel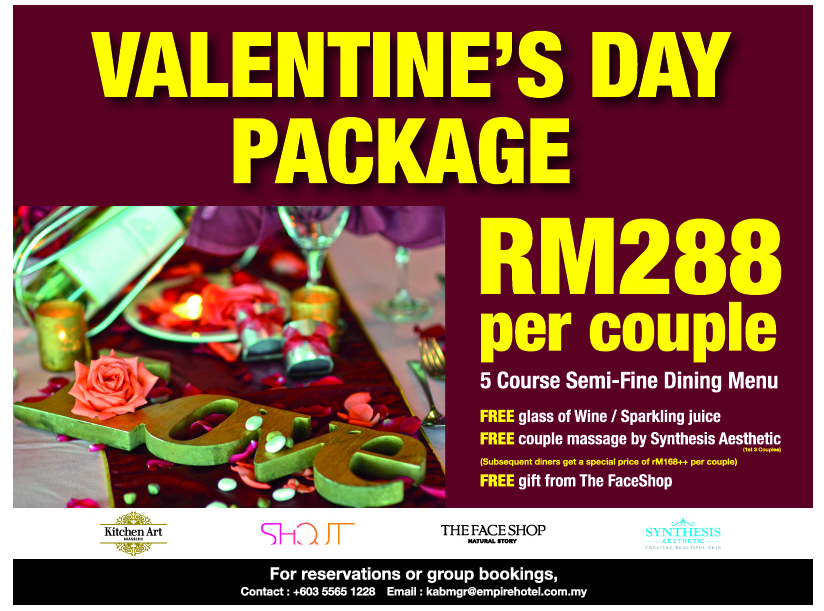 Dining choices at Empire Hotel has always been quite supreme, what with the three dining locations and the diversity they offer their guests. At RM144 per person, you and your partner will be able to enjoy a five-course fine dining experience. Not only so, you also get a free glass of wine, free couple massage, and free gift from The Face Shop.
Address: Jalan SS16/1, 47500 Subang Jaya, Selangor Darul Ehsan.
Website: Empire Hotel
Tel: 03 5565 1388
9. Furama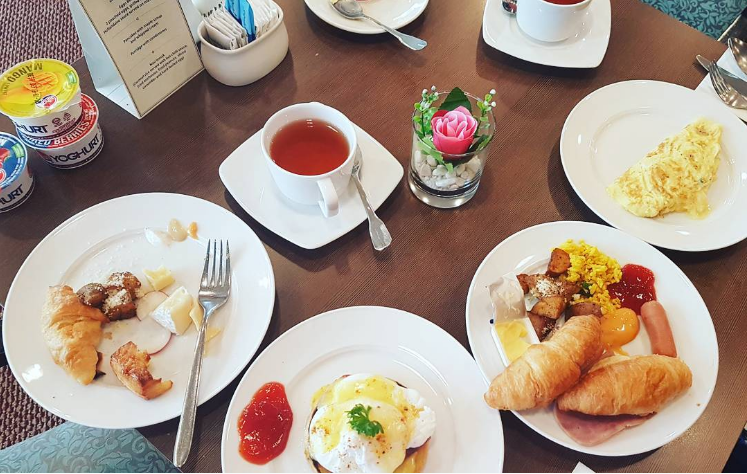 At Furama, you get to indulge in your meals by the pool or in the cosy lounge, depending on whether you prefer the open-air environment or a more confined and intimate surrounding. Furama's Valentine's Day dinner menu only costs RM111 per pax for external guests and RM88 for in-house guests. With prices as low as this, they provide you a candlelight dinner consisting of Marinated Prawns, Smoked Salmon and Crabmeat Roll, Pumpkin Bisque, Pan Roasted Chicken Supreme or Poached Sea Bass, and Warm Chocolate Lava Cake.
Hours: 6.30pm-10.30pm.
Address: Furama Bukit Bintang, Kuala Lumpur, 136, Jalan Changkat Thambi Dollah, 55100 Kuala Lumpur, Malaysia
Website: Furama
Tel: 03 2788 8888
10. Sunflowers Brasserie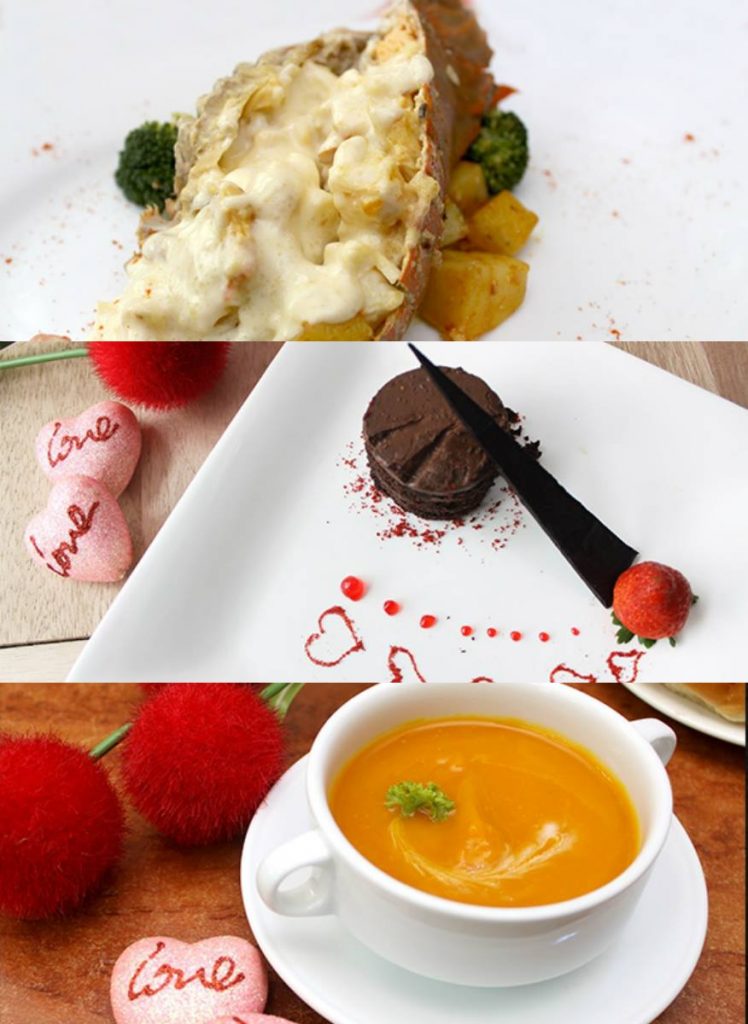 You get to discover a range of local favourites along with a mouthwatering international buffet spread at Sunflowers Braserrie. Their Valentine's Day dinner menu set consists of the St. Valentine Salad, Sweet Pumpkin Soup, Sherbet, Lobster Thermidor, Grilled Rib Eye, and Strawberry Sacher. The Valentine's set dinner costs RM109 per person.
Address: 17, Jalan Bukit Bintang, Bukit Bintang, 55100 Kuala Lumpur, Federal Territory of Kuala Lumpur, Malaysia, Kuala Lumpur, 55100
Tel: 03-2143 9898