At The Dark Gallery, you will be able to taste a variety of chocolates from different countries – all of them whipped into numerous sorts of concoctions, pastries, and ice creams.
Before you scoff and dismiss this as yet another chocolate store that is just like Godiva or Magnum, stop right there and let me tell you that everything that they sell – from their ice cream to their bonbons – are self-made.
They pride themselves on their dedication in offering premium and artisanal chocolates while also proudly displaying the process of making their products with their open kitchen concept.
The chocolate they use are in block-form and is imported from different countries like Madagascar and Brazil.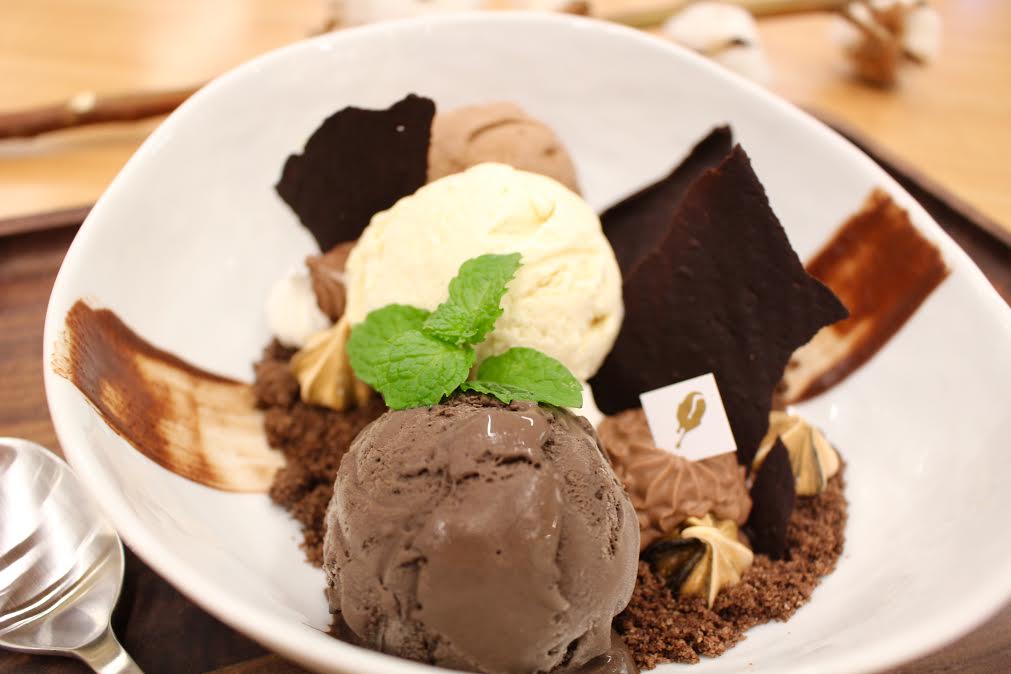 The first chocolate dessert we had was one of their signature dishes, the Chocolate Rhapsody, which belongs to one of their five categories, the Signature Chocolate Plated Dessert.
Using chocolate 'soil' as the bedding, there are three scoops of dark, milk, and white chocolate in this dish, decorated with chocolate mousse, chocolate meringue, and cacao tuile. As a dark chocolate fan, I caught on to the dark chocolate note quickly and man, it did not disappoint. The milk chocolate wasn't as sweet as I thought it would be, which is a bonus. The white chocolate, however, did not fare well – it was too sweet for me, but if topped with some crumbs and eaten with meringue, it won't feel overwhelmingly sweet.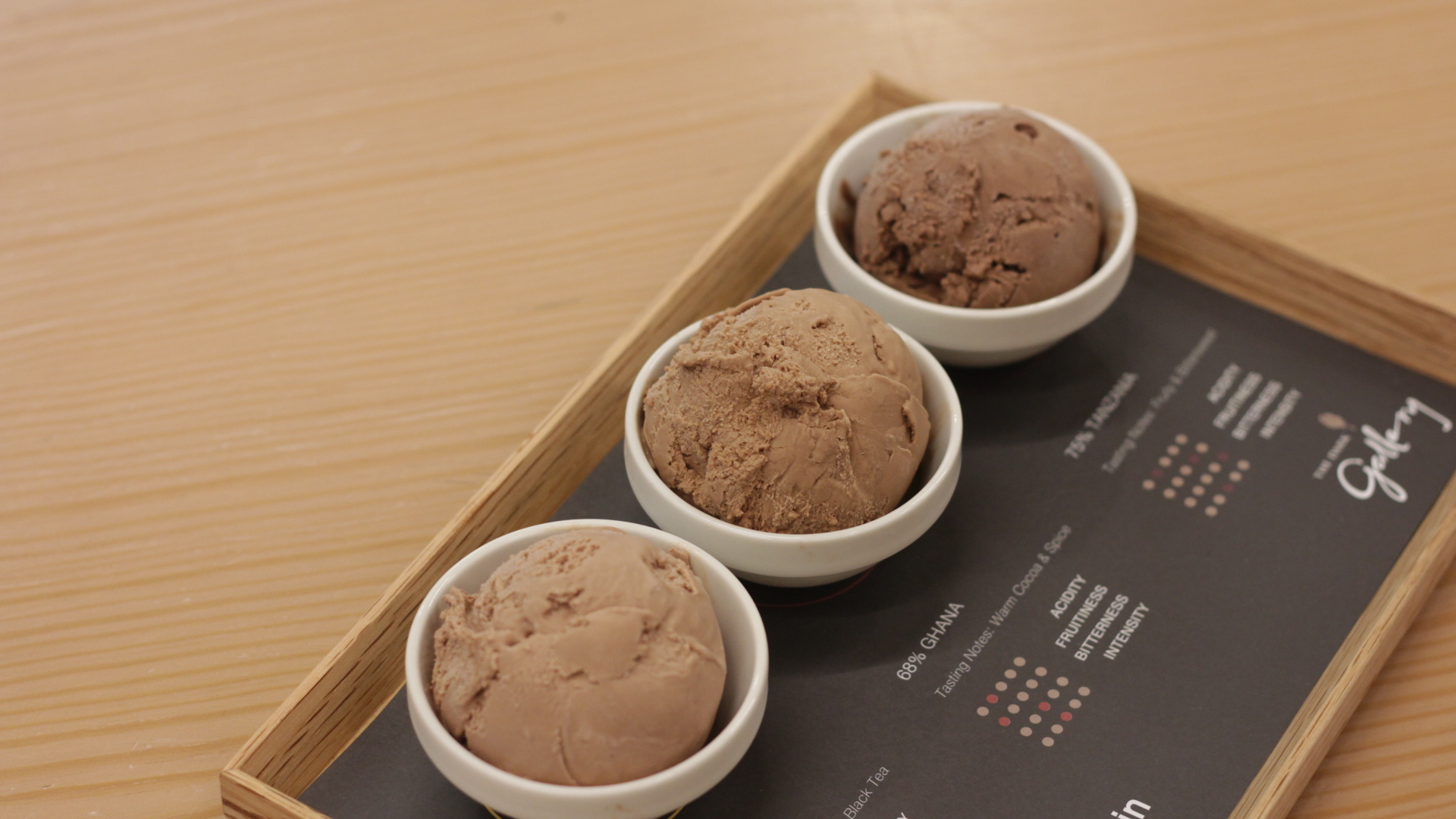 And then there was the Single Origin Dark Chocolate Ice Cream, which belongs in the category of Single Origin Platters. Unlike the Chocolate Rhapsody, this one is served with all three scoops of dark chocolate of varying percentages.
The first ice cream, containing 62% Brazilian chocolate, paled in comparison to the other two. It was rather intense at first taste, though the intensity wasn't of bitterness but rather, sweetness. I found it surprising given that it's a dark chocolate. The second was darker in colour, consisting of 68% chocolate that came from Ghana. Now, this one had a spicy kick to it but it blended nicely with the chocolate. The last one was my favourite, because it consisted of a total of 75% Tanzanian chocolate, making it the least sweet of them all. Fruity and bittersweet, just the way I like it.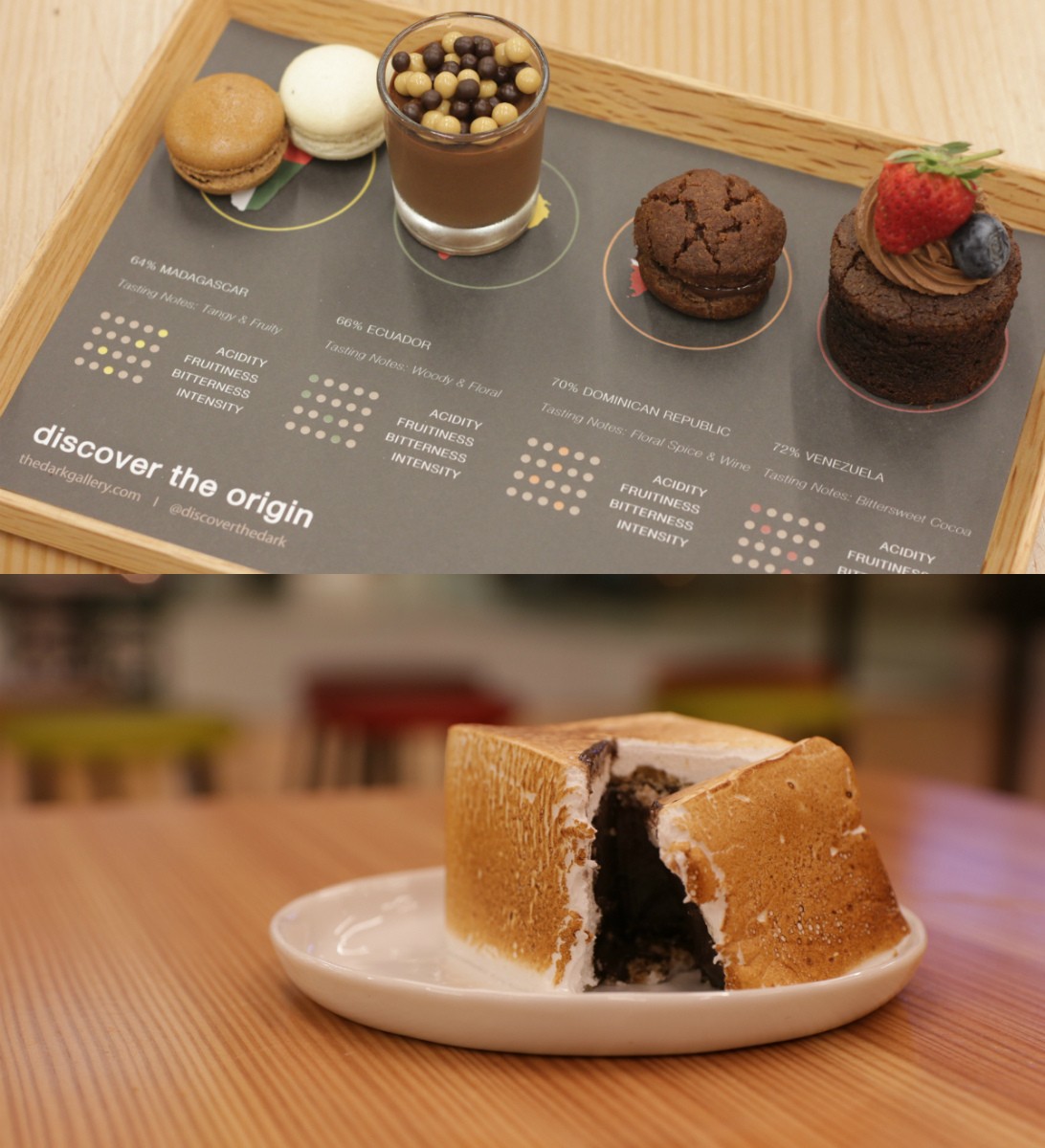 Next was the Single Origin Chocolate Pastries Platter. This dish consists of five different pastries, all made from single origin chocolate sourced from different countries around the world: artisanal macarons, chocolate mousse cake with hazelnut crunch, chocolate cookie, 66% dark Ecuador tart, and frozen smores.
Each pastry had its own unique flavour. For example, the macarons were fruity, almost tangy; the mousse cake was bittersweet, and the hazelnut crunch added much-needed texture to it; the chocolate cookie had a hint of wine; the tart was creamy and sweet, and when bitten alongside the chocolate beads, it somehow tasted better than I expected. Finally, the smores was a pleasant experience, what with the fluffiness and sweetness of the marshmallow and the bittersweet-ness of the dark chocolate ice cream.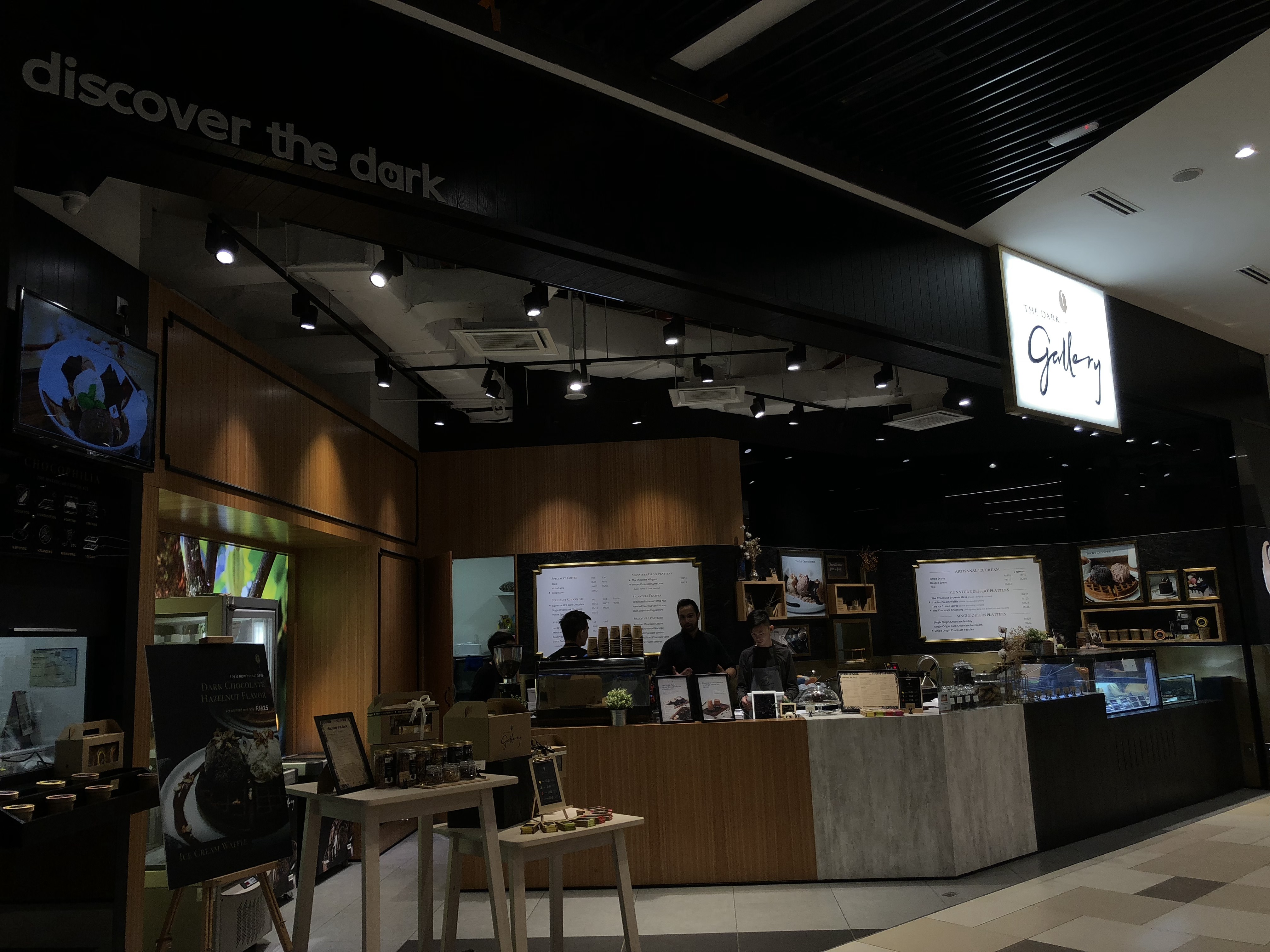 As far as chocolate specialty stores go, The Dark Gallery certainly did not disappoint. It's also a plus point that The Dark Gallery's chocolates has never been mixed with other chocolates nor chemically processed – the health factor should be enough to push you towards trying it out.
Price: 
Quality: 
The Dark Gallery
Hours: Monday-Sunday: 10am-10pm.
Address: Maluri, 55100 Kuala Lumpur, Federal Territory of Kuala Lumpur
Website: The Dark Gallery
Tel: 03 2715 7360