Suit up 'cause KL is about to get its first indoor skydiving wind tunnel!
Skydiving is one of the activities that many have dreamt up for their ultimate bucket list but if the thought of jumping off a plane gets you queasy, why not take baby steps and try it out with AirRider instead?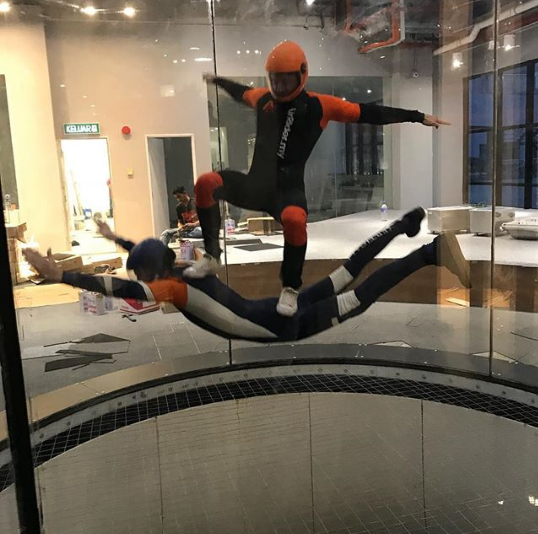 AirRider is an indoor skydiving centre which simulates the freefalling aspect of skydiving but without having to parachute off a plane. It's a wind assisted activity housed within a 360 degree glass flight chamber in 1 Utama.
The way AirRider works is by incorporating vertical wind tunnels which are also the very same ones used by the military and professional skydivers during training.
What the wind creates is a space where people can float and ultimately "fly". The wall-to-wall airflow concept that AirRider uses makes it impossible to fall off the column of air, hence simulating the experience of indoor skydiving.
Each flyer is also evaluated based on their weight and skill level and this will help the tunnel operator to control the windspeed which is suited for them.
AirRider is a part of 1Utama's new extension called 1UtamaE which is an international extreme sports and entertainment centre in the mall.
Suitable for those aged 3 years and above, the activity will be assisted by trained instructors who are all qualified through the International Bodyflight Association (IBA).

It's managed by the Australian company, Indoor Skydive Australia Group, which also runs facilities in Australia and around the region.
AirRider will mark its official opening sometime around the end of January and flights are priced between RM89-RM399, depending on which package you opt for.
We can't wait for KL's first indoor skydiving centre to officially open its doors to the public!
AirRider
Address: 1 Dataran Bandar Utama, Kuala Lumpur Petaling Jaya
Website: AirRider
Tel: 03-7728 5588
All Image Credit: AirRider